Name: Steven Cavanagh
Age: 20
Instrument: Baritone
Current Band: Brighouse & Rastrick
Name: Michael Cavanagh
Age: 18

Instrument: Baritone
Current Bands: Marsden Silver, National Youth Brass Band of Great Britain, Stockport Schools
---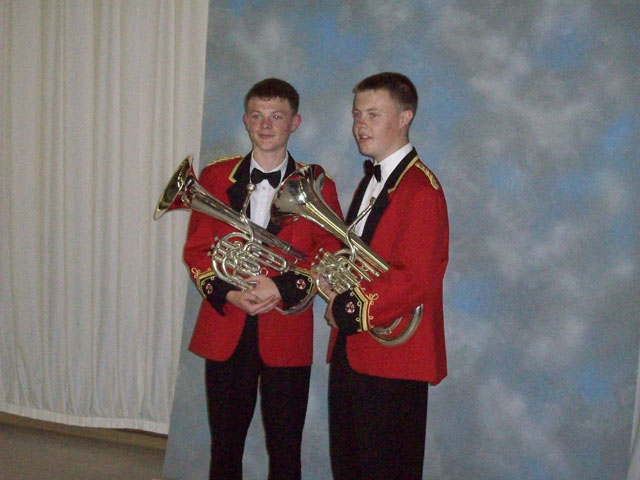 Starting out: The even younger Cavanagh baritone brothers

They may not have realised it at the time, but Steven and Michael Cavanagh will always be grateful to peripatetic teacher Dennis Hadfield, who paid a visit to their primary school in Stockport a few years ago.
It was Dennis, the former conductor of the Todmorden Old Band, who introduced them to the delights of playing a brass instrument – and in particular, the baritone.
They haven't looked back since.
Grateful

And despite having no musical lineage to fall back on in the Cavanagh household, the duo will be eternally grateful to their mum and dad too.

They have been hugely supportive of their off spring - making the timeless family sacrifice of driving the talented duo to innumerable rehearsals, concerts and contests fuelled by an ever growing sense of parental pride.
The simple fact that their boys are currently playing with top flight Championship outfits in Yorkshire, and have both held the position of solo baritone in their previous bands, gives you an idea of just how their raw talent has developed since Dennis Hadfield first persuaded them of the charms of the brass band baritone.
Support and encouragement

Now, even with their burgeoning potential set to flourish, the brothers admit they wouldn't have been able to achieve what they have done so far without that initial support and encouragement.
"Dennis is without doubt the reason why we stuck with brass playing in school despite other children giving it up," Steven says.

"His enthusiasm was amazing. He definitely knew how to get us interested with the right balance between having a laugh and getting on with the hard work."
Further tuition came from former Fairey baritone player, Peter Christian, whilst they reveal that Black Dyke's Katrina Marzella has been something of an inspiration for them both by successfully combining top flight playing with a professional working career.
Unique sound

So what is it about the baritone that they like?
"It has a unique sound that I think sits perfectly between the horn and euphonium in the band," Michael says.
"Also, new pieces now have great baritone parts which make them more enjoyable to play, and comparable to the great writing found in pieces such as 'Comedy', 'A Downland Suite' and 'Life Divine'."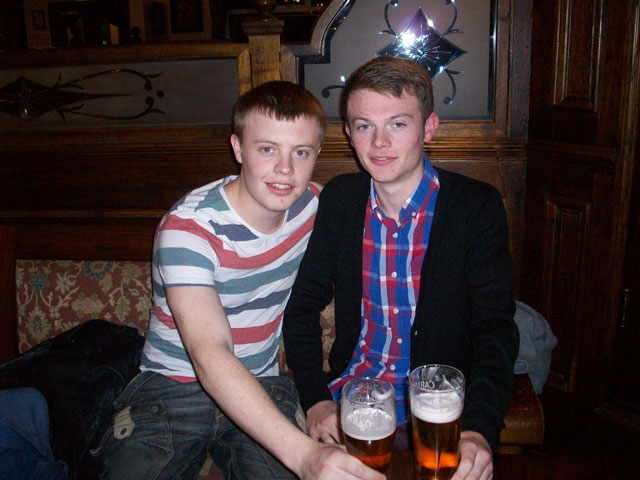 A little bit older now...

Closeness

The brothers have sat their grade exams with great success, although they admit they are not that competitive against each other.
They initially played together at Dobcross Silver (where they performed at the 2009 National Finals) as well as the National Youth Brass Band of Great Britain and Stockport Schools.

Steven is now at Brighouse & Rastrick with Michael at Marsden Silver.
"We're always had the view that if one of us comes out doing well, we've had a good day out," Steven says.

"It's when neither of us gets what we think we deserved with our bands when we are less happy!"
Hard slog

That closeness means that they also help each other out when it comes to the hard slog of personal practice and nailing those ever more difficult baritone parts now to be found in major contest works.
"Test pieces are getting harder and harder," Michael says. "So working on them together helps us both out."
Impression

Michael, who is 18, has already made a real impression with his personal performances.
He was the runner-up in the under-16's British Open Slow Melody Championship in 2010, and in 2011 reached the final of the BBC Radio 2 Young Brass Soloist Competition.
The National Youth Brass Band of Great Britain has also played an important part in their lives, especially as it has given them the opportunity to learn from the likes of David Childs and Glyn Williams, as well as be conducted by Allan Withington and Bramwell Tovey.
"Playing under Bramwell Tovey is very special," Michael says. "He is so inspiring and he has so much respect across the musical world."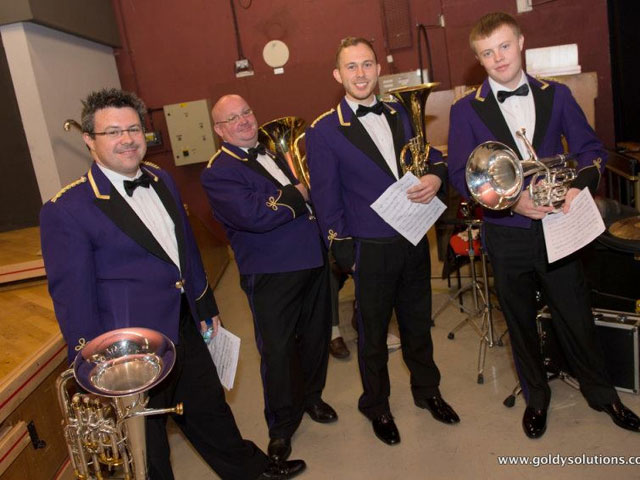 Steven with members of the Brighouse & Rastrick euph and baritone team

Go for it

The brothers would encourage anyone thinking about auditioning for NYBBGB to 'go for it', and whilst they have slightly different tastes in band music, they both admit that they find the best way to cope with nerves is to smile and try and enjoy what you're doing!
That is certainly the case with Steven at Brighouse & Rastrick, where he is playing under the direction of Professor David King.
"I'm finding playing at Brighouse really enjoyable," he says.

"It requires a lot of hard work - sometimes having to learn a large amount of tricky music in a short space of time. But this will only help me improve and the great concerts and contests are the reward for the hours of practice."
Opened eyes

The inspirational Australian has certainly opened his musical eyes too.
"David King makes you so aware that there can be so much more 'music' brought out of a piece than what appears on the page.

I thought I knew this to some extent, but he takes this to another level. It amazes me what he brings out of a score."
With memorable contest experiences under his belt ("...the ovation after our hat-trick attempt at the Albert hall was like being in a football match"), he is now committed to continue his personal development working with his RNCM tutor and Brighouse principal euphonium player David Thornton.
Impressed

David is certainly impressed by the young star. "Steven is a natural hard worker both at band and with his studies at the RNCM.

He's become a very valuable member of the B&R team and at college he is developing into a fine all round musician."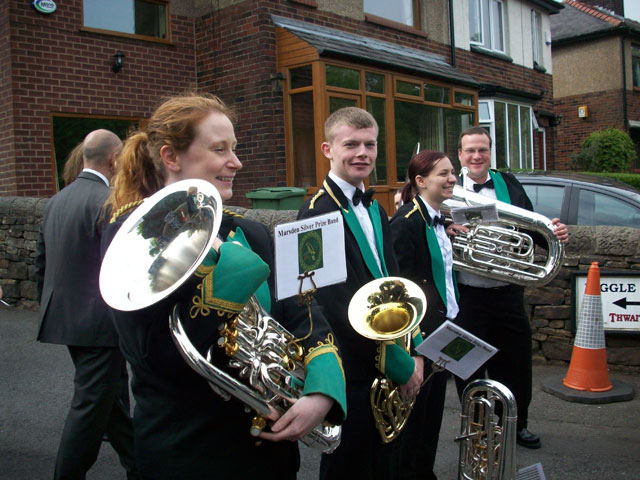 Michael with members of the Marsden Silver Band

Name

Meanwhile, younger brother Michael is also making a considerable name for himself with Marsden Silver, after he'd enjoyed the experience of being tutored by MD and euph star Glyn Williams prior to his first National Youth Course in 2010.
"Glyn is a terrific conductor and playing under him is brilliant," he says.

"He motivates me for band and I always want to impress at each rehearsal. Glyn always puts the music first and I now feel that I can put what I learn from listening to him in band into my solo playing too."
Michael has completed his A-Levels and will head to the RNCM in Manchester in September, although he still has a keen interest in accountancy (which he studied for A Level).
On the National Youth Brass Band Easter Course earlier this year Michael received the Harold & Bernard Tovey Award for Excellence, then added to that at the recent Summer Course with the Harry Mortimer Solo Prize.
Potential

Glyn Williams is certainly fully aware of his potential.
"He is such a focused individual and his attention to detail is impeccable," the Marsden MD says.
"His drive and determination is a shining example to any young up and coming musician - not to mention older players too!"
He adds: "I know I'm fortunate to have Michael at Marsden. I consider him to be a 'true' baritone player destined for a great future.

We will hang on to him for as long as possible, but when the time comes I will watch his continued progress with great interest and pride."
Future

The Cavanagh brothers have already achieved so much in their young musical lives that you can only wonder what exciting future possibilities lie ahead.
You suspect the outcome will be pretty successful for them both.
Malcolm Wood