Although the brass band movement may well consider itself an art form, it is still surprising to find out that despite some wonderful examples of contemporary art from the likes of Cornelia Parker, there are not too many paintings inspired by brass bands to be found in art galleries and museums around the world.
Photographic imagery abounds – from early shots of Black Dyke and the great Cyfarthfa Band to digital snap shots from any contest you care to mention, but not a great deal in the medium of paint – be it in oil, watercolour or Damien Hirst inspired formaldehyde.
Acclaimed artists

However, some highly acclaimed artists have been inspired by brass bands and 4BR has done a bit of hunting around and managed to come up with a wonderful quartet paintings from the mid 20th century to date, that now command a premium price too.
So if you have anything hanging around a bandroom wall or tucked away in the attic from any of these artists, it may well be a good idea getting in touch with Sotherby's.
---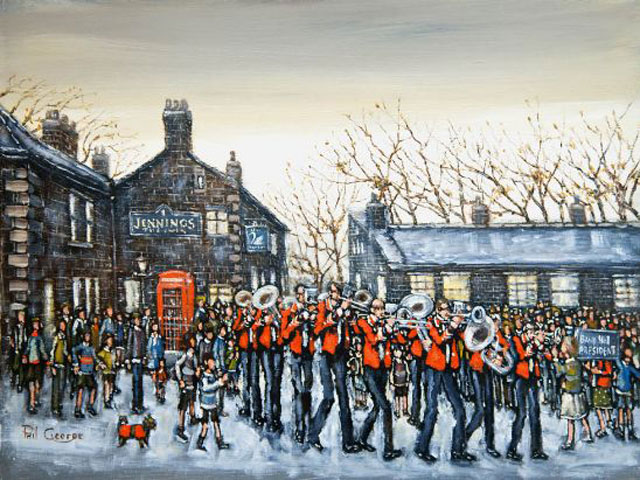 Foden's Band – Saddleworth 2013
Artist: Phil George (Born 1960)
Oil on Board
12 x 16 ins (30.48 x 40.64 cms)
Phil George was born in Wallsend, North Tyneside and lived 5 minutes walk from the huge shipyards of Wallsend which he first sketched while in his first year at college.
After leaving school at 16, he started art classes where he was taught and inspired by his tutor Maurice Mcpartlan, who introduced him to the work of artists such as Stanley Spencer, Norman Cornish and Eric Ravillious.
After completing an Art Foundation and HND in graphic design and illustration, he worked as a graphic designer for over 20 years before becoming a painter full time a few years ago.
He says: "My current paintings draw inspiration from the industrial landscape, memories of my childhood, and being slightly at odds with the 21st century."
Phil's work is much sought after, and as the Clark Gallery, who kindly gave permission for 4BR to use the image of his painting of Foden's at one of the venues of the Saddleworth Whit Friday march contests, his work can now be found all over the world.
"He is an extremely popular artist and his work is in great demand and eagerly anticipated. The Foden's painting is now in a private collection – and was sold almost as soon as the paint had dried!"

For more information and to view more paintings by Phil George, go to:
http://www.clark-art.co.uk/artist_.php?ID=5563
---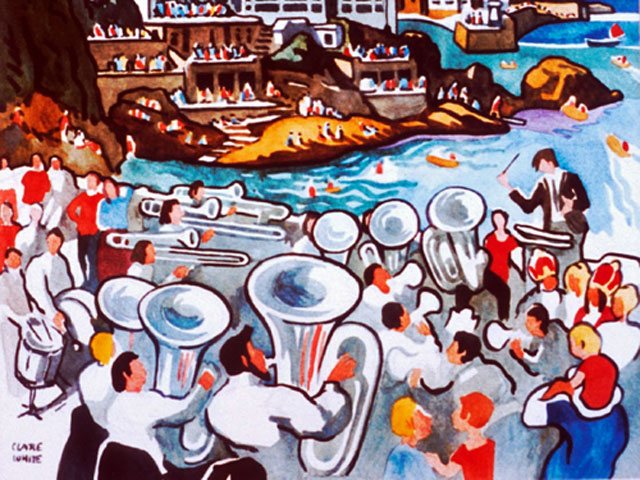 Brass Band, Porthminster, St Ives
Artist: Clare White (1903 – 1997)
Watercolour
Renowned St Ives artist Clare White was born in Sidmouth, Devon in 1903.
As a student, she won a bronze medal at the Royal Drawing Society Show with her work subsequently exhibited widely between 1920 and 1950 at the Royal Academy and Paris Salon as well as with the Royal Pastel Society, Royal Society of British Artists, Royal Scottish Society of Painters in Watercolours, the Society of Women Artists and at the Goupil Gallery in London.
In 1949, she moved to St Ives and she became an active member of the most vibrant art colony in the UK. Her contemporaries included Barbara Hepworth, Peter Lanyon, Bernard Leach and Royal portraitist Malcolm Haylett.
Her story is summed up by art historian David Tovey, in his book 'Creating a Splash – The St Ives Society of Artists (1927 -1952)'
"Clare White's idiosyncratic, decorative style of painting, with its vibrant colour and gentle humour has in recent years become ever more popular. But in her own time, despite her enormous input into the cultural life of the colony, her work did not gain widespread recognition as it seemed to fall between both the modernist and traditional camps."

Most of her distinctive watercolours were painted between 1935 and 1975, with the brass band painting now in a private collection.
The Clare White Gallery who kindly gave 4BR permission to use the image told 4BR: "Clare White was such a wonderful, distinctive painter. Her work is now immensely popular and her talented appreciated greater than ever. The brass band work seems to sum up a perfect day in Cornwall."
For more information and to view more paintings by Clare White, go to:
http://clarewhitegallery.co.uk/clare-white/biography/band-porthminster/
---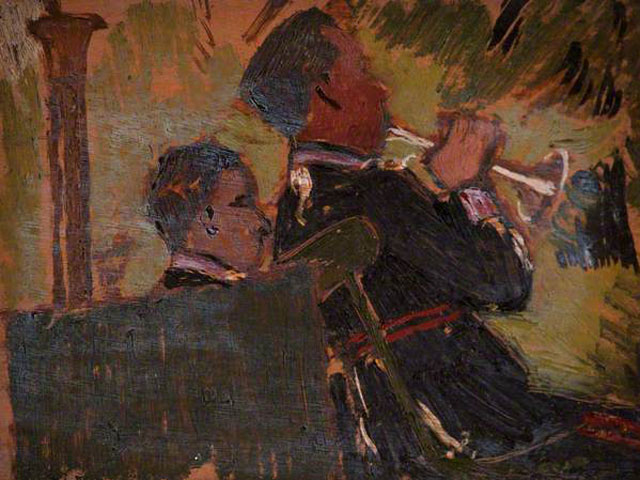 Two Members of a Brass Band in a Bandstand
Artist: Edward Morland Lewis (1902 – 1943)
Oil on panel (circa 1930)
Edward Morland Lewis was born in Carmarthen in 1902 and trained at St John's Wood School of Art and the Royal Academy London where he met the artist Walter Sickert.
He left the academy to work under Sickert and in 1930 joined the London Artists' Association and exhibited with them until 1934.
Many of his paintings were based on photographs he took himself, and like Sickert, he tended to paint patchwork areas of colour laid over warm under-painting. He concentrated on the seaside towns of south Wales, Ireland, northern France and Spain.

He joined the staff of Chelsea College of Art, where his colleagues included Henry Moore, Graham Sutherland and John Piper, and died in North Africa in 1943 while on active service as a camouflage officer.
As Carmarthen Museum's Collection who kindly allowed 4BR to publish an image of the small painting (just 19.3cm x 27.2cm) told 4BR, the work is one many he painted of local brass bands.
"It was perhaps one of several he painted of local bands in the South Wales area as preparatory sketches for a bigger work entitled 'The Bandstand' which was shown at the Tate Gallery in London in 1931."
For more information and to view more paintings by Edward Morland Lewis, go to:
http://www.bbc.co.uk/arts/yourpaintings/paintings/two-members-of-a-brass-band-in-a-bandstand-177371
---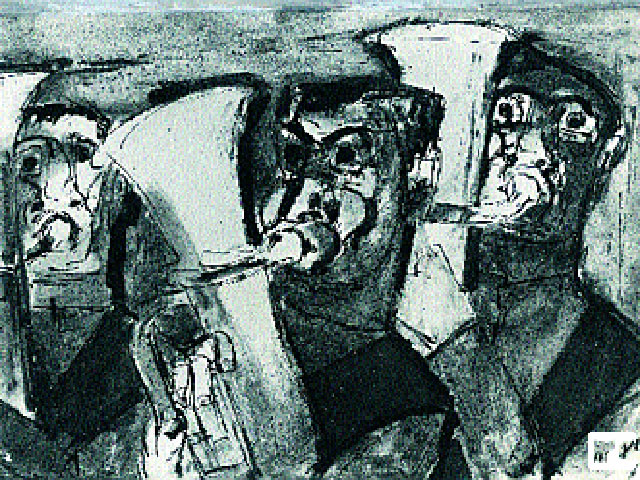 Miner's Brass Band
Artist: Joseph Herman OBE (1911 – 2000)
Pen and wash sketch
Josef Herman, also known in Wales as 'Joe Bach' was a celebrated realist painter of great political and social influence.
A Jewish émigré from fascist persecution, he eventually came to live in the south Wales mining community of Ystradgynlais in 1944.

He stayed for 11 years before the damp climate forced him to leave to work first in Spain and then London, where he died in 2000.
In 1951 he was commissioned to paint a mural for the Festival of Britain, and chose the subject of coal miners, with who he felt a great affiliation.
His work 'Miners' showed six men resting above ground after their work, whilst sketches and other works included the pen and wash sketch of three miners playing in their local brass band – most probably Ystradgynlais.
Herman said of 'Miners', "I think it is one of my key pictures and the most important one I did in Wales."
The mural is held in the permanent collection of the Glynn Vivian Art Gallery affiliated to The City of Swansea Museum.
Anthony Roland of The Roland Collection who kindly gave permission to 4BR to use the image, feels that he is an artist of great significance and drew the attention of UNESCO's description of his work in a short film Anthony produced.
"His form is simple and monumental, his drawing, as he says himself, 'true to experience rather than observation.'

His subject, the immense dignity of the manual labour in contact with the realities of nature, is a dying one in an age of automation. 'With his violent pen and brush it is a visual triumph of labour."
For more information and to view more paintings by Joseph Herman, go to:
http://www.rolandcollection.com/films/?prm=a18-b309-c2468-d0-e0