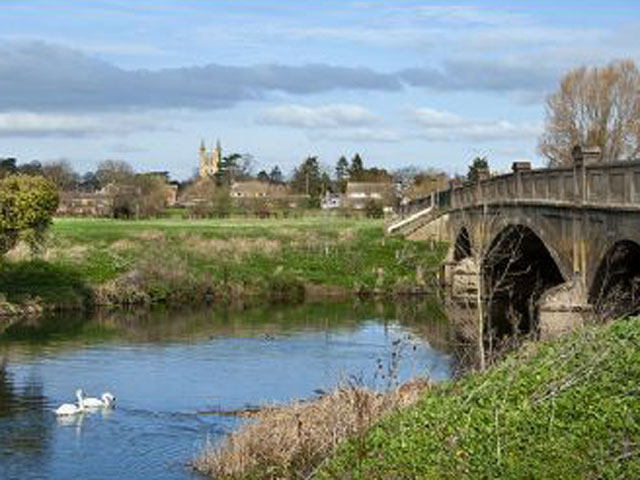 Bucolic view: Pershore from the banks of the River Avon

The Worcestershire market town of Pershore is as quintessentially English as it comes.
Nestling on the banks of the River Avon it's a picture postcard of bucolic elegance with its Georgian town houses and well appointed shops.

Compact and welcoming, it offers the perfect venue to spend a glorious summer's day wandering around with a glass of something refreshing in your hand, listening to live music being performed.

Enterprising

It also provides a particularly enterprising organisation with the opportunity to run a community event that also benefits local traders and musicians by attracting people from far and wide to the town for an enjoyable day trip.

Although the unpredictable English weather can occasionally put a dampener on things, the revived Pershore Midsummer Brass Festival (now in its fourth year) is a shining example of just how successful such events can be.

This year it hosted no less than 32 bands at five different venues – from the Albert Hall qualifiers of Flowers, Jaguar Land Rover and Tongwynlais to a line up of burgeoning local youth bands.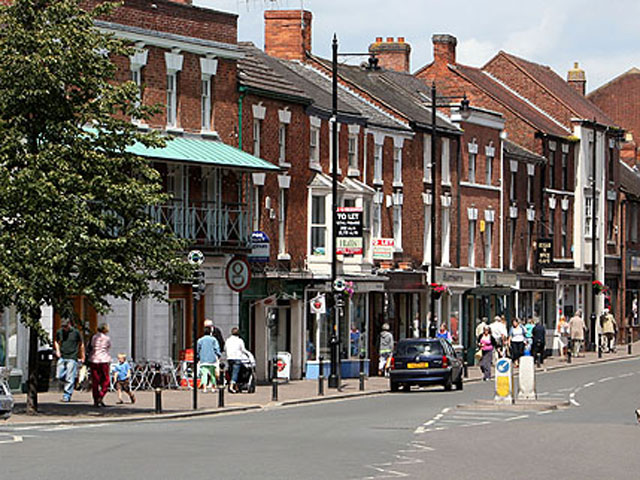 Welcoming commerce: Peshore High Street

Hard work

It takes some organising, but thanks to a hard working committee led by Chairman Shaun Owen, the long day runs smoothly at venues which offer a different performance experience for both players and listeners alike.

One of the indefatigable helpers is Val Trim, who bubbles with enthusiasm when talking about the festival. "It's worth every last minute of hard graft, telephone calls, letters and e-mails," she says.
Val has been actively involved along with a band of committed organisers who miraculously ensure that the 32 bands know exactly when and where they will perform, whilst at the same time making sure that they also have enough stands, percussion, seats and even free tickets for players.

Team effort

"It's a real team effort, and the committee is made up of a variety of people who put in hundreds of unpaid hours to ensure the festival's success," Val says.
"For example, Ann and Adrian White arrange all the ticketing, programme production and distribution, whilst Marshall Faizey sorts the venues. Town councillor David Brotheridge uses his local knowledge to enlist the aid of volunteer organisations and retailers in the town to support us.
It's the diversity of the team and a strong sense of mission that drives us all on."

The Number 8 Theatre in Pershore

Financial balance

Val continues: "This year we have a wonderful set of local sponsors as well as gaining financial help from the Norman Jones Trust Fund of Brass Bands England, which was used to support the provision of a marquee and set of quality music stands for our new youth band concerts."

As each band is also paid a fee, the hard work has to be balanced by the takings on the day.

And as Val adds, it's frustrating that some bandsmen and women still take these things for granted.
"The youngsters and their parents always take time to thank us for our efforts, but occasionally we do get a bit miffed when supporters try to sneak in without paying for a wrist band or even a programme.

We want the festival to flourish, but some people still think that somehow everything comes together for nothing!"
Commerce

The importance of the festival is certainly not lost on the town's commercial leaders, as Michael Amies, Chairman of Pershore Market Town Partnership added: "The fans of brass band music travel many miles to enjoy this, but if you like music at all, this is a treat not to be missed.

If you thought you didn't like brass bands, just come and buy a pint or a glass of wine, sit back and let the music flow over you."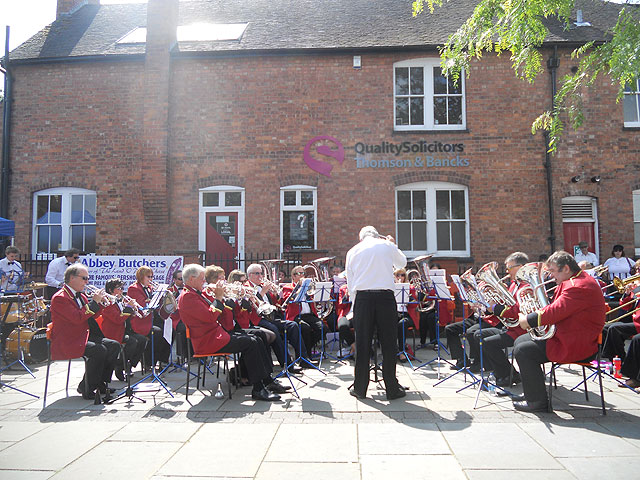 A warm and welcoming spot in Chapman Court

Hot spot

A thoroughfare outside the local supermarket in Chapman Court is the hot-spot for passers-by, as people shop to the sound of easy listening music.

The likes of Stourport, Shipston, Bedworth, Audley and West Mercia Youth provide the non-stop entertainment, much to the delight of hard pressed mothers who stop off for a quick rest in the blazing sun as their hyperactive offspring dance along to the music.

As one rather relieved bag laden young mum said as she plonked herself down for a quick rest on a welcoming bench: "This is great. We can do the shopping and then enjoy ourselves for the rest of the day.

The kids love the music – especially as the bands play something they know with lots of drums and percussion. They've even had a blow on a trombone!"

Theatre talent

Meanwhile, there are plenty of talented youngsters on show at the Number 8 Theatre, where the accent on youth sees the likes of Hallow Primary School, Lydney Training, Worcestershire Youth, Tewkesbury Training (who had over 30 young players in the ranks) and the Prince Henry Brass Ensemble perform.

Highly committed and tremendously entertaining, the venue provides an ideal stage to listen to some excellent ensembles brilliantly led by their MDs.

The smiles of delight from players and proud parents alike as each band performed were one of the highlights of the day.

Prayers to pubs

No sector of the local community was left out - from commerce and the arts to local places of worship and even a public house.

The Shirley Band played to a packed Baptist Church with National finalists Bilton Silver also producing a terrific set that set the tongues wagging of Cheltenham bound rivals who had come to hear them play.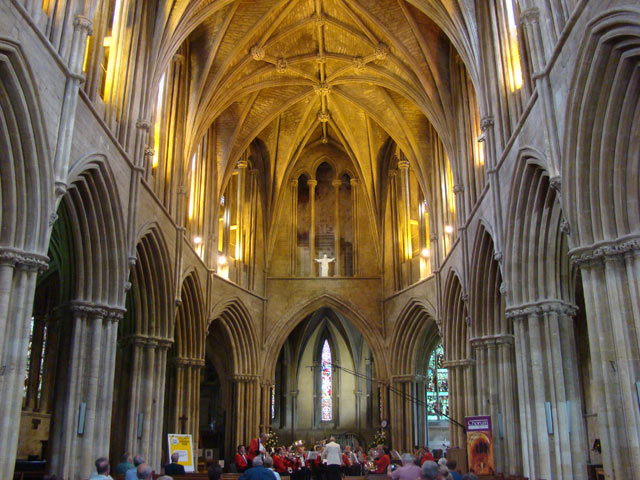 The splendid Abbey

Top class playing

Meanwhile, in the beautiful Abbey there was more top class playing to enjoy – from the melodic newcomers of Enderby to Jaguar Land Rover, who sprinkled their programme with music from Germany to Norfolk and all stops in between.

Tongwynlais provided plenty of fizz with their virtuosic set, whilst Flowers rounded off the entertainment in appropriate manner with 'Procession to the Minster'.

As one listener, who had sat on the hard Abbey pews for over three hours, told 4BR; "You don't often get to hear these bands in such a lovely place. The programmes are all different and the standard is excellent.

All I need to remember for next year is to bring a cushion!"

Highlight

However, the highlight for many came from Phoenix West Midlands directed by Trevor Jones.
They included two premieres from composer Rob Foster, including a contemporary work, 'Affinitas' and part of his 'Tuba Concerto' performed with aplomb by Paul Jones, who was one of many outstanding soloists on show throughout the day.
The organ part in 'Affinitas' was played by Rob's former university tutor, Prof Philip Wilby, who made the trip to Pershore to support his protégée.
As a tribute the band showcased a number of Philip's own arrangements and compositions, including 'A Breathless Alleluia' and the 'Finale' from the Saint-Saens 'Organ Symphony'.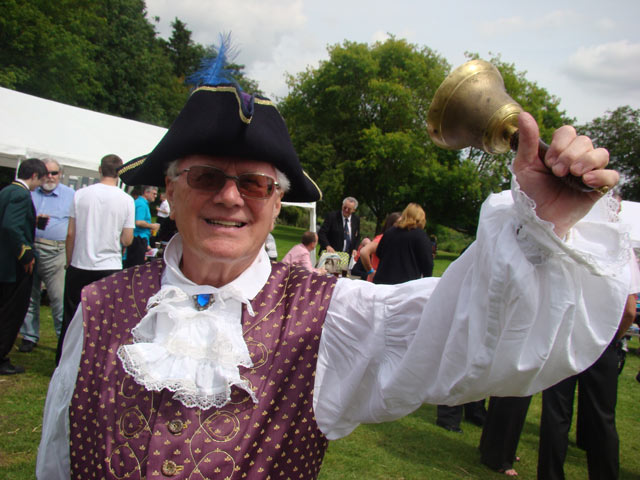 Always something to catch the ear...

Grassy

For those determined to enjoy the music in the perhaps the best possible way, the grassy area behind the local Angel Inn was the place to be: A full line up of bands to provide the entertainment, the sun beating down, and the shortest of walks to the nearest bar for a drink.
Enderby Youth, Bretforton and National finalists Shipston were all on splendid form as were Bedworth Silver and Phoenix West Midland once again.

Jaguar and Tongwynlais also pulled out the stops, with Dave Lea drawing top class playing from the Midlanders, and young Josh Ruck doing the same with the Welsh Area champion, aided by their witty compere David James, who seemed to be a natural comedian to go with his outstanding flugel horn playing.

Success

As the day finally drew to a close, it was hard to think of another community event that combines brass band music making and local commerce so successfully.

And as the hardworking members of the organising team finally managed to put their feet up, they were boosted by the news that the festival had once again been an overwhelming success.

"It looks like visitor numbers were up thanks to the fabulous weather and the brilliant bands," Val says.

"All that, and we may have even got a few more volunteers on board for next year too!"

That's great news, as the Pershore Festival, with its inventive partnership linked to its local community deserves every bit of success that comes its way.
Dave Banwell

Images copyright of 4BR and used with permission from Wychavon Council