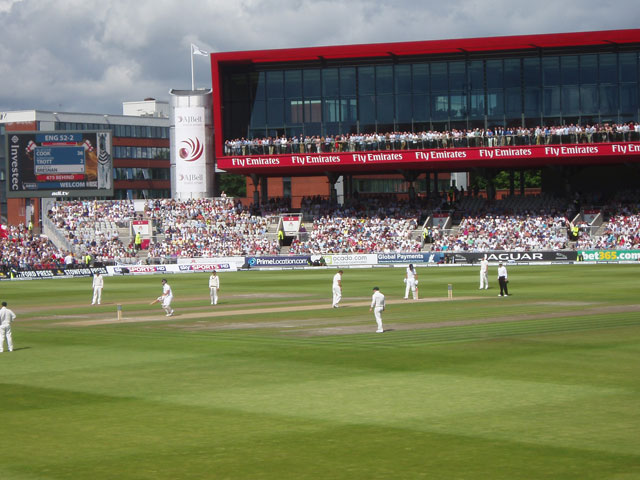 Test Match Special - Sun and action at Old Trafford

As 25,000 cricket enthusiasts get to their feet at the lunch interval of the third Ashes test match between England and Australia, not surprisingly, thoughts on a hot and humid Manchester afternoon turn to liquid refreshment.
In doing so, it's the ideal opportunity to ponder the Aussies chances of getting right back into a gripping series or England's odds of securing a third consecutive win over a pint of amber nectar, best bitter, or even a cup of Yorkshire tea....
Wonderful visit

A packed test match ground is a wonderful place to visit and have a drink or two.
Stretch your legs at Emirates Old Trafford and you can soon bump into a formidable team of Ashes legends – from Merv Hughes and Allan Border to Geoffrey Boycott and Sir Ian Botham.

The odd cricket loving footballer is also on parade too, with former Manchester United full back Gary Neville by all accounts a handy batsman in his youth.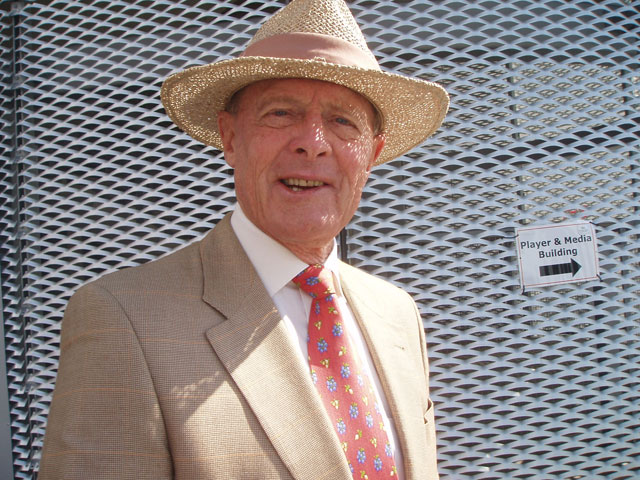 The legendary Geoffrey Boycott cracks a smile...

Little urn

Despite the intense rivalry over the most famous little urn in sporting history, polite requests for autographs and pictures are never turned down from friend or foe.
Those meandering through the popular fan village can even take part in a question and answer session with former England captain, Mike Gatting.
He delights his audience with the familiar tale of once being asked by a mischievous Australian journalist if his surname was spelt with one or two 't's, to which the rather rotund Gatting replied, 'Yes - two tea's, not forgetting a full English breakfast and a good lunch.'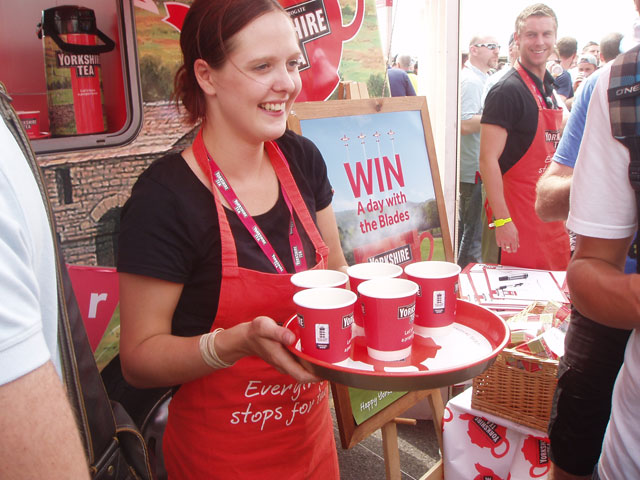 Anyone for tea?

Tea pot

However, if they carry on walking towards the new media centre and dressing rooms, they will also see an enormous orange tea pot and hear a brass band in action - the Yorkshire Tea Band in fact (otherwise known as players from Marsden Silver Band).
Representatives of the tea company are promoting their famous blend with a high profile media campaign that has already seen numerous television adverts featuring the splendidly, if rather bizarrely, attired Marsden players.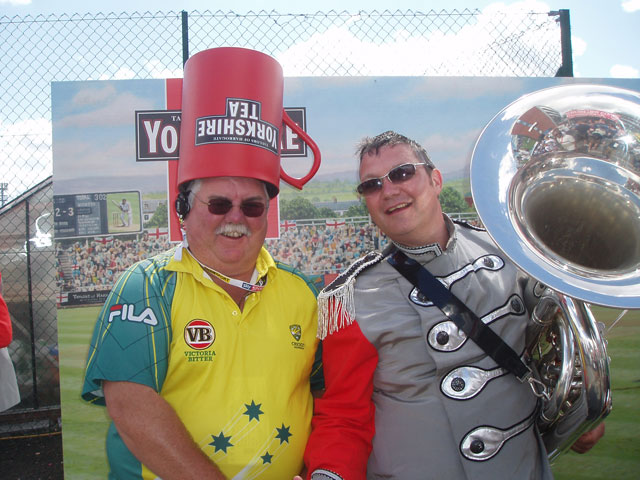 Happy Aussies: If the cap fits...

Happy Aussies

Welcome cups of the brew are offered to parched passers-by (including plenty of happy Australians – as their team were doing rather well for once) with the sound of the bubbling tea urn accompanied by the melodious timbre of the ensemble playing easy listening tunes.
It's a scene that will be replicated many times this summer, as Marsden will also appear in their alter-ego disguise at other Ashes tests.
To the sound of 'Bare Necessities', 'Last of the Summer Wine', 'Teddy Bears Picnic', 'Nelly the Elephant' and the essential, 'Everything Stops for Tea', the group thoroughly enjoy themselves – knowing that this type of media coverage is hard to beat.
With the Aussies enjoying a couple of good days at Old Trafford the band has even started playing 'Waltzing Matilda' a few times too – something much appreciated by delighted baggy green supporters.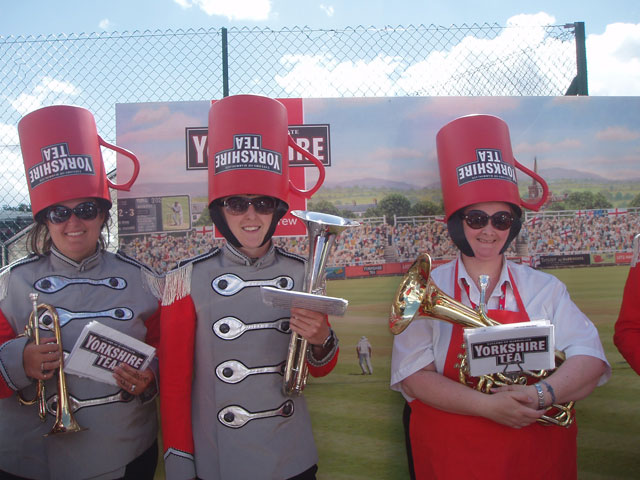 Hard work and smiles from Marsden players

Homework

The company has done its homework and knows that their essentially light hearted approach to the most English of all traditions is working and working rather well: It simply doesn't come more quintessentially English than a mix of tea, cricket and brass bands.
Marsden was just one of a number of bands that put themselves forward to be part of the imaginative marketing campaign, but they made such an initial impression, they were snapped up to add an extra level of advertising interest at the Ashes test match grounds.
The relationship saw Marsden players initially don their costumes at Headingly when England played New Zealand earlier this season, but such was the success they were booked for additional Ashes appearances.
Opportunity

It's been a great opportunity, which Marsden has grabbed like a slip fielder with both hands. Even with holidays and work commitments the players have put in their shifts with real enthusiasm – especially as they also get to watch the action free of charge too!
Unsurprisingly, it's also created a lot of interest, with mentions already on the iconic Test Match Special on Radio 4 (by a proud and delighted Yorkshire icon Geoffrey Boycott) and on the wall to wall Sky television coverage – especially with presenter David 'Bumble' Lloyd.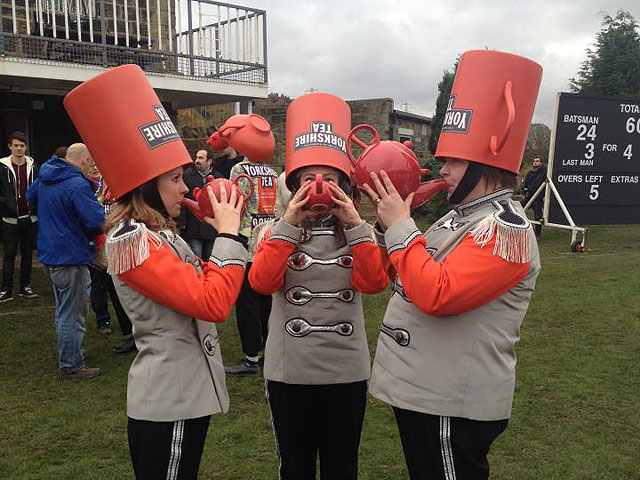 It's all in the drinking...

Tripe

Two weeks ago, Lloyd went in search of those eating lunch at Lords to find out what was in their expensive looking Harrods picnic baskets, whilst in Manchester he's been having a giggle at northern eating habits after receiving written communication from the Tripe Marketing Board.
And even as a dyed in the wool Lancastrian, he's been enjoying the Yorkshire tea and brass band combination.
Throughout August and with another 10 days of test match cricket to enjoy, Marsden could well be playing to a live audience close to quarter of a million people. Next up is Durham, followed by the final test of the summer at The Kia Oval.
Winners

Brass band traditionalists may wonder if this type of image does the banding movement any lasting good, but when it is so obviously linked to a promotional campaign that doesn't take itself too seriously then everyone is onto a winner – especially Marsden, who have already been inundated with requests and enquiries.
It may be hard work and it may mean having to dress up in a bizarre uniform on stiflingly hot days, but as long as the weather remains fine, the Australians remain competitive and the Yorkshire beverage doesn't run out you won't hear too many cricket, tea or brass band lovers complaining – not even Geoffrey Boycott.
Malcolm Wood