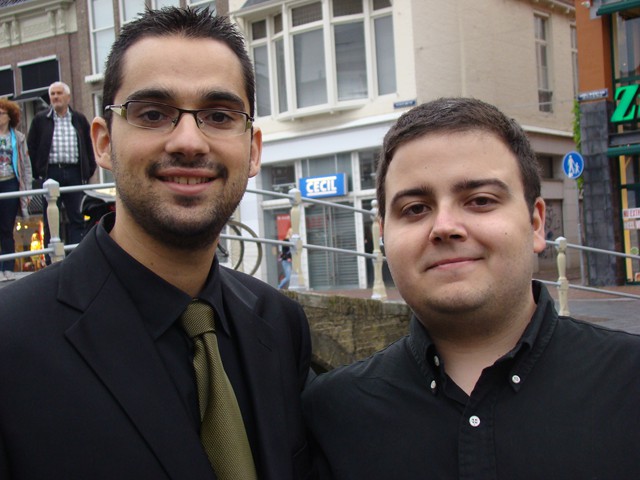 Rafa (left) and Borja smile for the camera....

Borja Martinez-Alegre and Rafael Gonzalez sit together behind the back row cornets.
They whisper quietly in Spanish to each other as Allan Withington instructs the players of Soli Brass Leeuwarden.
The universal language of music making is clearly understood by the personable duo, yet there is still a need to fully comprehend the exact meaning of his precise intentions.
New horizons

Both have very little experience of conducting a brass band, yet the opportunity to work with Allan Withington on his recent Conductor School in Leeuwarden in Holland has opened up new musical horizons.
"It has been a great course for us," 24 year old Borja explains in his excellent English.
"I come from a small village called Siete Aguas just outside Valencia where I conduct, teach and play trumpet. It has a population of around 1000 people but over 90 of them are in my wind band.

Now I want to try and create a brass band too."
Convert

27 year old Rafael from Ori Huela near Alicante is also a recent convert.

He took part in the European Conductor Competition in Oslo in May and is now keen to explore more brass band repertoire as well as improve as a conductor.
"I had never heard, or conducted a brass band before I went to Oslo," he admits.

"It was a wonderful experience for me, and now I want to find out more about the music and how to conduct as brass band successfully."
He added: "I teach 85 students aged up to 18 at the moment and have studied orchestral conducting; but the brass band fascinates me."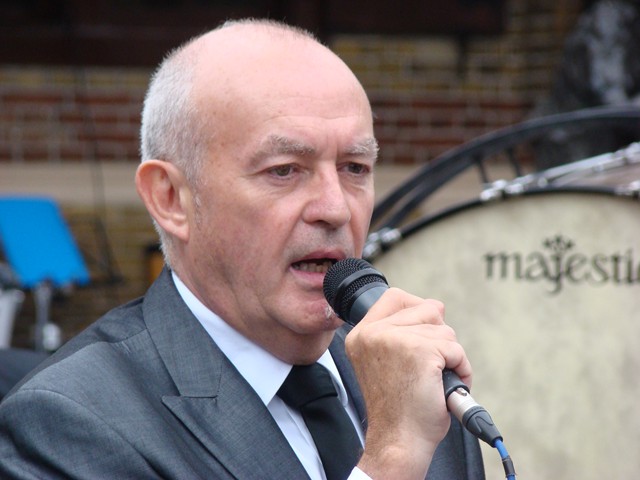 Course Director Allan Withington takes to the mike...
The Spaniards wait patiently as some of the other 11 conductors on the course direct Soli Brass through repertoire to be used in their end of course concert.
Journey to Freedom

This year Course Directors Allan Withington and Robin Dewhurst have used the innovative theme of 'Journey to Freedom' as their musical key – and have even been rehearsing at the town's historic jail to ensure inspiration.
Borja strides to the conductor's stand: He is compact in stature and exudes intense emotion. His beat patterns are broad and elegant, but evoke deliberate purpose in the opening section to 'Henry V'.
"I love this music," he says afterwards. "It is so beautifully written and it brings out such warm sounds from the heart of the band."
Free

The taller Rafa is equally free flowing and expansive; his articulate baton work accompanied by a flashing smile as he encourages the Soli players to play with pulse and drive on the Freddie Mercury hit, 'I Want to Break Free'.
The tricky closing section is handled with real aplomb – with the other 11 delegates generously acknowledging his show of skill with warm applause.
As he returns to his seat behind the back row cornets, Borja gives his friend a hearty slap on the back.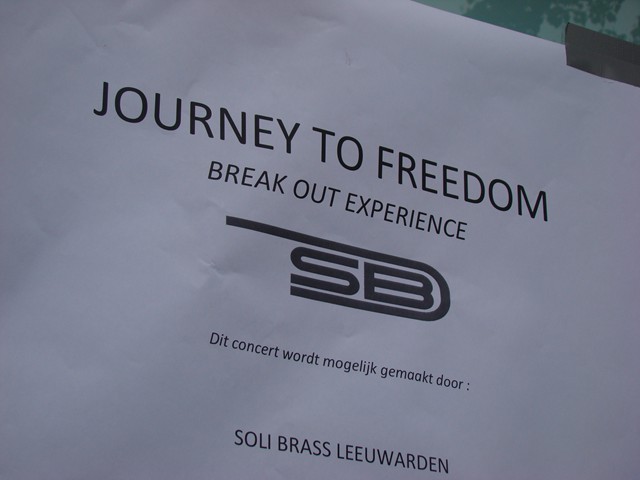 A familar musical title to take inspiration from...

That open display of communal encouragement is a feature of the week long course that sees the conductors work for up to 10 hours a day before they can sit back and enjoy a drink in the welcoming bar of the Soli Brass bandroom.
International brigade

The Spaniards are joined by a trio of British conductors, four Norwegians, two Danes, an Irishman and a Swiss.
Meanwhile, Allan Withington and Robin Dewhurst are helped with their lectures on conducting technique, effective rehearsal planning, score reading, creative programme planning, people management, performance psychology and lots and lots of conducting in front of a top flight brass band by the organisational expertise of the indefatigable Anja Abma.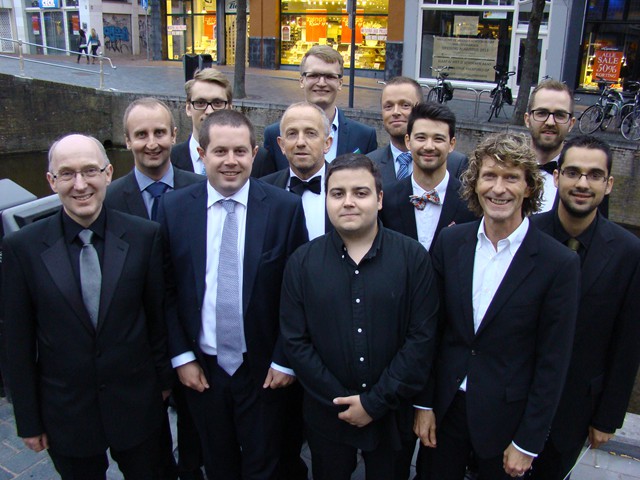 13 good men and true...

Talent

Each delegate takes their turn at the Soli Brass helm – some more experienced than others, but all eager to learn and improve under Allan's expert direction and clear cut analyses.
"They all have the talent, skill and desire," he says. "The trick is to mould it together, so that they understand what they are doing and why they are doing it.

Building up confidence is key – but that comes by getting the basics right."
Experiences

27 year old Henrik Naeser has experience from conducting a National Guard Band and at third tier contesting level in Denmark, whilst 20 year old Norwegian Hakon Strandlie is a clarinet player who has only conducted a school brass band.
"The course has been very inspiring," Henrik says. "I like to observe and get a lot of input from just watching Allan conduct.

This is the second time I have been on the course, and each time I return home, I know I have become a better conductor."
Get home

Hakon agrees. "I want to be able to become a much better, more efficient conductor – especially as I work with young children in my school band.

There are so many new skills I have learnt. I cannot wait to get home and put them into practice."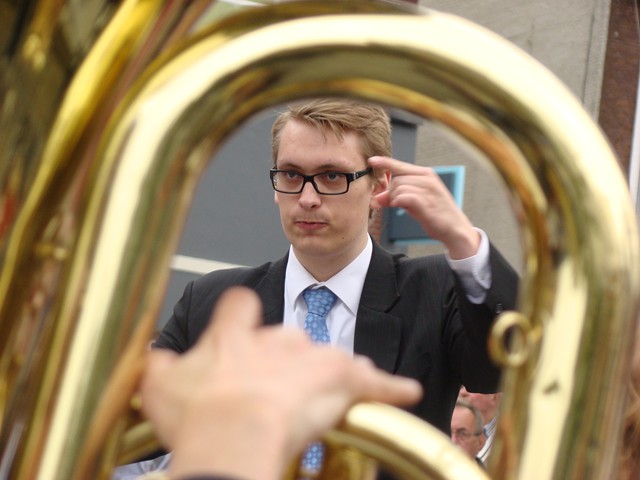 Hakon Strandlie in action

The trio of British conductors are an eclectic mix, led by former Black Dyke and YBS baritone player Rob Richardson, who has been taking the first steps on what he hopes is a new musical direction with Fulham Brass in London.
Eye opening

Meanwhile, the popular Wesley Thompson has been a respected conductor in Ireland for some years, whilst David Boorer recently took up the baton with Tiverton Band in the West of England – after a remarkable musical career as a bassoon player in the British Army.
All three have found the week an eye opening experience.
"I was lucky to have been in bands directed by some great conductors over the years," Rob says. "But gaining the first hand experience from Allan has shown me that conducting requires such a different skill set – and one you must be prepared to work long and hard at."
Wesley agrees: "I have thoroughly enjoyed the week – and will return to my band a better conductor."
Enthusiasm and commitment

David meanwhile is also hoping some of Allan's methods will lead to him being able to successfully harness the enthusiasm and commitment of his Fourth Section band on the contest as well as concert stage.
"After a career as an army musician it's remarkable to see a conductor like Allan in action.

You can see why he has been so successful, so learning from him should benefit my band immensely and hopefully lead to success."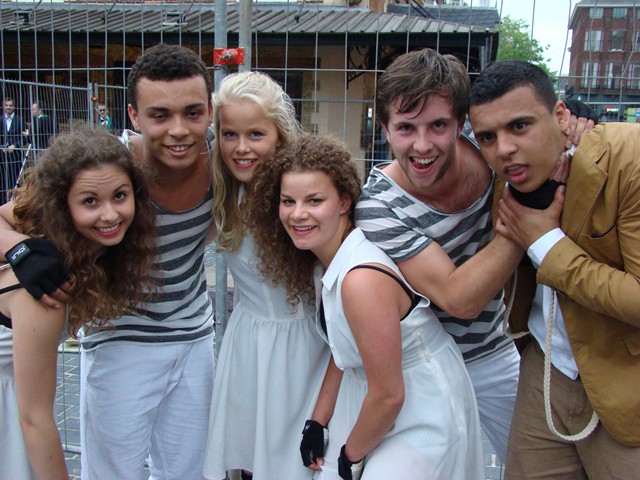 Young inmates - the wonderful dancers who helped on the jailbreak theme
That will certainly be the case if the evidence of the end of course concert was anything to go by.

Inventive

Held in the picturesque town centre of Leeuwarden, the conductors led Soli Brass as a group of young dancers provided inventive choreography to the music behind the bars of an impromptu jail yard – complete with chains, prison rations and vicious yard 'Boss'.
Over 500 people stayed to watch and listen on a busy late night shopping evening – as the story of their 'Journey to Freedom' unfolded, backed by music as diverse as 'Born Free' and Robin Dewhurst's 'Break Out' to 'Henry V' and that touch of Freddie Mercury.
As the last note of the encore rang out, the 13 conductors lined up to take the generous applause of an audience who had certainly enjoyed and appreciated their efforts.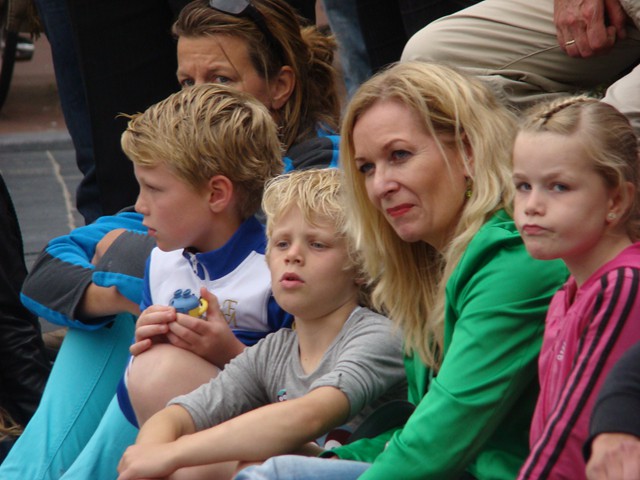 Family atmosphere
Pleased

And as Allan Withington congratulated each conductor in turn, you could see he was very pleased with his protégé's efforts too.
"Looking at them in action today, you can see how they have grown in confidence as their technique and understanding has become better," he says.
"That's the essence of this course – and why I am so committed to it. The success is down to the people who come along and want to learn and improve.
I'm very proud of them all – and we will be keeping in touch with them all in the coming months to ensure that if they need any extra help both Robin and myself can be contacted to give it to them."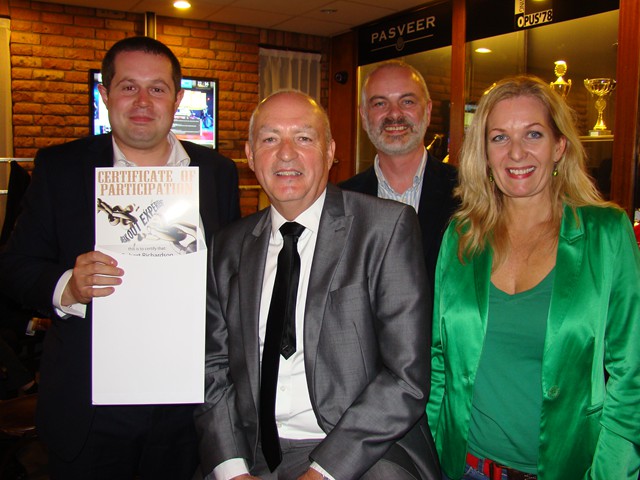 Rob Richardson gains his freedom...

At the end of course presentations later that night, e-mail addresses are exchanged, whilst the relaxed atmosphere is interspersed with the animated sound of conductors of different nationalities all talking about the one thing that now unites them – brass band music making.
You don't need an interpreter to understand that.
Iwan Fox