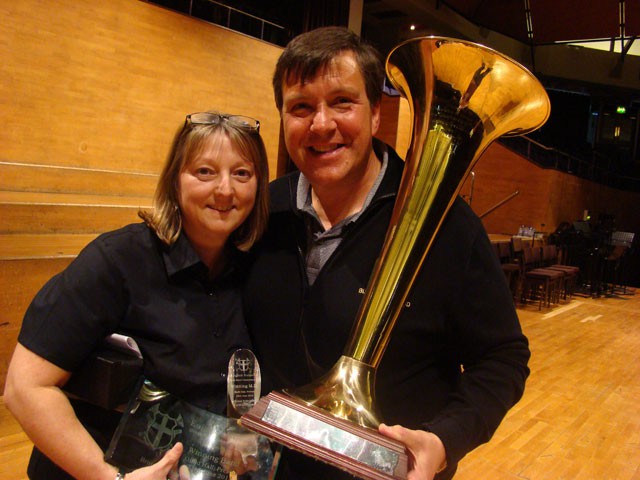 Can Black Dyke and Dr Nicholas Childs make it an English hat trick?

Whoever gets elected to the post of Chairman of Brass Bands England next month will be faced with an in-tray packed to the brim with tricky problems to sort out.

Chief amongst them is the question of the future of the English National Championship.

Goolies
It is an event that has been cursed from its outset; right from the moment on a hot Saturday afternoon in July 2006, when Wayne Rooney stamped on the goolies of a prostrate (or should that have been prostate) Portuguese footballer at the World Cup Finals in Germany.
As hordes of supporters and players packed into nearby bars that day to watch the excruciating drama unfold, about 100 yards away 14 bands played to a deserted auditorium at The Lowry Centre in Salford.
The English qualification conundrum hasn't got any better since; not for Wayne Rooney or for Brass Bands England.
Mix

A mix of sponsor's broken promises, bad luck and lack of organisational clarity, expense and general contest disinterest has left BBE trying to recover from the painful aftermath of that initial kick in the balls.
Doggedly led by outgoing chairman Robert Morgan MBE (and a committed BBE team) they have worked damned hard to try and make it a success.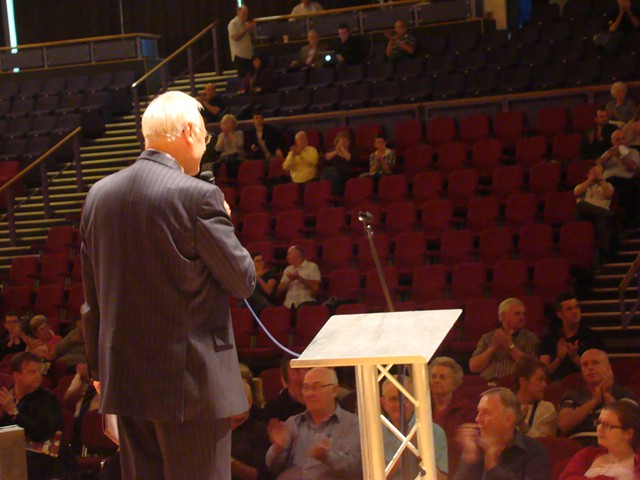 The acid test: Will there be more to listen to the action this year?

Move

However, even with a long overdue move to a more central, audience friendly venue in Birmingham, this year's event has a terminal feel about it, with the banding public viewing it as a perfunctory mechanism rather than a vibrant competition to enable an English band to qualify for the European Championships.
The incoming BBE Chairman will have many difficult decisions to make over the coming months, but the future of this event may already be decided unless the crowds start flocking to see the contest take place.

At present it's a contest that feels as if it has little essential purpose and even less relevance.
Perth invitation

Eight bands will line up at the welcoming Elgar Concert Hall at the University of Birmingham, to battle it out over two legs to see who claims the £4000 first prize and the invitation to the European Championships in Perth next year.
It is a real pity that the centenary of George Lloyd's birth couldn't be celebrated with the very top ranked English bands locking horns on 'Diversions on a Bass Theme', as well as their own choice selections, as it is a fine work that asks elegant questions of top class musical temperament.
There is no deep seated meaning to the composition. When asked about what he was trying to communicate with it he simply stated: "If I knew what I was trying to say, I wouldn't be writing music. I'd be a philosopher!"
Single cell

The response rather explains the witty pun of the title (it was commissioned with funds provided by the brewers Bass North Ltd), although it is also a reminder of the composer's inherent skill in being able to develop a single cell of thematic material (the tuba led opening bar) with such melodic certainty.
Even though Lloyd states that the piece is a set of variations - the form is not what you may expect.
The 'diversions' grow organically from the repeated seedling figure first heard by baritone and basses, rather than through pre-prepared pots of colour and style.
It is an ensemble work of subtle precision, with detail that seamlessly from a single stylistic instruction of intent from the composer at its outset; 'vivaciously'.

The underlying pulse remains essentially the same throughout (with just a refined relaxation towards the close), the dynamics carefully calibrated.
Food for thought

Technically it is well within the scope of all the bands, but it will still give the judges (Philip Harper and Paul Norley) plenty of food for thought before the competitors feast on their own choice selections in the afternoon.
Steve Sykes and Alan Morrison will be faced with a bulging plate of delights: 'Music for Battle Creek'; 'Blitz'; 'Contest Music'; 'Titan's Progress'; 'On the Shoulders of Giants'; 'Pursuing Horizons'; 'Revelation' and 'Spiriti' is a meaty afternoon brunch in anyone's book, and should provide some great entertainment.

Odds on favs - 2012 champions Black Dyke

No bets

Who will eventually end up as champion is still anyone's guess – although the local bookies have long stopped taking bets on Black Dyke claiming a hat trick of titles (and their fourth in five years).
They are the overwhelming favourite, although given their recent run of contesting luck of late, you can bet your bottom Euro that Dr Nicholas Childs will not be taking anything for granted even against this 'weakened' field of rivals.
Support

It is hard to see over two legs who could possibly beat them to the title, although Virtuosi GUS cannot be discounted after their victory at Butlins, qualification for the National Finals and their runner-up spot at the Masters.
There will also be quite a bit of neutral support for them following the announcement of John Berryman's forthcoming retirement too.
Scalp

Hepworth has taken the Dyke scalp on more than a few occasions in the past (and has a fine record at this contest) and will certainly benefit from the experience and solid contesting know-how of Michael Fowles at the helm, whilst confidence certainly won't be in short supply with Milnrow.
They are on one heck of a crest of a wave at present following their National Finals qualification and Grand Shield victory, so they will be keen to make yet another major impression on rivals under their inspirational MD Marieka Gray.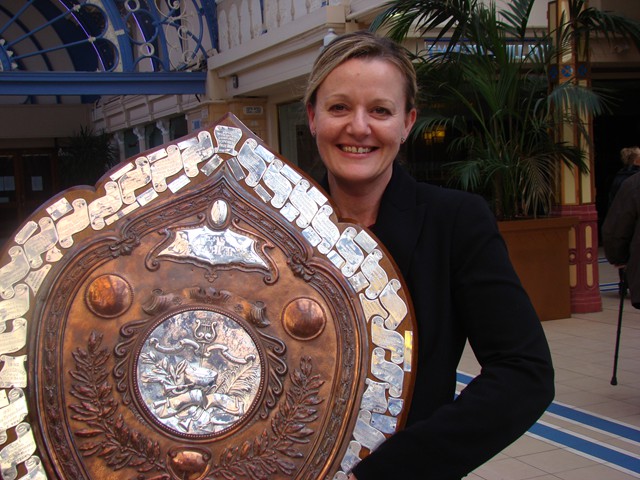 Marieka Gray is riding the crest of a wave with Grand Shield champions Milnrow

Jeremy Kyle

How the contesting rivalry between Mr & Mrs Gray is sorted out may well require the intervention of Jeremy Kyle come the announcement of the results, as Russell is set to spearhead the challenge of Reg Vardy.
With a couple of Dutch masters from Schoonhoven brought in to boost the cornet and trombone ranks, the North East challengers (who have been ever-presents at this contest since 2006) will be looking for a timely return to top rank form after failing to recapture the Area title in Darlington in March.
Cats

Meanwhile, Redbridge finds itself in much the same boat as they look to get themselves out of a trough of bad form that saw them lose their Grand Shield status in Blackpool last month.

That said, Jeremy Wise must have killed a sack of black cats with a falling ladder such has been their contest luck of late.
That leaves Hammonds Saltaire who continues to build solidly under the baton of Morgan Griffiths without quite being able to really pull off anything spectacular just yet, and Pemberton Old DW Wigan, who have also reached something of a top section contesting plateau of late.
They will look to show that they are not out of place in this company (as they did last year) under the baton of their Danish MD, Stig Maersk.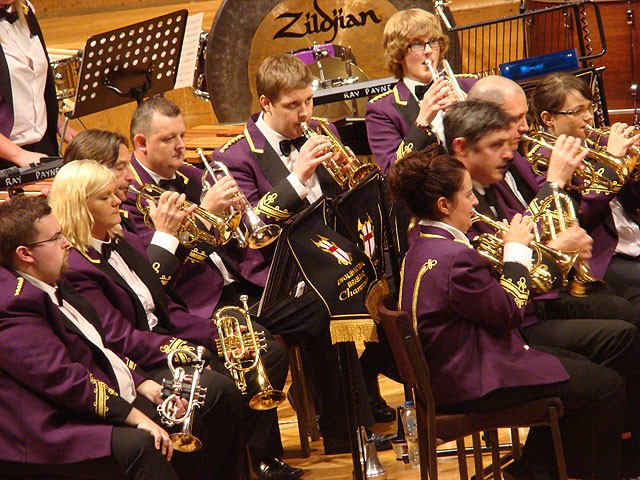 Not out of place in 2013: Pemberton Old wasn't last year
Live coverage

4BR will be there to bring you our live coverage of the action, with our views on the performances as they unfold, twitter comments, interviews and reactions throughout the day.

The event starts at 10.30am with a one hour interval between the two disciplines. Tickets are priced at £15.00 (adults); £5.00 (8- 16 year olds); Free for under 8's.

Iwan Fox
---
As for a winner?
It would be hard to suggest that the weekend will see anything other than a Black Dyke victory.
That would keep the Pondashers happy as well as the Scottish Brass Band Association and the EBBA bureaucrats too, who will surely be looking on from afar (or maybe even closer) as events unfold.
Virtuosi GUS look the best bet to push Dyke some way up the M6 towards Perth, with Hepworth and Reg Vardy just pipping Milnrow.
Redbridge should claim the final top six place end up ahead of Hammonds Saltaire and Pemberton Old DW Wigan if they finally find some form and luck.
4BR Prediction:

1. Black Dyke
2. Virtuosi GUS
3. Hepworth
4. Reg Vardy
5. Milnrow
6. Redbridge
Dark Horses: Hammonds Saltaire & Pemberton Old DW Wigan