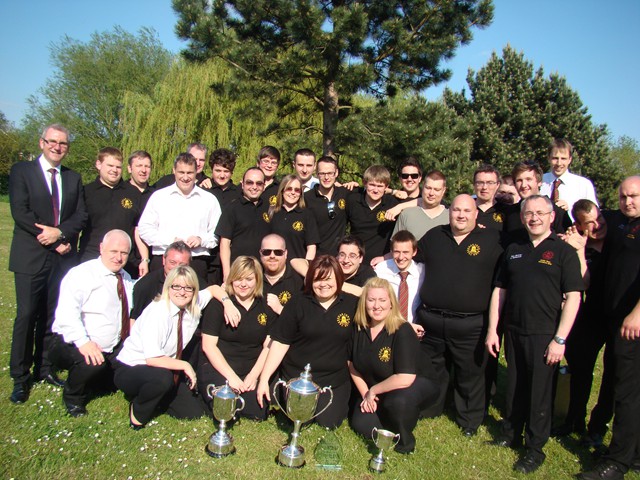 Can Tredegar make it a Masters hat trick?

1972 was a different age.
This was Britain pre- Arab oil crisis, the three day week and President Nixon denying that there was a whitewash in the White House.

It was also a time when Eric Ball could celebrate the annual meeting of his 'gay company of friends' without the swivel eyed loonies of the Tory Party declaring that our Christian morals had gone to hell in a hand cart.
Nostalgia

'A Kensington Concerto' also summed up his sense of nostalgia for an age past; when Olive Rose and friends, now scattered, would meet annually in the Royal Albert Hall on the occasion of the National Brass Band Championships.
It was a last, slightly tired sounding hurrah for a form of test piece lyricism that was soon to be engulfed by the age of large bore brashness and technical virtuosity which eventually swept through the major contests.
Today, any scattered friends would more likely be found in the top soil of a garden of remembrance.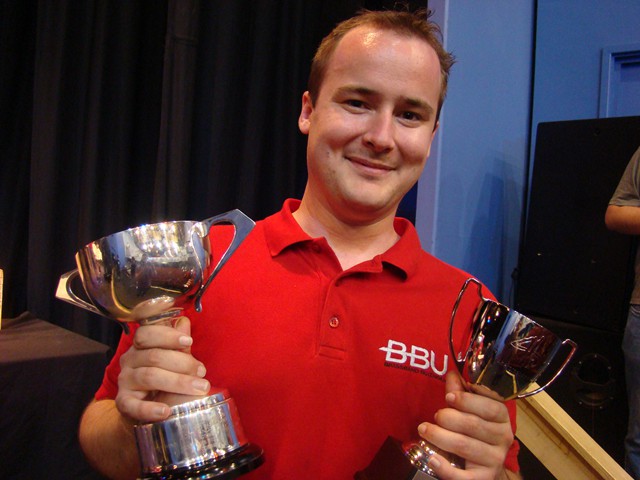 Top man: Harmon Vanhoorne won the 4BR Best Instrumentalist prize in 2012

Good manners

Even the simplicity of the opening cornet solo laid its traps with considered good manners; although it was allegedly still testing enough to see off Black Dyke's Jim Shepherd, who it was rumoured, declared that it was a type of contest challenge he didn't wish to face again in a hurry (it proved to be his last with Black Dyke – although it was a memorable winning one).

It is music of warmth and kindness; emotion lovingly expressed (perhaps somewhat naively given his choice of words in his foreword to the score) without recourse to squalid artifice.
Doff the cap

From the word go, it's like watching an old film of Colin Cowdrey playing test match cricket: The timeless sound of leg spun leather on willow; every stroke one of refined elegance, every boundary acknowledged by a gentlemanly doff of the cap.
Nowadays, we get Chris Gayle belting the first ball he faces out of the ground for six.
No wonder 21st century conductors and players find it difficult to understand and play: its music that has now been missing (or ignored) from our musical hinterland for a generation or more.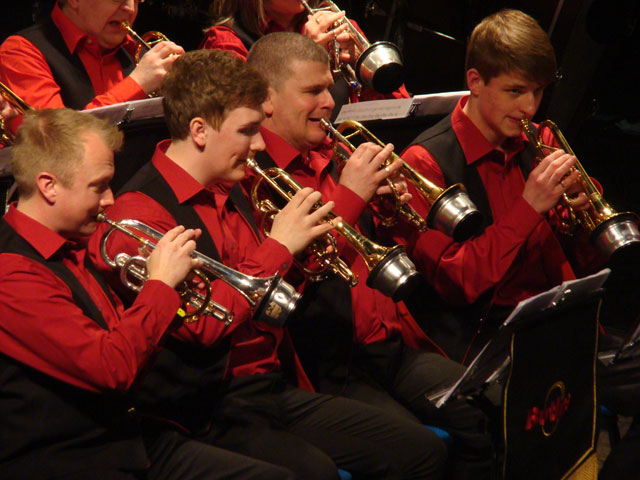 Can Virtuosi GUS claim their first Masters title?

Wind the clock back

So which of the 22 contenders can wind back the musical clock and make us all recall the wonders of 1972?
Tredegar will be looking for a hat-trick of victories – the first band to do it at the contest if they win.
Ranking, if not form, dictates they should be in with a decent shout. So too Virtuosi GUS; who were sparklingly good in winning at Butlins, but less so in qualifying for London.
Open challengers

British Open contenders Beaumaris and Hepworth have had plenty of rehearsal opportunities to hone their Ball skills following their appearances at the Areas, whilst Tongwynlais Temperance, Newstead, Hammonds Saltaire, Marsden Silver and Thoresby have much less rehearsal time to acquaint themselves with a very different test piece challenge since their Grand Shield appearances: 'Kensington Concerto' is not as easy as it may at first appear on the music stand.
Good form

The London Area champion Regent Brass has been in good form of late and will travel to Kettering full of confidence, whilst Aveley & Newham and Albert Hall bound Friary Guildford will be keen to build on solid showings at Blackpool - the latter with a bit of head start in the Eric Ball stakes after 'Journey into Freedom'.
The band to look out for though may well be Zone One Brass, still smarting from their Area result in Stevenage, whilst Staines and Wantage will be looking to get their season back on track after disappointing recent outings.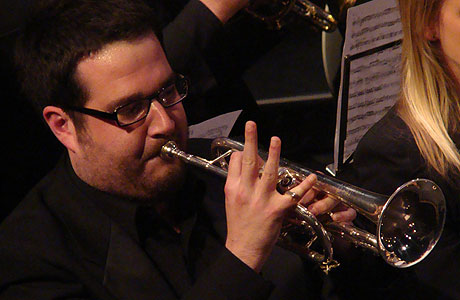 Zone One - a possible dark horse this year?

Experience

Last year's Albert Hall finalist Bournemouth Concert could be a bit of a dark horse, whilst Ray Farr's experience may be crucial in pulling NASUWT Riverside into the reckoning if they can put behind them their rather limp showing at the Senior Cup.
Confidence won't be in short supply for Unite the Union (City of Sheffield) as they look to carry on the excellent form they showed under Derek Renshaw at Blackpool, although their Yorkshire counterparts of Skelmanthorpe will look to bounce back after their Golden Mile midfield finish in the Senior Cup.
International brigade

That leaves the international brigade led by former European champions Brass Band Willebroek, who are still in the rebuilding phase of their current development under Frans Violet, and the solid performers of Kortrijk conducted by Ward de Ketelaere.

The Danes of Concorde Brass could be the ones to watch out for though (if they have recovered from their Whit Friday exertions), as Dennis Aaberg Anderson has a very talented group of players under his command.
You do wonder what Eric Ball would have thought of a certain type of free love found in the hippie commune of Copenhagen's Christiania in 1972 though...
Iwan Fox
---
Who will win?

With 22 bands, you tend to think that it may not just come down to those blessed with a principal cornet with the appendages of a Grand National winner to be in with a chance of success.
It will help of course to get off to a good start, but there is much more to this 'Concerto' than just the opening – just ask the solo trombone and euphonium, or the solo horn who reprises the opening phrase to bring the work to its close.
Refinement in phrasing, control of dynamics and musical understanding should win out, and with that in mind we think Virtuosi GUS with the John Berryman at the helm may just sneak a first Masters win over Tredegar, closely followed by Willebroek in third.
Tongwynlais, Hepworth and Beaumaris seem to have the quality to really push for the podium places or better, whilst our dark horse on this occasion is Zone One Brass.
4BR Prediction:
1. Virtuosi GUS
2. Tredegar
3. Brass Band Willebroek
4. Tongwynlais Temperance
5. Hepworth
6. Beaumaris
Dark Horse: Zone One Brass