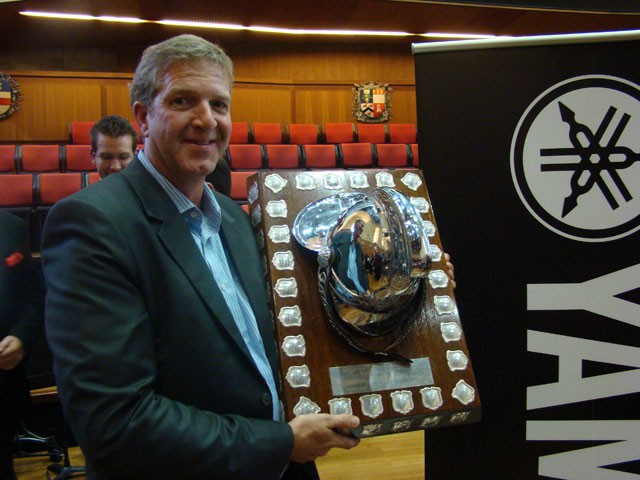 Just the right look for winning MD Howard Taylor

It is not often that the overriding emotion felt by a winning conductor at a major championship is one of pronounced relief, but Brisbane Excelsior MD Howard Taylor certainly wore the expression of a man who knew he had come a bit too close to seeing a comfortable victory almost turn into a disconcerting defeat at the Australian Nationals
Bikini

In the end, the winning margin over the four legged contest amid the sublime surroundings of the University of Western Australia was clear enough, but the bare numerical statistics were a bit like the bikinis worn by the athletic looking women enjoying the sun baked weather at the nearby Cottesloe Beach:

Despite the tight squeezes, they just about managed to conceal all the important bits from the all too obvious lingering stares.
And there were plenty of them in evidence as the announcement of the results from the stage of Winthrop Hall also ensured that the Brisbane MD needed the help of a local mathematics student to keep his eyeballs from popping out on their stalks:
It was not until someone had quickly rechecked the quartet of scores with the help of a calculator that a close run victory was finally confirmed.

Tribute

Only then did the tension abate – and Howard Taylor could clamber onto the stage to grasp the famous Fireman's Helmet National Trophy.

Not surprisingly, his acceptance speech paid tribute to his band, as well as to the challenge that they had to overcome from an inspired local favourite in RASWA Brass.
He knew only too well that his band had ridden their luck somewhat in securing their sixth National title under this command: And to his credit, he admitted it too.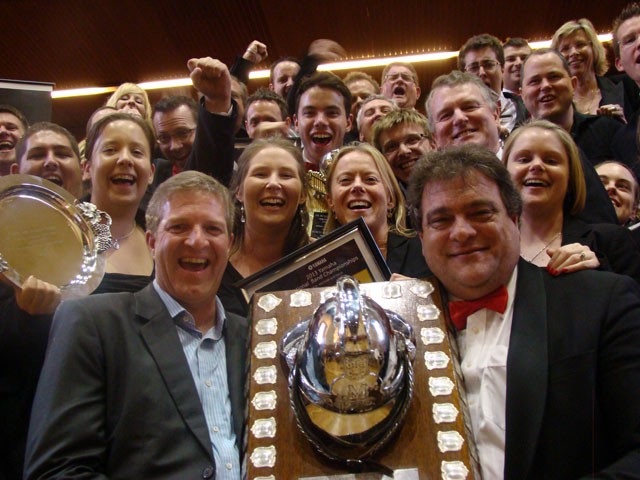 Champions again: Brisbane Excelsior with the Fireman's Helmet Trophy

Deserved champion

Brisbane was still a deserved champion.

Their hard working endeavour (highlighted by the MDs determination in dragging his band back on track on the own choice selection), rather than any inspirational music making over two days of varied competition sought to that; but it was also a reflection of a band currently in the process of transition.
The good news though is that they are clearly building towards a level of high class competitiveness (with some excellent soloist's already in place) that in their own back yard in 12 months time should see them defend the title in a much more authoritative fashion.
Need

They will perhaps need to, as it is anticipated that there will be a much stronger field of rivals there – including the likes of defending champion Gunnedah Shire who did not make the long trip from New South Wales, as well as a couple of contenders from across the Tasman Sea in New Zealand.
Here, a well worked rendition of 'The Devil & the Deep Blue Sea' and a finely shaped hymn tune 'In This Quiet Moment' on the Friday had seemingly set Brisbane up to secure a comfortable victory, but a poorly executed rendition of 'From Ancient Times' (which almost came a cropper from the word go) very nearly saw them throw it all away.
Mafeking

It's not often modern Australians can be thankful the old Empire can come to their rescue, but on this occasion a solid 'ORB' march saved the favourite's bacon:

It may not have been quite up there with the Relief of Mafeking, but the Oldham Rifle Brigade can add another battle honour to their regimental colours. Brisbane will know they won't be as lucky next year.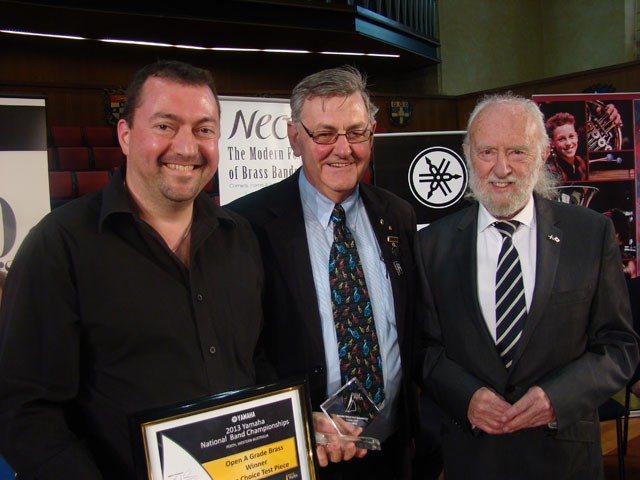 Inspired locals: RASWA come runner-up

Flag

Their carelessness also meant that an unexpected flag of victory was very nearly hoisted in glory amid the flowerbeds of the Royal Agricultural Society of Western Australia, after Dr Robert Childs inspired the local band to new found heights of competitiveness to come runner-up: It was their best ever National result.
Whether or not they can build on their success to be an equally competitive force in Brisbane in 2014 will depend upon their desire to knuckle down to the hard yakka required once the post-results enthusiasm finally wears off.

Thankfully, under their estimable MD Alan Lourens they seem determined to do just that.
Graft

More hard graft will be the order of the day for many of the remaining bands in an event that emphasised the stark reality of Australia's banding isolation.
The vastness of the country means that regular high intensity contesting is rare - a handicap that manifests itself in playing that lacks consistency under scrutiny.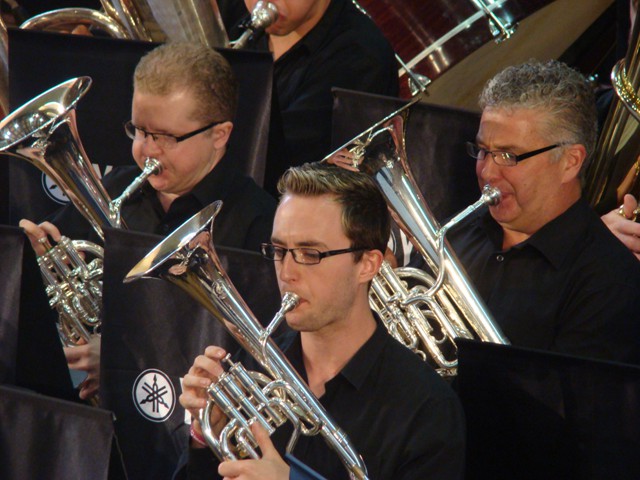 Glimpses of true potential from Darebin in third

Level headed

As a result, bands such as Darebin City Brass, who ended third under Tom Paulin, as well as South Brisbane Federal, who certainly benefitted from the excellent level headed direction of Marieka Gray, revealed only fleeting glimpses of their obvious potential.
Turning that into something underpinned by consistency execution can only come with regular contest outings - something that the geography alone in this wonderful country perhaps precludes, whilst you also wonder if the Australian musical psyche is pitched to the same level of raw competitiveness as found in the nation's sporting counterparts.

The lower section contests were full of enthusiasm, but seemed to lack a cutting edge of concentrated endeavour.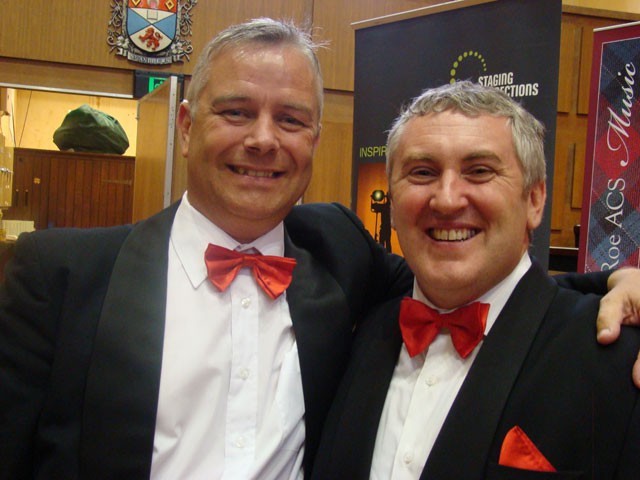 Happiness is a cold beer for two ex pat Welshmen...

Cold beer

Sitting with a cold beer talking all things brass bands with wonderfully friendly, outgoing players and organisers in the grounds of the University, you couldn't help but feel that the harder edged realities and ridiculous absurdities of British brass banding were thousands of miles away in more ways than one.

The main adjudicator Richard Evans also ensured that amid his expertly pitched bon-mots and self deprecating wit he also pin-pointed those inherent problems too – something much appreciated by the audience who waited with good humour for the results to be announced.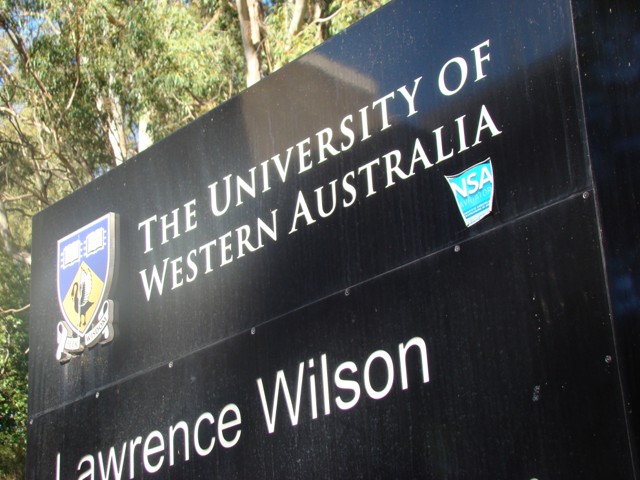 A superb Nationals venue...

Alternatives

There is so much to enjoy about life in Australia (despite Perth's exorbitant real estate prices and a puzzlingly conservative attitude to retail consumerism that sees many restaurants and shops closing earlier than you may expect for a city of 1.7 million people) that you can see why brass bands have to work hard to proposer in an environment that
can easily provide such attractive alternatives.
Thankfully, the excellent organisers and the superb facilities provided by the Music Department at the University of Western Australia offer the future possibility of brass bands becoming increasingly important of musical life in these parts.
You can only hope they succeed: There can't be too many more agreeable places on the banding globe to enjoy an uncomfortably close result.
Iwan Fox