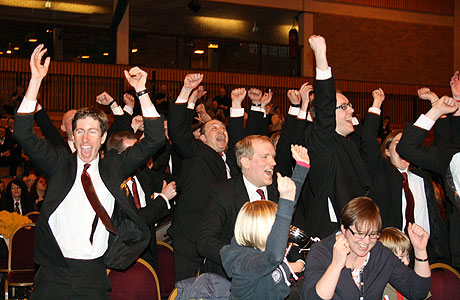 There is always plenty to celebrate in the North of England
The final stopping off point for English bands north of the Watford Gap this weekend will be the Dolphin Centre in Darlington.
It's also going to be something of a landmark event, as there are a number of changes that will take place with the organisation of future regional championships here.
Retiring

Long serving Chairman, Peter Dalby has stepped aside to be replaced by John Rummel, whilst after 35 years, over two decades of which have been as Regional Secretary, Alan Hope will also be announcing his retirement.
His service to banding in these parts has been immense, so he is sure to get a warm hearted thank you from everyone who attends the contest over the two days.
Celebrating

He leaves with the region celebrating its first National Champion since BHK Horden won the First Section in 2003, after South Milford Brass claimed the Second Section honours at Cheltenham last year.
He also ends his tenure with new and existing local bands once more making their mark, with a Fourth Section boasting no less than 12 competitors.
Although there has been some well publicised frustration over how registration issues have panned out in recent months, 4BR understands that the vast majority of bands have signed up for the new BBP Registry, and so will be able to represent the North of England at Cheltenham if they qualify for the Finals.
---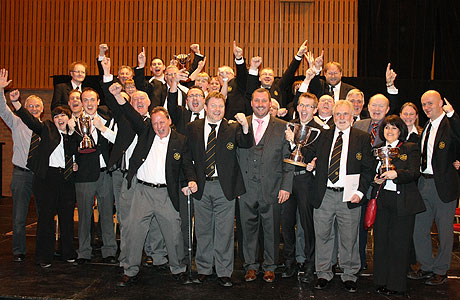 2012 Champions: Felling
Championship Section:
Sunday 17th March
Starts: 3.00pm approx at the conclusion of Second Section
Adjudicator: David Read MBE
The contest climax of the weekend will see 10 bands battle for the two qualification places on offer for the Royal Albert Hall.
The banding movement's most experienced judge, David Read MBE will relish the opportunity to listen out for the qualifiers in a section that has increased by two contenders this year; although he may also be faced with a few who may struggle to totally command Philip Sparke's fearsome 'Harmony Music'.
Failed to qualify

Last year, perennial favourites Reg Vardy failed to qualify for the first time in a decade, so if that's not enough to put fire in the bellies, MD, Dr Nicholas Childs will surely have his troops in high impact mode after his interpretations have failed to qualify with two other favourites under his command in the past two weeks.
It is hard to see them become the third, although if they do slip up, then the likes of defending champion Felling will fancy putting one over them again. You suspect another trip to London is the least of their ambitions.
Atmosphere

Meanwhile, Barton Town claimed their London place for the first time in over a century last year, and will be keen to sample the rarefied atmosphere of the Royal Albert Hall once again, whilst former champions EYMS could pose the biggest threat to all three if they have been able to build on their recent impressive form - Butlins notwithstanding.
Return to form

Fishburn last won the Area title in 2001, but they have been showing signs of a major return to form under Huw Thomas, whilst the same applies to NASUWT Riverside who will fancy a return to Kensington for the first time since 2010 directed by Ray Farr.
Easington Colliery and Kirkbymoorside Town will perhaps be vying for top six rather than podium finishes on this occasion, whilst Shepherd Group and Westoe will hope to make a mark following their promotion from the First Section.
4BR Prediction:
It's hard to see past Reg Vardy – although we said that last year and look what happened.
You suspect that lightening won't strike twice though, so they should be favourites to reclaim their title, whilst the emerging talents of Felling could just prove good enough to pip EYMS for the second qualification place.
Barton may miss out on a return trip to London, with NASUWT Riverside and Fishburn making up our top six ahead of dark horse Easington Colliery.
1. Reg Vardy
2. Felling
3. EYMS
4. Barton Town
5. NASUWT Riverside
6. Fishburn
Dark Horse: Easington Colliery
---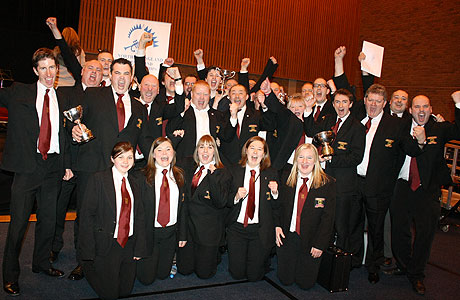 2012 Champions: Shepherd Group
First Section:
Saturday 16th March
Starts: 12 noon
Adjudicator: David Read MBE
The opening section of the weekend will be short and sweet, with just five bands looking to impress David Read on Gareth Wood's 'Brass Triumphant'.
It's a piece that has proved to be a good test over the past couple of weeks, with solid bands able to produce performances of technical security and musical malleability – helped by MDs who can for once add an extra level of interpretative sheen to the proceedings without worry too much about the note bashing.
4BR Prediction:
With only five contenders, this could be a pretty even contest, and there would appear to be plenty of quality on show with the well matched quintet of rivals.
If duties have allowed some detailed rehearsal time then Catterick Brass could be the band to beat, although Harrogate may push them close and gain a qualification place in the process, just ahead of GT Group Peterlee, the reigning Second Section National Champions South Milford and Cockerton Silver.
1. Harrogate
2. Catterick Brass
3. GT Group Peterlee
4. South Milford
5. Cockerton Silver
---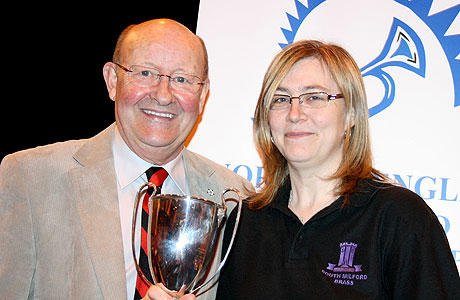 2012 Champions and National Champions: South Milford

Second Section:
Sunday 17th March
Starts: 12.45pm approx at the conclusion of the Third Section
Adjudicator: Steve Pritchard-Jones
There is also just the five bands in the line-up in the Second Section on Sunday, where Edward Gregson's 'The Plantagenets' will pose the most serious challenge to the locals since the Vikings made regular raiding trips to these parts a few hundred years ago.
There is little reason not to believe that these five, fully committed bands will give of their all in trying to master its immensely difficult technical and musical challenges, but it may be a question of 'last band standing' for Steve Pritchard-Jones to consider in the box.
4BR Prediction:
This really is 'needle in the haystack time', but all five bands will deserve a pint of Guinness to celebrate St Patrick's Day at the close.
York Railway Institute will fancy a return to Cheltenham after they finished runners up here last year, whilst promoted Third Section champion Ripon City have shown that they are growing in confidence on each contest outing.
Northumbrian Water and Murton Colliery will be pushing hard too, whilst promoted Billingham Silver will be keen to make a mark.

1. York Railway Institute
2. Northumbrian Water
3. Ripon City
4. Murton Colliery
5. Billingham Silver
---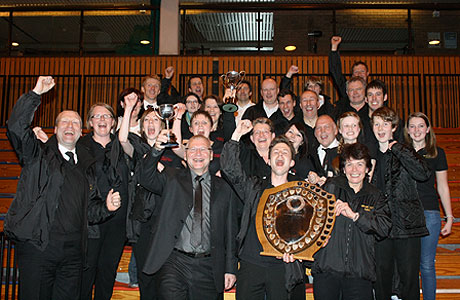 2012 Champions: Ripon City

Third Section:
Sunday 17th March
Starts: 10.00am
Adjudicator: David Read MBE
If there was ever a film based in these parts that warranted an Oscar nomination then it was surely 'Get Carter', featuring Michael Caine's brilliant portrayal of a gangster heavy played with a lazy menace that sent a shiver down the spine.
Remake

A few years later Hollywood made complete balls- up of the remake featuring Sylvester Stallone, so you can't imagine there will be a queue of movie moguls waiting at the stage door to invest in a remake of a Tinsel Town version of 'Brassed Off!' after the final curtain call on Goff Richards' highly enjoyable test piece.
Pity

It's a pity, as there are eight evenly matched bands that will give it their best shot on Sunday morning as a tasty aperitif for the main action features to come later in the day.
Style as well as a fair bit of substance is the key – although the bluesy section featuring the flugel horn and trombone can be played every bit as sleazily as some of the characters that Michael Caine had to deal with in the original film.
4BR Prediction:
This is a section that has proven to be wide open in the past couple of weeks around the country – and it could be the same here.
The likes of Marske who came third last year and the promoted Kingsway Printers Cleethorpes look like two good each way bets for a Cheltenham place, with the talented youngsters of NASUWT Concert close behind.
East Riding of Yorkshire, promoted Dunston and Backworth are solid, hard working bands led by excellent MDs, with Houghton Brass and Ferryhill battling it out to be our dark horse.
1. Marske Brass
2. Kingsway Printers Cleethorpes
3. NASUWT Concert
4. East Riding of Yorkshire
5. Dunston Silver
6. Backworth Colliery
Dark Horses: Houghton Brass & Ferryhill Town
---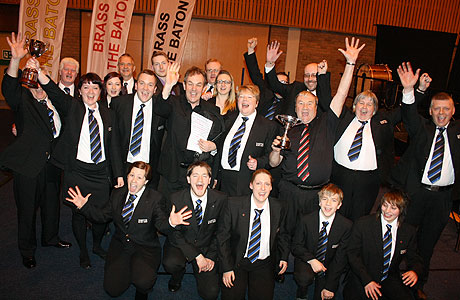 2102 Champions: Dunston Silver
Fourth Section:
Saturday 16th March
Starts: 2.10pm approx at conclusion of First Section
Adjudicator: Steve Pritchard-Jones
This could be the most enjoyable and engaging contest of weekend, as a dozen bands (the highest number here for some years) look to impress Steve Pritchard-Jones on Eric Ball's 'A Devon Fantasy'.
Wonderful test

It's proven to be a wonderful test of brass band basics – and with the MDs having just enough leeway to add an extra sheen of interpretation, it has brought the best out of everyone involved.
Great to see new faces this year as well as some established contenders and a returnee or two, so if you have the opportunity, make sure you can get along and offer your support to some great competitors.
4BR Prediction:
A bit of experience on how to capture the style of Eric Ball could well be the key to this one, so we have gone for Trimdon Concert, who were third last year to claim their place at Cheltenham, where we think they may well be joined by Jayess Newbiggin, who was fourth last time out.
Craghead and Stanhope Silver are two well led regular competitors who should fancy their chances of a top six finish, whilst the likes of Barton Community, Burneside Brass and dark horse Skipton Brass could well spring a surprise or two.
1. Trimdon Concert
2. Jayess Newbiggin
3. Barton Community
4. Craghead
5. Stanhope Silver
6. Burneside Brass
Dark Horse: Skipton Brass