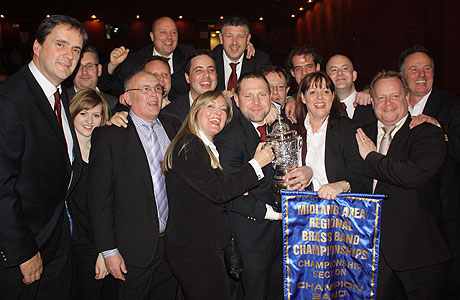 Quietly going about their business - Desford celebrates with reserve in 2012

The Midlands Regional Championship is the quiet hub of the Nationals body politic.
Expertly run by Lesley Bentley and her team, this weekend sees 77 bands go about their qualifying business at the Civic Hall and Nicholas Chamberlaine Technology College in Bedworth, with a reserved air of competitive confidence surging through their veins.
Performances of note

Although there were no National titles to celebrate last year in either Cheltenham or London, all the qualifiers produced performances of note – led by Bilton Silver (Rugby) who came runner up in the Second Section. There were also an encouraging number of top ten finishers too.
With numerically large sections the Midlands tends to produce qualifiers that have acquired solid, realistic contesting aims and objectives:

There are not too many examples of over ambitious bands racing up through the sections only to drop back down again when the money runs out or an inspirational MD leaves for pastures new.
Hush puppies

The steps to success tend to be quietly measured – like a middle aged librarian seeking a top shelf book in a pair of hush puppies.
Plenty to look forward to then, with an experienced set of judges working hard for their fees and equally hard working MDs hoping to inspire their bands to glory.
---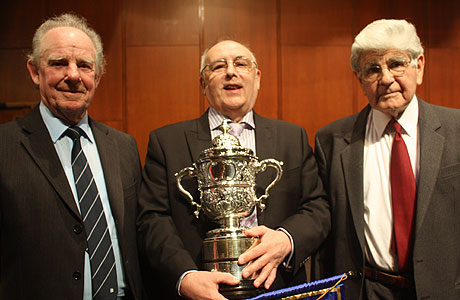 Championship Section:
The Civic Hall
Sunday 10th March
Draw: 12.00 noon (starts after the Second Section)
Adjudicators: Dr Graham Jones & Richard Marshall
It's a real pity that Desford Colliery has decided not to compete this weekend.
The 2012 champion won a very close contest last year before going on to produce a fine performance at the Albert Hall, so there is a real sense of disappointment that they have opted to focus their competitive attentions elsewhere in 2013.
No complaints

Not that their rivals will be complaining too much – as with just two qualification places up for grabs, a host of well matched bands will now stake their claims on 'Harmony Music' with an extra spring in their step.
Chief amongst them will be Virtuosi GUS – the band that narrowly missed out last year, although given their current rich vein of form, you sense they were rather looking forward to locking horns with their old rivals.
The Butlins champion will be the short priced favourite, although they will be wary that any misplaced hubris could well see them miss out once more.

There still isn't much comfort room in this competitive 11 band field.
Class act

That said, they still look like the class act, although last year's runner-up Jaguar Land Rover should be confident of repeating their success after the impressive form they showed at the Albert Hall, whilst Thoresby Colliery displayed plenty of persuasive quality in their last contesting outing at Skegness.
The promoted duo of Ratby Co-operative and Phoenix Brass West Midlands are led by two highly experienced MDs in Michael Fowles (who inspired Hepworth at Bradford last weekend) and Trevor Jones, so both their chances of qualification shouldn't be under estimated either.
Podium or better

Elsewhere, the consistent Newstead are always worth a good each way bet, whilst both Sovereign Brass and Derwent Brass are more than capable of pushing for a podium place or better.
With the improving Gresley Colliery and Oddfellows Brass, as well as the solid Jackfield (Elcock Reisen) in the mix, Dr Graham Jones and Richard Marshall may well have their work cut out in separating the best from the rest.
4BR Prediction:
Virtuosi GUS is playing with such confidence at the moment that it would be a big surprise if they didn't lift the Regional Trophy in some style.
Who will join them in Kensington though is a matter for closer debate, but we think Jaguar Land Rover may just gain the nod over Thoresby on this occasion, with Newstead, Derwent and Sovereign just behind.
Our dark horse is Ratby Co-operative
1. Virtuosi GUS
2. Jaguar Land Rover
3. Thoresby
4. Newstead Brass
5. Derwent Brass
6. Sovereign Brass
Dark Horse: Ratby Co-operative
---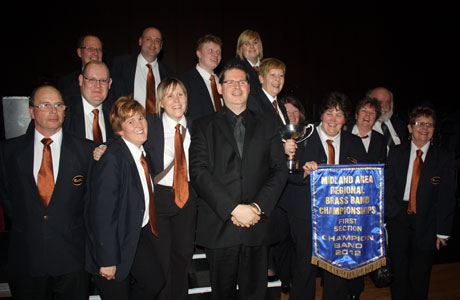 2012 Champions: Ratby Co-operative

First Section:
The Civic Hall
Saturday 9th March
Draws: 10.00am & 12.00 noon
Starts: 11.00am
Adjudicators: Alan Morrison & Paul Norley
There is a large field of 17 contenders for Alan Morrison and Paul Norley to enjoy on Saturday morning, and given the solid looking strength in depth on display, they could very well have their work cut out in picking a winner.
Tribute act

'Brass Triumphant' may not be the severest technical challenge, but it does allow the MDs scope to build an engaging portrait of Welsh inspired musicality – from the mists of the Afon Forest to the mystery of a Rhondda Valley's ABBA tribute act.

The Midlands sent three solid challengers to Cheltenham last year, and with Ratby and Phoenix promoted, it is perhaps not surprising that one of the short priced favourites to make the return trip will be Foresters Brass 2000.
They ended ninth at Cheltenham, so if they have built on that form they should be confident of hearing their name mentioned in podium dispatches once more.
Looking forward

Former top section contenders Staffordshire should be looking forward to the challenge under the baton of Leigh Baker, whilst Hathern and Kibworth are two ensembles more than capable of pushing hard for the title.
David Bishop Rowe's experience should prove beneficial for Shirley, whilst Blidworth Welfare and Enderby are very consistent contesting outfits too.
Behind these it is a bit harder to predict, but the local tipsters are telling us that Simon Gresswell has been inspiring Carlton Brass and Graham Jacklin has a fine band emerging at Leicestershire Co-operative.

Two more then to make sure you listen out for.
4BR Prediction:
A hard one to call as there is a rich seam of quality on show, led we suspect by Staffordshire and Foresters Brass 2000.
Hathern and Kibworth should push the duo hard to the finishing line, whilst Shirley and Blidworth look decent each way bets for a top six finish with our dark horse of Enderby.
1. Staffordshire
2. Foresters Brass 2000
3. Hathern
4. Kibworth
5. Shirley
6. Blidworth Welfare
Dark Horse: Enderby
---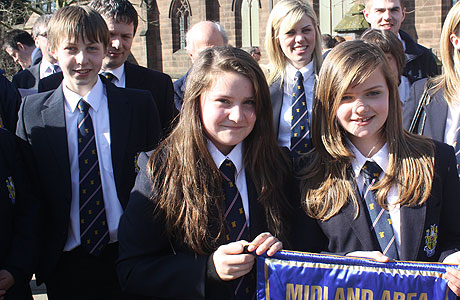 2012 Champions: Bilton Silver (Rugby)

Second Section:
The Civic Hall
Sunday March 10th
Draw: 9.00am
Starts: 10.00am
Adjudicators: Colin Hardy & Kevin Wadsworth
It was rather appropriate that the bones of the last Plantagenet King, Richard III were found in these parts – although his exhumation rather mirrored his end:

All a little macabre as he lay crooked and bent before being bundled into a box and sent to a lab to be DNA tested like a local robber nicked for handling stolen goods.
DNA

The musical DNA of Edward Gregson's marvellously malevolent work also mirrors the perceived misunderstanding of the King's personality – although on closer inspection the untruths unravel to reveal a much more complicated, less nasty piece of work.
It's still hard though – very hard in fact at this level, so the forensic analysis provided by Kevin Wadsworth and Colin Hardy will most probably be tempered with understanding and generosity.
Even Richard III had his fans.
Stand out

Of the 12 contenders the name of Bilton Silver (Rugby) stands out at the bookies as a short priced favourite, especially as they were excellent value for their second place at the National Finals last year.
With lots of quality around the stands and an MD in David Stowell with bags of experience, they look like the band to beat.
Legion

Who will join them at Cheltenham come September is a much more difficult question to answer though, with a legion of closely matched contenders all more than capable of lifting the hollow crown itself.
Of these, Wigston and Bakewell, who came fourth and fifth last year, should be in with a very good shout, whilst Daventry Brass (winners of the Third Section) and Ibstock Brick Brass are two that could also make a mark under the direction of Bob Stradling and Huw Thomas.
Andrew Dennis leads the consistent Matlock with Steve Pritchard-Jones leaving the confines of the adjudicator's box to try and qualify with Wellington (Telford).
With the likes of Long Eaton, Shirland Welfare, Amington and Avonbank also solid contesting outfits, our dark horse of Towcester Studio may be hard pushed to gain a top six mention.
4BR Prediction:
A horse, a horse, a 4BR prediction for a good dark horse....
This is such a well matched field that any number of bands could force their way into the prize winning reckoning, although we still think the class of Bilton Silver (Rugby) should win through.
Joining them appropriately enough at the equine inspired finals venue at Cheltenham could well be Bakewell Silver, followed closely by Wigston and Matlock. Our top six choices are made up of Ibstock Brick Brass and Daventry with our Foinavon outside bet, Towcester Studio.
1. Bilton Silver (Rugby)
2. Bakewell Silver
3. Wigston
4. Matlock
5. Ibstock Brick Brass
6. Daventry Brass
Dark Horse: Towcester Studio
---
Third Section:
Nicholas Chamberlaine Technology College
Saturday 9th March
Draws: 10.00am & 12.00 noon
Starts: 11.00am
Adjudicators: Colin Hardy & Kevin Wadsworth
Colin Hardy and Kevin Wadsworth will certainly get to know their medieval history as well as their stars of the silver screen by the time they head for home this weekend.
Both men will have had plenty of performances to listen to – with no less than 18 bands tackling the high stepping excitement of 'Hollywood' by Goff Richards.

Clever

The music cleverly encompasses just about every Tinsel Town genre - from Cecil B De Mille epics and the slapstick humour of the Keystone Cops to Steven Spielberg schmaltz.
It's a clever piece of descriptive writing – and one that Kevin Wadsworth gave a very accurate analysis of at Bradford last weekend. MDs that made the trip to Yorkshire may have got a sneaky insight into what he will be looking for in this particular musical script.
Wit and lightness

Although it is difficult for bands at Third Section level to actively seek out interpretative style, the clever writing contained within the score does help them along the way – especially if they buy into the clever wit and lightness of touch required.
There is also plenty of colour and effect on show, especially from the busy percussion department, but as Kevin said at Bradford – beware performances inspired by the scores to Hollywood Blockbusters:
Danny Dyer

They will have as much chance of claiming a Cheltenham qualifying place as Danny Dyer winning an Oscar for playing Hamlet.
So who will be looking to gain a possible top six nomination then?
4BR Prediction:
The bookies have been taking quite a few bets on the likes of Foss Dyke, Stourport on Severn and Rushden Windmill, although last year's Fourth Section champion Burbage (Buxton) and City of Birmingham have also had a few bob placed on them as a good each way bet.
The ambitious Ireland Colliery (Chesterfield) should be confident of ending in the mix, as will Arrow Valley Brass and Newhall, with our dark horse of Stamford Brass.
1. Stourport on Severn
2. Foss Dyke
3. Rushden Windmill
4. Ireland Colliery (Chesterfield)
5. Burbage (Buxton)
6. City of Birmingham
Dark Hose: Stamford Brass
---
Fourth Section:
Nicholas Chamberlaine Technology College
Sunday 10th March
Draws: 10.00am & 12.00noon
Adjudicators: Paul Norley & Alan Morrison

19 bands line up on Sunday morning to provide Paul Norley and Alan Morrison with their musical interpretations of a green and pleasant land far removed from the industrial dirt and grime of the Midlands of the 1950s.

Horny handed

Where horny handed welders and assembly line workers in Dudley 'never had it so good' under Harold Macmillan's patricianly Tory Government , down in the bucolic West Country farmers kept them fed by producing agricultural fodder without a single misplaced equine off cut to be seen at the local butchers.
No wonder they don't write them like 'A Devon Fantasy' anymore.
Timeless

Still, the rather timeless qualities that it demands – good brass band basics put together with enough leeway for MDs to encourage warm lyricism, confident soloists and balanced ensembles, should still sort out the fillet steak qualifiers from the Tesco value Shergar Burgers...
Plenty then for the judges to enjoy with all 19 contenders more than capable of producing performances that could see them heading to Cheltenham in September.
4BR Prediction:
Of the pre race favourites that seem to be attracting the money at the bookies, it looks like the trio of the students of University of Warwick, the wonderfully named Cleobury Mortimer Concert Brass (who were an excellent fourth here last year), and Market Rasen who could well be battling for the podium honours.
Behind them watch out for Melton, Cubbington and Pleasley Colliery Welfare, who should be confident of topping the lot after coming runner-up at Butlins. Our dark horse is newcomer Black Country Brass.
1. Pleasley Colliery Welfare
2. University of Warwick
3. Market Rasen
4. Cleobury Mortimer Concert Brass
5. Melton
6. Cubbington
Dark Horse: Black Country Brass