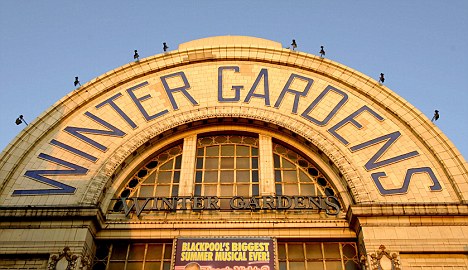 Unique concentration...

The North West Regional Championship is unique.
With all five sections taking place under one roof on a single day, it is concentrated contesting of the most intense kind.
Piquant

This year the atmosphere is even more piquant as a sprinkling of indignation and antagonism has been thrown into the mix after the North West Area Committee refused to bow to the pressure of requiring all their competing bands to sign up for the Kapitol backed Brass Band Players Registry.
No one outside a few hard working committee representatives know just how many have not signed up, and as a result there may be a little confusion in the air come results time - especially if some bands have claimed 'hypothetical' qualification places.
Great Mother's Day

Still, it promises to be a great Mother's Day, with 75 bands competing across three halls in the Winter Gardens. The action starts at 9.30am and the last results known around 7.45pm.
For the first time, the region will also enjoy having two judges in the box for each section, and there's an interesting mix that has been selected to make those all important decisions.
Reputation

For the first time this decade the region can also boast the National Champion amongst its ranks – although it shouldn't be forgotten that no less than eight bands finished in the top six places at Cheltenham.
No wonder the North West deserves its concentrated reputation.
---

2012 winner: Leyland's Michael Bach

Championship Section:
Opera House
Sunday 10th March
Draw: 1.30pm
Commence: 3.00pm approx (after conclusion of Second Section)
Adjudicators: Derek Broadbent & David Horsfield
Foden's six year North West hegemony was ended a year ago by Leyland, but with the Sandbach band now worthy historic 'Double' champions they will certainly want to reclaim their regional bragging rights.
And with two qualification place up for grabs, a whole host of contenders will be determined not just to stop Foden's quest (they get a bye), but book their hotels for Kensington in the process too on 'Hamony Music'.
Short odds

Allan Withington will have the National Champion fired up, and you'll get short odds at the bookies on them regaining the title.

However, if they take their foot off the contesting gas even a touch, some determined rivals will surely pounce to take their scalp.
Excellent form

They will surely be led by reigning champion, Leyland under Michael Bach, who was in excellent form at the RNCM Festival of Brass in January.

They will be determined to make the short trip home down the M6 with the title once again safely in their grasp before embarking on the slightly longer journey to the Europeans in Oslo.
Smiles

Meanwhile, Garry Cutt and Fairey will be intent on wiping a few smiles off their rival's faces in what is their first outing together as the Stockport based band seek their first title since 2001.

The MD has six victories here to his credit and Fairey, thirteen. Both will be confident of adding another one each.
Impression

Meanwhile, Pemberton Old DW Wigan still seek their first, and will want to make a real impression with new MD Stig Maersk at the helm, whilst Milnrow will relish the opportunity of upsetting the form book under Russell Gray, as Mareika Gray is taking Eccles Borough in the Third Section.

After a fine performance at the Scottish Open in November, they will fear no one.
An improving Wingates will be pushing for a top six berth or better under Andy Berryman, whilst Ashton, Blackburn & Darwen, Bollington Brass, Co-operative Funeralcare North West and Roberts Bakery will be looking to make a significant mark on the prize list too.
Rainford make their debut top section appearance with former Black Dyke baritone player, Gareth Brindle conducting them in his first ever top section contest with the baton.
4BR Prediction:
Can the band in the famous red jackets hold three trophies come Sunday night?
If Foden's repeat the form that earned them the historic 'Double', they should have a hat-trick to celebrate, although both Leyland and Fairey could very well get the better of them if they show any signs of fragility.
Milnrow, Pemberton and Wingates may just miss out on London, but claim a top six finish, with our dark horse selection of Blackburn & Darwen pushing them all close.
1. Foden's
2. Leyland
3. Fairey
4. Milnrow
5. Pemberton
6. Wingates
Dark Horse: Blackburn & Darwen
---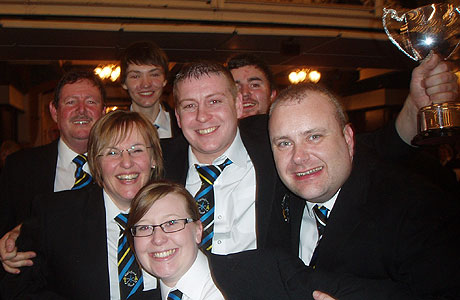 2012 Champions: Rainford

First Section:
Sunday 10th March
Empress Ballroon
Draw: 8.30am
Start: 9.30am
Adjudicators: Ian Brownbill & John Roberts
The First Section opens the contest day with fifteen evenly matched outfits hoping to catch the ear of two multi faceted musicians in Ian Brownbill and John Roberts in the box.
Both will certainly know what they're looking for on 'Brass Triumphant', with Ian an interested listener in Bradford last weekend.

You can also be sure they will tell it as it is before the results are announced around 2.15pm.
Cheerful

Gareth Wood's work proved to be an enjoyable test in Yorkshire, but it's not one the band's should underestimate despite is cheerful musicality.
Do so, and they will certainly head home with their tails between their legs.
Fascinating

With the 2012 winners Rainford and Roberts Bakery promoted to the Championship Section, Vernon Building Society Poynton dropping down, and Crewe Brass, Fixton, Haslingden & Helmshore and Uppermill all coming up from the Second, it promises to be a fascinating contest.
The barn like acoustic of the Empress Ballroom does have a tempting tendency to suck unwary players into overblowing, so MDs will surely keep a lid on the more robust dynamics if they are to lead their bands to Cheltenham.
Wide open

The local banding bookies suggest that this could be a wide open contest with a number of contenders giving the judges plenty to ponder.
Vernon Building Society Poynton has enlisted the experienced Neil Samuel to head their challenge, whilst Andy Warriner's Morecambe will travel in confident mood following a fine start to the 2013 season.
Mind you, with the likes of the emerging Wardle Anderson Brass who came fourth at Cheltenham last year, a reinvigorated Longridge, the ambitious Oldham (Lees) and developing Haslingden & Helmshore, it will be a toss up to who gets the nod in the box if they all play to form.
All that, and there are the likes of the consistent Uppermill, the experienced Freckleton and confident Flixton all fancying their chances too.
4BR Prediction:
This is going to be a tight one, although if Morecambe has built on recent impressive form, they could well claim the title and head to Cheltenham followed once again by Wardle Anderson Brass.
Longridge, Oldham (Lees), Freckleton and Vernon Building Society Poynton will be strong contenders though, with Uppermill our dark horse.
1. Morecambe
2. Wardle Anderson Brass
3. Oldham (Lees)
4. Longridge
5. Vernon Building Society Poynton
6. Freckleton
Dark Horse: Uppermill
---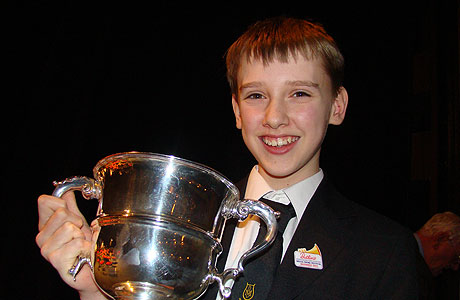 2012 Champions: Mossley

Second Section:
Sunday 10th March
Opera House
Draw: 9.00am
Start: 10.00am
Adjudicators: Derek Southcott & Simon Kerwin
If some of the MDs here took time to pop over the Pennines last weekend to Bradford, they will have certainly found out that Edward Gregson's 'The Plantagenets' was every bit as tough as they had imagined.
The North West has a deserved reputation for the quality of its lower section banding, but even that well polished patina may suffer a dent or two here on Sunday.
Gruelling

It could be a gruelling five or more hours for Simon Kerwin and Derek Southcott in the box – although you can bet your bottom dollar a host of proud Lancastrian bands won't be beaten by this test piece without one heck of a battle.
Both judges know the work extremely well (Simon conducting it at Bradford last weekend and Derek playing it in his Black Dyke days), so they will perhaps mix their constructive critical analysis with a touch of well placed sympathy.
Charge

Leading the charge for Cheltenham will be the commanding contest presence of reigning champion Mossley, with a confident band boosted by their Butlins hat trick win in Skegness in January.
They will surely be the band to beat, although Black Dyke's Philip Goodwin will look to put any Bradford disappointment behind him by leading Delph to the Finals having come third a year ago.
Whitworth Vale & Healey will also be another confident contender after their excellent Skegness performance, whilst Middleton and Pemberton Old Wigan DW 'B' will also look to build on their encouraging Butlins form.
Hoover (Bolton), Besses o' th' Barn, Besses Boys (building strongly after last year's Third Section win) and Tyldesley are all more than capable of pushing the favourites close too.
4BR Prediction:
Whoever claims the crown on this contesting battlefield will have deserved it – as this is one heck of a test of technical and musical character.
Mossley will really fancy their chances, but if they slip up, Delph and Whitworth Vale & Healey will be snapping at their heels, with Middleton, Pemberton Old DW Wigan 'B' , Hoover and dark horse, Tyldesley close behind.
1. Mossley
2. Delph
3. Whitworth Vale & Healey
4. Pemberton Old DW Wigan 'B'
5. Middleton
6. Hoover (Bolton)
Dark Horse: Tyldesley
---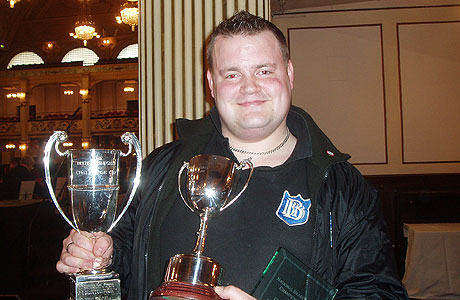 2012 Champions: Besses Boys

Third Section:
Sunday 10th March
Empress Ballroom
Draw: 1.00pm
Start: 2.30pm approx (at conclusion of the First Section)
Adjudicators: Alan Holdsworth & Barry Thompson

Blackpool's Winter Garden has seen plenty of stars topping the bill down the years, with the Empress Ballroom in particular having heard many a politician make a theatrical prize winning speech that couldn't have been delivered better even if written by a Hollywood script writer.
Goff Richards' enjoyable test piece was well received in Bradford, with its mix of clever effect and familiar, stylised musicality.
Unique piece

It may seem more suited to the concert rather than contest platform, but as the two judges in Bradford pointed out last weekend, there is a lot more to this rather unique piece than just playing the notes.
Inexperienced or nervous flugel players may find themselves a bit stage struck with their testing moment in the spotlight, whilst the percussionists could very well hold the key to Cheltenham bound success:

Too enthusiastic in this boomy acoustic and hopes of a qualification Oscar could be sunk quicker than the Titanic.
3D

The experienced judging duo of Alan Holdworth and Barry Thompson will certainly know what can and cannot be played in true Hollywood 3D Technicolor.

With last year's top four of Hoover (Bolton), Whitworth Vale & Healey, Trinity Girls and Hazel Grove either promoted or not competing, this could be a wide open battle for glory.
4BR Prediction:
A highly confident Boarshurst Silver will once again be led by David Ashworth, who gained an extra bit of red carpet experience in Yorkshire last weekend.
They could be the band beat, although the decision of Marieka Grey to lead Eccles Borough instead of Milnrow in the Championship Section tells you just how confident she is of claiming a Cheltenham berth.
Eagley and Skelmersdale Prize will also be looking to build on good recent form, as will the emerging talents of Golborne and Parr Richardson (St Helens) who come up from the Fourth Section.
It also great to see the reappearance of Marple, almost 17 years after their inspirational victory at the British Open. Let's hope it's the start of rediscovering the glory years for them too.
1. Boarshurst Silver
2. Eccles Borough
3. Skelmersdale Prize
4. Golborne
5. Eagley
6. Parr Richardson (St Helens)
Dark Horse: Marple
---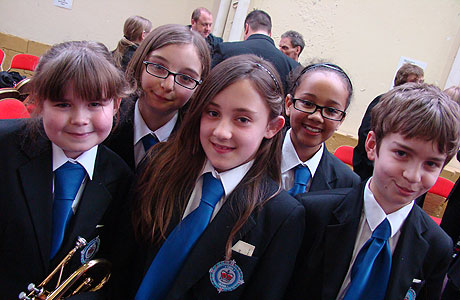 Plenty of great musical talent to enjoy in the Fourth Section

Fourth Section:
Pavilion Theatre
Draw: 12.00 noon
Starts: 1.00pm
Adjudicators: Ewan Easton & Stephen Brodie
The lovely, ornate surroundings of the Pavilion Theatre will see a reduced field of 16 bands (down from 25 last year) enjoying an equally lovely and ornate test piece in Eric Ball's 'A Devon Fantasy'.
16 bars

It has proved to be a fine test of brass band basics – with the first sixteen bars in particular setting the stall out for the judges to whether or not they are listening to a contender or an also ran, whilst the tricky third movement is a subtle vehicle for the best bands to display warmth and style.
Ewan Easton and Stephen Brodie will no doubt have an enjoyable time of it in the box and may have a difficult old task separating the best from the rest, given the well deserved reputation contenders at this level have for getting the basics of good brass band playing bang to rights.
Form band

The form band of the contest is Coppull & Standish, after enjoying a cracking start to the season, whilst the talented Greenfield is showing signs of gaining contest winning consistency too.
Blackley, Lees and Sale Brass all enjoyed good runs out at Preston, whilst there will be plenty of interest in Dobcross Youth under Jonathan Parkes, the son of the late and great, Major Peter Parkes, who led Fairey to two wins here in the Championship Section.
Also keep an eye out for Cornish lass Jessica Tredrea who will be leading Denton Brass in what is her first competition as an MD with the Tameside outfit.
4BR Prediction:
A fascinating battle to enjoy, with no real obvious favourite, there are plenty of evenly-matched outfits that could really give the judges a few headaches.
Coppull & Standish deservedly top the bookies charts as a short priced favourite, closely followed by Greenfield with Blackley and Lees in particular snapping at their heels.
Sale Brass and Dobcross could push their way into the frame with our dark horse of Denton Brass.
1. Coppull & Standish
2. Greenfield
3. Blackley
4. Lees
5. Sale Brass
6. Dobcross Youth
Dark Hose: Denton Brass