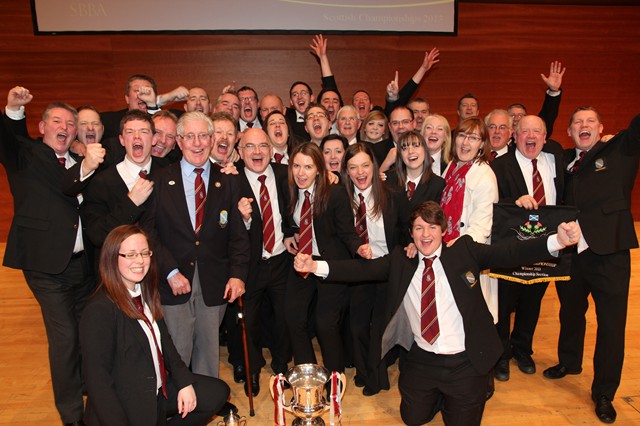 2013 Champions: Whitburn

Memorable performances have a tendency to reach almost mythical proportions for the more romantically inclined of Scots, so it will be interesting to hear in years to come of the tales surrounding Whitburn's impressive victory at Perth.
As a one off Scottish Championship winner it was without doubt right out of the top drawer, as Ian Porthouse's persuasive interpretation was delivered with high class execution by players at the peak of their game.
Added bonus

It was excellent stuff - up there with the very best heard in taking a regional title this year, and which fully deserved the added bonus of claiming the ticket to represent Scotland on home turf at the European Championships back here in Perth in 2014.
However, a bit like the Jim Baxter inspired football team that beat the English World Champions at Wembley in 1967, before Whitburn can really be considered potential major championship winners, they need to add more victories like this to their current CV.
Hubris

They will do well to be wary of any Celtic hubris: Scotland's very next match saw them end up losing to Russia at home less than month after their famous victory.
Not many romantic Scottish football supports tend to tell you that; and Whitburn has the Grand Shield just around the corner.
You suspect that on this occasion though, a touch of realism will permeate the lasting celebrations.
Euro rivals

Whitburn will be up against another European qualifier in Tongwynlais Temperance at the Winter Gardens, as well as the Area champions of Flowers and Jaguar Land Rover.

Then there is not forgetting heavyweight contenders such as Rothwell, Hammonds and a revitalised Kirkintilloch, who very nearly produced a famous win of their own in Perth under the direction of Philip McCann.
They will not be too disappointed if they end up second best at Blackpool.
Out of the wringer

That was perhaps the feeling Kirkintilloch players felt when they were announced as runner-up here, as a band that has been through the type of wringer the current Scotland football team is experiencing made a welcome return to top class form.
An infusion of talented young players has brought a real spark back to a band that many felt was in danger of falling away into the ranks of the 'also rans' at this event, but now looks like an ensemble on a rapid trajectory towards the top echelons once more.
Whether that includes British Open qualification success on 'Red Priest' is no longer the outside bet flight it once was on this form.
Curse

Meanwhile, Co-operative Funeralcare will curse their misfortune, as a series of minor blemishes consigned them to third place under the baton of Dr Nicholas Childs.
He will be happy to see the back of his score to 'Harmony Music' after a year in which he failed to add to his personal tally of Area titles even with a trio of pre-contest favourites in Bradford, Perth and Darlington.

Co-op will return more determined than ever to reclaim their domestic supremacy. They may not have any Open qualification problems to worry about, but they will also know that Scottish banding has once more returned to its three-way battle of the banding clans – rather than the two of late.
Four not three

Kingdom Brass will perhaps argue that it should be four rather than three, but despite a well worked performance of a cohesively shaped interpretation under Luc Vertommen, they still remain a step behind the leading trio.
They have the Senior Cup to look forward to at Blackpool, where on this evidence they should be confident of claiming a top four qualification place to the Grand Shield.

If they can do that, then they will perhaps have a better idea of where they stack up in the greater UK wide, rather than Perth based scheme of things.
Encouraging

With decent performances from Kirkintilloch Kelvin and Clackmannan filling the top six places (neither of whom are in Blackpool), and some hard working accounts from the remaining competitors, the overall standard in Perth was encouraging.
Greater glories

For the moment Whitburn can bask in the glory of a Scottish Championship win as good if not better than any of their previous 16, and the real possibility that the future holds even greater glories.
Like Napoleon though, they will be wary of any Russians that may appear on the horizon on the Golden Mile in Blackpool.
Iwan Fox with thanks to Kenny Crookston