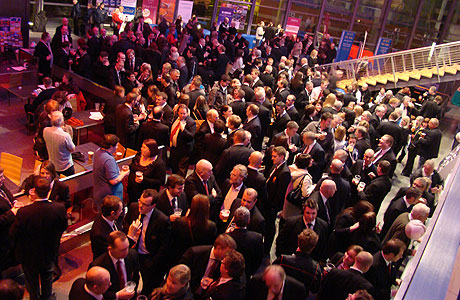 A vibrant Scottish atmosphere in Perth...
There is an added frisson to the competitive spirit on show in Perth this weekend as Scottish banding starts the long countdown to hosting the 2014 European Championships.
Nobody will want to miss out on that ambitious event, especially as the Perth Concert Hall provides such a compact and vibrant contesting atmosphere.

Euro

And it not just the Championship contenders who will be trying harder than most to claim the right to represent their proud nation there too – as the ethos of the Scots version of the 'Euro Festival' encompasses all of the country's banding regions.
Whoever gains the nod on Sunday will therefore be sure of support from Dumfries to Aberdeen and all stops in between.
There are also welcome signs that all levels of senior Scottish banding are on the up too, with the grass root seedlings planted by the excellent youth development work of SBBA starting to flourish at last.
Promise

There were encouraging results to savour both at Cheltenham and London last year, so there is perhaps the promise of a National title to celebrate by the time the big guns of Europe descend on Perth in just over a year from now.
We'll see – but this weekend may tell us whether Scotland is starting really to become a banding powerhouse at long last.
---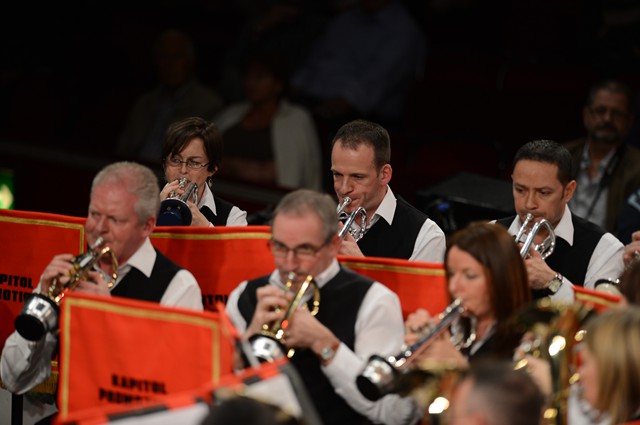 Reigning champions Co-operative Funeralcare in action at London in 2012

Championship Section:
Sunday 10th March
Starts: 2.40pm
Adjudicators: David Roberts & Jim Davies
The climax of the weekend will see 10 bands lock horns in a bid for tripartite triumph on 'Harmony Music'.

First up is qualification for the National Finals with the secondary bonus of one band heading to Kensington crowned as Scottish Champion.

The third part of the celebratory mix comes with the invitation to be the 2014 European representative.

Intrigue

Plenty to play for then, with the added spice of four fancied contenders all bringing in big gun conductors from outside the national borders to spearhead their challenges.
Reigning champion Co-operative Funeralcare will be led once more by Black Dyke Director of Music Dr Nicholas Childs, whilst 2011 winner Whitburn returns with Tredegar's Ian Porthouse at the helm.
Kirkintilloch will be hoping Phillip McCann has not lost any of his contesting magic touch as he leads their assault fresh from causing an upset at Bradford, whilst Kingdom Brass teams up with the impressive Luc Vertommen, who inspired Grimethorpe back to London at St George's Hall.
Promise

Rothwell Temperance MD David Roberts and Drighlington's Jim Davies, fresh from their pretty successful Yorkshire endeavours will be in the box for a contest that holds a great deal of intrigue as well as promise.
With most savvy Perth bookies knowing that the eventual champion is likely to come from this quartet, better value bets may be found on possible top six finishes for the likes of Kirkintilloch Kelvin or Lochgelly.

Both have ruffled a few feathers here in the past, whilst a possible Tam O'Shanter dark horse might appear on the horizon in the form of Clackmannan.

4BR Prediction:
There is a real battle of clans in prospect on the weekend, but we think Co-operative Funeralcare may still have the edge on their great rivals Whitburn to retain their title.
The improving Kirkintilloch should be confident of a podium finish or even better if their rivals falter, whilst the ambitious Kingdom Brass will surely be snapping at their heels once more.
Kirkintilloch Kelvin and Lochgelly should fill the remaining top six places with the hooves of Clackmannan being heard just behind them.
1. Co-operative Funeralcare
2. Whitburn
3. Kirkintilloch
4. Kingdom Brass
5. Kirktintilloch Kelvin Brass
6. Lochgelly
Dark Horse: Clackmannan District
---
First Section:
Sunday 10th March
Starts: 10.30am
Adjudicators: Tony Swainson & John Maines
It comes as something of a surprise that Scotland has yet to produce a First Section National Champion.
Over the years they have sent a number of confident qualifiers to Harrogate and latterly Cheltenham, but until now they have all returned home empty handed. It's been more like 'Brass Tribulation' than 'Brass Triumphant'.
Experienced

That could well change this year with 10 strong looking ensembles lining up on Sunday morning to tickle the fancy of two very experienced campaigners in the box.
Both Tony Swainson and John Maines have experienced numerous contesting triumphs and tribulations in their long careers, and will know just what is required from these bands if they are to claim one of the two qualification places on offer.
Plenty to look forward to then, with the six of last year's contenders joined by two solid looking bands in Newtongrange and Broxburn down from the Championship Section and a pair of ambitious contenders in Coalburn and Croy up from the Second.

Cards

The Scots always play their cards close to their chest but it would appear that Newmilns & Galston and Bon Accord are attracting the pennies in the Perth branch of William Hill, with each way bets on Johnstone, Newtongrange and Arbroath.

The two promoted bands from the Second Section may also be worth a flutter in Coalburn and Croy.
4BR Prediction:
Always a hard one to call, but Bon Accord under Steve Malcolm is a solid band in the making and could be the ones to beat, whilst Newmilns & Galston could well join them in the trip south in September.

Johnstone and Newtongrange will surely push them all the way, with Arbroath and Coalburn just behind. The dark horse is Croy.
1. Bon Accord
2. Newmilns & Galston
3. Johnstone
4. Newtongrange
5. Arbroath
6. Coalburn
Dark Horse: Croy
---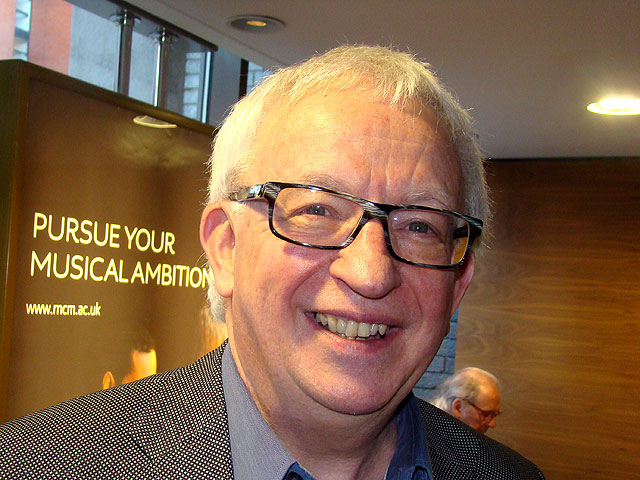 The power behind the Plantagenet throne: Composer Edward Gregson

Second Section:
Saturday 9th March
Starts: 5.40pm
Adjudicators: Tony Swainson & Alastair Orr
The Scots know a thing or two about regicide, so Edward Gregson's fearsome challenge posed by 'The Plantagenets', with its dislocated twists and turns like the backbone of Richard III's skeleton, shouldn't come as much of a musical surprise.

Hopefully then, we will get to hear a number of well delivered performances of a work that is already gaining as much infamy as Kenneth Williams in 'Carry on Cleo'.
Trials and tribulations

It' still asking a lot of these 11 contenders though, so spare a thought for the trials and tribulations players and MDs will have to go through to claim a place at Cheltenham.
Tony Swainson and Alastair Orr may have a difficult task in picking out the best from the rest here.
Impressive

That said, there are some pretty impressive looking bands with decent records taking on the challenge, led by Unison Kinneil, who have pitted their wits against top section works in the not too distant past.

Tullis Russell Mills is a band very much on the up, whilst there seems no end to the supply chain of musical talent that regularly makes the trip from Campbeltown to compete each year.
The experienced Raymond Tennent can always be relied upon to draw highly competitive performances from his bands, so Kilmarnock Concert Brass may be a bit of a dark horse, whilst Shott's St Patrick's and St David's Brass could also provide a bit of saintly intervention in the prize list alongside the more secular strengths of Bathgate.
4BR Prediction:
A tough old test piece could well take quite a few causalities, but the likes of Unison Kinneil and Tullis Russell Mills should have enough about them to temper its challenges and claim qualification.

Behind them it should be a close fight between the likes of Campbeltown, Bathgate, St David's Brass and Shott's St Patrick's. They could all be topped though by our dark horse of Kilmarnock Concert Brass.

1. Unison Kinneil
2. Tullis Rusell Mills
3. Campbeltown
4. Bathgate
5. St David's Brass
6. Shott's St Patrick's
Dark Horse: Kilmarnock Concert Brass
---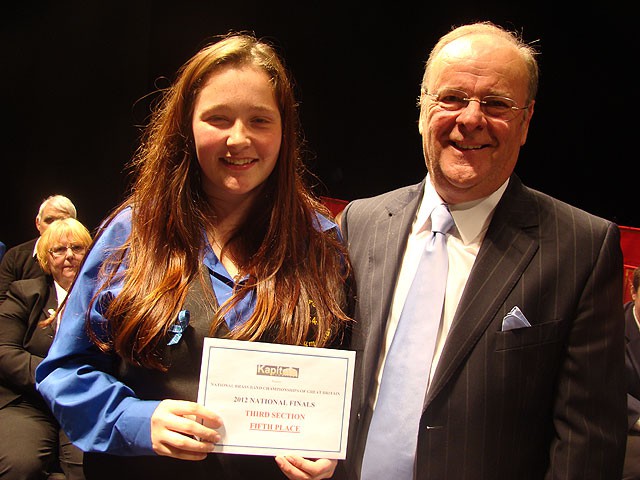 Jedforest took fifth place at the National Finals in Cheltenham

Third Section:
Saturday 9th March
Starts: 1.30pm
Adjudicators: John Maines & Jim Davies
It has also been a while since Scotland could claim a 'Best Performance' Oscar at the National Finals (2000 in fact), but in the last couple of years they have at least managed to get a nomination or two come the opening of the top six envelopes.
BAFTA

Last year's contenders did OK at Cheltenham, with the talented flugel player Stuart Black picking up a 'Best Soloist' BAFTA along the way, so hopes are high that the 'Hollywood' inspired test piece may be the curtain riser to higher profile gongs later in the awards season.
There are some strong contenders here ready to give of their best so John Maines and Jim Davies can sit back and enjoy a box set of classics if they all play to form.

Scene stealers

One thing bands will have to bear in mind though is that the Perth stage can be a bit on the lively side when it comes to percussion – and there is a lot of it in this piece.

MDs will have to try and limit the enthusiasm of some shed builders in trying to steal a scene or two in the enjoyable musical script.
Of the bookies favourites, lots of mentions already for Kingdom Brass B, after they took the Fourth Section title last year, along with fellow Cheltenham finalists, Bon Accord B.

Renfrew Burgh and Brass Sounds Inverclyde have also attracted a bit of attention from fans, whilst Selkirk Sliver and St Ronan's Sliver may well force their way into the top six alongside Peebles.
4BR Prediction:
No one quite knows how things will pan out at this level, but there seems to be a bit of a consensus north of the border that both Kingdom Brass B and Bon Accord could well battle it out for glory once more.

Hot on their heels should come the likes of Renfrew and Brass Sounds Inverclyde, with Selkirk and St Ronan's. Our dark horse is Peebles Burgh.
1. Kingdom Brass B
2. Bon Accord B
3. Renfrew Burgh
4. Brass Sounds Inverclyde
5. Selkirk Silver
6. St Ronan's Silver
Dark Horse: Peebles Burgh
---
Fourth Section:
Saturday 9th March
Starts: 10.00am
Adjudicators: David Roberts & Alastair Orr
This could be the hardest test of musical inspiration of the entire contest weekend.
10 proud Scottish contenders from the highlands and glens, mining towns and the odd industrial jampot will tackle a picture postcard version of 1950s 'Famous Five' Devon, written in a style that any player under the age of 25 will find as alien to them as a pensioner trying to get their tongues around LA Gangster rap.
Timeless

You really can't get any further away from Devon than Perth can you now, although Eric Ball's music does retain a timeless quality, even if it can come across as a bit twee and sentimental for some hardnosed Scots.
Get the basics right on this one and you are in with a chance: Play it as music to accompany a welding gang on a River Clyde shipyard and you will certainly get into trouble.
The well matched contenders should enjoy the experience however – and so should the two men in the box.
4BR Prediction:
Experience may count on this one, so the likes of Alan Fernie with Hawick Saxhorn and Brian Keachie with Barrhead Burgh could be fancying their chances of booking a B&B room in Cheltenham come September – and not just to adjudicate either.
They will be pushed hard though by the emerging talents of Tullis Russell Intermediate and Tayport Instrumental as well as Dunfermline, Callander Brass and Dundee Instrumental.
1. Barrhead Burgh
2. Hawick Saxhorn
3. Tullis Russell Intermediate
4. Tayport Instrumental
5. Dunfermline
6. Callander Brass
Dar Horse: Dundee Instrumental