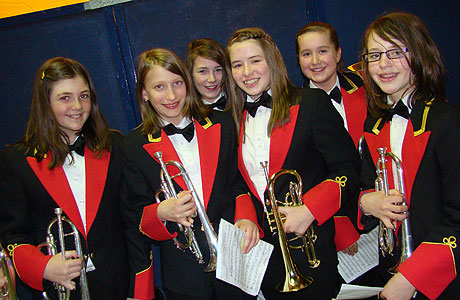 There is always a warm welcome in Torquay to enjoy...

There is always a warm welcome to be enjoyed in Torquay – and a warmly competitive contesting atmosphere to savour too, thanks to five sections of well matched competitors and the excellent organisation of the West of England Regional Committee led by Brian Elliott.

This year sees Brian, now aged 80, bow out after 13 years of outstanding leadership. He will be greatly missed, although he has told 4BR that he will now be able to sit back and enjoy the performances from the bands for once!
Pretty packed

The Riviera Centre's two halls are usually pretty packed over the two days – with this year, the Saturday seeing the First, Second and Fourth Sections, with the Third and Championship on the Sunday.
There's an interesting line up of judges to handle the all important adjudication work too – especially in the Championship Section, where Flowers will hope to become the first band since 1996 to successfully defend their title.
Although the region only picked up two top six places at the National Finals at Cheltenham, and a single top ten finish at London, the quality of bands in these parts is getting stronger all the time, with a host of contenders in each section well worth a bob or two as an eachway bet for qualification.
---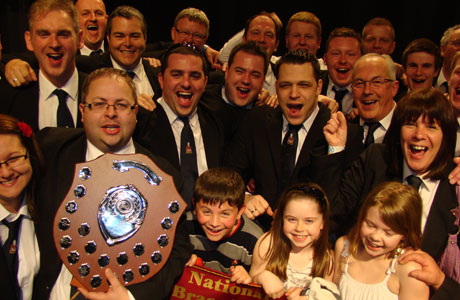 2012 Champions: Flowers

Championship Section:
The Forum
Sunday 10th March
Draw: 1.00pm
Start: 3.00pm approx
Adjudicators: Brett Baker & David Thornton
It may sound a bit tiresome, but it really is all about the champions curse in the top section – especially as you have to go back to a time when President Clinton was in the White House and Dolly the Sheep was being cloned to find a band that could hold onto its crown.
That though may be about to change, as Flowers return as overwhelming favourites to retain the title after building on a fine 2012 with an excellent start to 2013 at Skegness and Yeovil.
Band to beat

Rivals may snipe that those victories were bolstered in part by additional helping hands, but the real evidence of a top class Championship contender is still pretty overwhelming:

They are the band to beat for certain - espeically on a test pice as hard as 'Harmony Music'.
Inspired blood

Of those who may push them close, Woodfalls could be best placed if Dr Robert Childs has instilled extra test piece discipline into their entertainment inspired blood, with Mount Charles and Camborne a pair that will fancy their chances of at least booking their London B&B courtesy of a qualification place.
The ambitious Brunel Brass shouldn't be discounted either, especially give their record of regional achievement in the past few years, whilst Bournemouth showed at London that on their day they can also mix it in top class company.
Rising talents

That's six strong qualification candidates already, without a mention for Sherborne, who impressed in claiming a podium finish last year under Paul Cosh, and the solidly consistent Lydbrook, the ambitious Aldbourne, who came fourth last year and the rising talents of the youthful St Dennis and Chalford.

You could easily be forgiven for thinking that it would be easier to lift the curse of Tutankhamen than to pick out a 100% dead cert winner here – and you wouldn't be wrong

It should make for a cracking contest though.

4BR Prediction:
All good curses must come to an end at some time, and this could be the year.
If Flowers really hit form then they should be a class apart, although Woodfalls could very well get the better of them if they show any signs of fragility.
Mount Charles, Camborne and Bournemouth may just miss out as a result, with Aldbourne making up a highly competitive top six. Our dark horse is Lydbrook.
1. Flowers
2. Woodfalls
3. Mount Charles
4. Camborne
5. Bournemouth
6. Aldbourne
Dark Horse: Lydbrook
---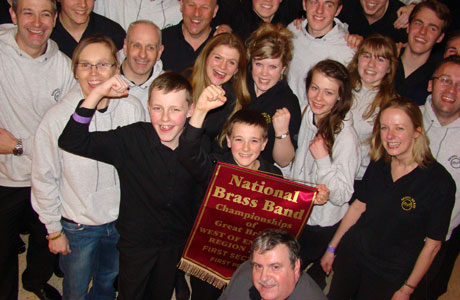 2012 Champions: Brunel Brass

First Section:
The Forum
Saturday 9th March
Draw: 1.00pm
Starts: 3.30pm approx
Adjudicators: Nick Grace & David Thornton
There should be an equally engaging contest to enjoy in the First Section, when 13 well match bands battle it out for a place at Cheltenham on 'Brass Triumphant'.

If the standard heard at Yorkshire was anything to go by then Nick Grace and David Thornton will have plenty of well constructed performances to sit back and enjoy in the box.

ABBA

Gareth Wood's colourful work appears to give the MDs that extra bit of comfort room to explore the more esoteric issue of interpretation – even if it does mean they get a head full of ABBA, Elmer Bernstein and Glenn Miller in the process.
With the 2012 qualifiers promoted to the Championship Section, one coming down in the opposite direction (Portishead is not competing), plus two strong contenders up from the Second Section, this could be a close contest to call.
The bookies tell us the fancied runners may well come from the likes of last year's third placed Lanner & District, and St Austell, who were relegated from the top flight last year.
Confident vibes

Confident vibes are being heard we are told from Filton Concert Brass, Helston and Hyde too, with last year's Second Section champion Lympstone South West Telecoms and Cheltenham qualifiers Otterbourne are a pair to watch out for in a contest that will unfortunately only result in one truly triumphant band.
Mind you, with the likes of Melvin White taking Michelmersh and Ian McElligott at the helm of Yeovil Town, experienced heads could tell if any of these fancied runners fall short.
4BR Prediction:
We think a touch of Tricky Dicky magic could pull this one off for St Austell under the baton of Richard Evans, with Lanner & District close behind.

The race for Cheltenham could well see a real battle between the likes of Filton Concert, Helston and Hyde with Lympstone just edging out our dark horse of Otterborne.
1. St Austell
2. Lanner & District
3. Filton Concert
4. Helston
5. Hyde
6. Lympstone South West Telecims
Dark Horse: Otterbourne
---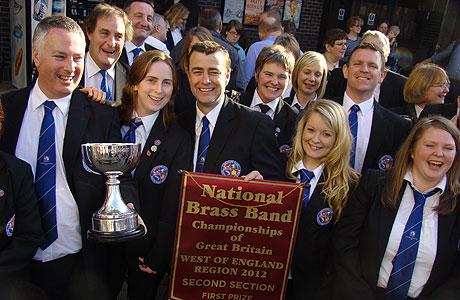 2012 Champions: Lympstone South West Telecoms

Second Section:
The Forum
Saturday 9th March
Draw: 8.45am
Starts: 10.00am
Adjudicators: Nick Grace & David Thornton
The First Section contenders will be hoping that adjudicators Nick Grace and David Thornton will not have been too taxed, or overtly depressed by the 16 performances of 'The Plantagenets' that await them in the box on Saturday morning.
Edward Gregson's work has already taking its fair share of casualties in Yorkshire and you have a horrible feeling that the Machiavellian test of technique and character will also cut something of a swath through these brave bands too.
Wise old head

You never know though – especially as there is good mix of youth and experience in the playing ranks and some wise old heads with a baton on their hands ready to do battle with the Richard III and his ilk.
Bream and AW Parker Drybrook gave good accounts of themselves at the Third National Finals and will confident of making a mark following their promotion, whilst relegated St Keverne should also be a band to watch out for after rather unluckily falling through the First Section trap door after coming a solid 8th last year.
Elsewhere there is a bit of hard earned spare cash being placed on Pendennis Brass Falmouth and St Pinnock, with the classy sounding Sidmouth another band that will fancy their chances of a possible qualification slot along with the improving City of Bristol.
4BR Prediction:
A hard one to call on such a difficult set work, but we think this one could be a fight between St Keverne and Sidmouth with Pendennis Brass Falmouth biting at their heels.
The battle for top six places will be an intriguing too, with the likes of St Pinnock, City of Bristol and Bream battling with our dark horse of Phoenix Brass (Crewkerne).
1. St Keverne
2. Sidmouth Town
3. Pendennis Brass Falmouth
4. Bream Silver
5. City of Bristol
6. St Pinnock
Dark Horse: Phoenix Brass (Crewkerne)
---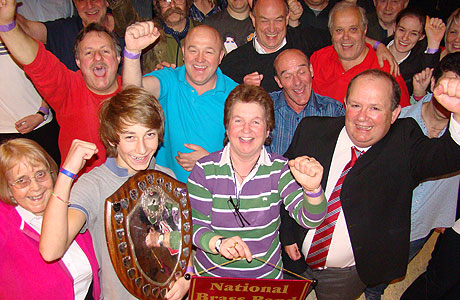 2012 Champions: Bream Silver

Third Section:
The Forum
Sunday 10th March
Draw: 8.45am
Starts: 10.00am
Adjudicators: Nick Grace & Stephen Roberts

Sunday morning's tasty aperitif will see 15 bands tackle the bells and whistles, slapstick and pathos of Goff Richards' affectionate Hollywood portrait.
Even though it's a curious hybrid that perhaps sits more comfortably as a concert feature rather than a set work, it does test all the player's skills – rather like a Woody Allen film – from principal cornet to percussion (especially if there aren't too many of them).

Crackers

Nick Grace and Stephen Roberts should have plenty of cracking performances to enjoy in the box then.
The two relegated bands from the Second Section in Wooton under Edge and Heyl should be confident of making a mark, and may be thankful they do not have to battle a much more severe set work, whilst the three up from the Fourth could well fancy their chances too.

Watch out then for Midsommer Norton & Radstock, Andover (who came 3rd at the National Finals) and Launceston Town.
Each way bets

Elsewhere the bookies say they have been taking good each way money on the likes of Bodmin, who are building up an impressive head of steam once more under Garry Lannie, Denmead and St Stythians, with Bristol East & Kingswood a possible dark horse.
Plenty of good value outsiders too – so don't put all your hard earned dosh on a dead cert 'Best Performance' favourite: Just look what happened as the Oscars.
4BR Prediction:
1. Bodmin Town
2. Heyl Town
3. Andover
4. Denmead
5. St Stythians
6. Wooton under Edge
Dark Horse: Bristol East & Kingswood
---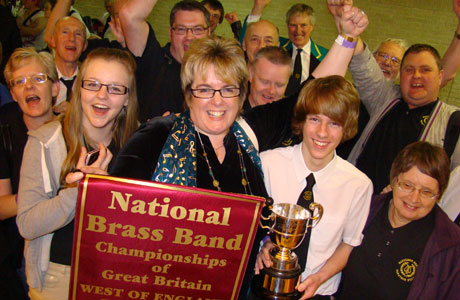 2012 Champions: Midsommer Norton & Radstock

Fourth Section:
The Arena
Saturday 9th March
Draw: 10.30am
Starts: 12 noon
Adjudicators: Brett Baker & Stephen Roberts
As always there is a wonderful field of enthusiastic, well drilled bands to enjoy in the Fourth Section – and this year they should feel right at home with the choice of test piece.
Inspiration and interpretations will abound we hope – as well as plenty of good brass bands basics, as 'A Devon Fantasy' should be right up everyone's street – literally so in some band's cases.
Reduced field

It is a slightly reduced field this year, so Brett Baker and Stephen Roberts won't be overdosed on musical clotted cream, salty seadog tales and moorland whimsy.
With last year's top three promoted to the Third Section and with just one relegated band in return it appears to be a pretty well match field of contenders, although the bookies suggest it could be a battle between Weymouth Concert Brass and Wilton & District for the title after both bands claimed top six finishes here last year.
Watch out for

Corsham will be keen to make an immediate impression after their fall through the trap door, whilst the rising stars of Chalford Academy and Camborne Junior Contesting could be bands to watch out for too.
Spinnaker Brass, South Molton and Totnes may be well worth a flutter too.

4BR Prediction:
Although notoriously difficult to predict as always, we still think the bookies may just about be on the money with Weymouth Concert Brass, Wilton & District and Corsham as possible qualifiers, although they may be hard pushed by the likes of Chalford Academy, Spinnaker Brass and South Molton.
Our dark horses are Camborne Junior Contesting.
1. Weymouth Concert Brass
2. Wilton & District
3. Corsham
4. Chalford Academy
5. Spinnaker Brass
6. South Molton
Dark Hose: Camborne Junior Contesting