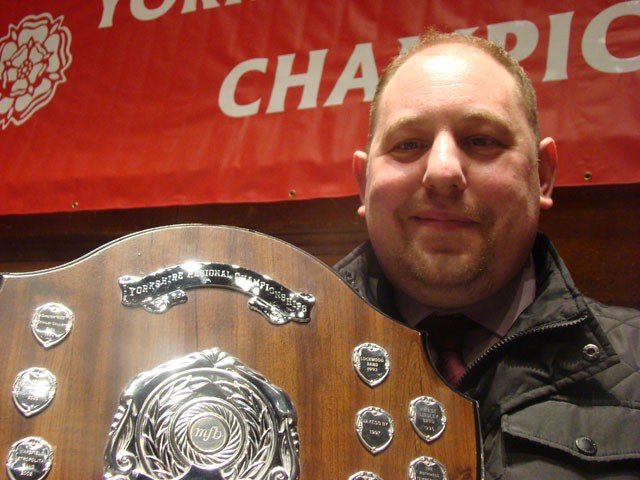 Winning MD: Alan Hobbins

First Section:
With a number of bands in the Championship and Second Sections struggling to come to terms with immensely difficult test pieces, Sunday morning's First Section was a welcome display of contesting realism.
'Brass Triumphant', with its curious mix of inspiration that encompassed everything from misanthropic Welsh hymns tunes to ABBA pop songs, proved to be an excellent test of 11 well matched aspirations.
Engaging

It also meant that Dr Robert Childs and Chris Wormald had to compare a whole batch of renditions that saw MDs add engaging interpretative style to each of its four movements, with the two form bands of Hebden Bridge and Drighlington claiming their Cheltenham places thanks to performances full of true First Section quality.

Although the adjudicators tempered their praise with clear appraisals of the qualifiers future top section ambitions, they were generous in their belief that on this form both will be strong contenders for the First Section National title come September.

Boldly confident

Drighlington added to their growing CV of 2013 contesting successes with a boldly confident account under Jim Davies.

Despite the occasional slip and minor blemish the MDs lyrical interpretation was enhanced by warm, full bodied ensemble sounds, secure technique and classy soloists.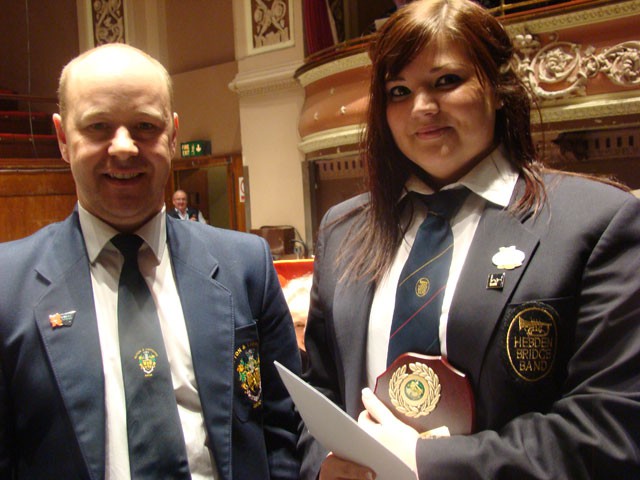 Best Soloist: Amy Smith of Hebden Bridge

Topped

They were topped however by Hebden Bridge – led with impressive authority by Alan Hobbins, who added the occasional David King inspired karate chop flourish to his subtle direction.
It inspired his band to produce some wonderful playing; bold but not overblown, balancing detail and lyricism in equal measure.

It was very much the complete package, and deservedly saw them claim the title, aided by a fine 'Best Soloist' contribution from euphonium player Amy Smith.
180 degree turn

Although the judges could not see the engaging theatrics of Lee Skipsey and City of Bradford (including the obligatory 180 degree turn to face the audience in the final bar), they would have been fully aware of the richly textured drama and excitement they created.
On another day it would have been well worth a third consecutive finals appearance, but it wasn't to be. They are some band in the making though.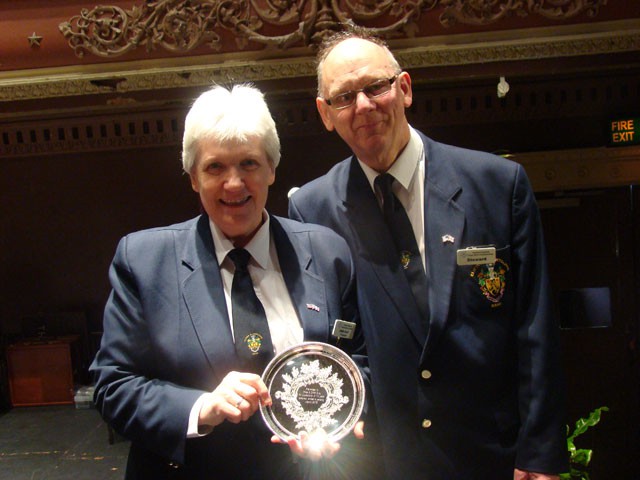 Over a century of service: John and Jayne Clay

Contrasting excellence

Behind them came a top six of contrasting excellence, with Lee Baker once again leading South Yorkshire Police with thoughtful musicality to come fourth, with an inspired Hatfield, conducted by Graham O'Connor in fifth.
With a borrowed sop from Stannington (who played very well) and empty seats to cover, one of the wisest old pros in the business expertly moulded his resources to telling effect.
No wonder he looked pleased, whilst the same could also be said of John Clay. He rounded off a memorable personal weekend by leading the ever improving Clifton & Lightcliffe to sixth on their First Section debuts.

In addition, he and his wife Jayne were presented with a silver salver for notching up an incredible 110 years of banding service.
Restored faith

With performances of substance from the rest of the 11 contenders that may only have suffered in comparison to the top six in terms of personal interpretative preference in the box, a fine contest somewhat restored the faith in First Section banding.
Let's hope there is more to come around the country in the next two weeks.
---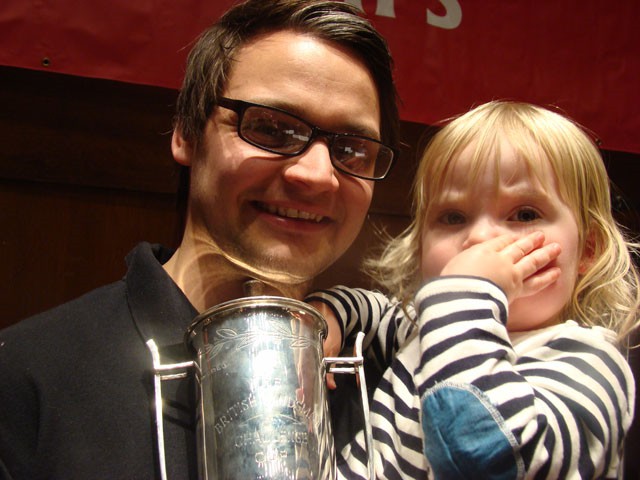 Winning MD: Daniel Wileman and his greatest fan...

Second Section:
It would be hard to describe this contest as an enjoyable one; although as a battle for the honour of claiming a hollow crown, it had just as much drama, red blooded emotion and brave causalities of any Plantagenet conflict.
A test piece that stretched the capabilities of 11 well led ensembles to breaking point and beyond, Gregson's masterful portrait of Machiavellian scheming and intrigue gave proceedings an air of desperation at times.
Deformed despondency

Unfortunately, it also meant that many performances were blighted by equally deformed despondency, all too reminiscent of Richard III in his death throes frantically seeking a fleeing horse to save him from unedifying carnage and burial under a county council car park.
As suspected, 'The Plantagenets' was not a good choice to impose on Second Section bands, MDs, players, judges and audiences alike.
Gracious

Nigel Boddice and Barry Thompson were gracious in their closing remarks; no Shakespearian eulogies from them on what they had heard – just compassionate understatement and general homilies of support for totally committed contenders and their conductors.
Cheltenham qualifiers Cornerstone Brass and Elland Silver will surely not be tested like this again – even at the finals, and it says a great deal for the musical quality of the MDs and the players that they delivered performances of such merit to get there.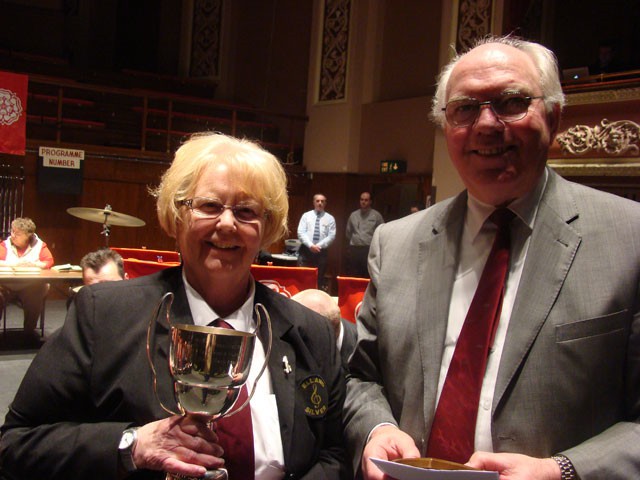 Back to Cheltenham for Elland Silver

Intelligent consideration

The imposing technical challenges were approached with intelligent consideration by both Damien Wileman and David Essex – with tempos chosen to enhance clarity rather than engaging misplaced excitement, whilst dynamic balances were kept within well controlled ensemble boundaries.
As a result two contrasting styles emerged: Cornerstone having a heavier, darker edge to the timbre and rhythmic patterns, with Elland relying on delicacy and a lighter palette of ensemble colour.

Both came close to mastering all the technical challenges too, with the excellent Jim Ely of Cornerstone showcasing euphonium playing of subtle brio to win the 'Best Soloist' award.
They were splendid efforts given the circumstances.
Close behind

Close behind came a well managed opening marker from Andrew Dennis and Chapletown, which with Elland following, briefly raised hopes that this house of York would prosper for all 11 chapters of its unfolding musical story.
They could count themselves a tad unlucky that on a day when inconsistency and variability was marked, just a few too many noticeable errors chipped the gloss of an engaging musical patina.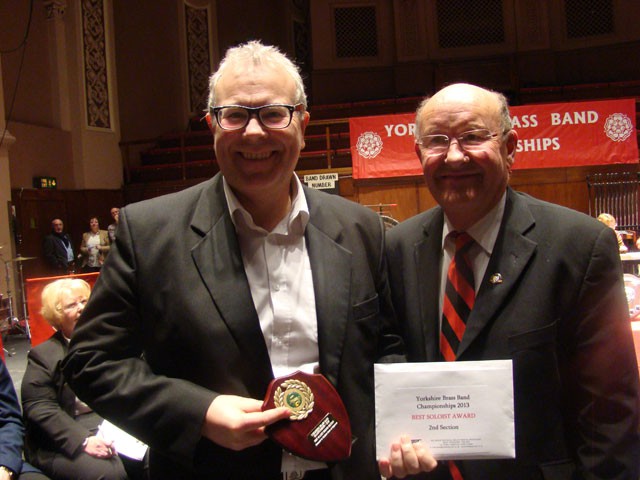 Best Soloist: Jim Ely of Cornerstone Brass

Fortitude

These though were the only bands that really came close to stamping their authority on the work – although Lindley, Strata and Old Silkstone will have emerged from the heat of this particular battle tempered to a higher level of contesting fortitude.
All three were produced portraits of commitment, passion and bravery – led intelligently by MDs who knew their band's limitations and didn't try to camouflage them with over-zealous tempi or dynamics.
Triage

Behind them came a triage field-hospital of thwarted ambition and gallant endeavour – although the quintet of Dodworth, Horbury Victoria, Emley, Crofton and Slaithwaite all left the field of battle with honour unbowed.
The same could not be said of the Music Panel however, who will surely be presented with plenty more damning evidence of the coruscating effect this badly chosen work will have on brave bands in the coming fortnight.
---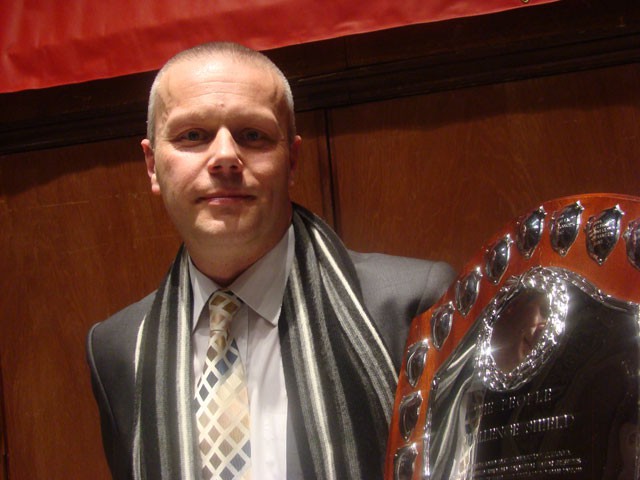 Winning MD: John Davis

Third Section:
It isn't often Hollywood glitz and glamour comes to these parts, but there was no denying that if they do decide to relocate the famous red carpet to St George's Hall they won't be short of talented Third Section bands more than capable of enjoying their moment in the spotlight.
And after a host of nominations for 'Best Performance' were considered at some length by Steve Pritchard-Jones and Kevin Wadsworth, the opening of the judge's golden envelope revealed a worthy winner in Dronfield CMW.

Tinsel Town

They booked their finals place courtesy of a rendition of the 'Tinsel Town' inspired set work that had bags of suave sophistication and musical stylishness.
Restrained to open, their performance script soon developed into a one of classy individual and ensemble vignettes, all enhanced by direction from MD John Davis that would have put Steven Spielberg to shame.
On this form, a confident, compact band will head to Cheltenham as something of a pre-contest favourite: They were excellent value for their victory.

Winning smile from Dronfield's delighted representative

No doubt

The judges were in no doubt as to what they were looking for in their deliberations; with the ability to play the descriptive score with relevant dynamic balances, clear detail and an appreciation of stylistic nuance.
The 'chill' factor in the bluesy jazz interlude was crucial, although many flugel players (understandably at this level) didn't really have the confidence to play with a truly laid back suavity.
Impressive

In contrast, the vibrant percussion effects were impressively handled – although a question could be asked of the judges as to just what they were able to consider, when not all the parts were being played.
With a number of high quality rivals to compare, it was Skelmanthorpe 'B's stylish account under Phil Garlick's neat direction that sent them to the finals for the first time since 2008.
The excellent trombonist Hannah Stell picked up the soloist award, whilst the young percussion duo, who performed like a pair of seasoned old stage hands, caught the eye and the ear too. It was a very confident performance from a well drilled band.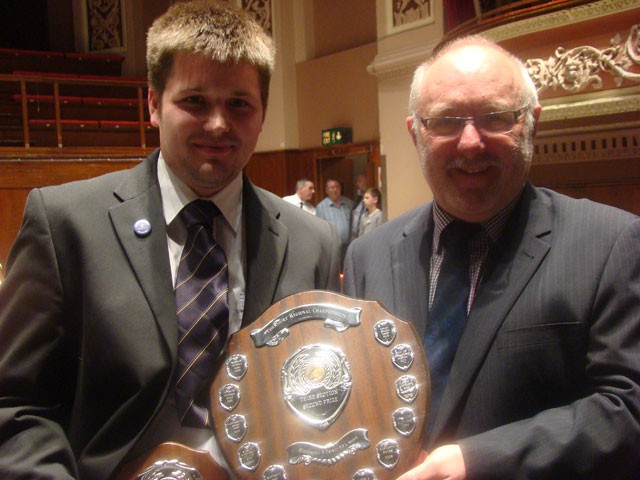 Cheltenham bound for Skelmanthorpe B

Question mark

Behind them came that question mark – with third placed Linthwaite taking to the stage with a cast of artistes that was certainly not out of the Cecile B De Mille book of biblical epics.

That said, their commitment certainly was – especially the sole percussionist, who would have run Daniel Day Lewis close for an Oscar as a man battling against the odds:

Overall, it was a performance that perhaps gained reward for its persuasive style rather than its technical substance.
Best supporting

Behind these three were a host of 'best supporting' renditions of merit, with Wetherby & District Silver and Garforth producing spirited accounts, whilst Dinnington Colliery added an extra bit of 'big band' theatrics with their trombones standing behind the band in what was an exciting, if occasionally robust rendition.
There was plenty to enjoy from the other challengers too, with well constructed performances from Lofthouse and Huddersfield gaining more than a few fans, whilst the remaining bands headed home with honourable mentions from both critics and judges alike.
Acceptance speech

None though matched the winners – although thankfully, MD John Davis didn't shed a tear as he finally got his hands on the Yorkshire Regional Trophy and made his winner's acceptance speech to 4BR.

Perhaps that will come at Cheltenham.
---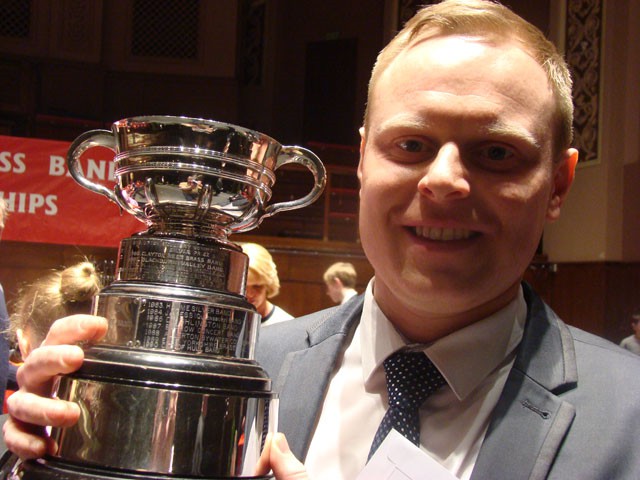 Winning MD: Alex Francis

Fourth Section:

The opening salvos of the weekend were provided by an enjoyable Fourth Section contest, where 11 bands tackled Eric Ball's 'A Devon Fantasy' with enthusiasm, confidence and well directed playing.
Judges, Steve Pritchard-Jones and Mark Wilkinson gave concise, informative stage comments, leaving the audience in no doubt to what they were looking for in the box:

The bands able to add an extra musical sheen to well polished basics were the ones in with a chance of making it to Cheltenham.
Difficult job

As they later revealed, they were presented with a difficult job, as a host of rivals added dollops of delicate colour and tasteful phrasing to solid tuning and well matched ensemble balances.
The quality of the solo and percussion work was very good.

Former Black Dyke cornet player Alex Gibson took the 'Best Soloist' award for his contribution to sixth placed Armthorpe Elmfield's effort, whilst winners Barnsley Metropolitan certainly benefitted from the neat colour and effect produced by their prize winning team.

Cheltenham bound for Gawthorpe Brass 85

Extended discussion

After an extended discussion the judges opted for Barnsley Metropolitan's interpretation of well defined character and confident execution under Alex Francis, which gained the edge over Gawthopre 85's equally impressive Devonian portrait created by John Edward.
Both were tasteful musical explorations of the Eric Ball score – nothing twee or over sentimentalised, with each movement played with warmth and a sense of bucolic style.

Devon cider apple

The MDs cleverly kept a tight rein on the dynamics too, allowing only occasional robustness to appear when absolutely necessary.
Some of the solo playing from their cornet and soprano players was a sweet as a Devon cider apple, with the deciding factor perhaps Barnsley's extra touch of ensemble class in rounding off phrase endings with refined accuracy.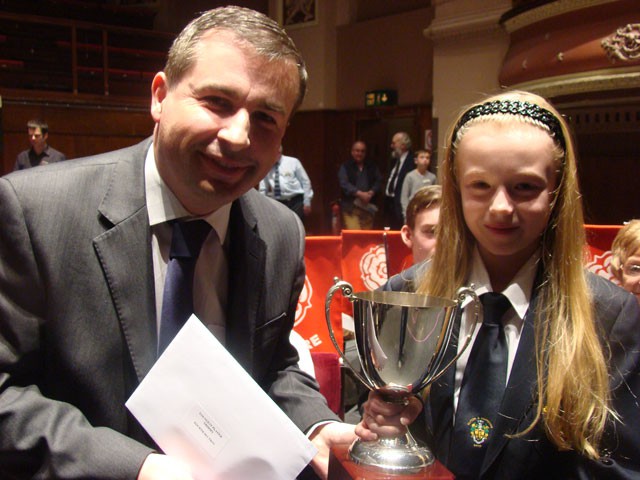 Youngest player: Stephanie White and adjudicator Mark Wilkinson

Marker

They had to be good to beat Thurcroft Welfare, who produced a fine number 1 marker under Garry Hallas that on another day would have been good enough to book a finals berth.
If there was a deciding factor in the places behind this trio, it came with the first 16 or so bars of the opening 'Moorland Song', whilst the delicacy of the third movement saw nerves and inexperience play a part in settling the minor placings.
Musical merit

Maltby Miners, Oughtibridge and Armthorpe Elmfield just lacked overall consistency in what were accounts of musical merit, helped by thoughtful resource management by the MDs – not all of whom were blessed with a full complement of players to work with.

Behind them, it was more of the same, as the gloss of solidly managed accounts was just chipped by minor errors and nervousness.

Considered playing

However, every band emerged with a great deal of credit as the deceptive simplicity of Eric Ball's writing drew considered playing from soloists and ensembles alike.

Even at the bottom end of the results table there was plenty to admire – although the flinty eyed traditionalists of Yorkshire banding were pretty aghast at the sight of Adrian Lowes conducting Yorkshire Traction Honley in a hoodie.
Chutzpah

Still, given that both he and his band thoroughly enjoyed the contesting experience, and that Adrian had bravely stepped in at late notice to conduct due to ill health, you were left rather let impressed by his well meant chutzpah.
Bravo to him and his band – and bravo to the winners too.

More contests like this will keep everyone happy.