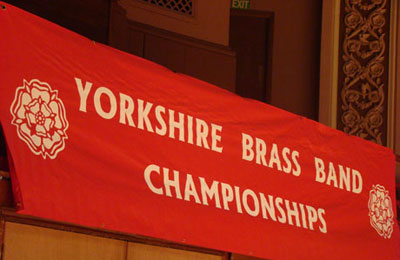 No better start....

There can be no better way to start the 2013 series of Regional Championship contests than a weekend of intense competition amid the Victorian splendour of St George's Hall in Bradford.
58 ambitious bands, all determined to claim their rightful place at either Cheltenham or London, will line up over the two days to provide of some of the most exciting, intoxicating contesting imaginable. It's that inherent Yorkshire pride – a mix of stubbornness and sentimentality that gives this event its special flavour.
It's not to be missed.
4BR will be there of course and will bring you regular twitter updates to go with our live coverage of the Championship Section climax.
---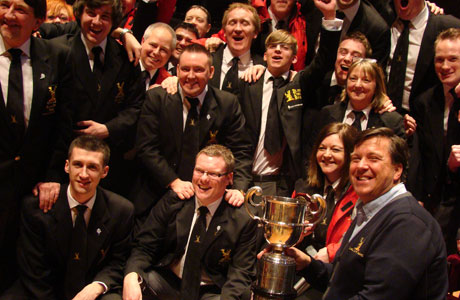 2012 champions: Black Dyke

Championship Section:
Sunday 3rd March
Draw: 4.00pm
Starts: 5.30pm
Adjudicators: Nigel Boddice MBE & Rob Wiffen
As always, the Championship Section promises to be a humdinger.
With Brighouse & Rastrick already safe in the knowledge that they are booked into their B&B in Kensington, it will be left up to the other 12 contenders to sweat blood in pursuit of the two priceless qualification places on offer to join them at the Royal Albert Hall.
Black Dyke is the bookies favourite – but after a year in 2012 that promised so much, but eventually tailed off with so little, they will be determined not to find themselves as spectators rather than contenders come October.
The usual intrigue and mystery surrounds Grimethorpe, led this year by the urbane Luc Vertommen, whilst the Stakhanovian virtues of Rothwell, Hepworth and Carlton Main Frickley won't be underestimated by their more affluent rivals. All three tend to reserve their best hard working form for Bradford.
Fearsome bite

Marsden may be a bit of a dark horse, but behind them you can't see any of the other rivals really having enough ensemble or solo quality to force their way into the reckoning of the experienced adjudication duo of Nigel Boddice and Rob Wiffen.
'Harmony Music' is one heck of a test – and a piece that has retained its fearsome bite despite celebrating its silver jubilee anniversary.

It will sort out the realists from the dreamers with clinical efficiency, and find out those MDs who will try and opt for the acerebral BBC redaction policy of trying to camouflage the bits that may cause them greatest discomfort with increased volume and pace.
As for a winner?
We can't quite see Black Dyke being beaten on this one, although an inspired David King may well coax something truly memorable from Brighouse. He does have the knack of bringing something special out here.
Grimethorpe and Carlton Main Frickley seem best suited to battle for the other qualification spot, with Hepworth and Rothwell making up the top six.
Marsden is our dark horse – and after that it's anyone's guess.
4BR Prediction:
1. Black Dyke
2. Brighouse & Rastrick
3. Grimethorpe Colliery
4. Carlton Main Frickley
5. Hepworth
6. Rothwell Temperance
Dark Horse: Marsden Silver
---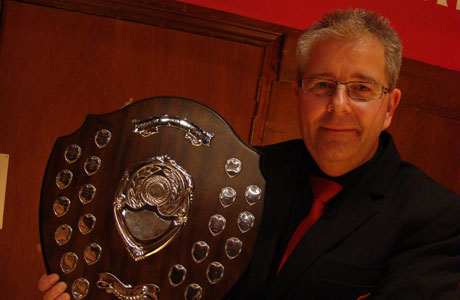 2012 champions: Unite the Union
First Section:
Sunday 3rd March
Draw: 8.00am
Starts: 9.00am
Adjudicators: Dr Robert Childs & Chris Wormald

With the two 2012 heavyweight contenders of Unite and Yorkshire Imps deservedly claiming promotion after their fine showing at the National Finals in Cheltenham, there seems to be a bit of a vacuum to fill in the First Section this year.
'Brass Triumphant' is a set work that should be well within the capabilities of aspiring top section wannabes, so we could be in for a closely matched scrap for the honours on Sunday morning.
The two judges will know this work well – Bob Childs very well, so much will depend on the MDs ability to coax more than just the notes out of the score if they are to head to Cheltenham in September.
Early form

Early 2013 form suggests that Drighlington may well be the band to beat after their fine Butlins win, but there was also a fine performance to note in Skegness from Hebden Bridge.
The ambitious City of Bradford will surely be worth a bob or two at the bookies, whilst Knottingley has also started the year well. South Yorkshire Police and Hade Edge may be slight outsiders with Kippax as a possible dark horse.
Behind this group you get suspect a few more difficulties lurk for hard working bands, although there may be a surprise or two if some of the fancied runners try to pull a fast one. It won't work with these two men in the box.
As for a winner?
Drighlington sounded a classy outfit at Butlins and should be confident of making it a double, whilst City of Bradford may just have the nod on Knottingley and Hebden Bridge.
South Yorkshire Police and Hade Edge should push for a mention with our dark horse of Kippax.
4BR Predcition:

1. Drighlington
2. City of Bradford
3. Knottingley
4. Hebden Bridge
5. South Yorkshire Police
6. Hade Edge
Dark Horse: Kippax
---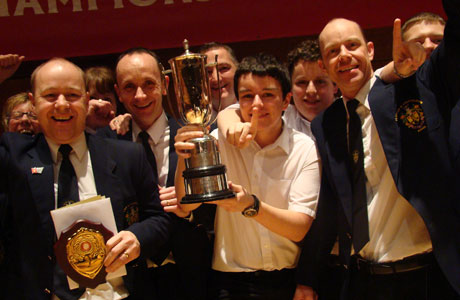 2012 champions: Clifton & Lightcliffe
Second Section:
Saturday 2nd March
Draw: 12.30pm
Starts: 2.15pm
Adjudicators: Nigel Boddice & Barry Thompson
It somehow seems appropriate that archaeologists recently found the old bones of the last Plantagenet monarch Richard III hunched in crooked agony underneath a car park: Quite a few MDs could well be broken, bowed and beaten after trying to claim victory on Edward Gregson's superbly crafted work on Saturday afternoon.
This contest will surely provide the litmus test for a set work that could very well corrode any band's chances of claiming a qualification place with its acidic technical challenges.
Nigel Boddice and Barry Thompson could well be peering into some pretty grisly remains themselves before they come up their definitive result.
Winter of discontent

11 solid bands have battled through a winter of discontent in the banding world, so a victory here may feel as if it comes with the wearing of a somewhat pyrrhic hollow crown – even if it does mean a trip to Cheltenham.
The likes of Old Silkstone, Cornerstone Brass and Dodworth all enjoyed a confident early season run out at Skegness – although it may tell you something that not one Yorkshire contender decided to try out 'The Plantagenets' at Brass at the Guild Hall at the beginning of the month.
Time well spent in the bandroom may pay off then – especially for the likes of promoted Elland Silver the consistent Strata Brass, Horbury Victoria and Lindley, whilst a few others may fancy providing a regicidal killer blow too.
As for a winner?

The test piece may be the ultimate winner here – it really is a stiff old test, but Old Silkstone and Strata Brass may be the bands to beat, closely followed by Cornerstone Brass and Elland Silver.
Dodworth and Lindley could be good each way bets for a top six place, with our dark horse of Horbury Victoria.
4BR Prediction:

1. Old Silkstone
2. Strata Brass
3. Cornerstone Brass
4. Elland Silver
5. Dodworth Colliery MW
6. Lindley
Dark Horse: Horbury Victoria
---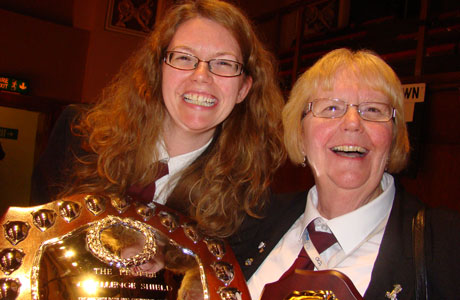 2012 champion: Elland Silver
Third Section:
Sunday 3rd March
Draw: 12.00pm
Starts: 1.45pm
Adjudicators: Steve Pritchard-Jones & Kevin Wadsworth
'Hollywood' comes to Bradford – although thanks to the wonderful curries on offer in these parts, it's more like Bollywood on a Saturday night at times.

Nonetheless, Goff Richards's set work should provide a welcome test of banding technique and musical characterisation.
11 well matched bands should also provide judges Steve Pritchard-Jones and Kevin Wadsworth with plenty of food for thought before they hand out the Cheltenham awards to tearful band reps.

There is also plenty of scope for MDs to add an extra bit of interpretative sparkle, as pearly white as the smile on a beaten rival's face, if they feel confident enough.
Bushel

These contenders have also been hiding their early season form under a bit of a bushel – with only Dronfield and Dinnington appearing at Skegness, although Skelmanthorpe B did compete at Brass at the Guild Hall.
The bookies seem to think it could well be Skelmanthorpe B's Phil Garlick who will be accepting the 'Best Director' Award on Sunday afternoon, although the likes of Jonathan Beatty with Dinnington and Dronfield's John Davis may well be practicing their acceptance speeches with some degree of confidence.
It's hard to see past these three on this occasion, although Worsborough, Rockingham and Garforth have their fans, whilst a dark horse may appear on the horizon in the form of Lofthouse 2000.
As for a winner?

It's notoriously difficult to pick a winner at this level, but we opt for Dronfield followed by Skelmanthorpe B to claim the Cheltenham qualification places, closely followed by Dinnington Colliery.

The top six could well be made up of Garforth, Rockingham and Worsborough with that dark horse of Lofthouse 2000.
4BR Prediction:

1. Dronfield CMW
2. Skelmanthorpe B
3. Dinnington Colliery
4. Garforth
5. Rockingham
6. Worsborough
Dark Horse: Lofthouse 2000
---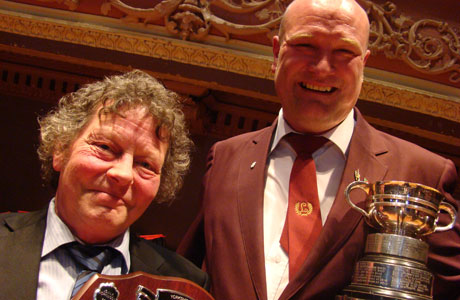 2012 champion: Linthwaite
Fourth Section:
Saturday 2nd March
Draw: 9.00am
Start: 10.30am
Adjudicators: Steve Pritchard-Jones & Mark Wilkinson
The more rugged, craggy beauty to be found around the moors of Bradford may not quite provide the MDs here with any sort of geographical inspiration in playing Eric Ball's rather chocolate box depiction of 1950's Devon, but you never know.
'Devon Fantasy' itself is a timeless test of basic brass band orienteering skills though: MDs should set their compass on magnetic musicality and head off in the right direction taking care not to overblow and upset the locals along the way.
Lashings

It is a bit of a knotted handkerchief, open toed sandals music making – a somewhat twee hike through bucolic villages filled with crusty old seadogs enjoying clotted cream cakes and lashings of the local farmer's cider at the village fayre; but it still sorts out the unwary and disrespectful.
A healthy field of 11 bands will try to impress two judges who may not have an idea what the 1950'S even looked like unless they have seen old Pathe news films, but they certainly know what to listen out for at this level.
Much to enjoy then, with the bookies telling 4BR that it could well be a battle between the likes of Gawthorpe Brass 85, and the quartet of bands that showed solid, if unspectacular form at Skegness – Markham, Maltby, Deepcar and Thurcroft.
Add into the mix Armthorpe Elmfield who will be looking for a second successive qualification place, and Clifton and Lightcliffe B and you have a good mix of rivals all capable of booking their place at Cheltenham.
As for a winner?
Difficult one to call, but we think Gawthorpe Brass 85 and Clifton & Lightcliffe B could be the bands to beat, closely followed by Markham Main, Maltby and Deepcar. Our dark horse is Armthorpe Elmfield.

4BR Prediction:

1. Gawthorpe Brass 85
2. Clifton & Lightcliffe B
3. Markham Main
4. Maltby Miners
5. Deepcar
6. Thurcroft Welfare
Dark Horse: Armthorpe Elmfield