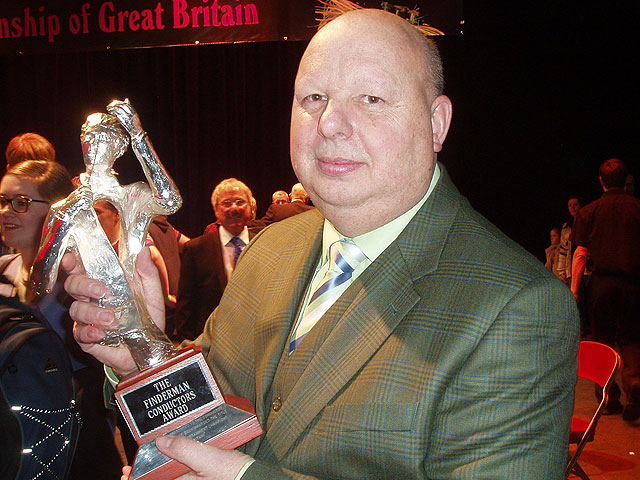 Youth Brass 2000 MD Chris Jeans with his conductor's trophy

With the weather forecast predicting heavy snow from across the Irish Sea, there was the potential for contesting chaos at the Action Medical Research Youth Entertainment Championships in Blackpool on the weekend.
Thankfully, the bad weather failed to really materialise, so those lucky enough to be sat snugly inside the Winter Gardens Opera House enjoyed a warming eight hour musical treat thanks to the superb efforts of eleven top youth bands without having to worry about the journey home.

Curtain call

It was certainly complete entertainment fayre too - as adjudicators Andrew Berryman (Music) and Robin Dewhurst (Entertainment) later revealed – although you had plenty of sympathy for the Wingates MD, who was sat behind a curtain all day.

The value of closed adjudication for an event such as this remains open to question so to speak – something not lost on Andrew either, as he highlighted in his witty opinions prior to the announcement of the results.

In a nutshell you do wonder why the contest cannot replicate the system used so effectively at Brass in Concert – especially as the event offers a concert performance invite for the winning band here.
Antiquated value

Robin Dewhurst emphasised the antiquated nature of a rather clumsy process of picking a winner by saying that, what Andrew had to endure was rather like him having to cover his ears to judge the entertainment on offer.

With the Butlins Youth Championship certainly making an impact, Gary Walczak and his hard working team continue to do an excellent job against a backdrop of rising costs and an increasingly busy contest calendar – so perhaps a tweak in the mechanics could prove an extra incentive for potential bands.
Hard work

That hard work paid off this year with twelve bands (unfortunately Seindorf Beaumaris had to withdraw due to the illness of their conductor) rising to the challenge of giving equal contesting prominence to the music and entertainment disciplines that decide who walks away with the premier youth banding entertainment crown.
The top four bands in particular were outstanding - producing programmes that were played with verve, musicality and choreography that wouldn't have been out of place on the West End of London.

Such was the quality, the two judges eventually had Youth Brass 2000 and Enderby Youth tied for first place, with the music placing resulting in Youth Brass 2000 claiming the title for a fifth time.

Glenn Miller

Youth Brass 2000's winning 'Tribute to Glenn Miller' set was delivered with such slick professionalism that it made you wonder if the myth that the American Band Leader did in fact end up enjoying life and love in Paris after the War, instead of ending up at the bottom of English Channel, must have been true.
Even the MD looked the part in his best GI Joe uniform, whilst his band looked as well as played brilliantly in their period outfits.

It came as little surprise that they also claimed the awards for 'Best Basses', 'Best Trombones', 'Best Soprano' and 'Performance of a March', whilst Thomas Fountain took the 'Outstanding Soloist' prize for a second successive year, courtesy of a fizzing rendition of Kenny Baker's 'Virtuosity'.

Superb

Pushing them all the way, Enderby Youth's 'Blues Set' under the baton of Trevor Hounsome superbly engaged the audience and judges with some outstanding playing and well judged choreography, that deservedly took the entertainment honours, but just couldn't quite dislodge Youth Brass from taking the overall title.
However, they certainly fully integrated both aspects of their set to such a professional level that it would not have been out of place at Brass in Concert layer this year either.

Cluedo

Reigning champion Elland Silver Youth may have headed home disappointed at not retaining their title, but they could take a great pride in the inventive set MD, Samantha Harrison created around the theme of 'Murder Mysteries': 'Cluedo' has never been so much musical fun.

Magic box

Meanwhile, Rochdale Borough Youth's MD, Eric Landon once again delved into his magic box to deliver a thoroughly entertaining 'Weather Report' set that filled the stage at one point with more umbrellas than can be found in these parts on a wet Friday afternoon.
Their highlights included horn soloist, Helen Clark in 'Autumn Leaves' and the euphonium duo of Steven Collins and William Buckley helped the band take the award for The Most Entertaining Item of the day in the Morecambe & Wise classic 'Bring Me Sunshine' - complete with the duo's famous dance routine as they left the stage.
Finely tuned

Behind them, Lee Rigg's Wardle High School showed further progress as they closed the contest with finely tuned programme that was full of excellent ensemble work and some ambitious musical choices, whilst Macclesfield Youth secured their best ever result off the number one draw, the highlight of which was a cracking 'Slaidburn' march complete with a Corps of Drums.

Wardle High Junior's really enjoyed themselves with their 'Circus' themed package that was full of brilliant choreography, great costumes, an entertaining MC and music that certainly was within their comfort zone.
Return home

It was a pity St Keverne had to return home soon after they played, as there was so much to enjoy in their début performance centred on a Walt Disney theme.

The playing was excellent and came 3rd, but they now know just what they need to add to their entertainment presentation to make a real mark on their next visit.
Great story

North Easterner's Houghton Area Youth told the great story of a young brass bander having uncertainties about moving to Scotland.
The resultant action packed Highland theme claimed the Best Stage Deportment of the day, concluding with the witty - 'see there are brass bands in Scotland':

There most certainly are – and hopefully one will come to this contest in future!
Classy

With an average age of just twelve, it was all about experience for the young players of Sellers Youth International Band who produced plenty of classy solo and individual contributions – especially from cornet player, Jamie Smith as well as the youngest player of the day, six year old, Esme Marper.

Finally, St Helens Youth Band, who didn't quite find favour with the judges with their 'Night at the Movies' set, although the outstanding trombonist Jack Rowlands certainly caught the ear.

Excellent Day

With White River Brass Ensemble – a collection of Black Dyke players - giving an entertaining mini concert prior to the results all that was left was for the final announcement that Youth Brass 2000 had been crowned deserved champions.

It rounded off another excellent day in aid of a wonderful charity, and one which was again recorded for DVD – all at a price of £5 per copy!
Malcolm Wood