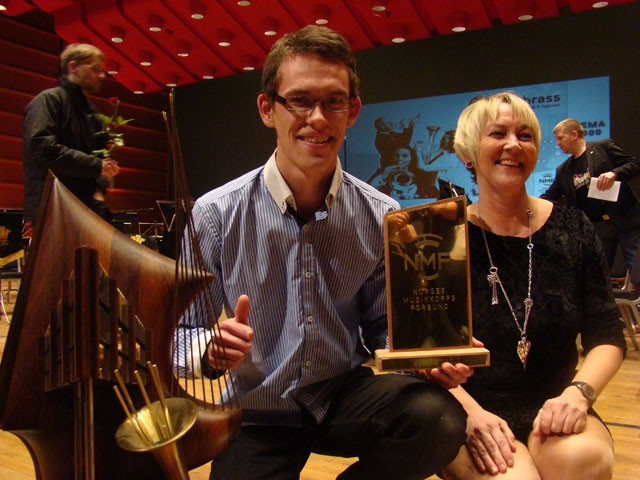 Unbreakable desire for Eikanger

The unbreakable desire to remain a national champion was the overriding factor in Eikanger Bjorsvik's thrilling Elite Division victory at the Grieghallen in Bergen.
Over two of the most intense days of contesting scrutiny the title holder delved deep into its immense reserves of self belief to repel the challenge of rivals Manger Musikklag, in a contest that came down to the banding equivalent of last man standing.
Both gave everything and more in pursuit of domestic glory and the opportunity to represent Norway at the European Championships in Perth next year.
Thoroughbreds

It was hard to think of two such disparately constructed, yet evenly match thoroughbreds bursting every contesting vein in their bodies to win a title race since Grundy pipped Bustino in the 'Race of Century' at Royal Ascot in 1975.
Just as then, telling comparisons over a classic contest distance were invidious to make, yet compelling to draw.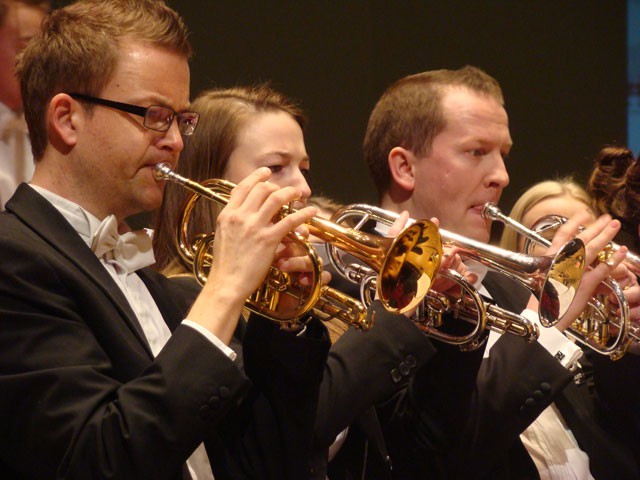 First out - Eikanger

Remarkable

First out of the stalls was defending champion Eikanger Bjorsvik; controlled, refined, almost introvert in delivering two quite remarkable performances of the set work and their own choice selection.
They were to be followed by Manger Musikklag - the antithesis; feral, rambunctious, extrovert.
Mesmerising

At the helm, conductors of the rarest contesting class: David King; all sculpted mannerisms, intense concentration and forensic detail - and Peter Sebastian Szilvay; he of extrovert gestures, cavalier flamboyance and freewheeling brush strokes.
Both were mesmerising to witness at work close hand - inspiring performances of the rarest class from their players.
Narrowest of margins

In the end it came down to the narrowest of margins (the narrowest ever in fact in the contest's history) as Eikanger's superbly regulated rendition of 'A Tale As Yet Untold' on the Friday, saw them take what proved to be a priceless single point margin into the own choice discipline on the Saturday afternoon.
It was later rumoured that the trio of judges were in disagreement over the eventual margin itself – with the majority erring on the side of caution.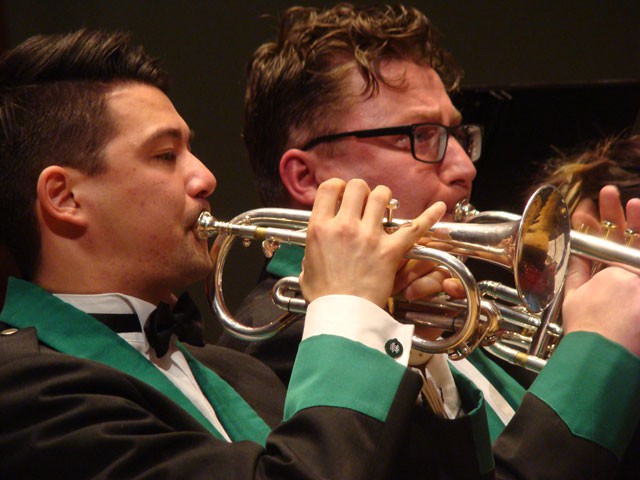 Double assault from Manger

Whatever the reasons from Philip Harper, Alan Fernie and Jan Van der Roost – it proved to be just enough, as David King's insistence on dynamic texture and balance – 'don't try and find something that wasn't there' – as one Eikanger player later told 4BR, was the overriding mantra.

That stood out from start to finish in a compelling account of Sparke's most personal of major works.
Contrast

In contrast, Peter Sebastian Szilvay sought to delve deep into the composer's musical psyche – revealing a much more florid, emotional reading that crackled with breathtaking electricity – and the occasional moment of unease.
Only one other contender managed to latch onto their vapour trails - with an outstanding performance from Olso Brass, in what was for many the most coherent interpretation of the piece by Bjorn Sagstad; a conductor of thoughtful elegance and composed clarity of direction.
The rest were already making up the numbers – with Stavanger heading a somewhat beleaguered looking pack that contained a few bands running above their pre-race odds in Jaren in fifth and Tertnes in sixth.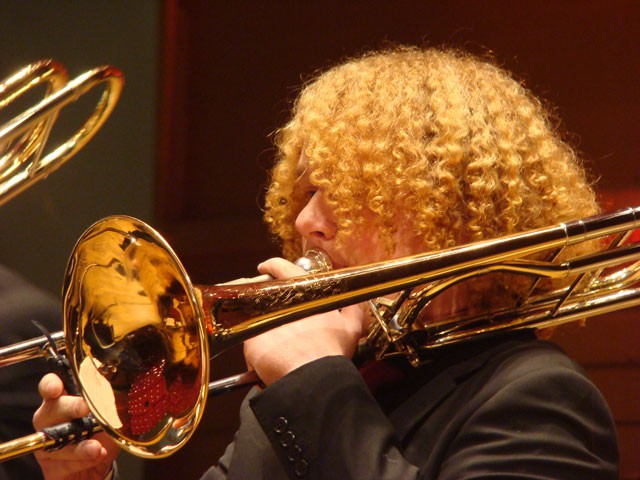 Oslo produced a superb set work account on the Friday night

The rest, according to the judges, were already in a battle to avoid a possible drop through the relegation trap door.
As the bars at the Grieghallen eventually empted into the cold Bergen evening, heated reactions and opinions were already polarised: Those who favoured Eikanger's compact containment against Manger's expansive colouration.
The debates went on long into the night.
No definite acceptance

Saturday did little to bring a definite acceptance from either side as to a clear cut winner either, as the judges Dr Robert Childs, Sheona White and Erik Janssen were presented with an almost impossible task of comparing the merits of a host of fine performances.
Once more though, the two leviathans stood head and shoulders above the rest.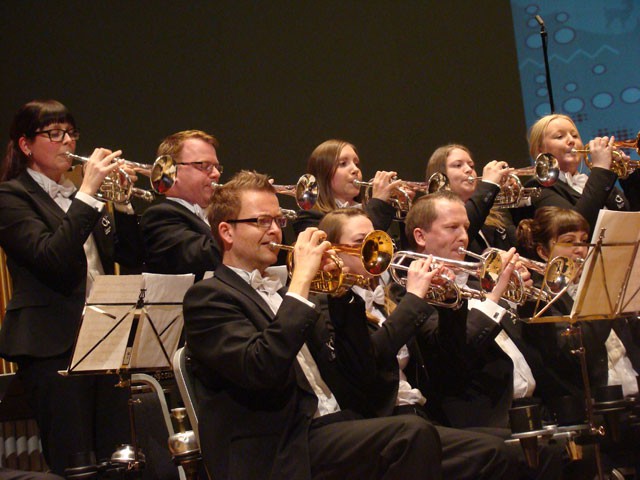 Full frontal assault from Eikanger on 'Spiriti'

Stunning

Eikanger set out their stall and waited to see if anyone could even match them – as there was little doubt that it was going to be nigh on impossible to beat them after they produced a stunning account of 'Spiriti'.
Aided by wonderful individual contributions (especially from the trombones and soprano), David King brought an intense, richly imbued sense of musicality to the Thomas Doss score that meandered sublimely between Arabic mysteries and honking Blues.
The acclaim it received was as deserved as it was deafening – with the MD wearing a smile of knowing satisfaction borne of a performance that had delivered his very specific musical intentions of an epic work in epic fashion.
Touching distance

Nothing before, with a blazingly colourful '31342 feet' by Krohnengen - or after - through Sola's menacing 'Odin', Oslo's flamboyantly bluff 'Masquerade' and Stavanger's colourful but loose, 'From Ancient Times' came within touching distance.
Everything it seemed was increasingly focussed on Manger's appearance as the penultimate band of a thrilling contest.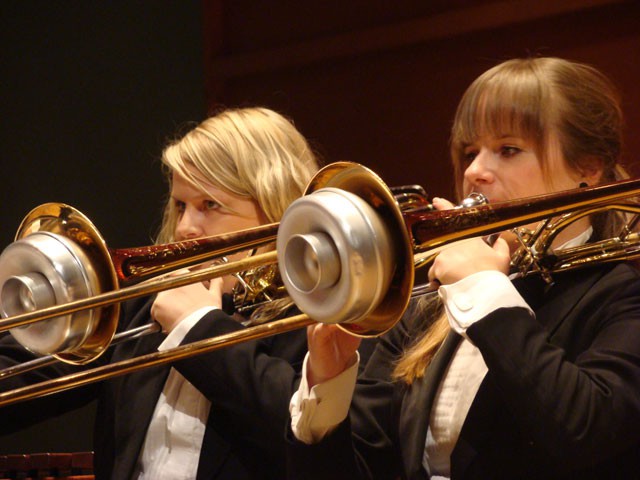 Stavanger claim third spot on the own choice...

Diverse

After the break Tertnes delivered a slightly tired 'Seid', whilst Ila and Jaren produced two of the most diverse interpretations of 'Titan's Progress' you could ever wish to hear:

The former, a portrait of witty delicacy and colouration under Karl Ole Midtbo, the latter a bold, wonderfully bombastic Mahleresque take by Howard Evans who was on inspired form all weekend with his band. Molde closed the contest with a finely judged 'St Magnus'.
Fulcrum

However, the musical fulcrum of the entire weekend came with Manger – who took to the stage amid an auditorium packed with expectancy: They left it in a state of bewildered delirium.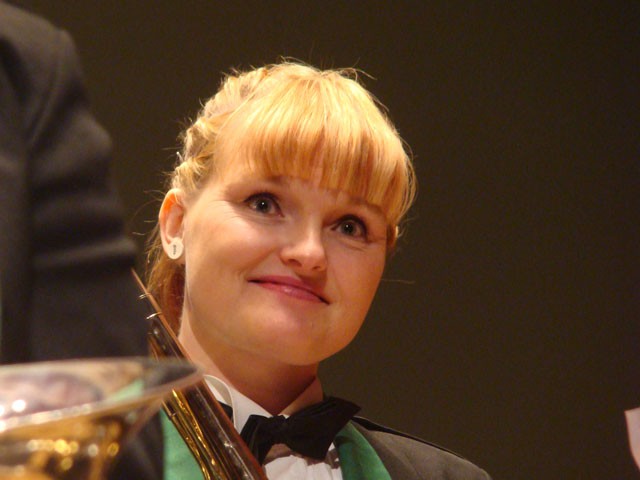 The awesome Camila Soderstrom

Gravel and Woodbines
They could have done no more with a stunning rendition of 'Cantigas' that featured a simply awesome personal contribution from bass trombonist Camilla Soderstrom.
She sounded as if she had breakfasted on a bowl of rough gravel and Woodbine cigarettes, although the kaleidoscopic ensemble, full of stunning textures and balance did have the occasional splatter moment or two.
Passion

At times though the MD seemed to be conducting raw passion rather than sheer contest inspired music making – although the effect was just as spellbinding.
By its close they were playing on pure adrenaline – and the judges were left to gauge its brilliance; finally giving it what proved to be a pyrrhic single point lead over their rivals.
It consigned Manger to the bravest, boldest of overall defeats, and brought a contest of the most visceral intensity to an end.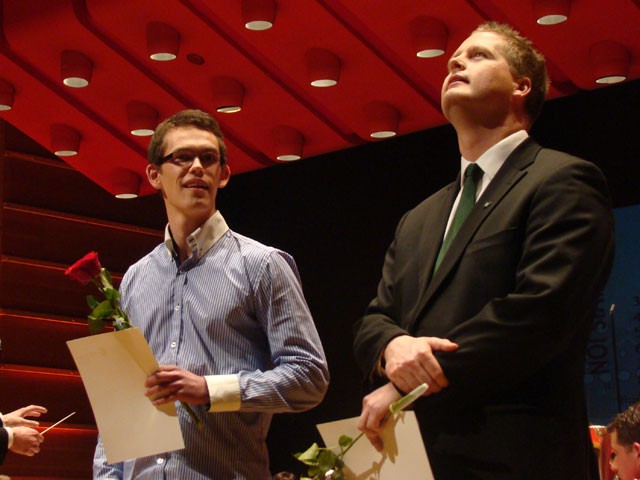 Shoulder to shoulder even to the end...

Even at the results ceremony the two bands could only be separated by the narrowest of margins, as the pair of nervous representatives stood shoulder to shoulder on the Grieghallen stage.
And with the final result of a wonderful weekend finally announced, the last band standing proved to be Eikanger:

However, both they and Manger emerged as true champions in every sense of the word.
Iwan Fox