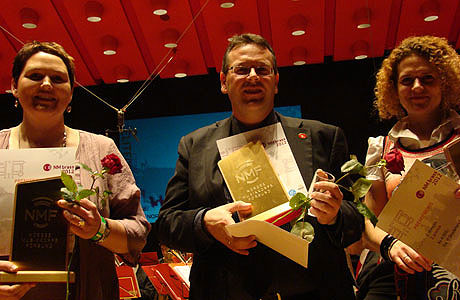 2012 First Division prizewinners

First Division:
Adjudicators: Arsene Duc & David Thornton
Saturday 9th February (9.00)
It may sound like a broken record, but the Norwegians have really got the concept of what a 'fit for purpose' First Section should be like.

11 bands take to the stage on Saturday – all with a realistic appreciation of just what level of performance they must achieve if they are to be in with any chance of making a successful and lasting step up to the Elite Division.
No illusions

And getting there is one thing; staying there is another - as Kleppe found out after coming 9th last year and dropping straight back through the trap door.

This is a tough old training ground that produces bands with no illusions about their place in the greater scheme of things.
Tertnes reminder

And if British bands want to know just why it works, then they should cast their minds back to the Scottish Open in Perth, where last year's First Section National Champion Tertnes beat a host of top section UK rivals in some comfort and ran Co-operative Funeralcare close for the title.
Plenty to savour then for Arsene Duc and David Thornton, as well as a packed auditorium on Saturday morning: This really does have the makings of being a fine battle for the KR40,000 first prize.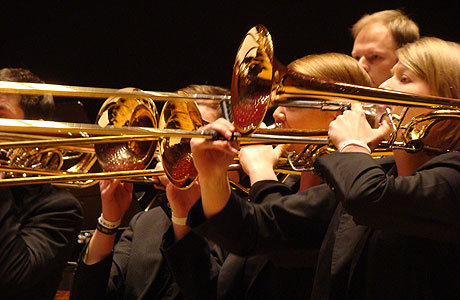 A First Section pointing in the right direction

Challenging

The choices of repertoire are challenging and eclectic; with works from some of the finest brass band composers of all time up against a couple that may soon become modern classics in their own right.
What is also intriguing is that many of the bands have taken a 180 degree change of musical direction from what they performed 12 months ago: Askoy for instance played 'Tallis Variations' in 2012 and will now perform 'Rush Hour' by Etienne Crausez – the contemporary set work for the top section at 2012 Swiss National Championships.
Bonkers to bucolic

Meanwhile, Oslofjord go from bonkers Derek Bourgeois to bucolic Peter Graham, whilst Oster change from early Philip Sparke to late Hakon Berge.

They are not alone. The sense of improvement and progression is self evident.
Runners

It falls to Askoy Brass under Reid Gilje to set the marker – and what a marker it could prove to be with Etienne Crausaz's colourful 'Rush Hour' – a work that tested the best Swiss bands to the full just a few months ago.
It's an ambitious choice for the 2012 Second Division champion, but following their win in the First Division at Siddis, you don't suspect they will be short of confidence.
Something to prove

They are followed Tomra Brass, who were also promoted from the Second Division after they produced a fine performance of 'Cambridge Variations'.

This time, euphonium star Nick Ost has chosen 'Montage' for the former three time champion to tackle.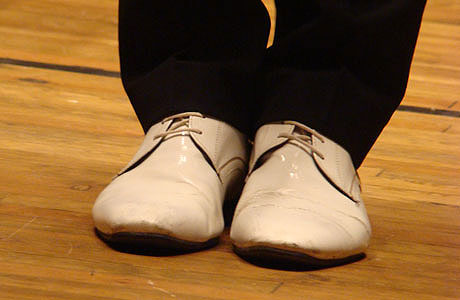 Best feet forwwrd for Simon Dobson...

Meanwhile, Oslofjord will have something to prove after rather unluckily ending 8th last time out despite producing a wonderfully inventive performance of 'Concerto No 1' by Derek Bourgeois

Simon Dobson will be looking to produce some magic on Peter Graham's slightly more soothing 'On Alderley Edge' as the 2000 winner looks to return to the Elite level where they spent 11 years until 2012.
Superb

Orskog meanwhile will be looking to see if Alan Morrison can lead them in another outstanding performance, which last year saw them end runner-up after delivering a superb rendition of 'A Lowry Sketchbook'.
This time they have opted for Philip Sparke's vibrant 'Between the Moon and Mexico' as they seek a first title as this level.
Self absorbed

Quite a few people thought that Bjorsvik Brass would claim the First Section title last year – especially as the band, packed to the brim with former star Eikanger players had been unbeaten at the Nationals since first taking to the stage in 2009.
It wasn't to be though, as a slightly self absorbed rendition of 'Variations on an Enigma' wasn't good enough against high class opposition.

This time you suspect they will leave nothing to chance as Bengt Florvag leads on the immense '...Dove Descending'.

Third place at Siddis in the Elite Section shows they certainly have the class.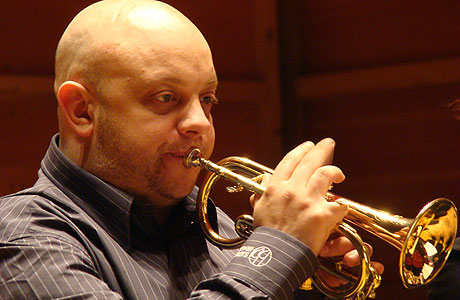 The great Frode Rydland with Bjorsvik Brass

Greater impression

After the break Sorum Musikklag, directed by the excellent Frode Amundsen will provide another strong challenge.

5th last year, they will look to make an even greater impression with Edward Gregson's mature masterwork, 'Rococo Variations'.
So too Kleppe – especially as they were not outclassed in the Elite Division last year where they produced a fine account of 'Brass Blot'.

4th place at Siddis in the Elite Division also shows their quality as they tackle 'Harmony Music' – the set work for the top section bands at the Areas in the UK.
Experienced success

The experienced and successful Gareth Pritchard (he won this title twice with two different bands) teams up with Radoy Brass once more to see if he can lead the Hordaland band to their third title success.
This time they opt for Edward Gregson's 'Dances & Arias' after coming 7th last year on 'Journey into Freedom'.
Talent

Meanwhile, the talented Espen Westbye also leads Musikkorpset Gjallahorn on the Gregson work as they look to improve on last year's 9th place – boosted by a fine runner-up finish at Siddis.
Little surprise

Perhaps it comes as little surprise that Torstein-Aagaard-Nilsen has opted for 'Brass Blot', as he leads Oster Brass this year:

There is surely no better musician to understand the contemporary ideas of Berge's homage to the contesting gods, especially as he has a band that has posted successive top six finishes in the last two years.
Rounded off

The contest is rounded off by the newly promoted Alexander Brass Band, who produced a fine performance of 'Connotations' last year and this time opt for the classic Eric Ball test of 'High Peak' – rather an appropriate choice give the mountainous geographical surroundings of Bergen and the stiff opposition the band are up against from rivals on the day.

Iwan Fox
---
As for a winner?
A contest to savour on the Saturday, and one that could be a real eye opening for those lucky enough to sit in the hall and enjoy it unfold.
Given that a touch of contesting hubris did for their chances last year, we can't see Bjorsvik Brass making the same mistake twice. If they can really nail the Wilby leviathan then the title could well be theirs.
Who will push them closest though?
Perhaps Oster Brass for us with Oslofjord snapping at their heels. It could be anyone's guess for the rest though, but we plumb for Sorum followed by Radoy and Orskog with our dark horse of Askoy.
4BR Prediction:
1. Bjorsvik Brass
2. Oster Brass
3. Olsofjord Brass
4. Sorum Musikklag
5. Radoy Brass
6. Orskog Brass
Dark Horse: Askoy Brass
---
2012 Result:
1. Tertnes Brass
2. Ørskog Brass
3. Bjørsvik Brass
4. Oster Brass
5. Sørum Musikklag
6. Sandefjord Brass Symposium
7. Radøy Brass
8. Oslofjord Brass
9. Musikkorpset Gjallarhorn
10. Brøttum Brass
11. Laksevåg Musikkforening
12. Jølster Musikklag
Last five winners:
2012: Ternes Brass
2011: Jaren Hornmusikkforening
2010: Sandefjord Brass Symposium
2009: Tertnes Brass
2008: Oslo Brass Band
---
Askøy Brass Band
Conductor: Reid Gilje
2013 Draw: 1
Own Choice Selection: Rush Hour (Etienne Crausaz)
National Record:
2012: Winners of Second Division (Reid Gilje) (prom)
2011: 6th (Reid Gilje)
2010: 10th in First Division (Ynge Nikolaisen) (rel)
2009: 3rd (Egil Magnussen)
2008: 9th (Egil Magnussen)
2007: =4th (Egil Magnussen)
2006: 6th (Helge Haukas)
2005: 3rd (Egil Magnussen)
2004: 3rd (Tom Brevik)
2003: 3rd
2002: 2nd in Second Division (prom)
2001: 6th
2000: 11th

Last Year: Winners of Second Division (prom)
Overall Record:
Second Division Champions: 2012
Own Choice Selection:
2012: Tallis Variations
2011: Coventry Variations
2010: Blitz
2009: English Heritage
2008: Chivalry
2007: Partita
2006: Journey into Freedom
2005: Tallis Variations
---
Tomra Brass Band
Conductor: Nick Ost
2013 Draw: 2
Own Choice Selection: Montage (Peter Graham)
National Record:
2012: 2nd in Second Division (Nick Ost) (prom)
2011: 10th in First Division (Nick Ost) (rel)
2010: 2nd (Frans Violet)
2009: 5th (Frans Violet)
2008: 3rd (Frans Violet)
2007: 4th in Elite Section (relegated due to admin error)
2006: Winners of First Division (Frans Violet) (prom)
2005: 2nd (Frans Violet)
2004: =7th (Arnfinn Dalhaug)
2003: 2nd
2002: 3rd
2001: 4th
2000: 8th in Elite Division (rel)
Overall Record:
First Division Champions: 1993, 1999, 2006
Last Year: 2nd in Second Division (prom)
Own Choice Selection:
2012: Cambridge Variations
2011: Fire in the Sky
2010: Rococo Variations
2009: Concertino for Brass Band
2008: Music of the Spheres
2007: Journey to the Centre of the Earth
2006: Journey to the Centre of the Earth
2005: Whitsun Wakes
---
Oslofjord Brass
Conductor: Simon Dobson
2013 Draw: 3
Own Choice Selection: On Alderley Edge (Peter Graham)
National Record:
2012: 8th (Simon Dobson)
2011: 10th in Elite Division (Simon Dobson) (rel)
2010: 5th (Simon Dobson)
2009: 8th (Armin Renggli)
2008: 5th (Selmer Simonsen)
2007: 5th (Michael Antrobus)
2006: 4th (Michael Antrobus)
2005: 9th (Garry Cutt)
2004: 9th (Christian Tenfjord)
2003: 8th (Robert Childs)
2002: 5th (Peter Parkes)
2001: 8th (Selmer Simonsen)
2000: Winners of First Division (Selmer Simonsen) (prom)
Overall Record:
First Division Champions: 2000
Last Year: 8th
Own Choice Selection:
2012: Concerto No 1
2011: Titan's Progress
2010: Sounds
2009: Journey to the Centre of the Earth
2008: Music of the Spheres
2007: Aubade – Dawn Songs of the Fabulous Birds
2006: Whitsun Wakes
2005: Paganini Variations
2004: Montage
2003: Revelation
2002: Contest Music
---
Ørskog Brass
Conductor: Alan Morrison
2013 Draw: 4
Own Choice Selection: Between the Moon and Mexico (Philip Sparke)
National Record:
2012: 2nd (Alan Morrison)
2011: = 5th (Alan Morrison)
2010: Winners of Second Division (Karl Ole Midtbo) (prom)
2009: 10th in First Division (John Hudson) (rel)
2008: Winners of Second Division (John Hudson) (prom)
2007: 3rd (John Hudson)
2006: 6th (Henrik Dalhaug)
2005: 12th in First Division (Michael Antrobus) (rel)
2004: 4th (Michael Antrobus)
2003: 2nd in Second Division
2002: 7th
2001: 11th in First Division
2000: 2nd
Overall Record:
Second Division Champions: 2008, 2010
Last Year: 2nd
Own Choice Selection:
2012: Lowry Sketchbook
2011: A London Overture
2010: The Essence of Time
2009: Spectrum
2008: Dances and Alleluias
2007: English Heritage
2006: Trittico
2005: Five Blooms in a Welsh Garden
---
Bjorsvik Brass
Conductor: Bengt Florvag
2013 Draw: 5
Own Choice Selection: ...Dove Descending (Philip Wilby)
National Record:
2012: 3rd (Russell Gray)
2011: Winners of Second Division (Russell Gray) (prom)
2010: Winners of Third Division (Russell Gray) (prom)
2009: Winners of Fourth Division (Russell Gray) (prom)
Overall Record:
Second Division Champions: 2011
Third Division Champions: 2010
Fourth Division Champions: 2009
Last year: 3rd
Own Choice Selection:
2012: Variations on an Enigma
2011: The Essence of Time
2010: Partita
2009: Journey into Freedom
---
Sørum Musikklag
Conductor: Frode Amundsen
2013 Draw: 6
Own Choice Selection: Rococo Variations (Edward Gregson)
National Record:
2012: 5th (Christian Tenfjord)
2011: 9th (Christian Tenfjord)
2010: 7th (Christian Tenfjord)
2009: 6th (Christian Tenfjord)
2008: 2nd (Christian Tenfjord)
2007: =8th (Christian Tenfjord)
2006: 2nd in Second Division (Erling J. Myrseth) (prom)
2005: 11th in First Division (Erling J. Myrseth)
2004: =7th (Trond Elnes)
2003: 7th
2002: 7th
2001: 2nd in Second Division (prom)
2000: Joint 5th in Second Division
Overall Record:
Third Division Champions: 1994
Last Year: 5th
Own Choice Selection:
2012: Remembrance
2011: Dances & Arias
2010: Harrison's Dream
2009: Dove Descending
2008: Journey to the Centre of the Earth
2007: A Lowry Sketchbook
2006: Trittico
2005: Spectrum
---
Kleppe Musikklag
Conductor: Rune Hannisdal
2013 Draw: 7
Own Choice Selection: Harmony Music (Philip Sparke)
National Record:
2012: 9th in Elite Division (Rune Hannisdal) (rel)
2011: 2nd in First Division (Rune Hannisdal) (prom)
2010: 6th (Bjorn E. Breistein)
2009: Winners of Second Division (Russell Gray) (prom)
2008: 10th in First Division (Russell Gray) (rel)
2007: 3rd (Russell Gray)
2006: 3rd (Eirik Gjerdevik)
2005: 4th (Eirik Gjerdevik)
2004: =5th (Eirik Gjerdevik)
2003: 6th
2002: 4th
2001: 12th
2000: 7th
Overall Record:
Second Division Champions: 1981, 2009
Last Year: 9th in Elite Division (rel)
Own Choice Selection:
2012: Brass Blot
2011: Sounds
2010: Paganini Variations
2009: Tallis Variations
2008: Elgar Variations
2007: Dances and Alleluias
2006: English Heritage
2005: Chivalry
---
Radøy Brass
Conductor: Gareth Pritchard
2013 Draw: 8
Own Choice Selection: Dances & Arias (Edward Gregson)
National Record:
2012: 7th (Helge Haukas)
2011: 2nd in Second Division (Gareth Pritchard) (prom)
2010: 7th (Tormod Flaten)
2009: 12th in First Division (Tormod Flaten) (rel)
2008: =5th (Tormod Flaten)
2007: 6th (Gareth Pritchard)
2006: 8th (Gareth Pritchard)
2005: 8th (Gareth Pritchard)
2004: 2nd (Gareth Pritchard)
2003: 5th
2002: 9th
2001: 5th
2000: 5th
Overall Record:
First Division Champions: 1994, 1997
Second Division Champions: 1988, 1990, 1991
Last Year: 7th
Own Choice Selection:
2012: Journey into Freedom
2011: The Year of the Dragon
2010: Coventry Variations
2009: Dances & Alleluias
2008: Diversions on a Bass Theme
2007: Montage
2006: Odyssey
2005: London Overture
---
Musikkorpset Gjallarhorn
Conductor: Espen Westbye
2013 Draw: 9
Own Choice Selection: Dances & Arias (Edward Gregson)
National Record:
2012: 9th (Espen Westbye)
2011: 8th (Espen Westbye)
2010: 2nd in Second Division (Espen Westbye) (prom)
2009: =6th (Espen Westbye)
2008: 8th (Espen Westbye)
2007: Winners of Third Division (Espen Westbye) (prom)
2006: 6th (Espen Westbye)
2005: 9th (Rolf Aksel Gilje)
2004: 11th in Second Division (Alan Fernie) (rel)
2003: 6th
2002: 3rd
2001: 5th
2000: 12th in First Division (rel)
Overall Record:
Second Division Champions: 1980, 1989, 1996
Third Division Champions: 2007
Last Year: 9th
Own Choice Selection:
2012: Leonardo
2011: Sounds
2010: Labour and Love
2009: Heart of a Salvationist
2008: Forest of Dean
2007: The Land of the Long White Cloud
2006: Excalibur
2005: Blazon
---
Oster Brass
Conductor: Torstein Aagaard-Nilsen
2013 Draw: 10
Own Choice Selection: Brass Blot (Hakon Berge)
National Record:
2012: 4th (Torstein Aagaard-Nilsen)
2011: = 5th (Torstein Aagaard-Nilsen)
2010: 5th in Second Division (Torstein Aagaard-Nilsen) (prom)
2009: 11th in First Division (Torstein Aagaard-Nilsen) (rel)
2008: =5th (Torstein Aagaard-Nilsen)
2007: 7th (Torstein Aagaard-Nilsen)
2006: 9th (Reid Gilje)
2005: 5th (Reid Gilje)
2004: 10th (Oddmund Hjartaker)
2003: 11th
2002: 10th
2001: 8th
2000: 10th

Overall Record:
Second Division Champions: 1982, 1983, 1992, 1995
Last Year: 4th
Own Choice Selection:
2012: Land of the Long White Cloud
2011: A Lowry Sketchbook
2010: Connotations
2009: The Essence of Time
2008: Dances and Arias
2007: Forest of Dean
2006: Variations on an Enigma
2005: English Heritage
---
Alexander Brass Band
Conductor: Clive Zwanswiniki
2013 Draw: 11
Own Choice Selection: High Peak (Eric Ball)
National Record:
2012: 3rd in Second Division (Jacob Vilheim Larsen) (prom)
2011: 11th in First Division (Morten E Hansen) (rel)
2010: 3rd (Morten E Hansen)
2009: 2nd in Second Division (Morten E Hansen) (prom)
2008: 3rd (Sverre Stakston Olsrud)
2007: 11th in First Section (Morten E. Hansen) (rel)
2006: 5th (Morten E. Hansen)
2005: 9th (Morten E. Hansen)
2004: =5th (Morten E. Hansen)
2003: 10th in Elite Division (Morten Hansen) (rel)
2002: Winners of First Division (prom)
2001: Winners of Second Division (prom)
2000: 8th in Second Division
Overall Record:
First Division Champions: 2002
Second Division Champions: 2001, 1997
Third Division Champions: 1995
Last Year: 3rd in Second Division (prom)
Own Choice Selection:
2012: Connotations
2011: Diversions on a Bass Theme
2010: Journey into Freedom
2009: The Saga of Haakon the Good
2008: Nautalis
2007: English Heritage
2006: Between the Two Rivers
2005: The Holy War