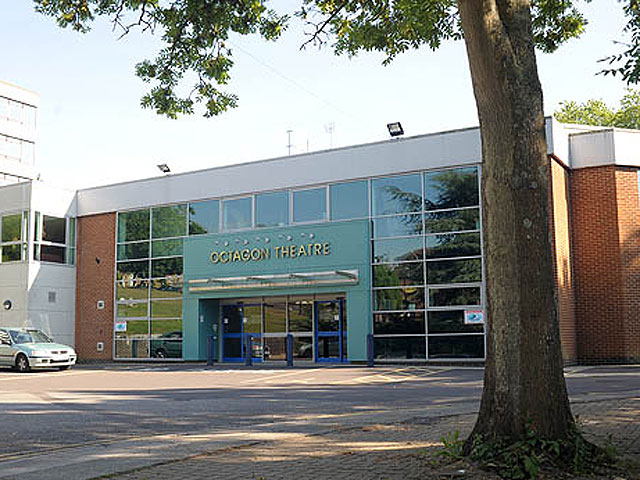 Still a lucrative venue...

Even though the Butlins Mineworkers Championship now provides the big money kick off to the contesting season for many leading bands, the Yeovil Entertainment Contest still remains a highly enjoyable and lucrative event.
Form guide
Now in its 36th year, it is also a pretty good indicator of early season contest form, with the last three winners – Tredegar in 2010, Woodfalls and reigning champion Flowers, all going on to claim their respective Area titles.
Plenty to play for then – although unfortunately, the late withdrawal of BTM means that only eight bands will take to the Octagon Theatre stage to try and tickle the fancy of what is always an appreciative full house audience and 'open' adjudicator Chris Davies.
New start time
Thanks to the excellent organisation led by Christine Buckland, there is still a fine day's entertainment on offer, with the start time now at 10.00am.
There will be a comfort break of 15 minutes after band number 3, with a further 45 minute lunch break after number 5 has played – so there should be no excuse to miss any of the action.
With plenty of auditorium space to play around with, the bands should have the opportunity to showcase both their playing and presentational talents – so hopefully there will be a bit of inventiveness on display in each of the 25 minute programmes.
In addition to the podium prizes (£2,000 for the winners, £1,000 for second, £750 for third) there are also awards for the 'Best Soloist', 'Best Section' and 'Best Soprano'.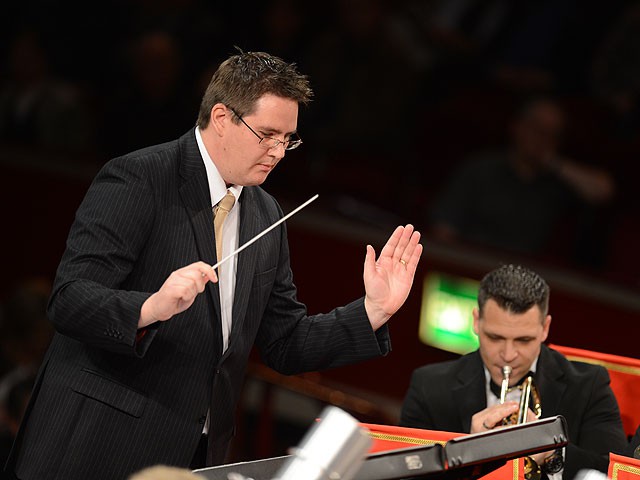 Can Flowers retain their title under Paul Holland?

The contenders
The bookies seem to think that it's a bit of a done deal this year, although defending champions Flowers won't be taking anything for granted.
They will be keen to retain the title they won in fine style under MD Paul Holland last year – as well as claim a record seventh Yeovil victory.
Although they didn't hold onto the Mineworkers title, they were on highly polished entertainment form at Butlins, with a balanced mix that took in everything from Mick Jagger to Neil Armstrong.
However, they will also be wary that the more intimate acoustic of the Octagon Theatre won't be as accommodating as the Skyline Resort at Butlins when it comes to pumping out the volume.
Despite winning the 'Most Entertaining Prize', they were very loud at times. A gallon or two of less high octane fuel in the Saturn rocket engines and it's hard to see anyone touching a very confident, classy band though.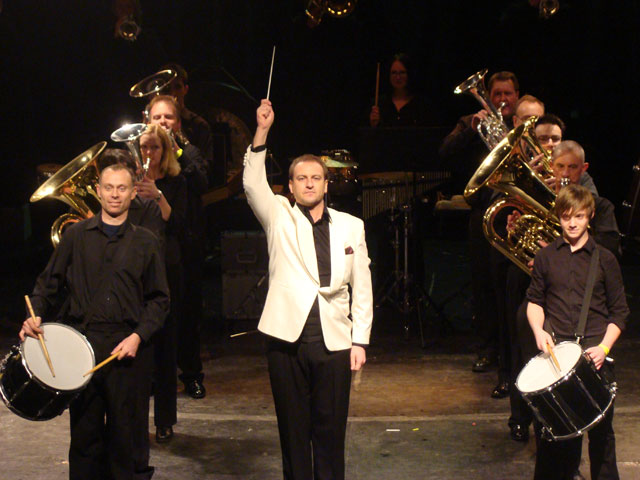 Suited and booted for Woodfalls this year?

Fluff and bubble
It will also be interesting to see what Woodfalls come up with following their fluff and bubble Butlins entertainment set.
Paul Lovatt Cooper's high energy presentation certainly wowed the audience but didn't exactly thrill the judges, who placed them 11th on the day.

The problem was that despite the sharp suited style the musical tailoring was shoddy – with poor tuning and sloppy ensemble playing damaging the rather lightweight substance.
If those things have been fixed, then they should be confident of pushing Flowers close – and with the rivals following each other on stage, the audience will get an immediate chance to compare two very different approaches to the entertainment genre.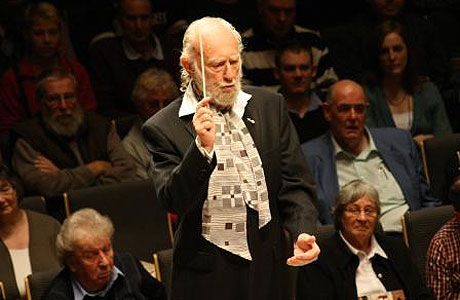 The master at work...

Evans trademark
One man who certainly knows just what formula is successful at this game is Richard Evans - who claimed his first win here 31 years ago with Leyland. Nothing has changed too much since – and why not given his record - so look out for the usual trademark goodies.
This year he leads Mount Charles off the number 1 draw, and heads a band that continues to grow in confidence.
They last won the title in 2002 (also under his baton), and whilst another success may come as bit of a surprise, after two successive podium finishes (including coming runner-up last year) it is by no means out of the question.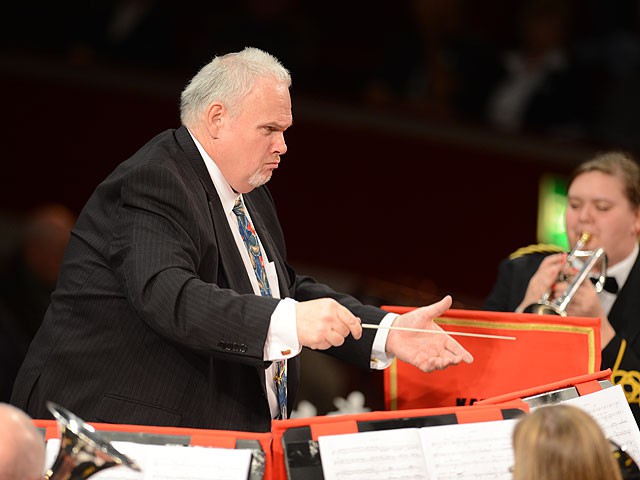 Can Steve Sykes end Camborne's 20 year wait...

Sykeoville
Camborne is the other former champion hoping to reclaim the Chris Palmer Shield – with the Cornish contender's sole victory coming 20 years ago in 1993.
Steve Sykes will be looking to turn what has been solid, unspectacular form here (eight top six finishes in nine years – but only one podium place) into something with more impact this time round.
On their day they have the quality to push top class bands very hard – and with the MD sure to bring a touch more innovation to their programme, they could be in with a shout once more.
Solid
Another solid contender is Friary Guidlford, who make the trip along the M4 for their eighth Yeovil appearance under the baton of Chris King.
Now a firmly established top section outfit, they will be looking to create the same type of confidence boosting platform for the season ahead as they did twelve months ago, when they went on to just miss out on Albert Hall qualification at Stevenage.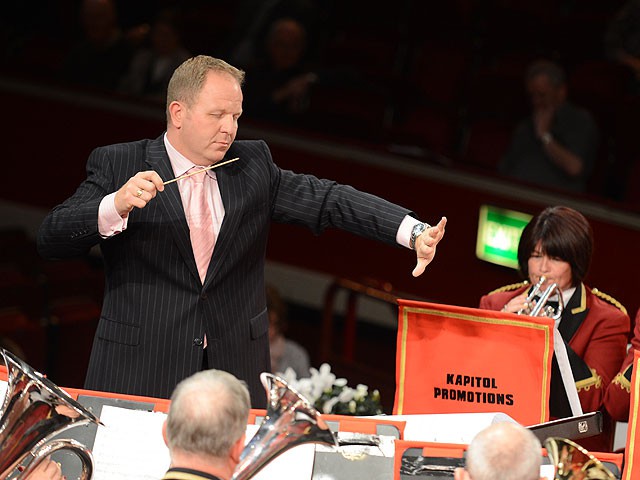 Dave Barringer leads a compact and confident Bournemouth

Fine mix
Meanwhile, Bournemouth Concert Brass will certainly look to build on a fine 2012, after they came seventh last year but went on to qualify for the National Finals at Torquay a few weeks later.
They were certainly not out of their depth at the Royal Albert Hall either, and Dave Barringer has created a compact ensemble with a balanced mix of youth and experience that could well fancy their chances of a possible podium finish on the weekend.
Debutants
That leaves the debutants of Brunel Brass and Jackfield Elcock Reisen.
Brunel has been the ultimate contesting success story since 2007 – with a host of Area and National titles to their name as they have rapidly progressed from Fourth to Championship.
Oddly though, this appears to be their first major entertainment contest under the baton of the inspirational John Winterflood, so it will be interesting to see what a talented outfit brings to the proceedings.
Whatever it is, you can be sure they will be thoroughly prepared and polished.
So too Jackfield, who will be raring to go after the terrible snowy weather forced their withdrawal from the top section contest at Butlins.
Simon Platford will have ensured that the extra time has been used wisely, and with a solid entertainment pedigree to fall back on over the last few years they should be confident of making an impression on their Yeovil debuts.
---
4BR Prediction:
The bookies may have stopped taking bets on this one, but no band is ever a dead cert for a contest victory.
However, Flowers are the class act of the field and if they play to form then they should be celebrating another victory on Saturday evening.
If Woodfalls have sorted out the substance gremlins then they should push them close, whilst the Tricky Dicky factor should enable Mount Charles to claim a third successive podium finish.
Camborne will be an interesting band to listen out for, whilst Bournemouth and Friary Guildford could well spring a surprise.
The dark horses of Jackfield and Brunel may well be worth an each way bet for a top six finish too.
1. Flowers
2. Woodfalls
3. Mount Charles
4. Camborne
5. Bournemouth Concert
6. Friary Guildford
Dark Horses: Jackfield Elcock Reisen & Brunel Brass
Draw:

1. Mount Charles (Richard Evans)
2. Brunel Brass (John Winterflood)
3. Bournemouth Concert (Major David Barringer)
4. Woodfalls (TBA)
5. Flowers (Paul Holland)
6. Friary Guildford (Chris King)
7. Camborne (Steve Sykes)
8. Jackfield Elcock Reisen (Simon Platford)
Last four winners:
2012: Flowers
2011: Woodfalls
2010: Tredegar
2009: Flowers