Fourth Section:

Venue: Crazy Horse Theatre
Saturday 19th January

Draw: 8.55am
Commences: 10.00am
Test-piece: A Saddleworth Festival Overture (Goff Richards)

Adjudicators: Alan Fernie & David Thornton

Section Controller: Alan Cheetham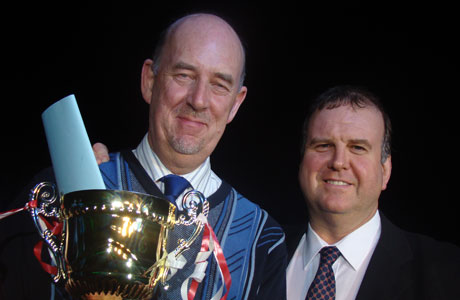 Can Coppull & Standish claim victory again this year?

A very healthy line up of 18 bands (up three from last year) will tackle Goff Richard's popular set work on Saturday morning – one that rather intriguingly was used as the set work for the Intermediate Section at the National Youth Band Championships in Manchester last year.
Colourful mix

With its colourful mix of Pennine/Antipodean musicality, that includes snippets and ciphers of everything from 'Hail Smiling Morn' to 'Waltzing Matilda' it's an enjoyable amalgam of ideas inspired by the twinned geographical areas of Saddleworth just outside Oldham and Saddleworth just outside Adelaide in Australia.
As with all Goff Richards works it's musically engaging with just enough technical challenges in terms of rhythm and dynamic to separate the best from the rest.

Get the basics right and add a touch of spirit, precision and good tuning and a well drilled band could find itself in the mix come the results.

Second place for Greenfield in 2012 - first place in 2013?

Alan Fernie and David Thornton have bags of experience, and won't be caught out by misplaced enthusiasm (it's a bright acoustic in the Crazy Horse venue); so control, maturity, patience and balance could well win the day.

Early season boost

No less than 12 of last year's competitors return once more looking for an early season boost of confidence ahead of the Areas in March – although given that just one of the top six finishers last year went on to claim a Cheltenham National Finals place, any celebrations may have to be tempered a little come Saturday night.
Reigning champion Coppull & Standish was a case in point: A thoroughly delighted and deserved winner in Skegness – a demoralised 18th place come the North West Area at Blackpool.
Meanwhile, fellow podium finishers Greenfield could only go on and manage 9th at the Winter Gardens, whilst third placed Whitwell sank to 22nd place at Bedworth!
Fancy

Top six finishers Market Rasen (Resdsev) and Melton have shown consistency here over the past few years and may well fancy their chances of another mention off the stage or better, whilst the strong group of Midland representatives in Banovallum Brass, Burbage Silver, Pleasley Colliery Welfare, Thoresby Colliery Youth will be looking to push for top 10 finishes if possible too.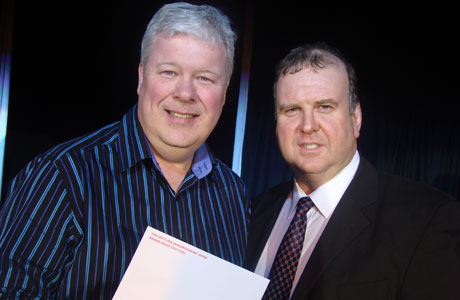 A Gressy smile as Whitwell take third in 2012

Yorkshire challenge

Yorkshire's representatives include Thurcroft Welfare, relegated from the Third Section this season but a consistent challenger at this level, Deepcar, Markham Main and Maltby Miners, who just missed out on a top six finish last year.
Dark horse

The Londoners of Royston Town and Woodbridge Excelsior will be keen to make a mark ahead of Stevenage, whilst Jayess Newbiggin Brass could be a bit of a North of England dark horse under Andrew Griffiths after claiming a top ten finish on their debuts last year.
There are two welcome debutants in Ellenbrook & Boothstown from the North West and Great Yarmouth Brass from just down the coast.
---
4BR Prediction:
A difficult one to call at the best of times – this really could be like asking the 4BR Editor to don a blindfold, chuck a dart at the list of runners and riders and hope for the best...

Who would have thought that?
Still – in for a penny.
We are opting for the strong North West contingent to do the business with Greenfield and Coppull & Standish to lead the way followed by Ellenbrook & Boothstown.
Whitwell, Market Rasen (Resdev) and Thurcroft are our tips for a top six finish, whilst the dark horse is Jayess Newbiggin Brass.
1. Greenfield
2. Coppull & Standish
3. Ellenbrook & Boothstown
4. Whitwell
5. Market Rasen (Resdev)
6. Thurcroft Welfare
Dark Horse: Jayess Newbiggin Brass
---