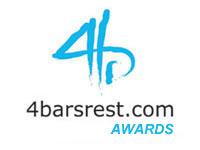 Back to introduction and categories

Thankfully, much like 2011, quality outshone quantity in the solo CD production stakes.
These are five that we were able to review during the year, so some favourites may have to wait for consideration in 2013.
Most of the significant releases came late, but these five really did give the opportunity for the performers to showcase their talents in full.
---

Boneman Walking
Brett Baker
Accompanist: Fenella Haworth-Head (piano)
White River Evocations: WR12-03
Total playing time: 72.21 mins
www.4barsrest.com/reviews/cds/cd495.asp#.UN_-JG8j7CY

Brett Baker may well be a very busy recording artist, but he is also one who has the ability to deliver excellence on each occasion too. This release was a case in point – a contrasting mix of demanding concerto repertoire and more lightweight fayre played in recital mode with piano accompaniment.
Reviewer Peter Bale called it, 'a varied programme of attractive solos' – and the more you listened to it the more attractive it got.
---

Diamonds
Steven Mead
Central Band of the Royal Air Force
Conductor: Wing Commander Duncan Stubbs
Bocchino Records: BOCC120
Total playing time: 72 mins approx
www.4barsrest.com/reviews/cds/cd505.asp#.UN_6dW8j7CY

Steven Mead continues to pursue new musical horizons and projects with a passion that remains undimmed. This long standing recording project was on his wish list for many years – and it was well worth the wait.
Reviewer Peter Bale said; 'Each performance of the major works is a showcase of excellence that engages the listener from start to finish. To say this is a highly recommended release is almost a superfluous comment.'
---

Jewels
Eminence Brass
Featuring: David Childs, Philip Cobb, Owen Farr, Richard Marshall
Doyen Recordings: CD296
Total Playing Time: 74.05
www.4barsrest.com/reviews/cds/cd498.asp#.UN_8fm8j7CY

The art of the quartet is not lost – thanks to this quite stunning display of considered virtuosity by Owen Farr, David Childs, Philip Cobb and Richard Marshall.
As reviewer Brian Buckley aptly pointed out; 'The finely honed balance and the scintillating brilliance of the performers, both individually and as an ensemble, make for compulsive listening.'
---

Solo Spots
Carlton Main Frickley Colliery Band
Conductor: Phillip McCann
Harlequin: HAR1131
Total Playing Time: Approx 58 mins
www.4barsrest.com/reviews/cds/cd504.asp#.UN__Km8j7CY

If the sum of a band is only as good as its constituent player parts then with this recording you can see why Carlton Main has consistently punched well above its weight in recent years – thanks in no small part to the direction of Phillip McCann at its helm.
This is a showcase CD of thought and quality, and as reviewer Malcolm Wood pointed out; 'a recording covering a variety of musical genres, but above all it shows that Phillip McCann's intuitive understanding of the alchemy of the blending process has not been lost on either his players or his band.'
---

Vanguard
Iain Culross
Leyland Band
World of Sound Recordings: WOS044
Conductors: Russell Gray & Leigh Baker
Total Playing Time: 75.04
www.4barsrest.com/reviews/cds/cd512.asp#.UN7ySG8j7CY

One of the surprise delights of the solo recording genre this year – as a former wayward spirit of the cornet displayed a remarkable sense of performance maturity.
This was cornet playing that made a real impression from start to finish, as the 4BR Editor remarked; 'That is certainly the case with this release; with a dozen confidently performed works, each played with an engaging sense of controlled flair and understanding.'

Back to introduction and categories