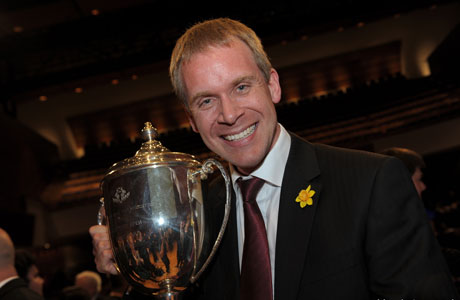 Where is he now? Last year's winning MD, Philip Harper of Tongwynlais

The last major top flight contest in the UK takes place on the weekend with the Scottish Open Championship rounding off the 2012 season at Perth Concert Hall.
Now in its tenth year, the event has built slowly from a hesitant start in 2003, and whilst it doesn't quite attract the very top tier of competitors, the excellent organisation and welcoming atmosphere (there are 13 returnees) means a healthy line up of 18 ambitious contenders hoping to catch the fancy of judges, Stephen Mead, Tom Brevik and Ray Farr.
No champion return

Although Tongwynlais does not return to defend its title, the three time former champion Co-operative Funeralcare leads the seven home based bands against nine English rivals, as well as Welsh challengers Northop Sliver and Norwegian contender Tertnes.
The open adjudication process also means that there is nothing to hide with the 17 own choice selections on offer, so it will be interesting to see what form many of the bands are in at the end of a long and tiring season.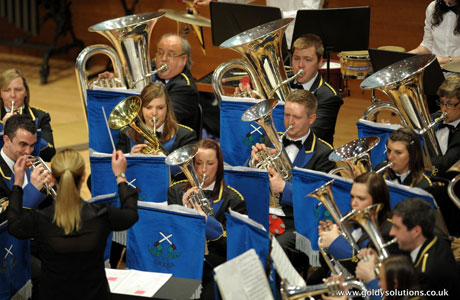 Milnrow open the Open at 2.00pm

Great music and aperitif

Plenty of great music to enjoy then, with a wonderful aperitif on Saturday morning when 11 bands take part in the Scottish Youth Championship Development Section, before Co-operative Milnrow under Marieka Gray kicks off proceedings on the stroke of 2.00pm.
They will be looking to build on their increasingly impressive contesting CV, and with the choice of 'Earthrise' by Nigel Clarke they will give the judges a somewhat unfamiliar piece to use as a marker.
It's all about the famous picture taken by the Apollo astronauts of the earth looking like a tiny coloured marble against the crepuscular back drop of the eternity of space – so plenty to think about then.
Solids and stonkers

They will be followed by two North West counterparts in Blackburn & Darwen and Pemberton Old Wigan DW.
Nick Shepherd will lead Blackburn on 'The New Jerusalem' – a piece that still takes some playing 20 years after it was used at the National Finals. They didn't really hit top form here last year in ending 14th, but has enjoyed a solid enough 2012 season.
Meanwhile, Pemberton returns to compete in a contest they came close to winning in 2009 but fell away to come 9th last year.

They have chosen a stonker in 'From Ancient Times' – a former European Championship set work that is certainly off the top shelf in the hardness stakes.
Mark Bentham led Hepworth to victory in 2004 and he should fancy his chances of pushing for silverware once again with a band that has returned to form with strong performances at the Area and English National in particular.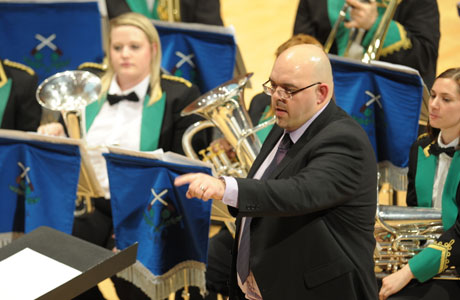 Yorkshire might? Glyn Williams leads title seeking Marsden

Yorkshire Tale

The Yorkshire heavyweight of Marsden will certainly be fancying their changes under Glyn Williams, after coming 4th last year.
Impressive contest returns in 2012 include a podium finish at the Masters and a fine showing the Grand Shield, so much will be expected as they tackle Philip Sparke's Cory inspired European showcase 'A Tale as Yet Untold'.
Spheres and Nights

The ambitious Kingdom Brass will certainly be looking to claim their first major piece of silverware, as Bede Williams leads them on the rip roaring 'Music of the Spheres'.
Consecutive top six finishes in the past two years suggests they could well be in the mix, especially if they can build on the form that has seen them post four podium finishes in five contest outings this season.
Another band on the up is Fishburn, who have chosen Philip Wilby's British Open set work, 'Vienna Nights'.
Huw Thomas has started to make a real impression with the North of England contenders with solid returns at Land O' Burns and the Dr Martin Wainstone's Cup.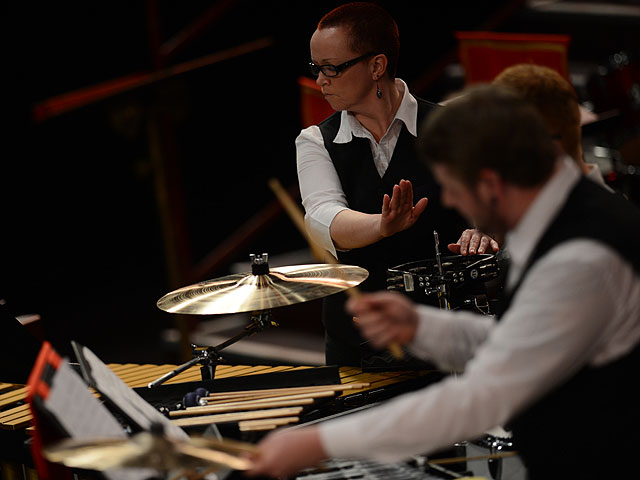 Anything left in the tank for Co-op?

Bookies favs

No doubting who the favourites will be at the Perth bookies as Co-operative Funeralcare reprise the British Open set work 'Electra' under Dr Nicholas Childs.
The only question mark surrounding a band that has been in excellent form in 2012 is stamina – as they have been a very busy of late – including a high energy outing at Brass in Concert last weekend.
Nordic dark horse

The dark horse of the contest could well be Norwegian First Division National Champion Tertnes, directed by Gary Peterson, who make the trip over the North Sea armed with Torstein Aagaard-Nilsen's immense 'Seid – Version B'.
'Version A' was used as the set work at the European Championships back in 1996, and although 'Version B' has a much more user friendly ending, it's still one heck of a piece to conquer.
Still, with no Siddis appearance time has been on their side, so sit back and enjoy.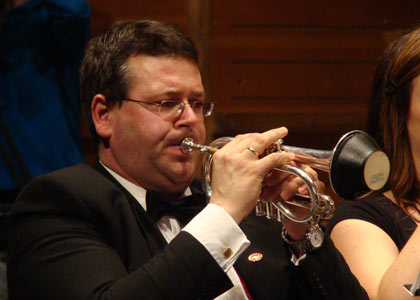 The Nordic dark horse of Tertnes

Homeland challenge

The twin homeland challenge of Bo'ness & Carriden and Lochgelly follow, with the former hoping to make an impression under Paul Drury with 'Whitsun Wakes' and the latter with 'Rococo Variations' – two mature sounding contest works.
Both bands have enjoyed solid enough seasons with Lochgelly gaining promotion from the Senior Trophy and Bo'ness showing good form at the Scottish Championship.
In form and rebuilding

The in-form EYMS makes their Scottish Open debut this year under Allan Morrison.
After their recent Bolsover victory and good returns at Butlins and the Senior Cup, they should fancy their chances on 'A Lowry Sketchbook' – perhaps Philip Wilby's most personal, subtly coloured test piece.
Meanwhile, Phillip McCann will look to carry on the rebuilding work at Kirkintilloch as they look to claim their first Scottish Open title after coming runner up here three times in the past.
A solid showing at the British Open suggests that they are starting to find their contesting feet again after a bit of a rocky patch, and they show their ambition with Paul Lovatt-Cooper's fast and furious National Finals set work, 'Breath of Souls'.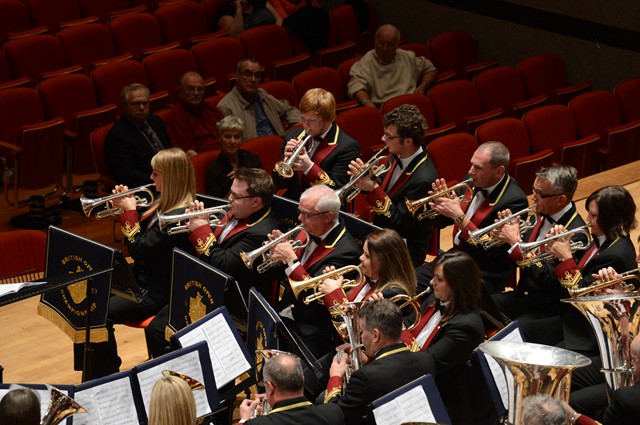 Rebuilding in the right direction for Kirkintilloch

Scorch marks and dragons

Regent Brass makes the long journey north from London under local lad Alan Duguid as they seek to build on a series of improving contest outings in recent times, including 13th place here last year.
They have opted for 'The Year of the Dragon' – a piece that has lost none of its fire breathing scorch mark qualities even 30 years after being written.
Talking of dragons leads us onto Northop, as the Welsh contender makes their Scottish Open debut under the baton of Thomas Wyss.
The Senior Cup champion has enjoyed a fine 2012, with their latest victory coming at the North Wales Championship. They opt for the Peter Graham arrow flight inspired 'Montage' as their selection.
Sailor's Tales

Kirkintilloch Kelvin Brass will look to round off a decent 2012 that has included podium finishes at both Fife contests, with a good result under Charles Keenan as they perform 'Un Vie de Matelot', whilst Yorkshire Imperial Urquhart Travel will be keen to end their First Section days with a bang as they travel north looking to improve on last year's 7th place finish.
After coming 3rd at the National Finals in Cheltenham, confidence should be high as they tackle 'A Tale as yet Untold'.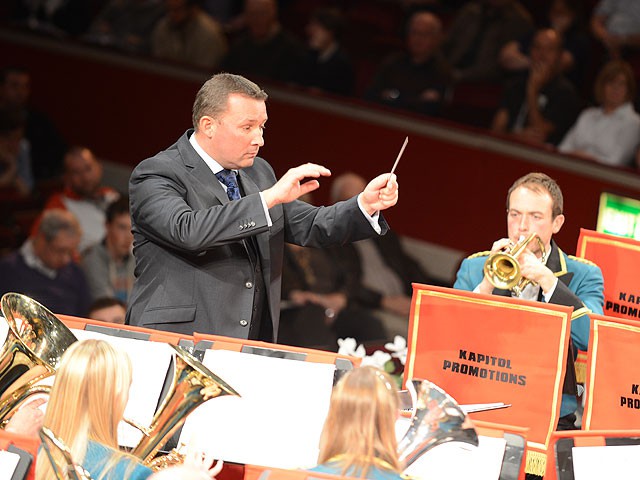 Felling good - Steve Malcolm leads the North of England champions

Pag and Pall

Fresh from their experience of performing well at the Royal Albert Hall, Felling will be looking to round off what has been truly memorable season with a possible top six finish.
11th last time around, they pin their hopes this time under Stephen Malcolm on the all bells and whistles of 'Paganini Variations'.
Finally, it will fall to Dalmellington to round off what looks on paper to be a highly enjoyable contest.
The great Archie Hutchison will be looking to see if he can push his band into the top six after coming 8th last year with their selection of Herman Pallhuber's colourful 'Titan's Progress'.

Iwan Fox
---
Who will win?
A bit of a tricky one given the eclectic choices of the 18 competitors.
If Co-operative Funeralcare has enough contest juice left in the tank then they have the all round class and quality to claim victory, although they could well be pushed all the way by the likes of Marsden Silver, Pemberton Old, Milnrow, Kirkintilloch and Kingdom Brass.
Our top dark horse is Tertnes.
4BR Prediction:
1. Co-operative Funeralcare
2. Marsden Silver
3. Pemberton Old Wigan DW
4. Co-operative Milnrow
5. Kirkintilloch
6. Kingdom Brass
Top10 Dark Horses: Tertnes Brass, EYMS, Northop and Fishburn