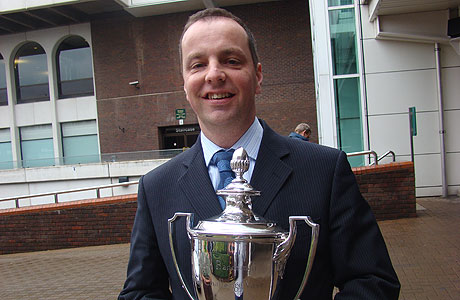 Craig Patterson with some nice silverware for the dinner table.

Given the opportunity, the wish list, the ability to mess about with the Space-Time Continuam like Doctor Who, and the skill to cook like Heston Blumenthal, who would you like to invite around to your place to enjoy a meal and chin wag with?

4BR started it all off a few days before Christmas 2007 with our 10 dinner guests, so we thought we had better ask a few more brass band personalities who would be on their all time dinner list too..

National champions

This time we have asked Craig Patterson, Musical Director of the newly crowned Third Section National Champions Hitchin to give us his eclectic selection of table guests.
Give their recent triumph at Cheltenham, the menu may well include plenty of champagne.
Celebrate

He told 4BR: "I've started my list of dinner guests by thinking of those people whom have inspired me as a musician.

I would, of course, have my long suffering wife Caroline and my two girls Alice and Lucy alongside me with all of Hitchin Band continuing to celebrate with us."
---
1. William Patterson

Unfortunately no longer with us, my dad was my first teacher giving me a great start in brass playing.
He would have been very proud not only to see me conduct the winning performance but also to see my oldest daughter sitting on the front row continuing his legacy.


2. Howard Snell

I was fortunate to have trumpet lessons with Howard for 2 years at the RNCM, and also spend some time playing under him with Britannia Building Society Band.
His ideas about practice, style and the mental approach to music influence me every day. He is a fabulous musician and there is still so much I could learn from him.


3. Dr Nicholas Childs

He is my favourite euphonium player, and I feel lucky to have played with him for a short time.
When I describe to the band the singing sound I want them to aim for he is always my example. The results I have seen him produce as conductor of the National Children's Band of Great Britain are incredible.


4. Vincent Penzerella

Now retired, Vince was 2nd trumpet with the New York Philharmonic.
He is a larger than life Sicilian American who has a totally infectious personality. If you are lucky enough to spend an hour with Vince you would come out convinced you could play anything.


5. Timofei Dokshitser

When I was 13 I heard his recording of the Arutunian 'Trumpet Concerto' and ran upstairs to attempt to copy him.
Thankfully no-one seems to have told him that you can't play a brass instrument like a violin virtuoso.
If he had lived on this side of the iron curtain I am sure every brass player in the west would admire him.


6. Timothy Reynish

In my time at the RNCM Tim was the Head of Brass & Wind and he is another larger than life character with endless energy and enthusiasm for music.
During his wind band rehearsals I learnt a vast amount about ensemble work. A strong advocate of symphonic bands it would be good to hear him reignite his old argument with Howard about the merits of the brass band as an ensemble.


7. Al Murray

Before Alistair became the Pub Landlord' he played percussion in Bedfordshire Youth Orchestra, making us all laugh when we should have been playing.
I went to his first performance at the Edinburgh Fringe Festival 23 years ago when we both had more hair.

8. Brian May

As my kids will testify, Queen is my favourite rock band. After playing in a concert in the 90's I went to the hotel bar with the rest of my quintet. I went off to the gents while the others sat down.
When I came back the guys said a man had come over to say how much he had enjoyed it. When they asked what he did, the reply was 'oh, I play the guitar a bit'. They had no idea who he was!


9. Simon Router

The soprano player and party leader of Hitchin Band.
The victory songs were started by Simon in Cheltenham and could be heard in Gloucester. The brass pupils he has brought to the band have helped us achieve our good results, so it shows that my dad who taught him did a great job.

10. John Williams

I was last out of the cinema when 'Star Wars' returned as I listened to every bar of the music.
Maurice Murphy playing his music with the LSO is still one of my favourite things to listen to.
---
Previous dinner guest lists:

Previous guests have included the 4BR selection; Chris Wormald; David Read; Pete Meechan; Alan Jenkins; Derek Broadbent; Philip Harper; Peter Roberts; Frank Renton; James Shepherd; Dr Roy Newsome; Paul Lovatt-Cooper; Bramwell Tovey; Kevin Crockford; Morvern Gilchrist and Lesley Howie; Richard Evans; Simone Rebello; Ian Porthouse; David Daws; Alan Morrison; Alan Wycherley; Mark Bousie; Steven Haynes; Simon Dobson; Ian Buckley;, John Roberts; Cai Isfryn; James Stretton; Harmen Vanhoorne, Bad Ass Brass, Lewis Musson, Tom Hutchinson, Jeremy Wise, Mark Harrison, Brett Baker, Ian Brownbill and Mark Wilkinson.