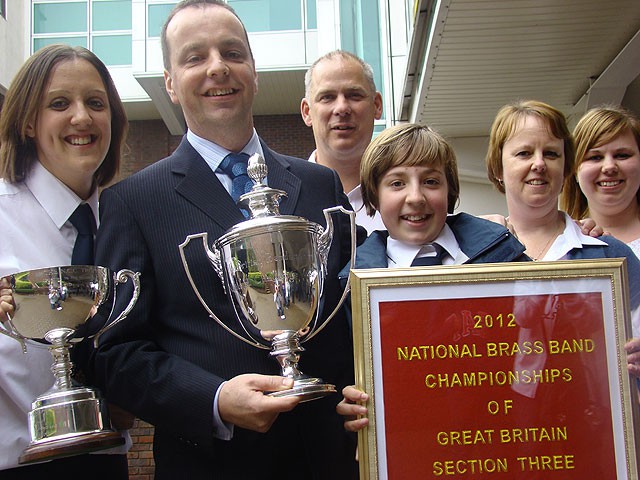 Hitchin silverware: The winner's disaply the trophies of success

Amongst the racing fraternity that regularly frequent Cheltenham Racecourse, there are no doubt countless traditions and superstitions that surface every race day.
Yet none are more likely to be as deeply rooted in history and folklore as the 'Three Ancient Customs' evoked by Richard Huw Cole - the work that tested the Third Section bands so effectively in what arguably proved to be the most compelling, closely fought battle for title winning glory on the weekend.

Refreshing change

With justifiable criticism often levelled at modern test pieces for their emphasis to technically test rather than musically engage both players and listeners alike, the composer's colourful, nuanced score made for a refreshing change.

With those welcome qualities very much to the fore, 'Three Ancient Customs' sounded like a work that could be equally at home in the concert hands of a top section band as well as those found in the contest environment of the Third Section.
Its intense sense of dark lyricism allied to inventive scoring and transparent technical challenges were realised without recourse to artifice. Mr Cole is a composer to watch out for.
Core values

What made it such an engaging challenge was that as bands found to their cost on the Sunday morning, the music placed considerable emphasis on core contesting values: ensemble balance, tuning, dynamics and individual nerve being tested to the full.
There was also the additional hurdle for the conductors to overcome, of delivering it all with a coherent sense of musical shape.

Happy smiles from the new champion's representative

Challenges

The interpretative challenges for the 17 bands were aided by a trio of the strong pictorial references:

'Cwrw Bach', 'Mari Lwyd' and 'Wassail' taking their inspiration from customs rich in imaginative analogy; from the convivial meetings held to raise finance from the sale of 'small beer', to the somewhat sinister household parading of a horse's skull and the joy of the apple harvest.
Lifted off the page

All three movements cried out to be 'lifted off the page' as the composer aptly put it to 4BR, and as the adjudicators Mark Wilkinson and Chris Davis clearly explained to the eager audience prior to the results, there were ultimately three bands that did that with confidence, authority and more than a dash of the required style.

For Craig Patterson and Hitchin, the crown of Third Section National Champion represents a new high point for the band with a history that stretches back an impressive 150 years.

Taking to the stage immediately before the adjudicators comfort break, their meticulously prepared performance was marked by admirably tight ensemble and clear communication between MD and players.

Bang on

Bang on tempi and controlled dynamics allowed the detail to be heard clearly in 'Cwrw Bach', with a haunting atmosphere of mystery in 'Mari Lwyd' leading to a precise and carefully measured 'Wassail'.
Although perhaps not the most outwardly dynamic performance of the day, it was nonetheless a model of clarity and precision that demonstrated an abundant understanding of the nuances of the music like no other.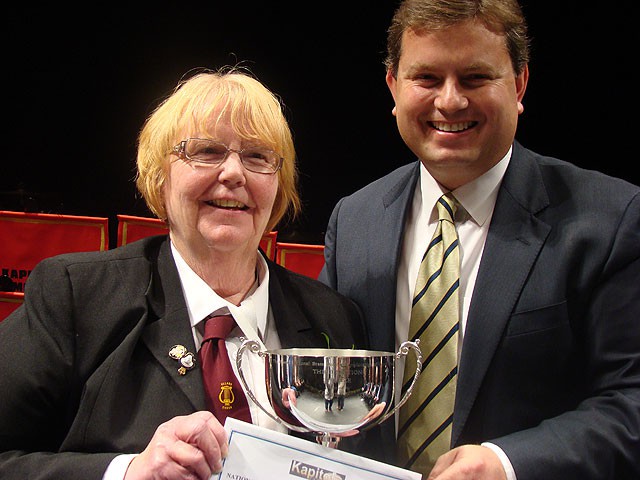 Silver for Elland Silver in second place

Counter balance

Runner up Elland Silver under James Shepherd emerged as the clear front runner from the second half of the draw.

Their reading that was a counter balance to Hitchin - bold, exciting and slightly edgy. That missing last ounce of accuracy was the difference between the winner's enclosure and the second place stall.
Tinge

Trinity Girls Brass may just have had a tinge of disappointment mixed in with their delight at coming third, after Stuart Barton led them through a beautifully shaped performance that set a high quality marker off the early number 5 draw.
Meanwhile, Whitworth Vale & Healey had a long wait to perform as the last band of the day.

Their eventual fourth place came from a rendition of energy and colour under the direction of MD John Binns that drew fine ensemble sounds, especially in a finale of wit and sparkling jocularity.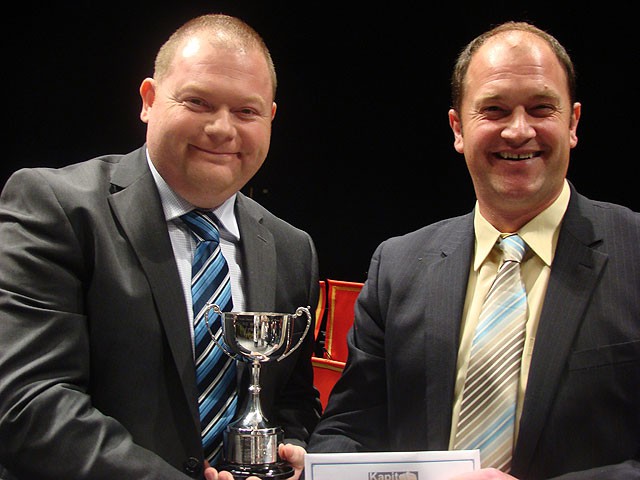 Third place for Trinity Girls

Sterling contribution

The initial book end marker to the contest came from the Scots of Jedforest Instrumental.

Their thoughtfully constructed account to end fifth from the number 1 draw was certainly enhanced by Stuart Black's sterling contribution on flugel for which he duly carried off the 'Best Instrumentalist' prize.
A. W. Parker (Drybrook) completed the top six finishers with a late performance of classy musicality that could easily have challenged for a higher position but for a handful of slips in the middle movement.

Musical character

Just missing out on the prizes, Epping Forest and Ibstock Brick Brass both succeeded in finding the musical character of each movement with aplomb, but wavering concentration, notably in 'Mari Lwyd' prevented them from gaining a mention off the stage.
It was much the same with a powerful Pontypool Silver who rather veered wildly from playing of real quality to moments of poor execution, and Bream Silver, who fell prey to grating tuning issues in what was otherwise a neatly constructed rendition.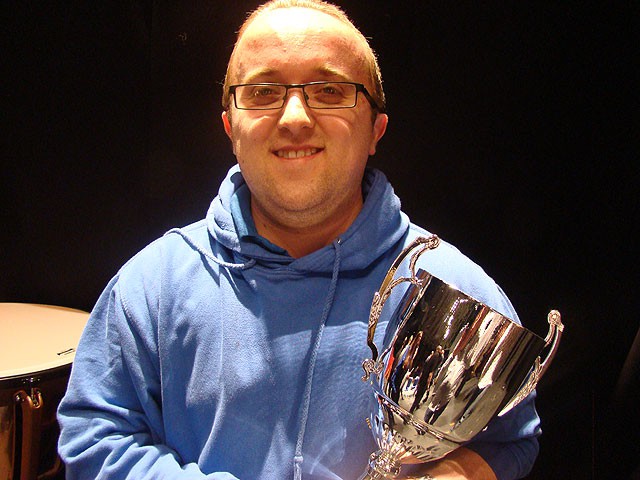 Sterling effort from Best Instrumentalist Award winner Stuart Black

Consistency

The low midfield finishers did struggle more noticeably and were unable to bring the music vividly as well as consistently to life.
Ripon City, Besses Boys, Long Eaton Silver Prize and Daventry Brass all displayed extended sections of quality, with Besses Boys under James Holt more than a little unlucky that their bold approach stamped with a touch of class in the outer movements was undone by a fragile middle section that cost them dearly in the box.
Sterling efforts

For Ogmore Valley, Perthshire Brass (the Welsh and Scots in kilts!), Emley Brass and Kirkby Lonsdale, the considerable challenges of the test piece just proved insurmountable on this occasion, despite the sterling efforts of the MDs to coax the musicality from the score.
Contrasting tests

With Goff Richards' 'Hollywood!' as the Area test piece for 2013, the Third Section bands cannot complain that they are not getting contrasting tests of their musical and technical abilities, although we are sure 'Three Ancient Customs' will surely figure on the contest stage again in the not too distant future.
In the meantime, a triumphant Hitchin Band will be relishing the prospect of Second Section banding next year.
With 150 years of history behind them they might just be able to draw on a few ancient customs of their very own to help them on their way.
Chris Thomas