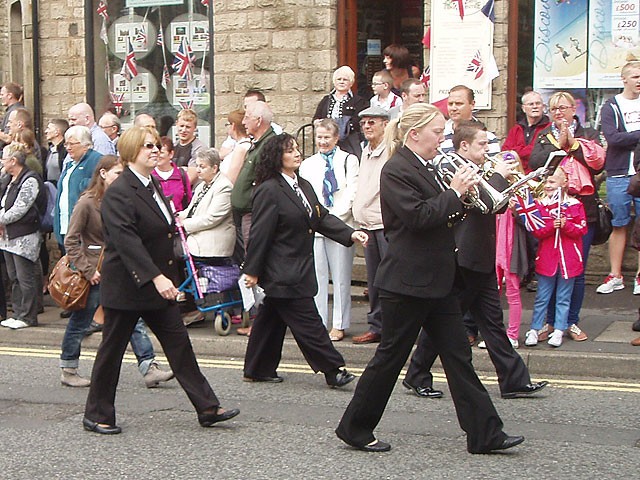 All the flags and bunting out for Whit Friday

With the red-white and blue bunting strung between lamp posts and union jack flags fluttering from windows, this year's Whit Friday was backed with a joyous feel of patriotism as well as the keen edge of competitiveness.

Big turn out

167 bands took to the streets around the 22 Tameside and Saddleworth venues (37 of which visited contests in both) with competitors from all parts of the UK as well as Switzerland and Denmark making what has now become a cross between a brass band contest and a semi religious pilgrimage.

Taking into account the large number of bands, it was no surprise that there was some congestion amid the narrow lanes and side streets, whilst the Denshaw Contest was subject to rumours that it had closed due to an accident on the nearby M62.

Thankfully, despite some hold ups for misplaced lorry drivers (diverted off the motorway by the Police) the wonderful organisational skills of contest organiser Andrina Baxter ensured the contest carried on without further disruption.

Dyke & Fodens take honours

Both Black Dyke and Foden's were in need of an articulated lorry by the end of the night to carry home their winnings.

The newly crowned European Champion hasn't been on the Whit Friday circuit since 2009 when they last won the Saddleworth crown, but after an evening of six individual winning performances on 'Knight Templar' they remain on course for what could be the Grand Slam to beat all Grand Slams in 2012. Next stop Preston.

A third at Dobcross meant that it was only at Greenfield where they didn't feature on the podium, but by taking the £2,500 central prize and a host of additional sectional and solo awards, Dr Nicholas Childs and his band headed back to Queensbury with £7,630 for their nights work.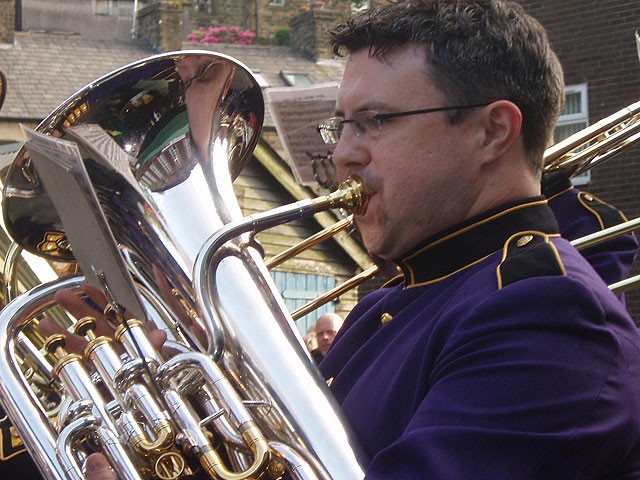 David Thornton plays his part with Brighouse

Trophy on show

For the second year in a row Brighouse & Rastrick took to the streets parading the magnificent National Trophy. Defending the Saddleworth crown under the baton of Ian Porthouse, the West Riding outfit, resplendent in their old-fashioned marching tunics had to be content though with a brace of first prizes to go with four runners up spots performing 'Ravenswood'.

Scrap for third

With a number of elite Championship bands battling it out in Saddleworth, it was always going to be a scrap for the top honours, and so it proved.

Picking up third overall was Marsden Silver under guest conductor Paul Andrews, who skilfully managed to cram in ten venues – starting at Diggle and finishing at Delph just before midnight.

It was a wonderfully consistent showing too for a band full of confidence after their podium finish at the Masters Championship in Kettering.

Despite just being unable to claim a contest victory, they still packed in two seconds, three thirds and a fourth on 'Knight Templar'.

The band missing out on some bonus cash was Hepworth under the direction of Phil Chalk.

A victory at Scouthead & Austerlands, backed by a second and a couple of thirds were the high points for the newly crowned Grand Shield winners.

Return of Grimey

There was real delight that Grimethorpe had made the late decision to compete at Whit Friday for the first time in a number of years.

Adam Cooke led the band around the circuit on 'Knight Templar', and whilst they didn't hit top form, with a fourth place their best return, the locals simply loved having them back – complete with obligatory miner's helmets.

The rapidly rising Oldham Band (Lees) under John Collins took the local Saddleworth bragging rights, whilst Milnrow conducted by Alan Wycherley not only finished in the mix for honours but had new father Russell Gray leading on top man.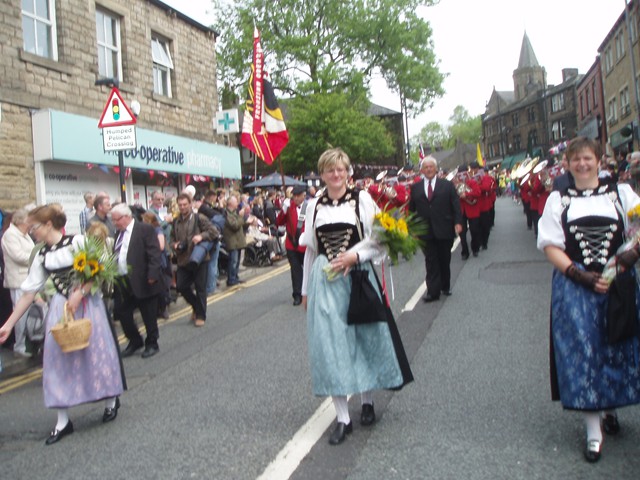 A taste of Europe comes to Saddleworth

Overseas challenge

As always, the overseas contingent simply lapped up the opportunity to take part in the Procession of Witness on Friday morning as well as compete at the various contests (and perform the odd concert) on their travels.

It was great to welcome back Angelo Bearpark, one of Saddleworth's most famous cornet playing exports, and a former Black Dyke & JSVB player, who was joined on the front row of Fanfare Cecilia de Chermignon by his remarkably talented son, Vincent.

The Swiss Band went home finishing top of the Euro pile, making a real mark with their playing, although both Emmental from Switzerland and Concord from Denmark also made their presence felt in the results table.

Budgie smuggling

As always there were the usual scratch bands out and about; from Tartan Brass making their seventh consecutive trip, to Olympic Brass made up of students from Huddersfield University who literary got into 2012 spirit by dressing up as sporting participants - including a bass player in a skimpy pair of budgie smuggling Speedo's.

Foden's dominate

Over in Tameside, it was Foden's directed by Michael Fowles that once again claimed the honours - their tenth title in eleven years.

Their ultra slick organisation meant that they competed at all of the individual venues, snapping up six firsts along the way with their rendition of 'The President'.

Not content with a pot full of Tameside money and individual solo prizes (Mark Wilkinson had a cracking individual night), they also crossed over the border to claim victory at Uppermill (bagging £1,000 in the process) to head back to Sandbach with a night time prize fund of over £7,500.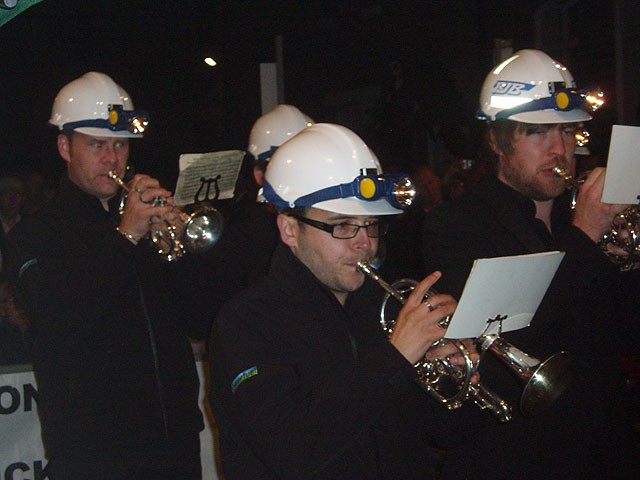 The return of Grimethorpe put a smile on faces

Fairey & Leyland

With Foden's on such commanding form, it was left to Fairey and Leyland to battle it out for the remaining podium places.

Garry Cutt once again led the consistent Stockport challenge on 'The President', and with victory at Droylsden to boost their funds and points total, they just edged out Leigh Baker and Leyland by a single point, despite the Brass in Concert champion picking up one more victory than their rivals.

Ashton-under-Lyne, conducted by Simon Stonehouse took the local honours (which is for any band to compete in who is based within an eleven mile radius of Ashton Town Hall) for a fifth time in a row, with National finalist Mossley coming second.

Future

With grumbles about the increase in bureaucratic red tape, rising costs, drying up sponsorship, council cut backs (although they have put thousands in to the event over the years) and a desperate need for fresh blood to take on voluntary roles at many venues, it's little wonder then that a great deal of the chit-chat and pub talk was about the future health of this great musical institution, especially when it makes headlines in the local press on the run up to the day itself.

Running a contest has never been easy, but there is frustration that overbearing responsibilities are now getting in the way of running what is essentially a community event.

Organisers will look at other funding streams, but with the greater financial picture so uncertain, some contests may be forced to fall by the wayside.

The indefatigable Joe Buckley is calling time on his involvement at Greenfield, whilst Scouthead & Austerlands has already announced that this year was the final straw.

Time will tell on what will happen at both venues whilst Tameside are upbeat about next year and beyond.

The only thing that is still certain at present is that the greatest free show on earth will take place on 24th May 2013.

Malcolm Wood