Shining bright - in the middle of the night...

With the UK enjoying a rare taste of summer, anyone hoping to attend the Whit Friday contests will be keeping their fingers crossed that the blazing sun carries on beating down just long enough so that they can enjoy the unique atmosphere without having to unpack a brolly and wellington boots.

The forecast is suggesting cooler temperatures than of late, but no one will be complaining too much if they have to wear an extra vest under their band jackets.

With an extended Bank Holiday this weekend, it promises to give all things Royal and Olympic, an extra musical boost.

Challenge

Despite those flag waving 'feel good' events hogging the airwaves, the hard realities of financial austerity have meant that they have also soaked up the vast majority of spare sponsorship cash too.

It's an amazing achievement then that the brilliant band of hard working contest organisers in Saddleworth and Tameside have been able to secure around £60,000 in prize money once more – a financial lifeline to many of the bands that come from all over the world to perform here.

Well done

Organising a Whit Friday contest remains a massive year long challenge, so if you get the chance, just say a 'Well done' to anyone you see in a high visibility health & safety jacket on your travels.

Even so, some contests could be on the brink of calling it a day, so if you can also lend a hand, let them know.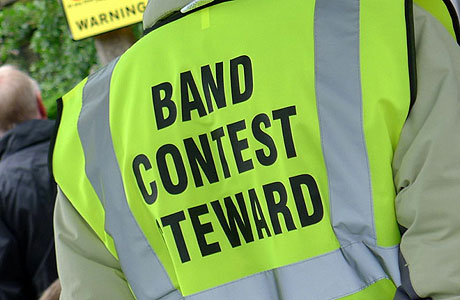 Give someone a well earned pat on the back...

Prize money

Once again, the contests in Saddleworth & Oldham will be supported by Oldham Council and Saddleworth & Lees District Partnership, whilst Tameside Council has brought on board private sponsorship from 103.6FM Tameside Radio and BMS Motorist Superstore which safeguards their central prize fund.

With around £60,000 in prize money up for grabs there are sure to be the usual stories of sneaky unsportsmanlike behaviour in places, but overall the contests take place in a friendly atmosphere of keen rivalry, with a number of the 'big boys' out in force this year to try and boost the contents of their piggy banks.

Grand

There is some big money up for grabs in the usual late night contest haunts of Delph, Greenfield and Uppermill, all of whom have a £1,000 top prize on offer.

Whilst most of the contests get under way at 4.00pm, bands can register at Diggle from 3.30pm, but can't perform until 4.15pm.

Spot prize

Meanwhile, in a bid to entice bands during what can be a quiet period between 8.00pm and 9.30pm, Denshaw is offering a £100 prize to a band that books during this time and is subsequently drawn out of the hat at the end of the evening.

There is an added incentive for those wishing to enjoy a pint in fine surroundings over in Tameside too, as the Stalybridge contest coincides with the reopening of the Labour Club which was damaged by fire late last year.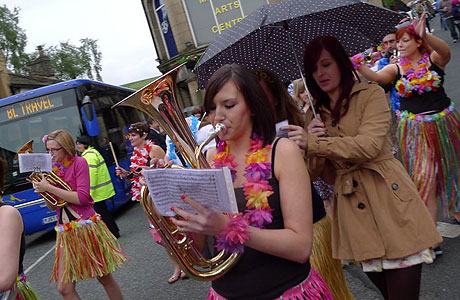 The more exotic sights and sounds of Whit Friday...

Tweeting
Some of the contests have taken to the social media network of twitter to keep bands and spectators up to date with what is happening. @Denshawcontest , @digglecontest are just two that have been flagged up, but have a surf around and you may come across others.
Traditional start

The day will start traditionally with the Processions of Witness in Saddleworth and Mossley at 9.00am before the band coaches take to the roads later in the afternoon.

Heavyweight contenders

As always, there is the added interest as to who will be out and about.

The newly crowned European champion Black Dyke under Dr Nicholas Childs return after three years away as they look to add the Saddleworth & Oldham District Championship crown to the two major titles they have already bagged this year.

Determined to stop them though will be defending Saddleworth champion and reigning National Champion, Brighouse & Rastrick, who've enlisted Ian Porthouse from Masters winners Tredegar to lead them.

Hopefully both bands will parade their collections of contest winning silverware for everyone to enjoy as they march proudly down the village streets.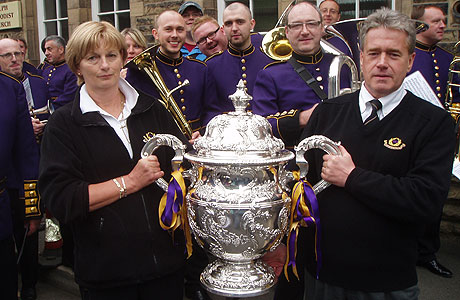 Some great old silverware will be on parade

Cash in

Brass in Concert winner and North West Areas champion Leyland plan to be back with Leigh Baker at the helm, whilst the Grand Shield champs Hepworth under Phil Chalk and Whit Friday heavyweights Rothwell Temperance directed by David Roberts will be looking to cash in at a number of venues too.

Hammonds Saltaire conducted by Morgan Griffiths and Marsden Silver led by Paul Andrews will be full of confidence after their fine returns at the Masters in Kettering.

Fairey & Foden's

Fairey's and Foden's have also declared their intention to be out with the Sandbach outfit intent on retaining the Tameside title they regained from their rivals last year. The Stockport-based outfit have once again engaged Garry Cutt to lead their challenge for honours.

Keep your eyes peeled for plenty of other top class contenders too, whilst as always there is a great swath of youth bands enjoying the experience as well as a host of scratch bands looking to bag a few quid to pay for the copious amounts of beer they will enjoy as the night progresses!

East London Brass, Fulham and Regent Brass will be making the long journey North from London whilst St Austell will make the journey from Cornwall.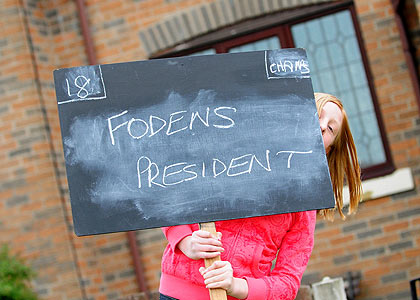 Hail the President as Foden's look to retain their title

Overseas challenge

The great news as always is that there will be plenty of overseas bands this year.

Asenhoga Brass from Sweden will be escorted by Phil Beck before they appear in concert on Saturday night at Uppermill, whilst Concord Brass from Denmark and the Swiss of Emenate Brass, Musica de Valaise Chermaine and Musik Frohsinn Oberburg, will also ensure a few different accents are heard ordering a pie and a pint.

There will be a familiar array of judges sat in caravans, front rooms and tents with Ryan Breen and Andy Warriner making their debuts.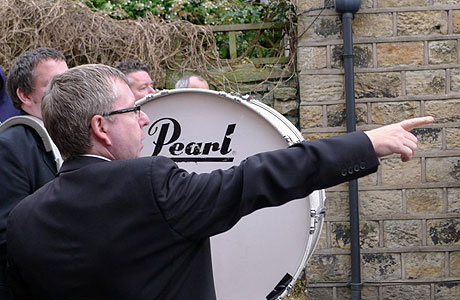 It went that way?

Be Prepared

Both Oldham & Tameside Councils will be aiming to keep road disruption to a minimum but bands are advised to check out any potential obstacles on their proposed routes in advance. The redevelopment of the tram system into Manchester is still on-going in the Droylsden area.


Results

4BR will aim to publish the results as soon as possible over the weekend including the overall Champions in Saddleworth and Tameside, but please be patient.

The people that run the contests will want to enjoy the rest of the Bank Holiday weekend too.

Malcolm Wood
---
The full list of Whit Friday contests is as follows:

Tameside:

Area Open Champions: £2,500, 2nd: £1,000, 3rd: £750
Local Area Champion: £750, 2nd: £600, 3rd: £400

Tameside Whit Friday Contests are supported in 2012 by 103.6FM Tameside Radio and BMS Motorist Superstore.

Audenshaw:
www.clubbz.com/club/4633/manchester/aldwinians_rufc_brass_band_contest_2010
Contest: 4.00pm - 10.30pm
Aldwinians Rugby Club
Main Prize: £700 from a total prize fund of £2,525
Adjudicator: Paul Holland
Contact: Sylvia Donley (0161 336 6814, 07947 018175)

Broadoak:
Contest: 5.00pm – 10.30pm
Broadoak Hotel
Main Prize: £500 from a total prize fund of £1,600
Adjudicator: Andrew Warriner
Contact: Robert Frost (0161 3302764)

Carrbrook:
www.carrbrookvillage.users.btopenworld.com/band.htm
Contest: 4.30pm - 10.30pm
Carr Rise
Main Prize: £600 from a total prize fund of £1,515
Adjudicator: John Davies
Contact: Tony Williams (07792070504)

Denton:
Contest: 4.00pm - 10.45pm
Main Prize: £250 from a total prize fund of £1,305
Adjudicator: Mike Lyons
Contact: Mrs Joan Emery (0161 2925319)

Droylsden:
Contest: 4.30pm -11.00pm
The Bush Inn
Main Prize: £500 from a total prize fund of £2,300
Adjudicator: Ryan Breen
Contact: George Fairclough (0161 3702811)

Dukinfield:
Contest: 4.45pm - 11.00pm
Tame Valley Hotel
Main Prize: £400 from a total prize fund of £1,500
Adjudicator: Dave Chapman
Contact: Brian Hill (0161 3390072)

Heyrod:
www.heyrodbandcontest.com
Contest: 4.30pm -10.30pm
John Street
Main Prize: £600 from a total prize fund of £1,745
Adjudicator: A. McLaughlin
Contact: Bob Lear (0161 338 2003)

Hurst Village:
Contest: 4.30pm - 11.00pm
Ashton United FC
Main Prize: £300 from a total prize fund of £1,300
Adjudicator: Gareth Pritchard
Contact: Denise Pinder (0161 308 4076, 07785 531221)

Stalybridge:
Contest: 4.30pm - 10.30pm
Stalybridge Labour Club
Main Prize: £400 from a total prize fund of £1,500
Adjudicator: Paul White
Contact: Phil Watton (0161 3555818)

Stalybridge Celtic:
Contest: 4.30pm - 10.45pm
Stalybridge Celtic FC
Main Prize: £400 from a total prize fund of 1,250
Adjudicator: C. Evans
Contact: Gordon Greenwood (07770 433336)

Upper Mossley:
Contest: 4.30pm - 10.00pm
Mountain Street
Main Prize: £500 from a total prize fund of £1,440
Adjudicator: M. Tweedle
Contact: Margaret Gaskell (01457 832752)

Find the venue:

To enable bands to plan their routes and find the contest venues, visit the following link: www.tamesidebrassbands.org/

Further details:

Further details for the Tameside Contests are available from 0161 342 4144
---
Saddleworth & Oldham District:

Area Open Champions : £2,500, 2nd: £1,000, 3rd: £750, Youth: £250
Local Area Champion: £750, 2nd: £600, 3rd: £400

Saddleworth & Oldham Contests are supported in 2012 by Oldham Council and Saddleworth and Lees District Partnership

Delph:
www.delph-whit-friday.co.uk
Contest: 4.15pm - 10.30pm
Main Prize: £1,000 from a total prize fund of £3,915
Adjudicator: Mike Kilroy
Contact: Mr R. Rodgers (01457 874354)

Denshaw:
Contest: 4.15pm - 10.45pm
Main Prize: £750 from a total prize fund of £2,790
Adjudicator: A. Holdsworth
Contact: A. Baxter (07920763979)

Diggle:
Contest: 4.15pm - 10.30pm
Main Prize: £650 from a total prize fund of £2,245
Adjudicator: Duncan Beckley
Contact: B. Cliffe (01457 873901)

Dobcross:
Contest: 4.30pm - 10.00pm
Main Prize: £750 from a total prize fund of £2,405
Adjudicator: Colin Hardy
Contact: A Cockburn (01457 820960)

Friezland:
3rd, 4th & Youth Sections only
Contest: 4.30pm - 10.30pm
Main Prize: £150 from a total prize fund of £475
Adjudicator: T. Newbigging
Contact: J. Barrett (01457 870612)

Greenacres:
Contest: 4.30pm - 10.30pm
Main Prize: £750 from a total prize fund of £2,405
Adjudicator: Brian Rostron
Contact: A. Clayton (0161 678 7255)

Greenfield:
Contest:4.30pm - 10.00pm
Main Prize: £1,000 from a total prize fund of £3,880
Adjudicator: Ray Farr
Contact: J. Buckley (01457 874794)

Grotton:
Contest: 4.00pm - 10.00pm
Main Prize: £600 from a total prize fund of £2,015
Adjudicator: Roy Roe
Contact: G. Beverley (07932 747590)

Lydgate:
Contest: 4.30pm -10.30pm
Main Prize: £800 from a total prize fund of £2,715
Adjudicator: Derek Southcott
Contact: L. Bearpak (01457 872566)

Lees and Springhead:
Contest: 4.30pm - 10.00pm
Main Prize: £500 from a total prize fund of £1,710
Adjudicator: Alan Fernie
Contact: W. Cullen (0161 6267625)

Scouthead & Austerlands:
Contest: 4.30pm -10.00pm
Main Prize: £800 from a total prize fund of £3,650
Adjudicator: C Brian Buckley
Contact: D. Needham (0161 6520341)

Uppermill:
Contest: 4.00pm - 10.30pm
Main Prize: £1,000 from a total prize fund of £2,860
Adjudicator: David Marshall
Contact: T. Hopkinson (01457 876010)