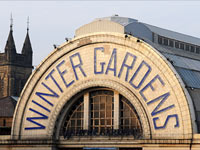 Senior Cup
Pavilion Theatre

Draw: 9.00am
Start: 10.00am

Test Piece: Elgar Variations (Martin Ellerby)

First Prize: £600 plus framed pennant presented by Centre Stage Uniforms
Second Prize: £400
Third Prize: £300
Fourth Prize: £200
---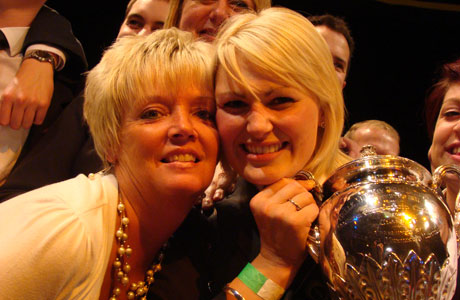 Not a moustache in sight for Marsden last year...

Although there is a well reported urban myth concerning Edward Elgar and his supposed affection for brass bands, it's less clear what the luxuriantly moustachioed old codger thought of our European neighbours.

By all accounts – not much.

It's a touch ironic then that the man who eventually found himself on the back of a Bank of England £20 note was also the inspiration behind a lovely bit of European test piece work from the pen of Martin Ellerby (below right).

C'est la vie.

Forever England

Much then to enjoy, even if the eventual prize for the bands who do come in the four qualification places is the prospect not of a contest weekend away in Oslo in 2013, but back here on the Golden Mile: Elgar is always, forever England.

Written to mark the 150th anniversary of his birth in 2007, 'Elgar Variations' is a clever, affectionate work full of respectful enigmas and motifs.

Commissioned for the European Championships held in Birmingham that year, it has become a popular, if somewhat underutilised work ever since.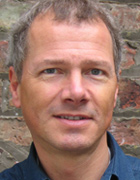 Razor sharp

The composer's razor sharp musical intellect is matched by his bone dry wit: Conductor's who wish to find the key to unravelling the complex mysteries of the score will do well to read his programme notes – and more than once.

Ellerby gives conductors more old rope to hang themselves than Albert Pierrepoint could manage.

He encourages latitude and flexibility, malleable rubato and free flowing viscosity. He alludes to answers (think of a series of songs and dances he says) without ever really giving a definitive clue.

The MDs must find them for themselves by using their musical noggins.

Crucially though, he also reminds the adjudicators that despite his insistent encouragement on interpretation, 'any old thing' will not do. Intriguingly, he also reveals that contained in its pages, is his own enigma – 'to my friend pictured within'.

Step closer

20 well matched bands line up in the Pavilion Theatre, all hoping to take another step closer to Symphony Hall.

The list of runners is headed by Aldbourne, who has continued on its rich vein of form following a remarkable 2011.

Promoted as Senior Trophy champion they very nearly pulled off one heck of a shock at the Area in Torquay.

Now that they have shown they can mix it in top class company they should be confident of at least pushing for another promotion spot.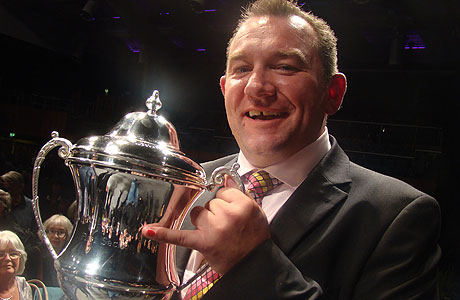 David Johnson and Aldbourne will be looking for more silverware this season

Build

Ashton Under Lyne meanwhile will look to build on an encouraging performance at the Areas, despite ending a lowly 11th. Simon Stonehouse is gradually moulding his band back into a highly competitive top class outfit once more.

No confidence problems for Blackburn & Darwen you suspect after they enjoyed a fine return at the same Blackpool contest where they came 6th, whilst Co-operative Funeralcare North West will look to claim promotion after they also enjoyed a good day at the Areas in coming 7th.

Consistent

Boness & Carriden comes down from Scotland looking to build on the consistent form of late under the baton of Bryan Allen, whilst Archie Hutchison's increasingly impressive work is starting to bear fruit with Dalmellington.

Keith Leonard and Derwent Brass will hope to carry on their anniversary celebrations with a promotion bottle of champagne or two, whilst Alan Morrison has really started to make his mark with East Yorkshire Motor Services, after putting in solid accounts at both Butlins and Darlington.

Contrast

There have been contrasting fortunes for Felling and Fishburn who join them from the same area however.

The former is still celebrating their first ever top section Area win at the Dolphin Centre and the latter is trying to rebuild after a disappointing 7th place return.

Friary Guildford won't short of confidence as they head up the M1 and across the M62.

Impressive returns at both Yeovil and the Area at Stevenage ensured that the Londoners are getting good promotion odds at the Blackpool bookies.

Bounce back

Both Hammonds Saltaire and Kingdom Brass will look to try and bounce back after falling through the grand Shield relegation trap door, with both buoyed by encouraging results at their respective Area championships.

Kingdom's third place at Glenrothes will have raised an eyebrow or two with their rivals here for certain.

Reverse

It's great to see Laganvale (Metal Technology) once again make the trip over the Irish Sea as Ernest Ruddick and his band look to reverse a fall away in the results table over the last two years.

NASUWT Riverside Brass has certainly shown its ambition to reverse its poor run of recent form here by bringing in the vastly experience David Roberts from Rothwell Temperance to head their assault.

Meanwhile, Northop Silver makes the short trip over the border from North Wales as they look to try and gain a second successive promotion under the baton of Thomas Wyss.

First Section trio

The trio of nationally graded First Section challengers of Ratby Co-operative, Unison Kinneil and Unite the Union (City of Sheffield) certainly shouldn't be discounted, with Ratby and Unite both winning their respective Area championships in the Midlands and Yorkshire, and Unison starting to show decent form once more under the direction of Russ Young.

Dr Childs

That just leaves 2010 winner Woodfalls who will look to bounce back from their 2011 Grand Shield relegation by teaming up with Black Dyke's triumphant European Championship winning conductor Dr Nicholas Childs.

He will be looking to pass on his secret to success to a band that has had a bit of a puzzling season so far – with podium finishes at Butlins and Yeovil and a lowly seventh place finish in defence of their Area title.
---
As for a winner?
A difficult one as ever with a list of potential winner as long as your arm.

There are a host of bands who will be hoping that the experience and musical know-how of their MDs plays just as important a part as the players themselves.

There is some expensive hired help on show here who will be expected to earn their fees in full.

Looking at the bands though we think it could well be a four way battle between Woodfalls, Aldbourne, Kingdom Brass and Blackburn & Darwen for the promotion places, with Friary Guildford and Felling making up the top six challenge.

Our dark horse is Northop.

4BR Prediction:

1. Woodfalls
2. Aldbourne
3. Kingdom Brass
4. Blackburn & Darwen
5. Friary Guildford
6. Felling

Dark Horse: Northop