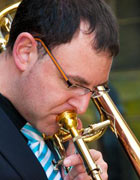 Given the opportunity, the wish list, the ability to mess about with the Space-Time Continuam like Doctor Who, and the skill to cook like Heston Blumenthal, who would you like to invite around to your place to enjoy a meal and chin wag with?

4BR started it all off a few days before Christmas 2007 with our 10 dinner guests, so we thought we had better ask a few more brass band personalities who would be on their all time dinner list too..

Sought after

This month we have asked Brett Baker, Black Dyke's principal trombonist for well over a decade, and one of the banding world's most sought after solo performers.

He told 4BR, that it was all about those people who have been an influence on him - in all sorts of ways...

He said "Where to start! I'm afraid I have chosen people that either make me laugh, make me smile or make me think, as well as those who have beenn a consistent source of inspiration over the years.

It should make for a great night. A bit noisy and boisterous, with plenty of opinions, laughs and tales that will keep everyone entertained into the wee small hours..."
---
1. Howard Snell

My mentor, and recently tutor on my masters course in conducing at Salford University.

A truly inspirational man; great company to be with, and able to speak about almost any topic in the world with great insight and knowledge.

2. Billy Miller

One of the funniest guys in banding. Never short of a story to tell and a great teacher and performer.

3. Howard Evans

Having known Howard for many years he has become a great friend and a collegue I admire and respect.

He has also conducted Boscombe, Salford and Leyland bands with me as soloist, so knows how I tick as a player too.

He's also very handy on the piano, so we won't have to pay for the entertainment...

4. Bramwell Tovey

This gentlemen had a huge influence on my early career whilst I was in the National Youth Brass Band.

One of the most interesting and talented individuals I have ever met and have had the pleasure to perform with. I admire him immensely.

5. Richard Evans

Still the finest entertainer/public speaker in the brass band world - and the perfect dinner guest.

I have known Richard for many years now and always enjoy playing for him.

I will never forget the trips to Germany and the USA with the JJB Leyland Band - although the stories may only be for selected ears!

6. Joseph Alessi

For me, the finest trombone player ever, and such a great guy. Just being in the same room as Joe is always a pleasure.

7. Steve Dillon

Steve owns Dillon music in New Jersey and is the greatest expert on the legendary trombonist Arthur Pryor in the world.

He knows about other stuff too, so we won't be short of conversation material all night.

8. Howard Taylor

Brass banding's answer to Russell Howard. This guy is hilarious, and although back out in Australia I'm sure he would be prepared to make the trip over for the dinner.

He has been the driving force behind the huge rise in standards of banding in the Antipodes, and if he could not make it he would probably send out the whole of Kew Band in Melbourne to play at the dinner.

Although originally a cornet player I'm sure he would have a go a playing the trombone after pudding

9. John Doyle and Paul Lovatt Cooper

When these two are together they are the banding world's answer to Ant & Dec.

Never short of a desire to create mischief and things to say. I would need to make sure the silver is put away and all loose objects fastened down if they are coming to dinner....

10. Kevin Lea

My long term buddy who players in Jaguar Land Rover Band.

I'm sure he would want to bring Mick Rath and Chris Beaumont to the table as well, though we would have to make it more of a barbecue I think if Bill Miller, Kevin Lea, and the Chuckle brothers Paul Cooper and John Doyle are to be kept happy.
---
Previous dinner guest lists:
Previous guests have included the 4BR selection; Chris Wormald; David Read; Pete Meechan; Alan Jenkins; Derek Broadbent; Philip Harper; Peter Roberts; Frank Renton; James Shepherd; Dr Roy Newsome; Paul Lovatt-Cooper; Bramwell Tovey; Kevin Crockford; Morvern Gilchrist and Lesley Howie; Richard Evans; Simone Rebello; Ian Porthouse; David Daws; Alan Morrison; Alan Wycherley; Mark Bousie; Steven Haynes; Simon Dobson; Ian Buckley;, John Roberts; Cai Isfryn; James Stretton; Harmen Vanhoorne, Bad Ass Brass, Lewis Musson, Tom Hutchinson, Jeremy Wise and Mark Harrison.