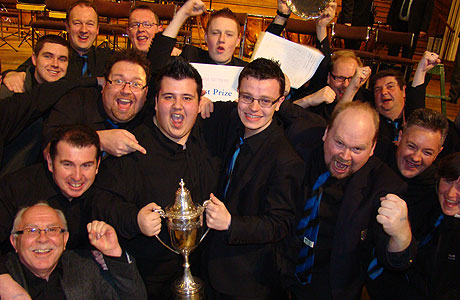 Port of call: Burry Port celebrate another victory

Anyone who has seen the film 'The Englishman Who Went Up a Hill and Came Down a Mountain', will have some idea of the extent to which mountains figure in the psyche of the Welsh:

Little surprise really, given that much of the Principality's landscape is dominated by high altitude scenery, albeit somewhat different to the alpine vistas Bertrand Moren had in mind when he wrote his own pictorial tribute with 'Mountain Views'.

Less wooden

All the more satisfying then that the best of the seven performances heard was considerably less wooden than the acting of Hugh Grant and the faux Welsh accents of most of the film's cast.

Less satisfying was the fact that the slender field of competitors was met with an equally slender audience as bright and sunny Gower weather conspired with a certain rugby match down the road to limit the audience to disappointing levels during the course of what proved to be a keenly contested, if somewhat erratically executed First Section battle.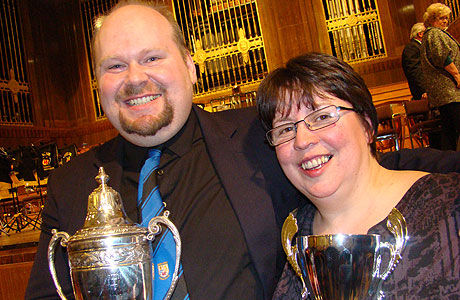 Winning duo: Ceri John and Jayne Thomas with their trophies

Emphatic win

As Michael Thorne and Burry Port Town secured the title of Welsh First Section champions in emphatic fashion with a performance that adjudicator Derek Broadbent declared to be a clear winner however, the band's players wouldn't have been worrying too much about missing the action from the Millennium Stadium.

A rapidly improving band following relegation from the Championship Section in 2010, they delivered a confident, richly detailed account of 'Mountain Views' that grew satisfyingly from a mistily atmospheric opening to a radiant dawn courtesy of fine sounds from the middle ensemble and a fulsome, but never strident cornet section.

Accuracy

With menacing trombones announcing a storm that unleashed its power through accuracy not volume, a sensitively shaped slow movement marked by a sweet toned cornet soloist prefaced a spacious finale that drew colour and vitality from the score, with soprano player Jayne Thomas deservedly picking up the 'Best Instrumentalist' award for her stylish contribution.

Fine performance

Newly promoted Lewis Merthyr took to the stage as the last band, gaining the runner up prize under Gareth Pritchard for a performance marked by an opening of warmth and admirable textural contrasts.

The standing bass trombone player in the second movement was a tad unnecessary, although the flowing playing and controlled fugue added to a solid all round showing, which although lacking the finesse of the winner, marked a fine performance.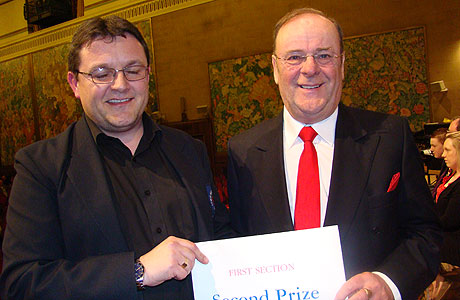 Back to Cheltenham for Lewis Merthyr

Missing out

Just missing out on in third place, Tylorstown and Garry Davies repeated last year's finish with a rendition that featured excellent solo contributions along with a carefully considered approach that was occasionally marred by tuning issues at key moments.

Disappointed

Meanwhile, Abergavenny Borough under Craig Roberts will feel a touch disappointed at missing out after given a finely shaped, well judged account that found a rich seam of emotion in the slow movement and impressive clarity in the fugue of the Finale.

Rogerstone's fifth place suffered with tuning issues and inconsistency despite quality touches in the storm and final movement, whilst Deiniolen and Penclawdd Brass were unable to draw enough from the score to make a significant impression on Derek Broadbent.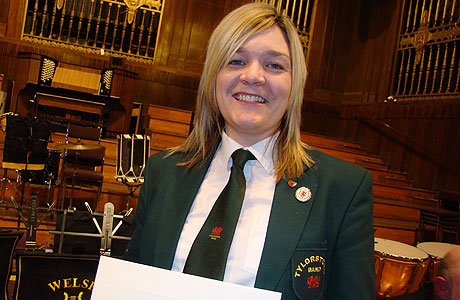 Third again for Tylorstown

For Penclawdd in particular, seventh will have come as a bitter blow after a highly persuasive performance, rich in controlled drama was aided by some splendid soprano work from Gurnos Rees.

Laid to rest

With Burry Port and Lewis Merthyr booking their hotels for Cheltenham come the autumn then any lingering thoughts of Hugh Grant scaling of the augmented heights of Ffynnon Garw were finally laid to rest.

All that was on the mind of the celebrating player was to catch a re-run of the rugby.

How good it was of the BBC to think of bandsmen when they designed the iPlayer…....

Chris Thomas