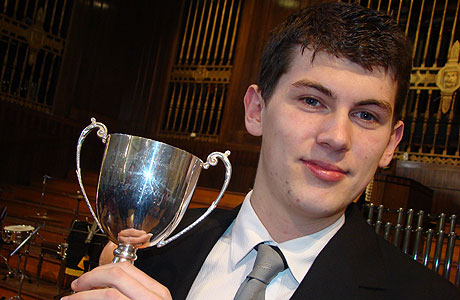 Rising star: Josh Ruck leads Severn Tunnel to victory

Welsh banding may have unearthed itself a future English born conducting star following Severn Tunnel's victory in the Fourth Section under the elegant baton of 19 year old Josh Ruck.

40 years after they last tasted victory at the Area contest the band's name will once again be engraved upon the winner's trophy, thanks in no small part to the excellent direction of their young maestro.

You suspect his will appear on many more in the years to come too.

Little surprise

It has since come as little surprise that he has been signed up by Scottish Open champion Tongwynlais Temperance as their resident conductor.

Despite his boyish appearance and initial lack of top level experience, on this evidence he is a rough diamond with the potential to become a shining gem.

The polishing process had already begun, although a precise conducting technique and focussed musical approach won't need too much buffing up.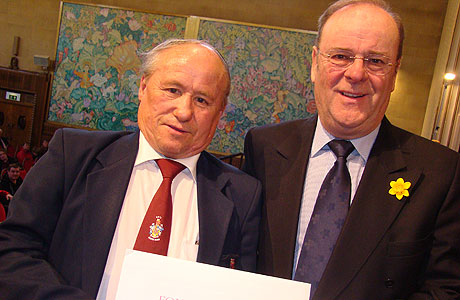 Second place for the returning Rhyl Silver

Understanding

He led his band to a thoroughly deserved victory, manipulating his numerically limited ensemble with an intelligent understanding of internal balance, dynamic contrast and flexible tempos.

With his Dad, Steve on flugel (who a week earlier had led his own band to Cheltenham in the Third Section at Torquay) his captured the bucolic jollity and warm lyricism in 'English Folk Song Suite' to a tee.

With the prize winning percussion section adding colour and texture, it was an impressive performance borne of a very impressive interpretation.

Fine reading

There was an equally fine reading of the score from Keith Jones at Rhyl Silver too, as they made a tremendous return to the contest for the first time since 2006 to claim their first Finals appearance for a decade.

A lovely middle movement that flowed with a malleable musicality was a real feature in an overall performance from a band with obvious potential.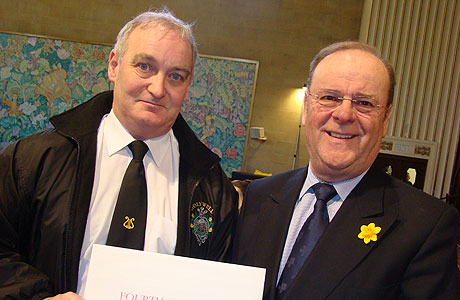 Third place for the returning Holywell

Linger

It proved to be just enough to beat off the challenge of another returnee in third placed Holywell, conducted by Dave Roberts.

Just a tendency to linger a little too long over the musical nuances in the middle movement may have cost them a chance of heading to Cheltenham.

Much to enjoy

Behind the podium trio there was much to enjoy in a well structured account from Dean Evans and Abertillery & District, which featured some of the very best bass trombone playing of the entire weekend from former Sun Life player Mike Tilley. It was a mini masterclass in musical refinement – each note a perfectly formed ball of rounded sound: Never overpowering, but always in focus.

Appreciation

Fifth placed Oakeley featured notable individual contributions too – especially from a fine percussion team in an account that just needed a touch more brio in places, whilst there was a highly promising debut appearance from Ebbw Valley Brass, led with exemplary appreciation of musical taste by the experienced Nigel Seaman.

Oakdale will have gained a great deal of encouragement from their confident, neatly styled showing that featured fine contributions from the sop and solo cornet in particular, whilst there were many more plus points than minus ones on show from Ystradgynlais.



Young star in the making: Gwen Flowers of Ystradgynlais

Led with neat purposefulness by the MD, it just a lack of secure intonation cost them valuable points, but a youthful band (with 10 year old Gwen Flowers picking up her first award) showed a great deal of growing potential.

It may have taken 40 years or so to get Severn Tunnel's name engraved once more on a winner's trophy at this contest, but you suspect it won't be the last time they enjoy success if they are able to hold onto their rising conducting star.

Iwan Fox