There is always such a great atmosphere to be enjoyed at the Dolphin Centre for the North of England Regional Championships weekend, that it's a pity that the Area hasn't had a great deal to cheer about results wise at the National Finals for a while.

Flag flying

BHK Horden's First Section victory in 2003 was a long time ago now (and the band is no more) so it would be great to see at least one championship winning pennant flying proudly off the flagpole above the Dolphin Centre this time next year.

The venue itself is well worth a visit (and not just for the warm welcome you get from everyone involved) as despite being a very well maintained leisure complex, it also offers excellent facilities (you can have a dip in the pool to cool off after you played) even if the acoustic can be a bit lively.

That flag raising ceremony may be a little while off yet as 2011 wasn't a particularly great year at the Finals, with midfield finishes at London and not a single top six placing to be had in Cheltenham.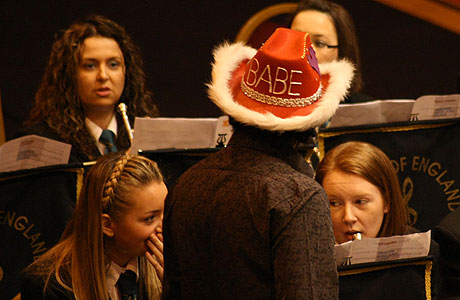 There is always something to catch the eye in the North East...

No despair

There isn't a feeling of despair however as there has been a noticeable, if incremental improvement if the overall quality of the bands here in the past few years – especially in the lowest sections.

Despite Reg Vardy's hegemony, they have been feeling the hot breath of the rivals breathing on the backs of their necks, whilst the First Section qualifiers have provided at least one top ten finish at the National Finals for five years in a row.

Numbers up

Numbers are up and there is the welcome sign of debuts in the Fourth Section for Barton Community as well as the return after some time away for Burneside Brass, Jayess Newbiggin, Spennymoor Town, Stape, Craghead and Kirkby Lonsdale.

There a few of non starters in Durham Constabulary, Lockwood, Wansbeck's Ashington, Lanchester and Dearham, but Alan Hope and his exceptionally hard working team on the Regional Committee must be delighted that despite the relative lack of National success the event is still attracting new and old competitors.

Hope springs eternal

With such passionate brass band supporters in the region it would be great if a little bit of long overdue success came their way.

If Newcastle United and Sunderland can do it then hope springs eternal...

Martin Benson