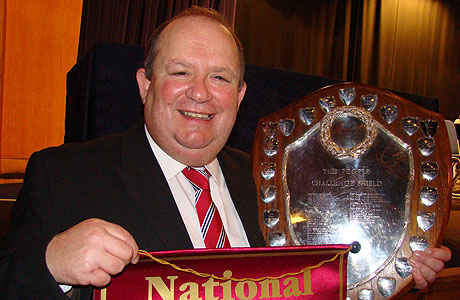 All smiles for Bream Silver's Bryn James

This South West 'Olympic' contest saw 13 well matched bands take to the starting blocks with the aim of claiming the brace of qualification places to get to Cheltenham.

Front and back

When an enjoyable contest had ended, one early front runner had stuck at the front of the pack to book they well deserved place, whilst the other crept up on the inside track to pip their rivals.

This really was a contest that wasn't decided until the final lunge for the finishing tape, with adjudicator's Jim Davies & Chris Wormald unable to ink in their qualifiers until the very last note rang out in the hall.

Basic and complex

Jim gave a succinct and honest assessment prior to the results, highlighting both the basic issues and more complex considerations both he and Chris were faced with in the box.

Nervous tension was a definite issue throughout, with a number of performances undermined by poor intonation.

Jim was bang on the mark when he said that even the winners may have left feeling that they a better performance left to give.

Although the overall standard was variable, not a single band found Philip Harper's filmatic score technically beyond them, even if some of the musical inspiration was a little more questionable.

Stylish

Bryn James led a bold and confident Bream Silver to the National finals for the first time since 2001, with a stylish account that was greatly enhanced by well chosen dynamics and tempo's.

There were the occasional moments of fragility, but overall the MD captured the atmosphere of each contrasting section of the work to a tee, and his players responded with playing that brought the music to life.

It was a clear winner that despite some fine efforts that followed it off the number 4 draw was never really in danger of being overtaken.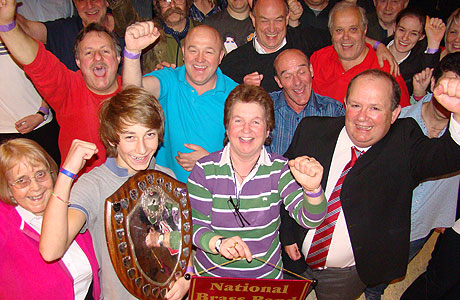 Let's the celebrations begin for Bream

Closest

AW Parker (Drybrook) under Steve Ruck came closest as the last band to take to the stage.

Having been promoted from the Fourth Section, their energetic account, full of neat ensemble work and secure soloists, spoke of a band very much on the rise under the former Sun Life cornet star.

Whilst they were a good musical meter behind Bream, their admirable stamina enabled them to keep their ensemble control and balance to just nip ahead of a batch of rivals who found themselves fading by the close.

Heartache

That meant heartache for Bodmin Town under Gary Lannie who almost led the rest of the field home from start to finish off the number 1 draw with a finely shaped musical account.

A bit like Crisp in the Grand National all those years ago when Red Rum just caught him on the line, they missed a taste of overdue glory by the narrowest of margins.

The former top section champion has been through some tough times of late, but they couldn't have given anything more here.

Things are on the up though if they can build on this highly encouraging performance.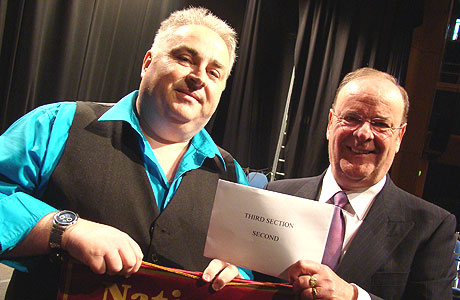 Cheltenham bound for AW Parker Drybrook

Top six

Denmead Brass and St Sythians (who took to the stage with 4 trombones) deservedly made their way into the top six after impressive bookended accounts that were almost carbon copies in terms of approach under Estelle Flood and James Burns.

The little errors did come in slightly different places it must be said, but it was intriguing to hear two solid bands literally following in each other's musical steps.

Behind them, a rather sporadic account from Downton never quite realised its potential under the hard working Roland Wright, as little errors just took the gloss of what had the makings of a possible podium finisher.

Committed accounts

Test Valley Brass, Tewkesbury Town and Gillingham Imperial Silver all delivered highly committed accounts as they strove to give the proverbial athletic 110%, when perhaps 95% would have paid greater dividends.

There was plenty to enjoy however as Calum Gray drew out some lovely rich colours and textures in the slow section with Test Valley.

Nigel Morgan opted for a persuasively light touch in the fleeted footed work with Tewkesbury, whilst Paul Williams kept a tight rein on effective dynamics with Gillingham.

The occasional misplaced adrenaline rushes though cost dearly with all three.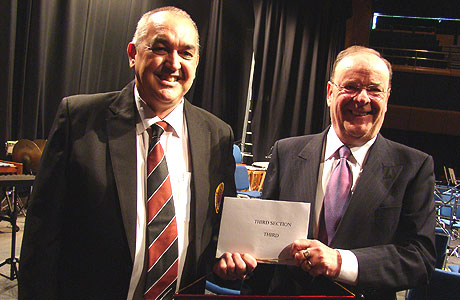 Gritted teeth for Bodmin who just missed out

Enjoyed

Hatherleigh Silver certainly enjoyed themselves (the percussionists in particular) in what was their first appearance in the Third Section, despite the occasional nasty crash into an unforeseen hurdle or two, whilst the bottom of the table trio of Bristol East & Kingswood, Corsham and Pillowell Silver all gave spirited accounts that battled against the odds.

Priceless asset

This may not have been a classic Olympic qualifying heat, but it was certainly one that kept you intrigued and interested from the first note to the last.

The two qualifiers will head to Cheltenham boosted by their ability to get through against tough opposition when it mattered, despite not quite performing to their very best.

That could be a priceless asset to fall back on in the years to come.

Malcolm Wood