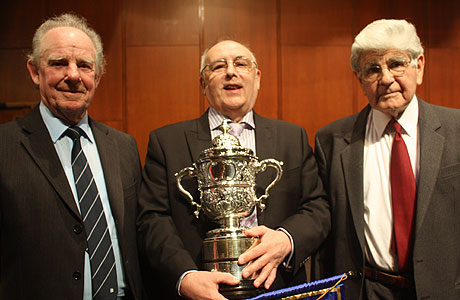 Desford silverware for the new champion

"The devil is in the detail" were the opening words David Read as he stood up to address the audience at the conclusion of Championship Section in Bedworth.

And within those words was a message that it was the detail in the slow music of a demonic test piece as much as the fiendish technical demands of the Prestissimo and Fugue that informed the decision making of the two most experienced adjudicators in the banding world (David was joined by Derek Broadbent), after their lengthy deliberations in the box at the end of play.

What ultimately emerged from the eleven performances were four clear front-runners, each displaying distinctly different approaches to the music.

High on anxiety

All were high on anxiety and adrenaline in the end, but it was the intense expressionism that saw Desford book its rightful place as 2012 champion and return to the Royal Albert Hall after missing out in 2011.

From the shattering opening chord that seemed to emanate from the very depths of the abyss, it was a performance possessed of a dark, menacing quality, engineered with an immensely skilful command of tension by Russell Gray.

Much has been said about the way Desford prepares for contests, but on this occasion, with the MD having attended only a handful of rehearsals, the intensity of preparation paid off handsomely in an engrossing reading of 'The Devil and the Deep Blue Sea'.

Drama and dynamics

Shot through with drama and huge dynamic contrasts, it was a seat of the pants experience for both the audience and possibly the players too.

Although there were passages of ragged ensemble, most notably in the fanfares and occasionally in the Prestissimo, the lyrical theme was beautifully judged, both in tempo and flexibility, leading to a conclusion tinged with real magic.

Despite its imperfections, it was an immensely powerful, at times grotesquely vivid, winning performance from the depths of the grave; but then again, the Devil has never won any prizes for his beauty.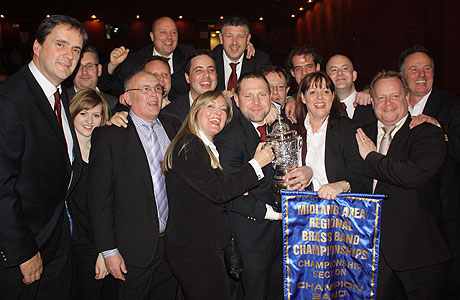 Back to the Albert Hall for Desford

No surprise

Jaguar Land Rover had only once previously qualified for the Albert Hall in 2006.

However, despite a disappointing Butlins, this result should come as no surprise, with Dave Lea and his hard working team making steady progress for some time now.

With Virtuosi GUS having already performed, theirs was a performance of energy and expression.

The extreme vein of darkness that permeated Desford's rendition was less prevalent, yet the playing showed impressive drive and accuracy, although fluctuating tempi threatened to undermine the good work.

The fanfares were despatched with accuracy, whilst the front cornet bench and leading soloists, notably Andrew Bates on flugel, performed with eloquent style.

As always, Dave Lea's approach to the slower music was one of careful attentiveness, with the adjudicators clearly appreciative of the subtle shadings and crafted phrasing.

Gasps

The gasps around the civic hall when Virtuosi GUS was announced in third were to be expected in the circumstances, with the reigning champion having delivered the 'cleanest' performance of the day.

With a potential hat-trick on the cards, John Berryman led with customary energy and vigour, with the opening solos on baritone and flugel beautifully shaped.

There were fleeting moments where a high octane Devil threatened to get the better of things, but with a wonderfully composed contribution from young flugel star Thomas Fountain and an ending that sent shivers down the spine, their London place seemed assured.

In the event it wasn't to be, but with the adjudicators commenting that second and third places had caused them a great deal of thought, it was a mighty close thing.

That will be scant consolation.

Long wait

Thoresby Colliery had a long wait as last band of the day to stake their claim under Brian Grant; delivering a solid performance that although impressively secure, lacked the subtlety of the front runners in the slower music, with the ensemble sound tending to edginess at key moments.

Fourth was the justifiable result.

Contrasts

In contrast, David Maplestone orchestrated a rendition from Sovereign Brass that cranked up the tension to match Desford in terms of darkly satanic intent without being able to deliver the same level of detail to finish fifth.

Derwent Brass despatched the most idiosyncratic rendition to end sixth, which although at times inspired (Keith Leonard's decision to allow the horn and flugel soloists to play without imposing strict direction was a lovely touch of musicality) laboured heavily at times too.

Scrappy

Newstead's seventh from the number one draw came from a scrappy affair that failed to settle after an untidy opening, whilst newly promoted Jackfield (Elcock Reisen) just let the adrenaline rush too quickly through the veins in an exciting and excitable performance.

Gresley Colliery, debutantes Oddfellows Brass and City of Coventry all succumbed to the Devil's demonic challenges, with performances that bore the hallmark of the First Section rather than the authentic Championship 666 of Beelzebub.

25 years

25 years after their momentous National title in 1987, Desford will return to the Royal Albert Hall as Midland Area Champions in an attempt to rekindle past glories with a present day band of huge potential.

It's a feat that might on the face of it appear to be something of a tall order.

But maybe we are just playing Devil's Advocate…..

Chris Thomas