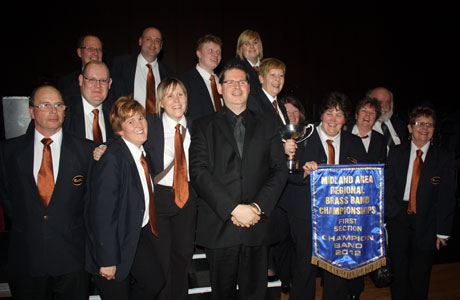 Top of the mountain for Ratby

It would be completely unjust to infer that it wasn't the quality of the playing that won Ratby Co-operative the title of Midland champion.

However, if there was one overriding influence who could be singled out more than any other in terms of their contribution to winning on 'Mountain Views' it was the man in the middle, Michael Fowles.

Depressing

For a work that has been claimed by some as too easy for the First Section, the overall standard of playing amongst the substantial field of 18 competitors proved to be nothing short of depressing.

Band after band produced bland, error strewn performances that failed to inspire anything other than uncomfortable incoherence.

Analogy

It's true that the only mountain to be seen in Bedworth is the decidedly modest promontory on which sits the recently opened Tesco Metro store, but even this would be a more appropriate pictorial analogy to apply to Bertrand Moren's composition.

Despite the evocative title, too many performances simply failed to bring any sense of grandeur to the music; a feat that was ultimately pulled off only by Mike Fowles and a very select band of MD's on the day.

Summing up

Succinct and constructive in his summing up, adjudicator Derek Broadbent told the audience in no uncertain terms that falling into the basic traps of poor rhythmic playing, inaccurate tuning and basic banding errors meant that bands were hardly fit to be possibly facing the prospect of the Championship Section - a point echoed, albeit in somewhat less trenchant terms, by his colleague, Peter Bassano.

Thankfully, Ratby's evocative opening representation of a mist shrouded dawn set the scene for a reading that displayed a breadth and understanding borne of those basic top section values.

The storm was unleashed with devastating power, derived from balanced ensemble volume rather than forced sound, whilst the excellent contribution from solo cornet Ian Dickman contributed significantly to a decisive victory.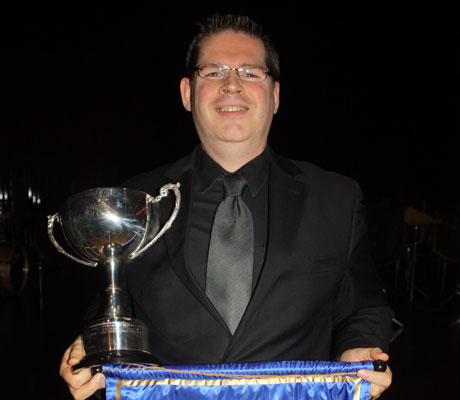 Top man - Michael Fowles of Ratby Co-operative

Trio

Reigning champion Phoenix West Midlands will join them in Cheltenham and the Championship Section, after the flamboyant Trevor Jones led a colourful, if somewhat error prone account marked by impressive detail and ensemble warmth.

Making up the qualification trio was Foresters Brass 2000, under Virtuosi GUS principal cornet Peter Collins.

A rapidly improving band with a healthy mix of youth and experience, it was immediately clear that the MD had paid close attention to detail, the shaping of the melodic lines and phrasing.

It came as something of a relief during what was a disappointing second half of the draw.

Carefully contrasted dynamics, a tender Andante and a majestic close summed up an intelligent interpretation.

Atmospheric

Hathern's second place last year proved to be no flash in the pan with fourth this time round, with a performance that emerged gradually from a mistily atmospheric opening to develop into a solid, confident account.

In fifth, Kibworth provided a decent pace setting rendition off the number 4 draw that couldn't quite hold its own as the contest developed, suffering to some degree from the lack of a second Bb bass, that hampered a clear headed interpretation by MD Iain Rayner.

Solid

Home team Bedworth Brass was sixth thanks to a technically solid, if musically unspectacular reading under Jason Glynn that gathered momentum following an uncomfortable opening.

Behind them, Brackley & District's seventh place was illuminated by thunderous storm, although a lugubrious and uninvolving Andante may have cost them a higher place or two.

Talking point

Staffordshire's eighth place under Nigel Seaman was undoubtedly the talking point of the day.

Last to play and as one of the hot pre-contest favourites, they delivered a bold, confident reading that although not blemish free drew notable drama from the score.

The men in the box didn't like it as much as the punters in the hall, that's for certain.

They could count themselves more than a tad unlucky.

Rue

Enderby too may rue their contest day after tuning issues detracted from an otherwise cultured approach under Jonathan Mott, whilst, Blidworth Welfare struggled with consistency in 10th, and Harborough failed to inject any real dynamism into the music in 11th.

Sarah Groarke battled admirably to steer Tintwistle through a rocky account that ultimately limped to 12th, whilst Carlton Brass was unable to build on a promising opening movement.

Solace

Newly promoted Leicestershire Co-op will take some solace from their debuts after they nervously ended in 14th, whilst there was plenty to build on for the youthful Wellington (Telford), who ended 15th, who had within their ranks some notable solo line talents.

Neither Shirley, Langley or Shirland Welfare were able to make any impact, although for Marie Smith and Shirland, credit is due for a brave attempt that had its customary sprinkling of young faces around the stands.

Difficult slopes

As the contesting mists settled on Bertrand Moren's mountainous visions in Bedworth, Ratby and Phoenix West Midlands booked their place at Cheltenham for a second consecutive year, with high hopes that they will both finish higher up the difficult slopes of the results table than last year.

Forresters too should be confident of making more than just an appearance at base camp.

Chris Thomas