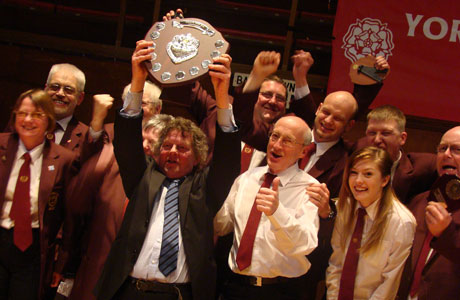 That long overdue winning feeling for Linthwaite

The signs were there in Bradford that Yorkshire grass roots banding is growing in strength and quality once more.

An enjoyable, playable test piece helped, but even that didn't disguise the fact that there wasn't one really weak performance – despite a couple of conductors just trying to bite off a little too much than they could chew in terms of tempo and dynamics.

Triage

The usual triage system of coping with those missing in action (as always, tuba and trombone sections had a lack of numbers) wasn't as keenly felt with 'English Folk Song Suite', with its emphasis on a light ensemble style and traditional solo features allowing MDs to cover any holes with well placed camouflage work.

It was also good to see what appeared to be more young players in the ranks of many of the bands than in previous years, with smiling imps knee high to timpani all enjoying the thrill of the contest stage.

No blasting

Perhaps even better was the realisation of the majority of the conductors that the work didn't needed to blasted into submission.

This was all about good brass band basics: 'The music speaks for itself' as adjudicator Colin Hardy said.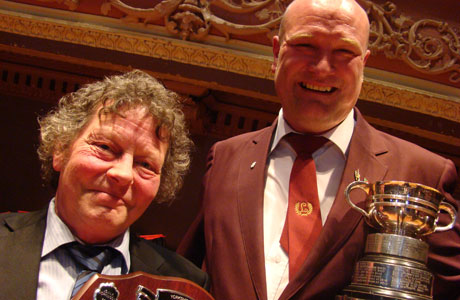 Happy chappies: MD Tony Jaeger-Fozzard gets ready to fill that cup...

Both he and Mike Kilroy were pleasantly surprised at the overall standard. Colin has spent the majority of his 60 years in banding coming here to either, play, conduct or judge, so he knew when Yorkshire bluff had been replaced with Yorkshire pride.

This was certainly the latter.

New settee

Mike also gave an excellent appraisal, and what his years of experience (slightly less than 60 it must be said) had taught him about one of his favourite pieces, with a clever analogy that building a performance at this level was like building a brand new settee.

First get the basic carcass properly constructed, before starting with the internal stuffing and fabric covering.

Impressive

Then, with all those essential elements firmly in place, put on the finishing touches of the mix and match scatter cushions.

An impressive musician, Mike's experience and insight should be utilised as often as possible – at all levels of contesting.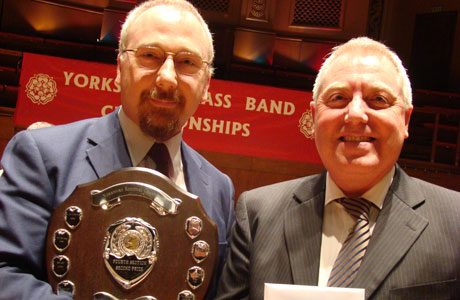 Back to Cheltenham for Armthorpe Elmfield

No DFS

Come the announcement of the results it was Linthwaite, conducted by Tony Jaeger-Fozzard who claimed the musical upholstery honours – their first for a decade.

As sofas go this was no DFS Sale special: It was a quality build – with all those basics bolted together with solidity, the ensemble covering warm and tuneful and it all topped off by a brilliant soft furnishings specialist solo cornet in Matthew Roebuck.

Outstanding

His outstanding 'Best Soloist' contribution was worth the price of an extra foot rest alone, whilst the MDs excellent direction, which brought out the rich inner colours in the middle section and joyfulness in the two outer movements was also top class.

If there was a downside it was Tony's choice of brown shoes – a fashion faux-pas not even DFS could get away with.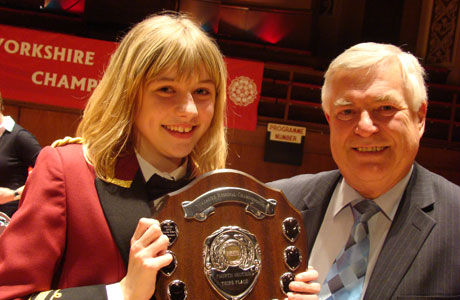 Third place for Wilsden

Joining them in Cheltenham was another band that had waited a long time to gain a Finals berth.

Hayden Griffiths MBE revelled in the opportunity to construct a lovely performance with Armthorpe Elmfield that was full of neat ensemble and tasteful solo contributions (especially their young solo cornet player).

Much to admire

With two flugels adding an extra depth to the cornet colour and a cracking bit of percussion playing, their long awaited trip was secured in considerable style.

There was also much to admire in Wilsden in third place, as former Black Dyke euphonium player Stuart Derrick drew out a brightly coloured rendition, which was enhanced by fine solo contributions, especially from their young principal cornet.

They also proviuded the contest with the youngest player of the day in 9 year old Frayer Mallinson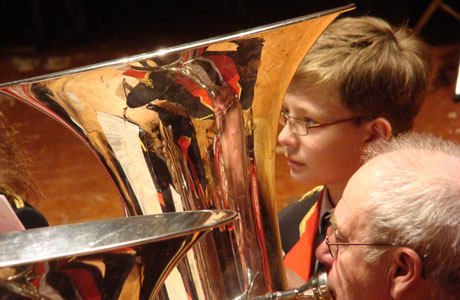 Relections in brass for Maltby

Not too far behind came a well worked performance from Maltby Miners, full of solid no nonsense solidity, especially from their sturdy bass end, whilst there was a highly encouraging performance from Clifton & Lightcliffe B in fifth.

Encouragement

Billy Rushworth really drew out the music from his mixed aged band (with former Black Dyke star David Horsfield sitting on stage with his son and grandchidren).

He also didn't miss a chance to really encourage every young player with little smiles and winks of encouragement in a performance that was only just off qualification pace.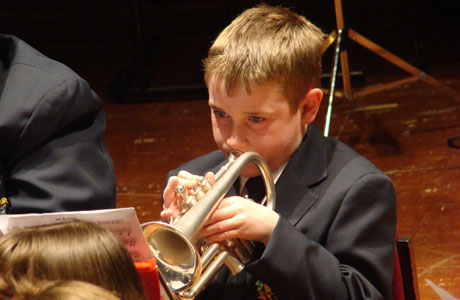 Starting them young at Clifton

Growing excitement

With Barnsley Metropolitan just letting growing excitement get the better of them in a well constructed performance under Alex Francis to some sixth, there was also much to admire in the bands that filled the remaining places.

Friendly Band (Sowerby) Bridge kicked things off with a neat account that featured a cracking percussion team who added colour as well as effect to their performance.

Meanwhile, Yorkshire Traction (who were down on numbers) also showed that they had unearthed a cracking young percussion star on timps too.

Hopefully he will encourage his friends to join the band's ranks.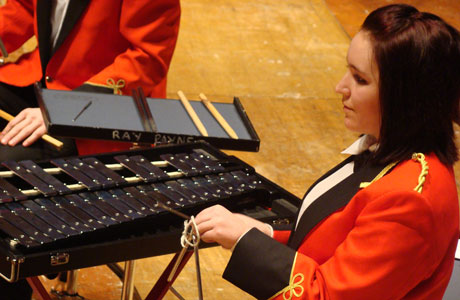 Hitting the right shapeon percussion with Barnsley

Bright

Deepcar gave a performance as bright as their white shirts and enhanced by a fine percussion quartet, whilst Golcar rounded things off with a colourful rendition that was as exciting as their animated conductor Lindon Bolt.

The returning Markham Main will have gained a great deal of encouragement from a performance that had musical flow as well as neat solo and ensemble touches, whilst Oughtibridge shouldn't be too disappointed in ending twelfth after they also strived to keep the musical elements to the fore under Gavin Somerset.

Overall though, two fine qualifiers and plenty to be proud about from a contest that showed off Yorkshire grass roots banding, as well as settee building, to great effect.

Iwan Fox