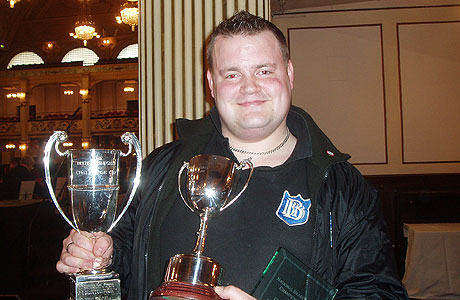 Double champions: James Holt with more North West silverware

Philip Harper's homage to the ethos of the Olympic movement proved to be an engaging test of musical character for the competitors who made it to the starting line up on Sunday morning.
Eighteen bands went into battle with the gold, silver and bronze medallists heading for Cheltenham in the autumn.

Matter of seconds

The result was decided not by a clear cut margin of seconds on a running track however, but by the opinion of a single judge in the confines of the adjudicator's tent.
The eventual decision certainly made for debate: Kevin Wadsworth's opinion on who was faster, higher and stronger than the rest eliciting arguments of Olympian proportions in many a Blackpool watering hole.
'Olympus' has a modern day cinematic feel, despite a subject matter inspired by the ancient Greek games.

It was a clever, transparent test – the well defined challenges posing stern but manageable obstacles to overcome.
Merit

Each of the 18 contenders gave performances of merit – especially those who according to Kevin took the sensible 'non steroid' enhanced approach of not trying to blast their way to qualification.
As many found out, those he felt had not quite paid enough attention to the hall's lively acoustic or had been precise enough with the notational markers, came a cropper.
Pulled no punches

The bold opening section was invariably well played, but it was mystical middle section that caught many out in terms of balance, whilst the concluding movements were on occasion uneven and hurried as stamina waned and lactic acid seeped into tired lips.
The adjudicator pulled no punches. His analysis was crystal clear and consistent – although it did raise an eyebrow or two when the final results were announced.

A couple of bands found that their approach, however stylish and engaging in the hall found little favour in the tent.
110%

The lively acoustic of the Empress Ballroom did scupper those who tried to give the ubiquitous sporting 110% for the cause, but it was still odd that the tent itself was positioned so far and so elevated from the actual stage.
The 2010 Fourth Section champion can now add the Third Section title to its ever growing CV of success.
All boxes

Besses Boy's under the direction of James Holt produced a performance that ticked all the boxes Kevin Wadsworth was looking for. Confident, stylish and consistent in terms of tempi and dynamic, it was an impressive rendition that crept up in the outside lane to claim the title.
Close behind came the two bands that will join them at Cheltenham.
Whitworth Vale & Healey's brightly hued performance almost outshone the striking blue shirt of their MD John Binns as they delivered a solid, purposeful account to claim a finals place for a second successive year.

An impressive band will be one of the short priced favourites at Cheltenham on this form.
Pushed

Meanwhile, Trinity Girls snatched the final qualification spot after a fine reading by Stuart Barton pushed the top two all the way to the finishing line.

Once more there was plenty of solid solo and ensemble work on show, with the added bonus of some well balance percussion playing too.
Top six

The top six places were taken by Hazel Grove, who brought the contest to a close with a spirited, confident performance under Nigel Beasley, whilst both Farnworth & Walkden and Cheshire Constabulary produced determined, colourful renditions that kept their form and cohesion right to their final chord.
Meanwhile, the engaging trio of Rivington & Adlington, Pemberton Old DW Wigan 'B' and Lostock Hall Memorial were always in the hunt for a top six finish after delivering enjoyable performances that were just tarnished by little clips and errors.
Each will have left both encouraged and perhaps just a little frustrated that they couldn't quite add that extra sheen of consistency to have pushed them higher up the results table.
Cause of debate

The two bands that caused the debate in the bars were undoubtedly Blackpool Brass and Eccles Borough.
Both endured a contest day that saw them fall foul with the one person that counted. All bands get them.
However, Kevin Wadsworth said it as he heard it – and in his opinion two performances that found widespread appeal in the hall found very little with him.
Puzzle

Blackpool Brass gave a well paced musical account under Tariq Ahmed that retained its cohesion and stamina right to its impressive close, whilst Mareika Gray's intelligent approach with Eccles saw them keep something in reserve right up until they were able to employ Usian Bolt like afterburners to scorch to the close.
It was a puzzle they didn't come much higher to the majority of listeners – 4BR and many more besides, but unfortunately, the only man they really had to impress wasn't in the press corps.

Full blooded

Butlins champion Boarshurst delivered a full blooded account that perhaps just got a little too red in tooth and claw in places under David Ashworth to end a disappointing 12th, whilst Nelson Brass and Skelmersdale Prize were blighted by early nerves that consequently saw them with too much ground to make up.
Stalybridge Old was another contender who never really settled down in the lively acoustic to eventually finish 15th, whilst there were was a very different approach to the test piece by John North and Old Hall Brass.
More lyrical and almost romantic in style and tempo, it perhaps just needed a bit more pulse to have made a leap up the results table. It was a brave, stylised effort though.
Besses glory

Finally, Eagley and Formby gave it their all, but struggled somewhat as they ended in 17th and 18th places respectively.
For Besses Boys the glory: For Whitworth Vale & Healey and Trinity Girls, the satisfaction of a qualification job well done.
For others - disappointment, debate and another crack at victory in 12 months time.
At least they won't have to wait four years like other would be Olympic champions.
Malcolm Wood