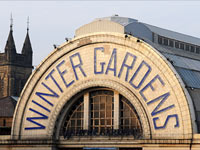 It all kicks off in Blackpool on Sunday.
For the locals that may be a relief as it's usually Friday and Saturday night when the streets are full with half dressed hen night revelers and stag parties packed with incoherent Lotharios, but for the North West banding community it's the Sabbath when the fun and games begin.
Concentrate

The London and Cheltenham may seem a long way off at this time of year, but nothing concentrates the early season contesting mind sharper than a possible appearance at the National Finals.
The North West qualifiers suffered a disappointing set of results last year, drawing a blank in the title winning stakes, with only one band (Fairey) returning home with a podium finish to its name.

That may be seen as something of a temporary blip given the success the region has enjoyed over the last decade or more, but on closer inspection, it may start to raise a few concerns.

Can anyone stop Foden's making it seven in a row this year?

Overdue

The National Trophy hasn't resided in the region since 2005, whilst you have to go back to 2004 for the last time there was a First Section winner, and to 2000 for a Second Section National champion.
However, there have been six Third Section winners since 2001 and five Fourth Section champions since 2003.
Time then for a bit of long overdue National triumphs from Championship, First and Second Section representatives, before the rest of the banding world starts to really think that like lagered up lads on a night out on the Golden Mile, there is a lot of boasting about top quality conquests, but perhaps little actual evidence to back it up.
Quantity

One thing the locals can certainly boast about though is quantity – with 80 bands (up 9) taking to the various stages at the Winter Gardens. No wonder the area will have two judges per section next year.

That's also the highest number since 1990 – a welcome headache for debutant contest controller Keith Tysell to face.
He will head a great team of volunteers who ensure the day runs like clockwork.
Massive field

The massive 25 band field in the Fourth Section will start at 10.30am in the Pavilion Theatre, whilst the 18 contenders in the Third Section will kick off at 9.45am in the Empress Ballroom.
The 11 First Section bands follow the Third at 3.15pm in the Empress Ballroom, whilst the Opera House hosts the 14 Second Section bands starting at 10.00am, followed by the climax of the day with the 12 Championship Section rivals starting at 2.30pm.
4BR coverage

Plenty then to enjoy as things kick off in fine style at the Winter Gardens.
4BR will be there as usual to provide our coverage of the day with our own 'experts' in each of the sections to listen to every band.
Iwan Fox