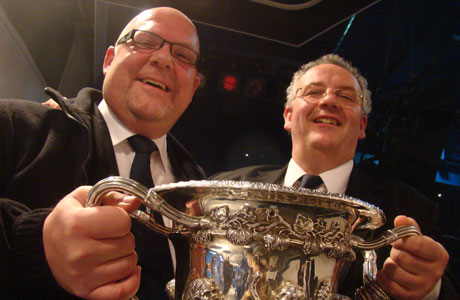 The foundation layers. Flowers Bb bass section celebrate

Perhaps the true litmus test that will provide the proof of Flowers major contest winning capabilities is yet to come.

Their second successive victory at Butlins was thoroughly deserved, but on this occasion came with a small, but significant caveat.

Not alone

They were not alone in borrowing players (not by a long chalk) – but by doing so with the inclusion of a quartet of high quality performers on soprano, flugel and percussion, rivals were left to wonder if they were really beaten for a second year in a row by a band with true top level credentials.
The more acidic contesting environment of the forthcoming West of England Area Championship – and more tellingly, the Grand Shield in Blackpool could well provide the definitive result.

On the evidence of two highly polished, impressively directed performances in Skegness, those rivals may already well have an inkling of the answer though.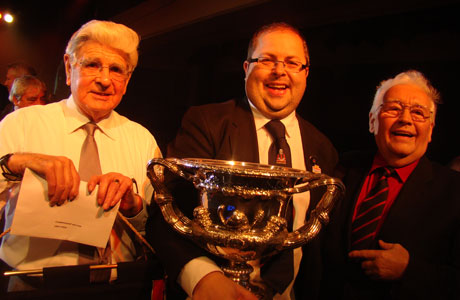 Second time in a row for Flowers

Over the last year or more, Paul Holland has moulded Flowers into a compactly balanced, coherent sounding band; technically adept and musically flexible.

The powerful bass section provides an ideal platform on which to build ensemble security – amply shown in a particularly commanding rendition of 'Un Vie de Matelot', and in their well planned, intelligently contrasting entertainment set.
Star performers

The 'hired help' enhanced rather than revolutionised those capabilities on the weekend – the star performers being the outstanding principal cornet Andrew Smith and their fine euph/baritone and trombone sections.

Even without the additions in personnel they are a growing, potent contest force; favourites for the Torquay title and a short priced runner for a qualification berth at Blackpool.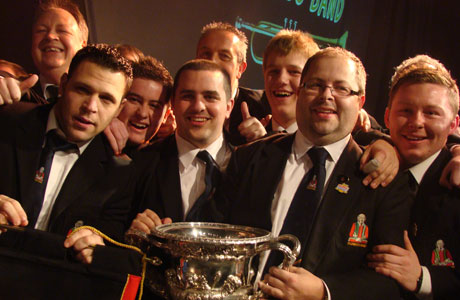 All together now: Flowers claim the Warwick Vase Trophy once again

Win one or certainly both of these and that litmus paper will have turned a definitive shade of red - an unquestionable indicator of top level contesting quality.

Until then, the proof remains somewhat open to qualified debate – although the evidence in Flowers favour is growing by each confident, competitive outing.

It is something their beaten rivals will have to hang onto in the coming months – especially as six of them will lock horns once more come the Grand Shield.
Credentials

Runner up, Virtuosi GUS are already at Symphony Hall, but once again proved their unenhanced credentials with two quality performances under the baton of John Berryman.
A typically well thought out account of the set work, with Martin Britt on soprano on top form, was followed by an entertainment programme that just lacked the touch of showy pizzazz that would have given them the all important extra step up the results table to pip Flowers for the £7,000 first prize.
As a result they missed out on their first Butlins title by the narrowest of margins, but left feeling as if they were perhaps the moral victors.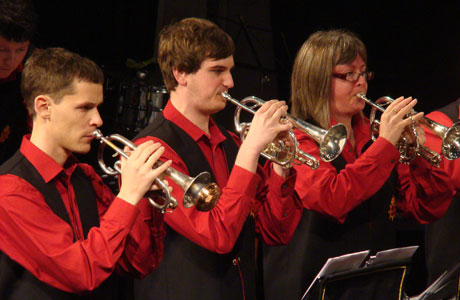 The Britt pack: Star sop Martin Britt leads the GUS assault

Boosted

Woodfalls meanwhile will head to the defence of their Yeovil and Torquay titles boosted by the effects of Paul Lovatt-Cooper's direction.

Sunday's winning entertainment set may have been full of his show time musical and presentational skills, but both performances also bore the hallmark of intelligent resource management too.
The judges on the Sunday felt it was a class apart in entertainment – and it was hard to disagree. How they build on the massive injection of contesting confidence will be interesting to hear.
Contrast

In contrast, Redbridge will have headed home satisfied, if perhaps not surprised by their fourth place finish.

Jeremy Wise wore a determined expression of intent on his face for most of the weekend, and his players knuckled down to their assault in the same manner.
A purposeful test piece was followed by an engaging entertainment progamme that was neatly amended from Brass in Concert.

It didn't quite bubble with that sense of innovation as in Gateshead, and as a result just fell away in the minds of the judges.

You suspect they will return more contest savvy next year.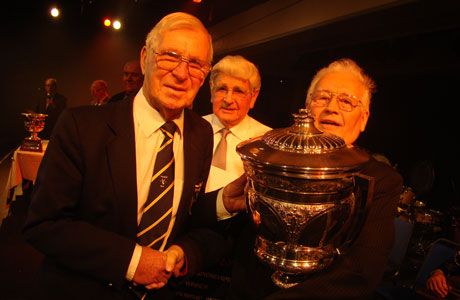 The entertainers: Woodfalls claim the big entertainment pot

Pleased

There were contrasting weekends for EYMS in fifth and Thoresby in sixth – although both will have been pleased if offered their places in the results table prior to a note being blown.
EYMS produced an uneven account of the set work on the Saturday only to follow it up with a crackerjack entertainment set inspired by Alan Morrison's intelligently chosen programme – full of neatly constructed visual ideas and solid musical ones on the Sunday.
Opposite

In almost the opposite fashion, Thoresby under Ian Porthouse produced a test piece that grew in quality after a hesitant start, but were unable to build on it the following day – only occasionally showing their ensemble quality to match their classy soloists.
Both will have left knowing that they will have to work on raising consistency levels if they are to build on the encouraging signs of growing contesting confidence – although Thoresby's banding colliers (the only two left in the UK) did get their hands on the William Lippeatt Trophy as the highest placed Mining Band.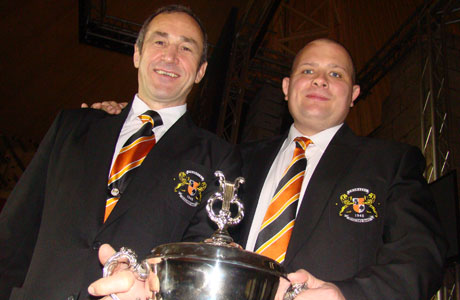 Last of a kind: Thoresby's miners Dave Howells and Nick Harris

Consistency

A lack of consistency was the key behind the 7th & 8th places of Desford and Carlton Main– both of whom saw any chances of overall victory disappear with error strewn performances of the nautical test piece.

Russell Gray and Philip McCann drew out the rich contrasts in the lyrical sections of the Farnon work, but their efforts had long been catastrophically holed below the plimsoll line from the start.
Their entertainment sets were also a little uneven too – neither delivering their well thought out programmes to the best of their undoubted abilities.

Both left Skegness frustrated at contest winning opportunities carelessly lost.
Missed opportunity

Glyn Williams will also be reflecting on a missed opportunity with Marsden, after their solidly played set work gained them 5th place on the Saturday.

With so much effort put into that performance they sounded a tired and somewhat jaded ensemble the following day, in a set that only occasionally flickered into life.

Torrid

For Scottish Open champion Tongwynlais it was arather torrid weekend.

A strangely muted test piece approach, which dynamically lacked substance and was marred by some serious ensemble problems, saw them fall from contention before they played a single note of their eclectic entertainment programme on the Sunday.

Both elements of the twin contest disciplines under Philip Harper were different to say the least – brave and inventive without a doubt, but undermined by too many errors in execution.
Improve

Jaguar Land Rover and Wingates will know that they will have to improve in form if they are to make any sort of impression at the Areas and Grand Shield in the coming months.

Jaguar was solid and unpretentious under Dave Lea's intelligent control, but just lacked that cutting edge of finesse in what sounded like a band still not quite out of early season second gear torpor at times, whilst Wingates appear to be in the first stages of rebuilding on the return of Andrew Berryman.

Glimpses of their potential were evident, but so too were the solo cracks and ensemble weaknesses.
No caveat

For Flowers the rebuilding process ended some time ago under Paul Holland – for others it remains the contesting job in hand.
Interestingly the adjudicators Peter Roberts, Ray Farr and Roger Webster spoke of a test piece section that had two excellent performances, whilst there was only the one outstanding Sunday programme – the rest well played but not particularly entertaining.
That litmus test, mirroring the confusion that now surrounds that particular discipline of top level contesting will also create further debate in the coming months.
The 2012 champion though will not be too concerned with that as they seek to top off their increasingly impressive banding structure with the final 'in-house' elements that should ensure that they return to both Symphony Hall and the Royal Albert Hall later this year.

Then there will be no caveat to their major title winning aspirations.

Iwan Fox