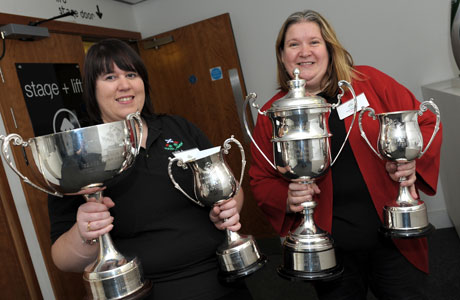 Silvery Tay - the prizes on show in Perth

It was perhaps a good job Alex Salmond wasn't on hand to witness all that went on at the Scottish Brass Band Festival in Perth.
Like his plans for independence, he may well have had second thoughts about implementing a full strength version on the back of the current strength of domestic Scottish banding, but would be left in no doubt about its value for future generations.
STV

The result of the Scottish Open (which was as easy to understand to outsiders as an explanation about the single transferable voting system) made for slightly uncomfortable reading for those with tartan tinted spectacles.

However, the turn out for various sections of the Scottish Youth Championships was nothing short of remarkable – the type of proactive participation in musical independence that would have had Scotland's First Minister shouting 'Freedom!' at the top of his voice.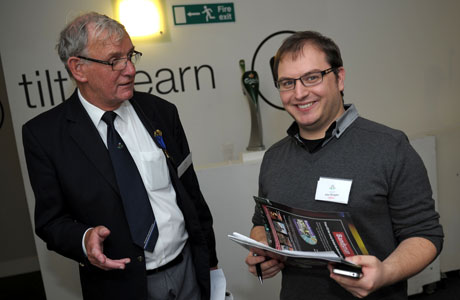 Helping hands- Tom Allan informs a bright young hopeful....

Popular

Youth banding in Scotland is as popular as free prescriptions and university tuition fees.

It's a vote winner that has become the standard bearer for cultural excellence, and not surprisingly, everyone wants to claim credit for it.
No wonder Creative Scotland – the funding body for the arts north of the border refer to it as one of their jewels in the crown.
Plaudits

However, it is the Scottish Brass Band Association, whose foresight and hard work saw hundreds of young players all under the age of 21 take to the stage in Perth that should take the plaudits.

The contest format with relaxed rules on instrumentation, bands able to have adult help in the three junior most sections, reduced ticket prices for supporters and players, and players able to perform with more than one band, gave the whole event a sense of inclusiveness.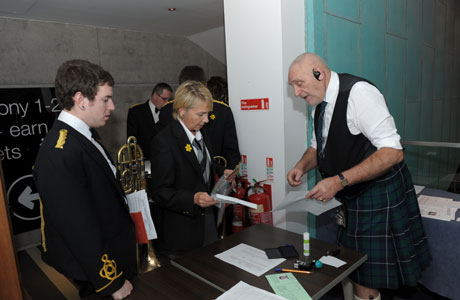 Celtic cousins: Tongwynlais sign on Scottish style...

Encouragement

SBBA's hard working committee members and helpers did a superb job running things too – slick, professional and always with smiles of encouragement and words of support for the young players.
One cautionary note however was struck by the odd murmur of player 'gerrymandering' – with an eye brow or two raised by a couple of bands filling leading positions with players with rather tenuous links to the ensembles they played for.
Those in question didn't need the extra help, and it rather flew in the face of the instructions given by SBBA to discourage the use of players from outside competitor's geographical area.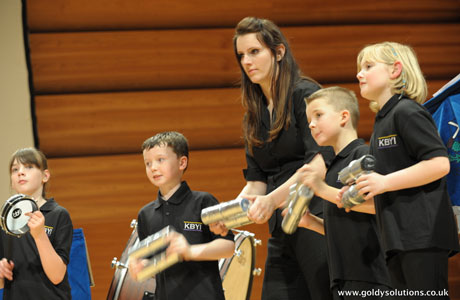 Kingdom come: Kingdom Brass Percussion Academy entertain the audience

Excellent venue

Meanwhile, Perth Concert Hall is an excellent venue, with the facilities more than capable of hosting a European Championship, and the nightlife more than a little interesting....
It's not often a band returns triumphant to their hotel to be met by the remnants of a boxing promotion chaotically spilling out into the foyer.
And whilst the future of Scottish banding appears to look good, it currently sounds pretty fine too, with a host of excellent performances - from the massed ranks of the 95 debutant players of Perth & Kinross Junior School in the Preparatory Section right through to the impressive forces of West Lothian Schools, winners of the Premier event.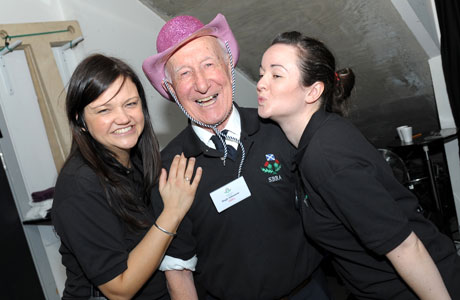 Insert your own caption....

Contrast

In contrast, Scotland's current participation in the 'UK Union' of British Championship banding is less healthy – and it must have been a bitter pill to swallow to see a Welsh band make the long trip north to claim the 'Open' title with such ease.
One of the current debates in these parts surrounds the thorny question of grading – and this result was another painful lesson in the reality of Scottish banding life at Championship level.

It was hard to make a case for a top section of anything more than six bands north of the border on this evidence.
In fairness the same could also be said of a decent slice of the other competitors here too ('Battle Creek' is a hard but eminently playable test piece for true top section bands) – but for all of Scotland's long term forward planning, at senior level things are in a self induced muddle.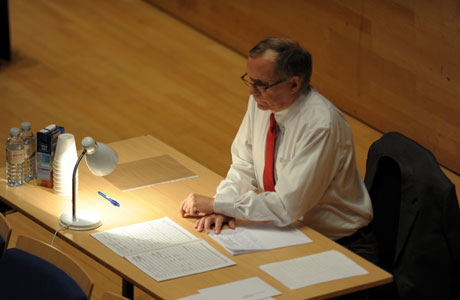 Pen, paper, score..... Philip Saprke deliberates

Growing mediocrity

Without a doubt, the quest for excellence is working at youth level, but it is questionable if the senior banding fraternity can continue to accept the reality of their growing mediocrity.
If they cannot – and are prepared to do something about it quickly, then Scottish banding at all levels will be able to hand out the type of backyard beatings to their UK counterparts that Tongwynlais – the fifth highest ranked band in Wales – handed out on the weekend.
If not, Alex Salmond may well have to wait a generation or two longer...
Iwan Fox