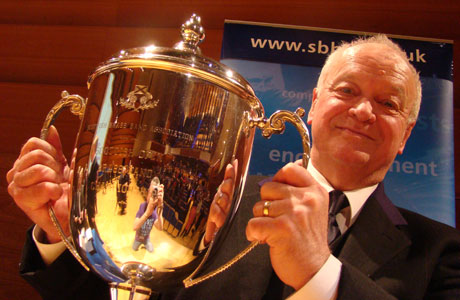 Holding on: Can Co-op retain their hold on the Open Trophy?

The last major contest of the banding year takes place this weekend when 16 bands line up for a Tri-Nations 'Battle' in more ways than one.
The Scottish Open has attracted competitors from over Hadrian's Wall and Offa's Dyke with the promise of an early Christmas present first prize of £3,000 and an end of year boost to their 4BR ranking.
Tough test

They will be faced with an almighty test of their abilities though, with the selection of Philip Sparke's virtuoso showcase, 'Music for Battle Creek'.

It was originally written in 2007 thanks to funds provided by the WK Kellogg Foundation, for the Battle Creek Band, and which contained within its ranks some of the finest brass and percussion players anywhere in the world.
A couple of years ago it proved to be one heck of a challenge for a very high class field at the National Finals, so what potential carnage it may well cause here with a line up that contains just the one British Open competitor and two National Finalists is anyone's guess.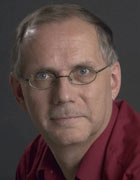 Hard way to victory

The winner will have claimed first prize the hard way for sure.
It's rock hard in fact – and full of the 'can-do' virtues of 'excitement, bravado and virtuosity' that Philip admires in the players and founders of the band.

Kellogg meanwhile, founded the Battle Creek Toasted Corn Flake Company, inventors of the world conquering Kellogg Corn Flake, which helped to create his Foundation in 1930, thanks to millions of dollars of profitable healthy eating sales.
Plenty then for the judges, Dr Robert Childs, John Wallace and the composer himself (right) to digest at the back of the excellent Perth Concert Hall, as they make their individual deliberations.
Open adjudication

Open adjudication proved to be a popular success last year, and it is a welcome course of progression that it remains in place.

It's also good to see three very fine musicians accepting the opportunity to utilise the transparent process too.
You can't imagine too many MDs complaining about their result with these three guys – or questioning their skill set to make a decision based on what they hear regardless of who they can see playing it.
That desire by the Scottish Brass Band Association to think progressively also sees a pre-draw, and the members of the hard working press corps deciding on the destination of the 4BR 'Best Instrumentalist' Award! You suspect a few questions may be asked of them though...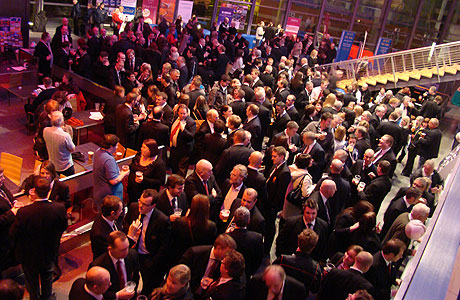 Opinions will be aired in the baras well as by the judges and the press...

The Scottish Open has come a long way since the first event back in 2003, and now it provides the contesting season with fitting domestic finale.

It could be an intriguing and enjoyable battle.
Scottish contenders

The Scots will want to ensure that they keep the trophy north of the border, and as a result have a number of strong title contenders waiting at various points of the draw.
Reigning champion Co-operative Funeralcare conducted by Michael Fowles will be looking to claim its fourth 'Open' title.

They were clear cut winners last year, and will be looking to round off a slightly uneven 2011 season on a high.

With no Brass in Concert distraction they could be the band to beat once more.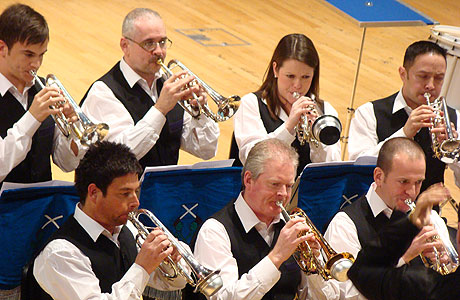 Magnificent seven - Co-op on the way to the 2010 title

Encouraging

Meanwhile, Exchange Communications Whitburn will have head little time to reflect on an encouraging performance at The Sage under the baton of Simon Dobson, as Tredegar's Ian Porthouse returns north from the South Wales valleys to reacquaint himself with the Scottish Champions as they bid to win a third title.
With no Kirkintilloch, a significant challenge will surely come from Kingdom Brass, who has enjoyed a cracking contesting year under the baton of Andrew Duncan.

He is making his swan song appearance with the ambitious Fife band this weekend, and would love to go out on a high after last year's fourth place finish.
Form

Lochgelly's podium finish at the Scottish Championship surprised many, but if they can perform once more under Allan Ramsay as they did in March they could be a bit of a dark horse.

Recent form is shrouded in a bit of mystery though.
Last year's Scottish Challenge Shield runner up Bo'ness & Carriden conducted by the talented Bede Williams, Dalmellington and Newtongrange both directed by the canny campaigners Archie Hutchison and Nigel Boddice MBE, are all perhaps longer shots for a top six finish, despite decent 2011 seasons.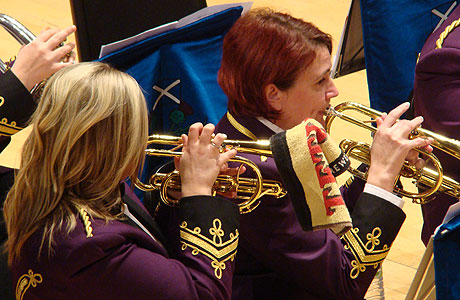 Keeping things hidden. Can Pemberton go from 3rd to 1st this year?

English challenge

The main English challenge appears to come from the North West and Yorkshire, where Pemberton Old Wigan DW under Mark Bentham will be looking to push on from last year's third place finish here.

Boosted by their solid performance at the Grand Shield and London they will fancy their chances of taking the title south of the border for the first time since 2004.

Ambitious

Meanwhile, the ambitious Senior Cup winners Marsden Silver under Glyn Williams will travel north well prepared, as will the improving Yorkshire Imperial Urquhart Travel directed by Dave Nesbitt, following their podium finish at Cheltenham in the First Section National Finals.
United Co-op Milnrow will be conducted by Marieka Gray as they look to improve on last year's 9th place finish and their encouraging performance at the Grand Shield in May, whilst Blackburn & Darwen will be looking to carry on their decent form under the direction of Nick Shepherd.
Former winners

Former winners Fishburn have invariably enjoyed their trips to the contest ever since they claimed victory in 2005 and will be looking to return to the prize winning places under the direction of Alan Morrison after coming 10th last year.

Meanwhile, fellow North East rivals Felling, under Stephen Malcolm, will also look to push on from their encouraging 7th place finish twelve months ago and their promotion from the Senior Trophy.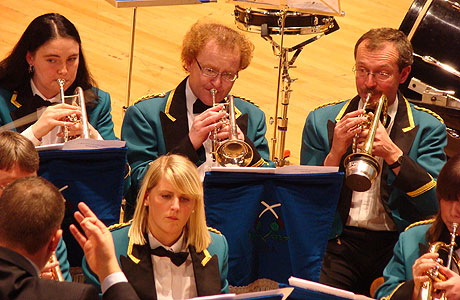 Felling good: The North East contenders return again

London & Wales

That leaves the Londoners of Regent Brass as they make the long journey north under the baton of the talented Scotsman Alan Duguid, whilst Welsh hopes lay in the hands of Tongwynlais Temperance who will look to end their rather uneven year on a high under the baton of Philip Harper.

4BR will be covering the contest live with comments from we hope three different press experts as well as our usual pithy twitter remarks and our in depth post match analysis.
---
As for a winner?
A hard one to call – and not just because the test piece has the ability to kill off hopes of potential victory almost from the word go.

There will be quite a few solo cornet and euphonium players enduring a sleepless night in Perth on Friday.
The two Scottish heavyweights of Co-operative Funeralcare and Exchange Communications Whitburn should be in the mix if they play to form, with Tongwynlais Temperance, Pemberton Old Wigan DW, Kingdom and Marsden close behind.

As for a dark horse?
United Co-op Milnrow may well push their way into the reckoning, but there are plenty of others such as former winners Fishburn who may fancy their chances too.
4BR Prediction:

1. Co-operative Funeralcare
2. Exchange Communications Whitburn
3. Tongwynlais Temperance
4. Pemberton Old Wigan DW
5. Kingdom Brass
6. Marsden Silver
Dark Horses: United Co-op Milnrow & Fishburn