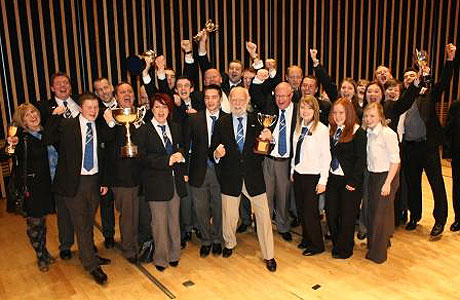 Nine and four: Richard Evans and Leyland celebrate

You would have thought that with all those Doctorates flying around the brass band world, one should be presented to the man who invented the musical prescription note for long term entertainment health and well being at Brass in Concert.
Shooting from the hip

Not that you suspect Richard Evans would be too bothered even if he did have 'Dr' written before his name in any contest programme – despite hobbling towards the dressing room at the back of The Sage to get his coat following the announcement that he had once again led a band to victory at the premier brass band entertainment contest in the world.
"My bloody hip hurts after all that," he said through a smiling grimace of pain. "I've been on my feet all day – although I can't really complain. All I need is a bit of TLC..."

The smile had turned to his trademark self deprecating grin as he acknowledged that he remains, even after four decades of success at this contest, the most sought after concert MD in the business.

Rocket fuel

You also sensed that the occasional twinge of age is something he can put up with if it means more days like this.

His blood must be an equal mix of adrenaline and rocket fuel: He was flying on Sunday – before, during and after leading Leyland to their fourth title. It was his ninth.

He is the Albert Schweitzer of Brass in Concert: He should be in line for a Noble prize for that sort of achievement.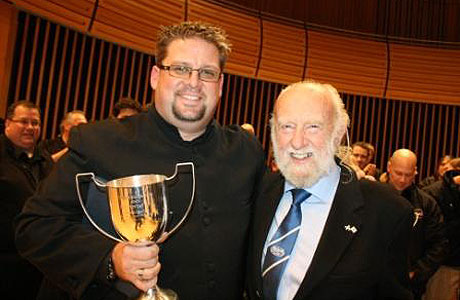 Top MD entertainers both - Chad Shoopman and Richard Evans

Strange day at The Sage
On a rather strange old day at The Sage, Tricky Dickey almost single-handedly snatched victory out of the grasp of the two rivals who must have thought they already had at least one hand on the World of Brass Championship Trophy.

Class apart

Earlier, Tredegar had stamped their claim to a first title success under the baton of Ian Porthouse with an invigorating performance that was played with such imposing style and authority that it gained what seemed an almost unassailable 198 points out of 200 from music judges Philip Sparke and Rob Wiffen.
They later confirmed that they felt the Welsh band was in their words, 'a class apart' on the day – but still it wasn't enough.

Lazarus

Meanwhile, Brass Band of Central Florida made a recovery of Lazarus proportions less than 24 hours after leaving the very same stage like dead men walking following a Gala Concert performance that sounded as if they had been overcome by a form of musical palsy.

Whatever they put in their morning tea, it was a miracle cure – as they delivered a stunningly choreographed programme that had more fizz than a Miami margarita.
And even that wasn't quite enough.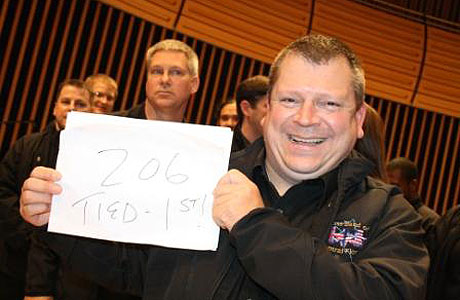 Tied up! Dee McAfee of Florida givs the result an American twist...

PT Barnum

A showman of PT Barnum proportions, Richard Evans gave the audience just what they had been waiting for all day – even if the two sets of judges had them second on both entertainment and music quality. That was never going to be enough to deny him his ninth title.
This was the master entertainer taking centre stage – working the gag lines off Frank Renton like a music hall pro. All that was missing was the bass drum thump and cymbal splash at the end of each favourite old joke that was lovingly passed between the duo like a baby between two doting grandfathers.
In between the laughs though, he inspired Leyland to perform better than they have done here perhaps at any time since he last led them to victory in 1997.

Trademark

All those trademark prescription note elements were in place – the showy entrance, the slow, swagger march (there was an audible sigh of relief from the audience when it was announced), the cracking solo spot and slick touch of pop, a little bit of warmly played sentimentality and the rousing crowd pleasing finisher.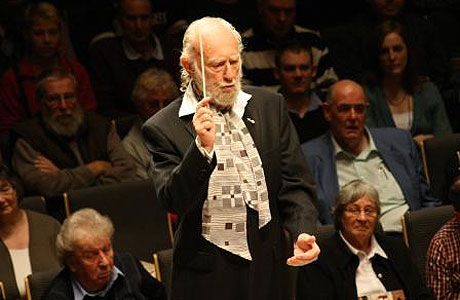 The master in action...

Placebo effect

It was a classy placebo effect performance that had the patients sat in their plush seats feeling better by the minute.

By the close he could have had the lame dancing in the aisles.
He left the stage bouncing with undisguised delight (perhaps that explained the bad hip) – and so too did his band. On this form he will win a tenth title and more before he finally decides to hang up his prescription pad.
It was a musical memory trip in many ways (he had won the march prize with 'Imperial Echoes' 24 years before) but those memories still felt fresh even to an audience who know what to expect as a 'pick me up' from their favourite entertainment doctor.
Leyland will need to keep hold of him. The combination hasn't lost its magic.
Remarkable Florida

Brass Band of Central Florida will have left almost as equally delighted after they drew on every last ounce of their musical energy reserves to come second (or joint first as they prefer to say).

A wonderful bunch of musicians they knew they hadn't performed to anything like their real ability the night before, so to turn things around in such a manner was nothing short of remarkable.

An extra baggage allowance for Florida and MD Chad Shoopman

Return

They cannot return soon enough – especially when you get to hear a cornet played with such ear piercing brilliance by the MD Chad Shoopman (there were rabid sheep dogs maniacally circling in bemused packs in Sunderland) and a kit player in Rich Sweat, who is simply a genius.

They did play to their strengths (something which they didn't do the night before) and as a result it was a showcase performance of a very high quality.

Bands who think they can play swing or big band items should be given a recording of their performance here to ensure they don't embarrass themselves in future trying.
Slick Tredegar

Tredegar will wonder what else they could have done to claim victory (they were the first band to win the Quality of Performance Prize and not come either first or second overall).
Slick, polished and rivetingly precise, they may have ended their long journey home disappointed, but they will surely be buoyed by the fact that their performance left the indelible impression that they are now more than capable of winning all major genres of banding titles.
Dewi Griffiths and Steve Stewart picked up deserved individual playing awards, whilst Matt Hall scooped his second successive 'Best New Composition' prize.

In the past two years they have topped both individual elements of this contest but have only a third place to their credit. They missed out on the overall title by a twist of statistical fate.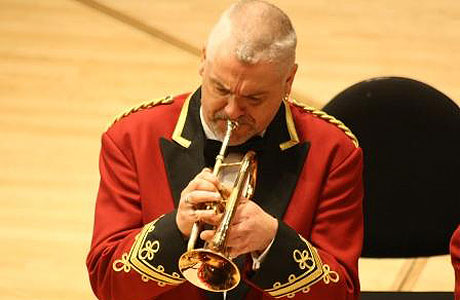 Super sop - Best Soprano winner Steve Syewart of Tredegar

Heavyweight trio

Behind the clear top three came the heavyweight trio of Foden's, Grimethorpe and Fairey (Geneva), each delivering performances that relied on the traditional values of high quality execution – even if the repertoire itself was at times close to the sell by date.
A rather flat Beethoven finisher rather took the gloss off Foden's solid programme set (despite John Barber's fine solo effort) under the direction of Michael Fowles, whilst Grimethorpe will have known that they were perhaps taking a risk too far by closing with 'The Great Gate of Kiev' – which as impressive as it was played, sounded as dated as the yellowing parts the band played off on stage.
Sandy Smith did a fine job at the helm at such short notice, but this was Grimethorpe in 'concert', rather than 'contest concert' mode.

Fairey meanwhile tried to do something a bit different but never quite managed to mould the sum of some interesting parts together. It was a programme that flickered with contest winning potential without ever quite catching fire.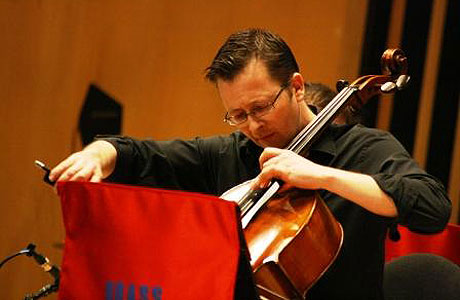 Innovation from John Kitchen and Redbridge

Way in front

The top six prize winners were some way in front of the rest of the 11 band field.
Reg Vardy under Ray Farr opted for a very familiar programme of old favourites and even older clap-a-long swaying to claim seventh, thanks in no small part to a cultured solo contribution from Tina Mortimer, whilst Exchange Communications Whitburn directed by Simon Dobson will have left for a week of Scottish Open preparation boosted by a performance that was certainly interesting, even if it just lost its sense of musical inventiveness to close.
Puzzle and adventure

Carlton Main and Phillip McCann will be left to reflect on a puzzling programme that had more misses than hits – despite an outstanding prize winning 'Best Soloist' performance from Kirsty Abbotts (Peter Roberts had a difficult task on the day), whilst Redbridge and Jeremy Wise may count themselves rather unlucky that their sense of musical adventure didn't gain better reward.

Their programme had the feel of being just a few rehearsals away from becoming being a free flowing musical as well as choreographed prize winner.

Best Soloist: The outstanding Kirsty Abbotts

Disappointing

For Rothwell, their three year stay at Brass in Concert may well come to an end after this disappointing performance that was full of too many insubstantial ideas.

The entertainment genre doesn't seem to suit their obvious contesting strengths.
Keep winning

As for Richard Evans?
He could keep coming back here until he's 90 and still keep winning.
Age does not weary men who love to entertain – not even an aching hip.

The offers of rejuvenating TLC were already in place before he even put his coat on...

Iwan Fox