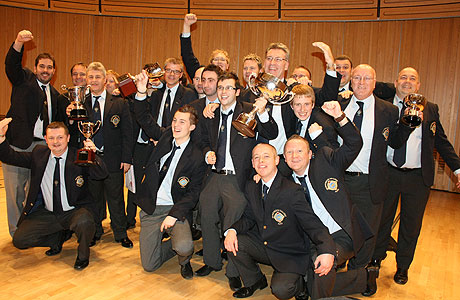 Master entertainers: Can Grimethorpe retain their title?

The Brass in Concert title is up for grabs.
For the first time in many a year there is no clear cut pre-contest favourite, with persuasive cases being made for any number of bands taking the £4,000 first prize back home on the bus come Sunday night – or even on a 'red-eye' Boeing 747 back to America.
No Cory, Brighouse or Dyke (at the Gala Concert at any rate) this year, and no Withington, Cutt or Dr's Childs either:

There could well be a lasting change of the entertainment guard this weekend.
Intriguing contest

It should make for an intriguing contest, with reigning champion Grimethorpe Colliery hoping to claim their 16th title under the baton of Brian Grant.
What this particular Grimethorpe combination will produce is anyone's guess, but there has been a strong thread of nostalgia running through many of their concert programmes of late.
That may suggest they may not opt for the same degree of inventiveness as was shown under Allan Withington's command last year – although you never know with these lads.
Trump card

What they do have though is talent by the bucketful around the stands, with the likes of principal cornet James Fountain amongst their high class stable, as well as the trump card of a traditional Grimey roof raiser to close.
They have also enjoyed a bit more preparation time than many of their rivals, so they should be around the podium places once again if they live up to their reputation as masters of the entertainment genre once more.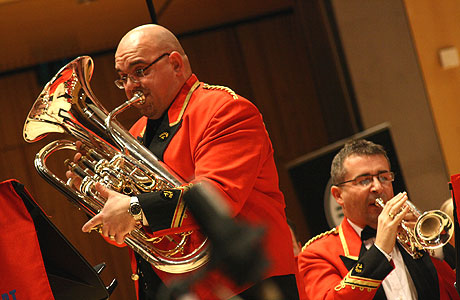 Heavyweight rivals

Two bands that will certainly be up for the challenge will be the North West heavyweights of 2009 champion Foden's and London runner up Fairey (Geneva) – as whoever comes out on top will end the year in second place in the 4BR World Rankings.
Both are led be somewhat unfamiliar contest faces this year, although Michael Fowles and Steve Sykes (who did lead Fairey last year) have bags of experience to call upon.
Different

They are not afraid to try something a little different too – with Foden's victory based on a clever 'Space Age' theme which fully utilised the multi-media screen which sits above the stage, whilst Fairey went all 'cryptic' with their take on all things dead and deathly a few years back.
Foden's will be determined to round off a rather erratic season on a high, and with such a solid ensemble foundation to build on they could come out with all guns blazing.

They also have the pick of a number of high class multi instrumental soloists and the skills of in house composer Andy Scott to call upon, so look out for something a touch unexpected.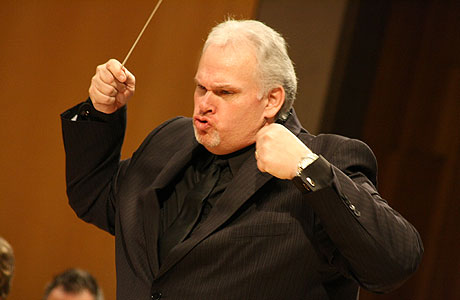 Back for more - Steve Sykes leads Fairey (Geneva) again

Meanwhile, Fairey (Geneva) could be the band to beat if they can build on the slick presentation and classy execution they showed in coming runner up twelve months ago.
Then they cast their musical net far and wide, and you suspect that there could be an eclectic selection box on offer this time too, with the chance taken to showcase their talented soloists such as Matthew White and their very impressive percussion section.
Entertainment skills

Tredegar certainly made an impression last year – topping the entertainment stakes with a well packaged programme that utilised the skills in more ways than one of composer in residence Matt Hall.
Ian Porthouse can call on his talents once more (although hopefully not as a female impersonator), and with a formidable cornet section leading the way they should be confident of raising their game to podium finishing heights.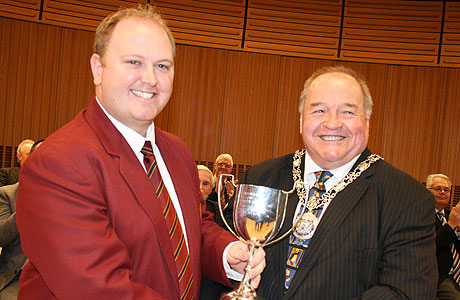 Prize winning resident - Matt Hall of Tredegar

Confidence

Confidence will not be in short supply with Carlton Main Frickley that's for sure – and with two high class finishes at the Open and Nationals, Phillip McCann's band could be the dark horses of the field.
The Scotsman has the rare ability to be able to find a hidden musical gem or two to showcase, and with a batch of classy soloists and solid ensemble backing they could well push themselves right into the mix.
Engage

Rothwell Temperance returns to make their third appearance at the contest but has yet to really find the type of engaging entertainment formula under the baton of Dave Roberts that they invariably present at test piece contests.
It's been an odd year for the Yorkshire band – playing well without reward at the majors, so they will be determined to close 2011 on an upbeat note.

The basic elements are there in abundance – but getting the subtle alchemy right has so far proved elusive.
Surprise package?

The same applies to Exchange Communications Whitburn, although they have shown an admirable desire to try something different by linking up with the talented and highly inventive Simon Dobson.
His musical hinterland is certainly eclectic but immensely engrossing, so we could be in for a bit of a treat if the pairing really hits it off.

They could be a surprise package this weekend.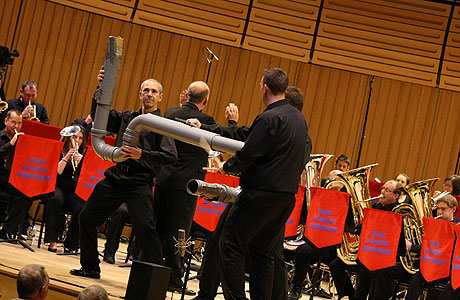 Polish plumbers with Redbridge

Sense of adventure

There is no doubting the sense of adventure with Redbridge under Jeremy Wise.
The innovative Londoners put their necks on the line last year with a set that featured everything from a slickly choreographed 'Bolero' to the leftovers from a Polish plumber.
It was neat and cleverly packaged, and although a little insubstantial in places, it was aimed more at the dry wit of the brain rather than the belly laugh of the slapstick gut.
If they can just add a touch more musical meat to their elegant bones they could provide a very high marker to beat off the number 1 draw.
Tricky Dicky

What then can we expect from the man who has ruled the roost on eight previous occasions?
Richard Evans directs Leyland, looking to become the first man to lead a band to victory in four separate decades (his first was back in 1989).

No other conductor has so expertly 'clicked' on the same musical wavelength with the Brass in Concert audience as Tricky Dicky.
Mr Benn

An intoxicating mix of the populist, theatrical, march archivist and agent-provocateur, he is sure 'as if by magic' to come up with something to tickle the musical taste buds once more – even if he's worn more fancy dress costumes than Mr Benn over the years.

Leyland will be buoyed by their recent return home, so a bit of silverware for the new bandroom trophy cabinet would be welcome.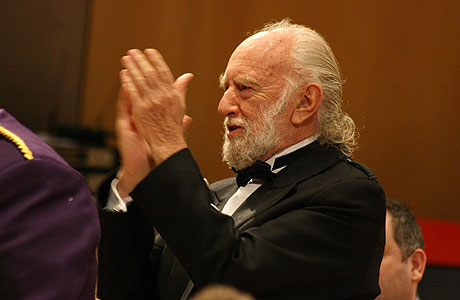 The intoxicating Mr Evans....

Eyebrow raiser

Reg Vardy makes its annual Brass in Concert appearance, knowing that they will need to do a bit more than last year if they are to justify their appearance off the subs bench (Brighouse pulled out lame in more ways than one) – despite being the Grand Shield champion.
Ray Farr can be relied to pick a programme to raise an eyebrow or two at times, but with a solid ensemble and classy soloists to call on he may well produce something of note once more.

They can be a mercurial band at times.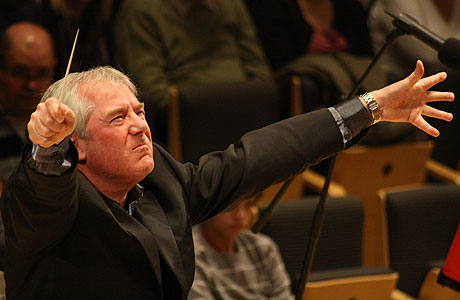 The eyebrow raising Ray Farr...

American visitors

That just leaves the visitors from across the pond - Brass Band of Central Florida.
On their last appearance in 2006 they wowed with their presentation skills and ability to play authentic swing music.

It was a startling performance that perhaps raised too many expectations as well as leading the Brits into a doomed belief that they could replicate their show band brilliance.
Ping!

Now they are back, headed by another breathtakingly talented MD in Chad Shoopman and armed to the teeth with the type of arrangements that will ping the blood vessels in the back of your eyes.
It will certainly be different and highly enjoyable – and with the chance to hear them on Saturday night, they may well have already gained a burgeoning fan club of new supporters by the time they take to the stage on the Sunday.
---
As for a winner?
As we said – it's up for grabs, and adjudicators Rob Wiffen, Philip Sparke, David Horsfield and Luc Vertommen may have a real task in separating out the prize winners.
If there is to be a changing of the guard then we have a sneaky feeling that Fairey (Geneva) may well reclaim a title they last won back in 1996, beating arch rivals Foden's in the process.
Grimethorpe look a handy bet for a podium finish once more with Tredegar close on their heels.

Carlton Main should be confident of producing yet another prize winning finish with Brass Band of Central Florida battling it out with Leyland for the final mention from the stage.
4BR Prediction:
1. Fairey (Geneva)
2. Foden's
3. Grimethorpe
4. Tredegar
5. Carlton Main Frickley
6. Brass Band of Central Florida
Dark Horses: Leyland