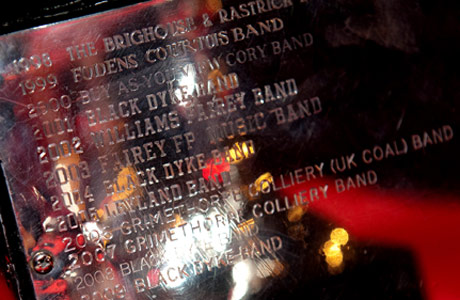 The next name will be....?

History beckons.

One band will forever more have the right to be acclaimed as the 100th Champion Band of Great Britain – a title first won by the appropriately named Denton Original in 1900.

22 others have earned the right to call themselves 'Champions', although only 14 have done so on more than one occasion since (and four of them no longer exist).

It is a title that takes some winning.

Champions Club

This year 20 bands will battle to have their names entered on the 'Champions Club' register (six of the contenders are already inked in) with the bookies betting against any potential new members.

They seem to think the black balls of adjudication fate are poised to be used quite liberally in the box on the weekend, for all but the usual suspects.

Tour de force

That may have something to do with the test piece – a technical tour de force that will sap the stamina from the lips through its high octane mix of filigree decoration and broad brush stroke lyricism.

Whatever the critics may think (and there are many) 'Breath of Souls' will have unprepared bands wheezing like old colliers trying to blow a cricket ball up a snooker table way before its end.

There could be messier explosions of disfigurement than can be found on the face of an acne riddled teenager.

It is hard, very hard in fact – and the players and the conductors know it.

Recession proof bet

That may explain why those punters with a recession proof pound or two in their pockets have been heading to the Kensington branch of William Hill backing at the very least, an each-way return on British Open champion Cory.

Despite not yet adding to their five titles since the year 2000, they have invariably been the band to beat (four consecutive podium finishes since 2007) – and that will surely be the case once more if they repeat the form that so convincingly won them the Open in Birmingham.

A second 'double' is a distinct possibility – and if the bookies are right, as close to a dead cert probability as you can get at a brass band contest.

Heavyweight challengers

With no Black Dyke or Grimethorpe to push them to their limit, hopes of an English victory seem to rest with the heavyweight challengers of Foden's and reigning champion Brighouse & Rastrick.



Can Allan Withington make it title number 7 with Foden's?

Both have the ability to be inspired to greatness by their conductors – to produce performances that have that extra 'X Factor' of intuitive musical brilliance not even Cory at their best can match.

Neither has quite shown it this year though, despite tantalising glimpses at Symphony Hall. Allan Withington and David King know what it takes to win here – and know just how well their bands will have to perform to stop the trophy ending up back in Wales.

Hard working quartet

Behind this well backed trio come the hard working quartet of Tredegar, Rothwell Temperance, Carlton Main Frickley and Fairey (Geneva) – all of whom have the desire and talent around the stands to make a persuasive case for a merited, if unexpected victory.

Tredegar delivered a fine defence of their Open title and should fancy their chances of a top six finish or better under the baton of Ian Porthouse, whilst Carlton Main showed at Symphony Hall that under Philip McCann they will be as well prepared and as confident as any of their rivals of claiming a third top six finish in four years.

Fairey (Geneva) and Rothwell Temperance didn't enjoy too much good fortune at the Open (ending 11th & 12th respectively) but they seem to be bands that are more suited to the Albert Hall acoustic.

Last year, Fairey's podium finish and Rothwell's third consecutive top six finish was proof of that. If they hit form, under two contrasting conductors in Russell Gray and David Roberts they should be confident of gaining yet another mention from the stage.

Surprise winner

On paper these bands seem best placed to match technical execution to musical ambition, but there may be the odd surprise or two in store if any of them doesn't quite hit top form (although the contest hasn't had a 'surprise' winner since CWS Glasgow in 1990)

That said, Virtuosi GUS could be the band that once again forces its way into the frame.

They came sixth last year and at Birmingham delivered a very confident performance off the number 1 draw to come eighth.

John Berryman is a wily old fox, and there is a feeling that they could be on the verge of stepping up in class once more to become a consistent top six finisher at the majors.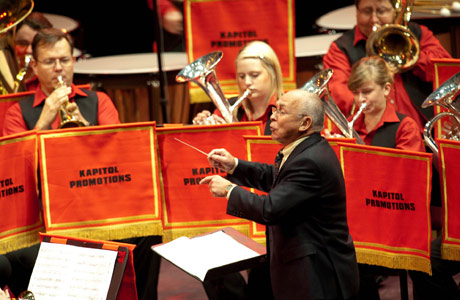 Wily old fox... John Berryman leads a confident Virtuosi GUS

Regain confidence

Of the other bands that made an appearance at Symphony Hall, Hepworth will be looking to regain confidence under Michael Fowles after they rather unluckily lost their Open status, whilst Co-operative Funeralcare will also be looking to make up lost ground after avoiding the drop to the Grand Shield by the narrowest of margins.

They have teamed up with five-time winner Dr Nicholas Childs in their bid to claim a third National title, although they will surely know that they are a long shot bet to do that given recent form.

Suited approach

Grand Shield champion Reg Vardy were solid enough at Birmingham, although their approach did seem more suited to the acoustic of the Albert Hall.

Ray Farr has inspired them to a podium finish in 2004, and with a top six finish in 2009 they could well be an each way bet for a top ten finish.

Whitburn Exchange Communications should be confident of improving on last year's 16th place.

The Doctor Martin contest victory certainly helped meet the travel costs for an overnight stay down from Scotland and the flight costs of bringing over the talented Michael Bach from Switzerland.

It could make for an interesting combination that may tickle the fancy in the box.



Can Rothwell make it three top six finishes in a row?

Catch the ear

Redbridge may well be another band that could catch the ear. With a bit more preparation time than their rivals, Jeremy Wise may just fancy his chances of pushing the London champions into the frame.

If he does it will be the first time a band from the region has had a mention off the stage since 1989.

They may be an outside bet, but as they showed in just missing out on qualifying for the Open in Blackpool they could be worth a dark horse bob or two.

Solid performers

Pemberton Old Wigan DW finished just behind Redbridge at the Winter Gardens and produced two solid performances at the English National – although without success.

Mark Bentham gets a great deal out of his bands and as they showed in qualifying for the second time in three years in the tough North West Area that means they are a band that merits a great deal of contesting respect.

Flowers is another band that has had time on its hands too (they came 5th at the Grand Shield) and will look to continue to build on the form that saw them claim the Butlins title earlier in the season.

Whether or not that will see them push into a top six place to give the representatives from the West of England representatives first mention since 1994 is debatable, but they did come 7th under Paul Holland's command in 2009.

Impressive progress

West of England champion Woodfalls makes its first London appearance since 2008 looking to build on the impressive progress they have made under the direction of Gareth Pritchard this year, whilst Beaumaris also makes a long awaited return to Kensington under Gwyn Evans.

They last performed here in 2004, but as they showed in gaining qualification to the Grand Shield and beating Tredegar at the Welsh Area, they are growing in confidence and maturity.

Bookies outsiders

That leaves the bookies outsiders of East Yorkshire Motor Services, Thoresby Colliery and Zone One Brass.

Each delivered fine qualification performances to get to London for the first time since 2009, 2001 and 2009 respectively; although only EYMS has a top ten finish to its name in the past decade (9th in 2008).

The trio didn't set the world alight at the Grand Shield or Senior Cup, so they are up against it somewhat here against this class of opposition, so much will depend on the input of their experienced MDs, Alan Morrison, Philip Harper and Richard Ward.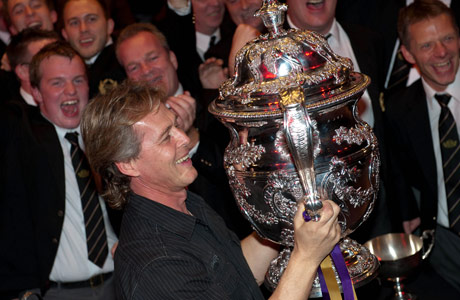 Will he be crowned King again?

As for a winner?

Hard to see past the bookie's favourites on this one. The technical and sheer physical demands of 'Breath of Souls' will make in depth musical considerations a possible secondary issue. It's not a work that will suit the lyrical heart on sleeve approach.

The very best bands will be able to meet the high tempo technical challenges with clarity (the box is being moved forward we are told, so David Read, Luc Vertommen and Rob Wiffen won't miss a trick), and allied to the huge bass sounds that resonate so well in this old barn it suggests that it should pan out as the bookies suggest.

Cory is the band to beat – and may be unbeatable on this one.

Foden's and Brighouse can run them close, but cannot afford to miss a note, whilst there should be one heck of a battle for the top six places with Rothwell, Tredegar and Fairey just pipping Carlton Main and Virtuosi GUS for us.
---
4BR Prediction:
1. Cory
2. Foden's
3. Brighouse & Rastrick
4. Rothwell Temperance
5. Tredegar
6. Fairey (Geneva)

Dark Horses: Carlton Main Frickley & Virtuosi GUS