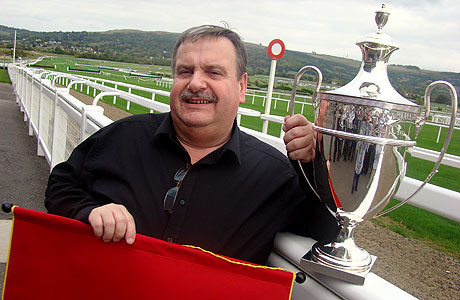 First past the post: John Winterflood celebrates another National win

Saturday morning's opening salvos were provided by an enjoyable Second Section contest thanks to an accessible set work that gave the 17 contenders a real opportunity to shine.

Philip Sparke's personal reflections on his hometown of London was a 'Portrait of a City' that proved to be a demanding but very playable test.

Substance

All the contenders delivered something of substance with the outer movements requiring tight ensemble playing at the right tempos.

However, it was the exposed middle section that sorted the best from the rest.

The austere portrait of an autumnal day in one of the famous parks of the capital was the musical fulcrum around which the best bands were able to build potential contest winning performances.

Eloquent

The best did that and more (especially the top four bands), with its importance underlined by adjudicator's Steve Sykes and Dr Roger Webster citing that one band in particular (of which more later) found their title winning aspirations dented by their inability to perform it half as well as the other movements.

Both were eloquent and encouraging in their appraisals, using touches of dry humour to reinforce their observations – including Steve Sykes frustration at Bb bass players peddling more times than a Tour de France cyclist.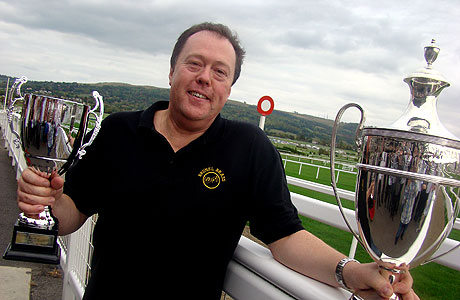 Twin titles for Best Instrumentalist Award winner Paul Richards

Inspirational

The result of their deliberations saw Brunel Brass under the inspirational John Winterflood claim their second National title in three years courtesy of a quality ensemble performance that was enhanced by some wonderfully mature, intelligent solo contributions.

Taking to the stage on the cusp of the comfort break, there was the odd risk taken with tempo's, but with ex Sun Life lad Paul Richards taking the soloist award for his outstanding soprano work, it gave the judges the marker they were looking for – and one that would not be beaten.

Immense potential

In just five short years John Winterflood has developed a band of immense potential – all on one rehearsal a week in Swindon.

With a mix of youth and experience and a real sense of vibrancy about their set up, they provide a model for others to follow.

The First Section now awaits, and whilst John told 4BR that they are ambitious, the band also remains realistic too – although given their track record that could well mean a third National title by 2013.

Cracker

Talking of markers, those not in the hall at 9.30am, missed a cracker from Leicestershire Co-op under the precise direction of Graham Jacklin.

There was the odd moment of uncertainty, but the no nonsense approach allied to the solidity of the main solo lines meant that it stuck firmly in the mind of the judges right to end of the contest.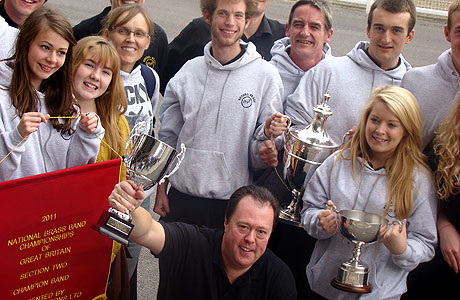 National winners - Brunel Brass

Second year in a row

For the second year in a row, South Yorkshire Police was drawn last out of the hat and had to settle for third place.

Some top notch playing full of detail and balance supported Leigh Baker's musical interpretation, and whilst it did just take the odd risk with the dynamics here and there, it missed taking the title back to Yorkshire by the narrowest of margins.

Experience

Experience counted for Thundersley in fourth place, as Jeremy Wise certainly lived up to his surname by directing a performance that bore the hallmarks of good musical husbandry.

The odd moment of uncertainty didn't detract from a portrait that never once lost its sense of refinement and control.

Meanwhile, Pendennis Brass Falmouth grew in confidence after a cautious start.

Their ability to commit themselves to a well-planned interpretation by MD Steve Thomas bore fruit as they claimed fifth.

The final top six place went to Morecambe, who will have returned home up the M6 with mixed feelings.

The two outer sections were perhaps the best of the day, but a dislocation in the ensemble that remained unresolved almost throughout the central section cost them dearly.

Contest nerves perhaps, but it meant the difference between a top six mention and a potential podium finish.

Much to ponder

With a host of bands producing playing of quality, even if consistency, or the lack of it, robbed bands of a chance of coming higher than they did, there was much for the judges to ponder in the box.

It made for an intriguing scrap all the way down the results table.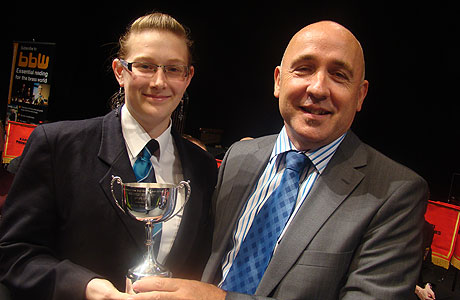 A fine second off the number 1 draw for Leicestershire Co-op

Gear change

A solid performance with a neat change of gear in the final section saw Llwydcoed claim seventh, whilst Bilton Silver's vibrant, if slightly scrappy rendition came eighth thanks to a very classy bit of solo cornet work, which must have come close to winning the 'Best Instrumentalist' Award.

Becontree may count themselves a little unlucky that an early number 3 draw saw their well managed account just fail to push its way higher up the results table than ninth, whilst Barnsley Chronicle's purposeful, confident musical interpretation may just have lost a few points with a scruffy final movement.

Direction delight

Brenden Wheeler's direction of Catterick Brass was a delight, but just when it appeared to be heading for a possible podium finish a poor third section lost focus and stability.

To come 11th was still a fine achievement for a developing band, especially when some of the players have been involved in active service prior to the event.

Talking point

Scottish representatives, City of Discovery also produced a performance that was heading for a possible top ten finish only for a ragged last section to cost dearly.

The main post contest talking point surrounded the lowly placing of Haydock in thirteenth.

For many in the hall it was a confident, neatly constructed performance (4BR had them as winners) under the direction of Mark Quinn, but for whatever reasons it didn't register in the box – and you can be sure both Roger and Steve had them.

Those may have puzzled the players and the MD (and a few critics), but sometimes there are days when the judges just don't like what you produce – and this appeared to be one of them.

Same fate

Northfleet suffered much the same fate.

Melvin White's lyrical approach was full of calm musical vistas; light and delicate in timbre and style – a London not many will perhaps recognise unless you live in one of the more salubrious postcodes.

It was certainly different, enjoyable and persuasive, but not to the former miners from Barnsley in the box it wasn't.

14th place was the end result, but you had to admire the approach.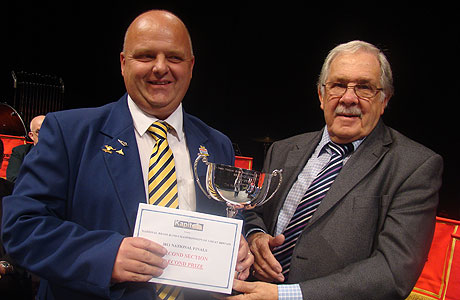 Not guilty: Alan Hope presents the third place trophy to South Yorkshrie Police

Consistency

The bottom three bands fell foul of the timeless contest day problem of consistency of execution.

The musical intentions were clearly defined by Lewis Merthyr, Granite City and Cockerton Prize Silver, but the Welsh band's lyrical approach, much like that of Northfleet didn't capture the imagination in the box.

Meanwhile, the rather steady approaches of both the Scots and the North of England representatives, whilst well directed by their MDs couldn't quite bring the subtler shades of colour and timbre through enough to catch the ears of Steve and Roger either.

Brunel Brass certainly did that – and for the second time in three years they returned home clutching a National Trophy.

On this evidence, a third victory in the next few years is distinct possibility.

Malcolm Wood