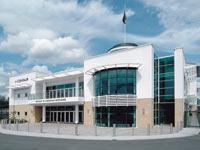 Sunday 25th September
Start: 9.30am
Test Piece: Darkness Visible (Richard Grantham)
Adjudicators: Philip Harper & Paul Holland

Section Controller: Peggy Tomlinson
Registry Supervisor: David Hobbs
Presenter: Peter Bates

You could be forgiven for thinking that the Music Panel has a wicked sense of humour when it comes to choosing test pieces.

Last year's Third Section final ended in the type of crepuscular blackness Dylan Thomas used to say could be found on the cover of a Welsh Bible.

Stable lads

No chance of that happening this time though, as the contest starts at 9.30am, but the competitors will still be up and ready for action at roughly the same hour stable lads start work on their thoroughbreds in the nearby Cheltenham paddocks.

'Darkness Visible' is therefore a very appropriate title – and a very appropriate test piece too.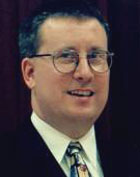 Open and transparent

Composer Richard Grantham (right) has given the bands an intriguing work of musical as well as technical character.

No stranger to the banding movement at all competitive levels, his second composition to be used at a major national contest ('Hostile Skies' was used at Butlins in 2009) is open and transparent in style, even if the personal inspiration is a little bit obscure as he himself writes:

"Darkness Visible is a musical essay on light and shade, and can be accessed on multiple levels of meaning.

At one level, Darkness Visible is a journey through a dark landscape, which could be external, such as space.

On another level, Darkness Visible could be experienced as an internal struggle; one soul's fight with its own demons, real or imagined.

Death and rebirth are alluded to here as part of life's great journey and the work could indeed be seen as a series of degrees on the square leading to a final mastery over that great fear and uncertainty that all must face at some time.

Darkness Visible is a mosaic of themes and rhythmic ideas revolving around the guiding principles mentioned above and whatever interpretation of these fragments one chooses, the music as a whole should always feel like a journey that begins in darkness and ends in a glorious blaze of light!"

Blimey.

Square Dealers

What those illusions are then are up to the MDs to make sense of in a work that places a great deal of emphasis on the ability to shape and mould a pathway of logical musical progression.

Those with 'Square Dealer' sympathies as Fred Elliott on Coronation Street used to call them (ie. funny handshakes, bare breasts and the all seeing eye) will recognise the Masonic 'guiding principles' he talks of – although it's unlikely your local Chief Constable will be willing to explain them to you the next time you ask.

In fact, the main guiding principles will be to get the basics of good quality brass band performance in place: tuning, balance and precision, and then start worrying about saving your soul from its own demons.

Intelligent

It's an intelligent, well-planned work – cinematic in style without a doubt, but also containing some lovely neatly constructed touches both elegant and mysterious.

For instance, the bleakly austere third section of the work will take some playing to really evoke a sense of timelessness.

Now that is 'Bible black' as old Dylan Thomas used to say.

Well matched field

With such a well matched field of 16 bands, picking a winner is going to be a difficult task – and not just for the adjudicators…

No less than four bands return to battle for the title once again – all of who ended in the top six last year.

Add to that a whole host of classy Area champions and qualifiers and you can soon see that this could well turn out to be a contest to savour.

Twelve months ago, it was Delph that claimed victory for the North West for the sixth time since 2001, whilst the winner's pennant has been flown with pride in the Midlands twice, with one off flagpole raising ceremonies in the West of England, London & Southern Counties and Scotland since the turn of the Millennium.

Surprisingly, given their successes in other sections, Wales last won the contest way back in 1992 and Yorkshire in 1993. The North of England's last win was back in the 1970s.

Scotland

The first qualifiers came in Scotland, where Brass Sounds Inverclyde and St David's Brass delivered solid performances to book their places in the starting line up.

Both are led by experienced MDs in Lynda Nicholson and John Dickson and will surely be determined to do much better than last year's representatives who ended up at the bottom of the results table.

The odds may be against them for a victory, but solid, well-prepared performances are guaranteed.

West of England

Sidmouth were very impressive victors at Torquay and they return once more determined to push on from last year's third placed finish under MD Adrian Harvey.

They'll be joined by Downton who've enlisted the services of one Steven Mead to lead their title challenge after regular MD, Roland Wright was involved in an accident on holiday earlier in the summer.

They also impressed in qualification and with the euphonium star at the helm, confidence won't be in short supply.

Wales

Wales claimed a top six spot last year, and the returning Area champion Goodwick and resurgent Treherbert Silver will pose a serious threat once again.

Matthew Jenkins has a remarkable set of young players at his command and with an extra year of musical maturity under their belts they will be confident of going one better than last year's runner up finish.

Treherbert will make the journey boosted by recent good form at the Porthcawl contest as they take to the stage under the direction of the experienced Nigel Seaman.

London & Southern Counties

Should BAE Systems or Hangleton take the title back to the capital, then they will be the first band from London to do so since Fairlop Brass in 1995 (although to be fair the offshore Jersey Premier did represent the region in 2005)

Nobody has come close since though although both Area champions BAE Systems and Hangleton were good value for their qualification and have two experienced men at the helm in Keith Woodger and Richard Baker.

Outside bets perhaps for victory, but a possible value wager for a top six finish.

Yorkshire

For all the dominance at the Albert Hall, this winner's trophy hasn't resided in the White Rose county since Skelmanthorpe's victory in 1993.

Anyone from the county will tell you that's far too long to go without their banding birthright, and whilst Yorkshire opinions can be a touch one-eyed, supporters will be confident this year – and with good reason.

Horbury Victoria stormed to victory at Bradford in what was a high-class contest.

Duncan Beckley has a CV full of National successes – going back as far as 1982, and you wouldn't want to bet against him adding yet another entry in the record books with his solid band.

If confidence is a pre-contest form guide, then City of Bradford could be well worth a bob or two at the bookies.

Their qualification bordered on the theatric at times, but the quality was obvious.

There's plenty of know-how around the stands and with a pre-contest rehearsal in the hallowed surroundings of the Black Dyke bandroom, you sense they believe they are in with a real chance of victory.

They may not be wrong.

North West

That confidence may bring a wry smile to the faces of the supporters of the Red Rose county.

They have six titles since 2001 to boast about and with their beloved cricket team bagging a 'national' themselves for the first time since 1934, things are on the up in these parts.

Hoover (Bolton) and Whitworth Vale & Healey upset a few fancied contenders in qualifying at Blackpool, but such is the strength in depth in the region that whoever gets through tends to do very well at the finals.

Trevor Halliwell and Hoover will be determined to improve on last year's solid sixth place finish with Whitworth seeking to provide even better support under the experienced direction of John Binns, the National Challenge Vase may well be heading back up the M6 once again.

North of England

Ripon City and York Railway Institute lead the charge from the North of England.

York return once again after coming a fifth last year with a performance under the direction of Gordon Eddison that impressed greatly and was a little unfortunate not have perhaps bagged a podium finish.

Ripon City join them under the command of Malcolm Dibb and they too could push their way into the reckoning if they repeat the form shown in qualifying at Darlington.

Midlands

Finally, Amington and Daventry make the shortish journey down from the Midlands looking to secure the Area's first victory since 2008.

There was a great deal of quality on show at Bedworth in what was a high quality qualification event, and with decent recent form behind them, and with two experienced men at the helm, a strong challenge for a top six finish or better could be within both band's grasp.

Malcolm Wood
---
Regional form guide: How the Areas have done 2000 - 2010
| | | | | | | | | | | | |
| --- | --- | --- | --- | --- | --- | --- | --- | --- | --- | --- | --- |
| Region | 2000 | 01 | 02 | 03 | 04 | 05 | 06 | 07 | 08 | 09 | 10 |
| London & Southern Counties | 5/11 | 7/11 | 9/13 | 5/18/20 | 7/15 | 1/13/17 | 9/12 | 8/15 | 11/12/13 | 11/17 | 7/8 |
| Midlands | 8/9 | 3/13 | 5/7/8 | 3/11/18 | 5/8/9 | 2/4/8 | 1/4/10 | 12/17 | 1/5/18 | 3/14 | 9/11 |
| North of England | 12/13 | 4/16 | 16/18 | 14/16 | 3/12 | 14/19 | 15/17 | 2/10 | 6/15 | 2/12 | 5/15 |
| North West | 4/7 | 1/10 | 1/2/3 | 1/2/8 | 1/4/6 | 6/7/9 | 2/5 | 1/3/9 | 4/8/14 | 4/9/10 | 1/6/10 |
| Scotland | 1/2 | 12/15 | 12/14 | 12/13 | 10/16 | 11/16 | 3/6 | 7/14 | 7/10 | 5/13 | 16/17 |
| Wales | 14/16 | 8/14 | 4/19 | 6/17 | 11/19 | 5/18 | 8/16 | 16/18 | 3/17 | 6/16 | 2/4 |
| West of England | 3/10 | 5/6 | 6/17 | 4/10/15 | 2/14/17 | 3/12 | 13/14 | 4/13 | 2/9 | 1/8 | 3/14 |
| Yorkshire | 6/15 | 2/9 | 11/15 | 7/9 | 13/18 | 10/15 | 7/11 | 6/11 | 16/19 | 7/15 | 12/13 |
---
4BR Prediction:

This is a tough one to call with a clutch of classy contenders all who could make a very persuasive argument for taking the title.

Somehow we think it could be Yorkshire who will be celebrating this year with City of Bradford and Horbury the bands to beat.

Sidmouth were excellent in Torquay and we opt for them just to push once again for the title, whilst the strong Welsh pairing of Goowick and Treherbert should feature along with the North West champions Hoover Bolton.

Our dark horse is Mr Mead's Downton.

1. City of Bradford
2. Sidmouth
3. Horbury Victoria
4. Goodwick
5. Treherbert
6. Hoover (Bolton)

Dark Horse: Downton