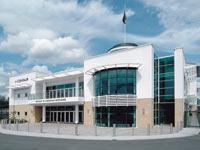 Saturday 24th September
Start: 9.30am
Test Piece: Portrait of a City (Philip Sparke)
Adjudicators: Steve Sykes & Roger Webster

Section Controller: Peggy Tomlinson
Registry Supervisor: David Hobbs
Presenter: Peter Bates

There is without doubt, something very special about the great cities of the world: London, Paris, New York, Sydney, Cairo, Hull…

Well, perhaps not Sydney.

West bank

The people, the buildings, the art and the commerce – or in the case of London a few weeks back, the acrid smell of burning buildings, broken windows and smash and grab nicking sprees for Nike trainers and flat screen televisions.

Forget the west bank of Paris in the golden twilight of autumn – London was like the west bank of Beirut basking in the red heat of rioters Molotov cocktails.

Still – that's what you sometimes get when you love city life.

Affectionate portrait

Thankfully, Philip Sparke's (right) affectionate portrait of the London he calls home dwells expertly on the more memorable vistas and characteristics that make it a quite amazing melting pot of humanity.

Rather surprisingly it was written with the French in mind (it was commissioned by L'Orchestre d'Harmonie Municipal d'Annemasse to celebrate their 150th anniversary in 2002) although it was also published in 2003 for wind and brass band.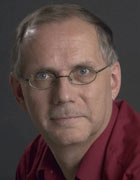 Protective

The French can be very protective about their own capital city (although as one cynic once reminded them - protective to the point of letting the Germans have the free run of the place for a few years), so it would have been interesting to know what the initial reception to the three movement work was on its premiere in 2002.

Perhaps Philip should write one about Paris and see what the good folk of Wandsworth or Kensington make of it.

This a London painted in wonderful broad brush strokes of vibrant colour and evocative atmosphere – from the opening 'Skyline' full of brio, to the more melancholic mistiness of early morning 'Autumn' park life and the 'Downtown' madness of a weekend celebration in the heart of the west end.

Sugar

It's music that brings to mind the London of Alan Sugar, Amy Winehouse and Petula Clark -not John Ireland, Edward Elgar and Eric Coates– all of who painted their own very individual, and slightly idiosyncratic portraits of the place in years gone by.

Theirs was a London where Dixon of Dock Green gave local scallywags a clip round the ear with his truncheon instead of a riot cop felling a newspaper salesman with a mindless act of thuggery…

Fine test

Thankfully, Philip Sparke's take is one of musical inventiveness that should provide a fine test for the 17 contenders (a few of which come from cities of their own) on show on Saturday morning.

It's a well matched field, if the form that was shown in qualification is any sort of marker to go by.

Wales

Wales left Harrogate with yet another title to celebrate last year, and once again they send two strong competitors to try and make it an incredible five wins in a row.

Lewis Merthyr and Llywdcoed will fly the Welsh flag with pride as they seek to follow in the footsteps of Newbridge (Celynen), Point of Ayr, City of Cardiff (Melingriffith) and last year's winners Tylorstown.

Both are on good form – with Lewis Merthyr boosted by victory at last weekend's Miner's Welfare contest in Porthcawl and Llwydcoed winning not so long ago at the Ebbw Vale contest and coming second at the National Eisteddfod in Wrexham.

West of England

The West of England also has a very good record to maintain at this event too – with the Saints of Keverne and Dennis winning in 2005 and 2006 respectively.

This time the challenge comes from the rapidly improving Brunel Brass and the impressive Pendennis Brass Falmouth, both of whom showed their rivals a clean pair of heels in qualification at Torquay.

Yorkshire

You have to go back to 2003 for the last time the White Rose victory pennant was waved in triumph, but it may be due a dusting off this year if the strong pairing of South Yorkshire Police and Barnsley Chronicle hit form.

The force may well be with Leigh Baker and his band after their display in winning at Bradford and picking up a top six finish at Butlins.

After coming third last year they will be determined not to miss out again on the title. Barnsley shouldn't be too far behind them either.

North West

Over the Pennines and reports suggest that confidence is high in the bandrooms of Area champions Morecambe and fellow qualifiers Haydock.

Andy Warriner has been keeping his band under contesting wraps after Morecombe's impressive Blackpool win, whilst the players of Haydock will certainly feel at home on a racecourse stage.

There has been no North West champion since 2000 – but with two very strong contenders at the starting line at Cheltenham the local bookies may be doing a bit of last minute shifting of the odds.

London & Southern Counties

If experience is to count for anything on the weekend, then the three London & Southern Counties contenders of champions Thundersley Brass, Northfleet Brass and Becontree Brass will be good outside bets.

Jeremy Wise, Melvin White and Adam Cooke have whipped more contenders into prize winning shape than Lester Piggott, Willie Carson and Pat Eddery combined, and although you have to go back to 1991 for the last time the title headed back to the capital, they lead a trio of solid eachway bet runners that could well barge their way into the top six enclosure.

Scotland

The Scots meanwhile lasted celebrated with a dram of victory single malt back in 1997, so they too will be hoping that their luck changes after last year's contenders ended up in the midfield masses for the fourth year running.

Champions, City of Discovery and qualifiers Granite City make the long journey south, with not much of a recent form guide to boast, although Granite claimed a podium finish at the Fife Charities event.

You sense it could be a long old journey home once again too unless they can really pull something out of the hat.

Midlands

The Midlands qualifiers didn't set the world on fire last year either, so much is expected of the highly competitive Leicestershire Co-op who have already racked up a brace of victories this season to go with their Bedworth win in March, and Bilton Silver (Rugby) led by the experienced David Stowell.

Both could be good eachway bets for a top six finish.

North of England

That just leaves the returning duo from the North of England, with Catterick Brass and Cockerton Prize Silver exchanging Area places in March to comfortably book their spots in the starting line up once more.

They will know what is expected of them after coming 11th & 15th respectively, so look for a big improvement, with Catterick a possible dark horse for a top six finish or better if they have been able to muster all their troops into regular pre contest practice.

Iwan Fox
---
Regional form guide: How the Areas have done 2000 - 2010
| | | | | | | | | | | | |
| --- | --- | --- | --- | --- | --- | --- | --- | --- | --- | --- | --- |
| Region | 2000 | 01 | 02 | 03 | 04 | 05 | 06 | 07 | 08 | 09 | 10 |
| London & Southern Counties | 8/16 | 10/14 | 11/13 | 9/10/13 | 5/15 | 5/10 | 8/13 | 11/14 | 11/16 | 5/12/16 | 5/7/10 |
| Midlands | 3/6 | 3/6/9 | 2/3/7 | 16/17/18 | 1/17 | 11/13 | 5/16 | 3/15 | 6/14 | 13/17 | 8/14 |
| North of England | 11/15 | 11/17 | 5/12 | 4/6 | 8/9 | 7/8 | 10/11 | 8/16 | 3/15 | 7/15 | 11/15 |
| North West | 1/5 | 7/13 | 4/6 | 2/8 | 6/12 | 2/4 | 2/9 | 6/9 | 2/7 | 2/8 | 6/9 |
| Scotland | 4/9 | 8/15 | 8/16 | 5/11 | 3/10 | 6/15 | 4/6 | 12/13 | 10/12 | 10/11 | 12/13 |
| Wales | 13/14 | 1/16 | 10/17 | 12/14 | 4/16 | 12/16 | 3/12 | 1/2 | 1/5 | 1/4 | 1/16 |
| West of England | 7/11 | 2/12 | 9/15 | 3/15 | 13/14 | 1/3 | 1/14 | 7/10 | 8/13 | 3/9 | 2/16 |
| Yorkshire | 2/9 | 4/5 | 1/14 | 1/13 | 2/7 | 9/14 | 7/15 | 4/5 | 4/9 | 4/6 | 3/4 |
---
4BR Prediction:

As for a winner?

A hard one to call, but we think the four-year Welsh grasp on the trophy may well be ended– but only after one heck of a cross border fight.

We're opting for South Yorkshire Police to head back up north with the trophy in their hands, although they could well be pushed all the way by their rivals from over the Pennines in Morecambe and the Welsh duo of Lewis Merthyr and Llwydcoed.

Leicestershire Co-op and Brunel Brass should be in the mix too with our dark horse of Catterick Brass.

1. South Yorkshire Police
2. Morecambe
3. Lewis Merthyr
4. Llwydcoed
5. Leicestershire Co-op
6. Brunel Brass

Dark Horse: Catterick Brass