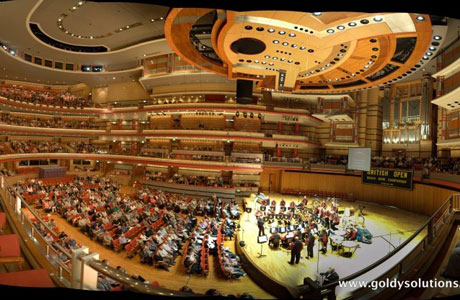 A fuller hall than usual at Birmingham...
More Ian Clowes images at: www.pbase.com/troonly/110903_british_open
The 159th British Open will be remembered by many people for many things.

Supporters of Cory will recall a victory of outstanding brilliance; the judges, a host of performances as good as any in many a year, and the audience, a test piece that engaged the senses with its musicality rather than its pyrotechnics.

Joy

Who for instance could forget seeing the joy on the face of Ray Sykes after Carlton Main was announced in third place – his head clasped in his hands in mixture of disbelief and complete exaltation.

Most of all though, the British Open organisers Martin and Karyn Mortimer will remember it as a day when the old contesting duchess swept up her skirt and showed the world that there was still life in her old bones.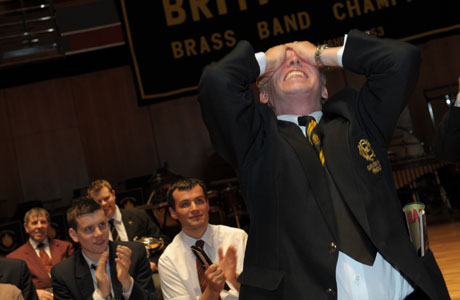 Unforgetable.... Ray Sykes savours the moment

Flourish

This was an Open with a flourish – from the music played to the organisation that put it on (which was again excellent and ran like clockwork from 5.30am).

However, they will also know that she needs to repeat the trick next year, and the year after, and the year after that too – if this particular lady of stature is not to suffer a relapse in popularity that would certainly shorten her allotted lifespan.

Despite there being less than 100 unsold tickets left at the Symphony Hall box office, the cracks in the façade are too obvious to ignore now – as shown by the number of bands who either had to rely on, or decided to import, outside help to make it to the contest stage.

Rumblings

There were plenty of rumblings in the bars on Saturday night when it became apparent that Cory had been able to replace the brilliant Belgian soprano star Bert van Theinen with, dare one say it, the even more brilliant Austrian, Christian Hollensteiner.

But such cries fell on deaf ears when you started counting up the hired help amongst their rivals.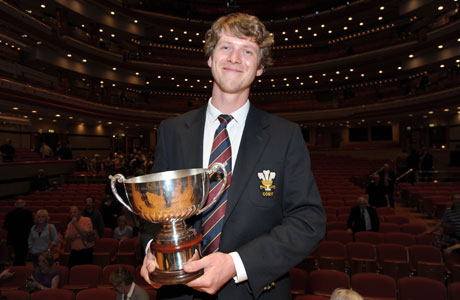 Austrian superstar Christian Hollensteiner

There has never really been a level playing field at the major contests – those who can pay the going rate for excellence usually end up beating those who can't.

For the most part (and there are still some notable exceptions) the very best bands now operate transfer policies that would make Manchester City Football Club look like Accrington Stanley.

Endemic

However, the practice has become so endemic that the Open now faces a dilemma. In order to maintain a semblance of fairness, should they consider scrapping registration altogether and openly allow 'registrations of convenience'.

The Open also attracts a great deal of support from foreign visitors each year – so should its future fully encompass the best foreign bands too?

Then we may see if money really does buy success.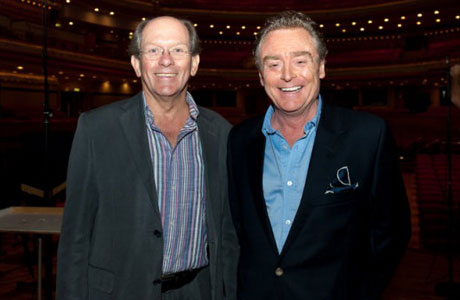 Frank Renton picks up his UB 40...

Years to come?

Meanwhile, the audience did know what to expect with the test piece 'Red Priest' this year, but what about 2012 and 2013?

It was announced in the programme that two new commissions have been put in place – but who by?

If it is as rumoured, to be another Wilby, Gregson or even a new work from Michael Nyman or James McMillan, then why not come out and proudly say so.

160 years old

The British Open reaches 160 years of age in 2012, yet despite the desire to maintain its historic links it has also shown its ability to embrace the future too.

That potential was seen with the Harry Mortimer Memorial Trust Awards, which this year went to Anita Milde, David Karran, David Taylor, Rebekah Caldwell, Chloe Abbott and Ailsa Russell – a number of whom played with bands at the contest itself.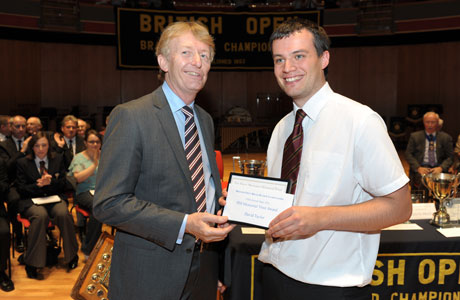 Mortimer Trust Award to David Taylor of Tredegar

Honoured

Meanwhile, those who have taken part in the past were also honoured.

Frank Renton (who was joined for the day by Brian Travers from the pop group UB40) and Michael Robertson received well deserved Worshipful Company of Musician's Awards in the form of the Iles and Mortimer Medals respectively.

With both men haven given so much to the brass band movement in various capacities over the years, could the organisers utilise their expertise for the benefit of this great event in the years to come?



The Mortimer Medal is presented to Michael Robertson

It may just give the contest that added touch of professional sheen in areas in need of change.

The 159th British Open gave us so much to enjoy this year that it would be a huge pity that if in a year's time we report on a contest that has stood still.

Let's hope we don't have to.

Iwan Fox