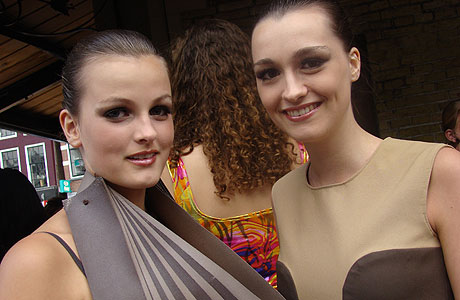 How to make brass banding attractive...

If there is one conductor in the banding world who really understands what it means to be innovative, it is surely Allan Withington.

His latest conducting course held in the elegant provincial Dutch city of Leeuwarden proved that beyond doubt.

Master

13 students from different parts of Europe spent a week under his direction learning from a master of his trade.

At the end of the course they left better informed, more intuitive musicians – and crucially, way better conductors.

They also had a much better idea about catwalk fashion too…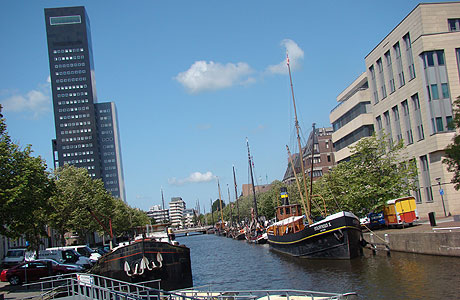 Elegant Leeuwarden

The mix was intriguing – and not just in terms of nationality: That read like the start of a politically correct EU joke – with an Englishman, Irishman, Scotsman and Welshman joined by a host of Europeans.

What was more of an eye-opener was that they included in their number complete novices to vastly experienced older heads; men who were learning their trade at Fourth Section level to those who had notched up quite a few years in the dog eat dog world of Championship Section banding.

There was even a chap who played with German Brass and the Berlin Symphony Orchestra.

Improve and learn

Crucially however, each wanted to improve and learn – and Allan Withington, aided by Robin Dewhurst proved to be inspired musical pedagogs.

The unwritten ethos of the course was to 'think outside the box' (the official title was Ready, Steady, Design) - to take those extra, little personal risks that Allan and Robin believed would bring long term improvements to all aspects of their conducting styles and attitudes – something this course, now in its third year, has gained a reputation for providing in spades.

Their symbiotic approach to working on both technique as well as the psychology of directing a fine Championship Section outfit in Soli Brass, ensured that each conductor's needs and aspirations were fully catered for.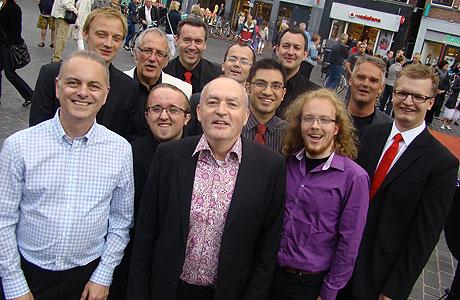 Ready for the big night: The conductors team photo...

Each day was a long one – 9.00am until 10.00pm (expertly organised by course administrator Anja Abma) filled with individual and group teaching, band rehearsals, discussions, master classes and analysis.

The workload was heavy, but with an informal, relaxed atmosphere, plenty of encouragement, realistic ambitions and that sense of innovation running through everything that went on, time flew by.

Progress

Progress was monitored and discussed – well into the small hours of the night at times (Leeuwarden has welcoming bars, even if the local kebab house is best ignored) with the ultimate goal for the conductors of directing Soli Brass in the accompaniment to an open air fashion show bang in the middle of the main Leeuwarden shopping thoroughfare.

Throughout the week, the change in the students was remarkable: Nervous and restricted to start, growing in confidence as they progressed, liberated to end.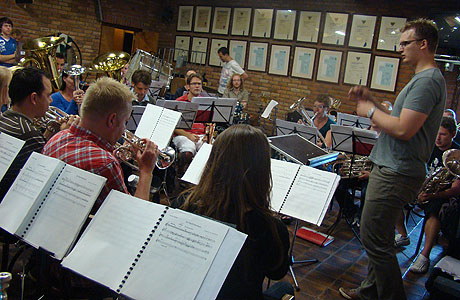 Working hard: Soli Brass played from dawn till dusk all week

Allan Withington's motivational direction saw musical as well as technical problems ironed out – from beat patterns to superfluous arm movements (delegates who had as much control over their baton as one of those 'win a fluffy toy with a crane' arcade machines, ended up directing with the assuredness of someone tickling the chin of a recalcitrant cat).

Inner confidence

Robin meanwhile drew out their inner confidence – quoting everyone from Picasso to Leonard Bernstein to help them in the process.

Communication skills improved, eye contact became the norm, passion and drive flowed through the veins.

Not a missed trick

Both men didn't miss a trick – from the need to eradicate safety beats (the next time to you see a conductor in action just watch how many subconsciously add an extra beat here and there) to the playing of wrong rhythms in the overture 'La Forza del Destino' (which will also be displayed for sure come the First Section in Cheltenham).

"It was important that the students came with open minds," Allan said.

"To see them develop and improve over the week was great for Robin and myself, but the credit lies with them for wanting to do that. They were not afraid to fail at first, because they knew that they would be all the better for it the next time they were faced with problems in conducting a band."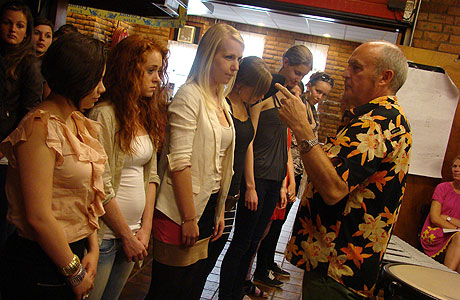 Not just a pretty face: Allan Withington makes sure the models know what to do...

Metamorphosis

By the time of the concert on Thursday evening, the students had undergone a metamorphosis – something they all recognised.

Rob Prew who directs Stamford Brass and came to the course with over 35 of conducting experience called it 'inspirational'. "I've learnt more about my conducting in the past week than in the last 20 years," he said.

Huw Thomas, who has directed many leading top section bands in the UK also felt his conducting had benefited greatly.

"I came with an open mind and Allan and Robin have filled it with new ideas and approaches that I know I can use when I get home. It's been a great experience for me."

Self belief

Meanwhile, 18-year-old Tom Gontier from Belgium revelled in his newfound confidence with the baton. "I am not that experienced in conducting, but the course has given me so much self belief and understanding. I want to stay on and enjoy another week."

What was also interesting was to see the group working with each other – feeding off shared experiences, ideas and observations.

Uwe Koller, the wonderfully colourful trumpet player of German Brass gave up his time to give individual lessons to some of the conductors.

As Tom Gontier added: "To be able to have two hours with Uwe to help with my trumpet playing was priceless."

Critical analysis

Each student was open to the informed critical analysis of their peers, an aspect encouraged by Allan and Robin.

As a result each of them told 4BR that they left the course, invigorated by the experience, keen to carry on their own personal conducting development.

The climax to the week came with the evening fashion show under grumbling Dutch skies.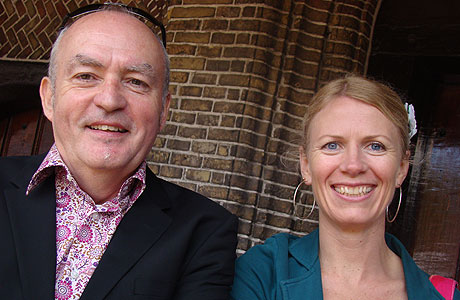 Mr & Mrs Withington give 4BR a smile...

Thankfully the rain held off, and a large crowd took time out from their late night shopping in the well heeled boutiques and cafes to surround the raised catwalk area and enjoy the combination of eye catching fashion and ear pleasing music making.

Gonna Fly Now

That 'thinking outside the box' attitude had seen Allan and Robin combine forces with graduation students from the local fashion college and a local women's choir – and with Soli Brass on fine form (the members took a week off work to play every day from dawn till dusk) it was Scotsman Stuart Black who led the Rocky Balboa inspired opening in 'Gonna Fly Now'.

The music was based around Stavanger's 2008 SIDDIS winning programme (later used by Grimethopre to win Brass in Concert in 2010), with each of the conductors taking turns to direct Soli Brass as the remarkably lithe and attractive young models strutted their stuff up and down the red carpet next to them – all interacting with the music played.

It did make you feel like a cross between Methusula and Sid James though, as frighteningly thin young ladies in exotic clothing turned on their high heels a yard or two from your nose.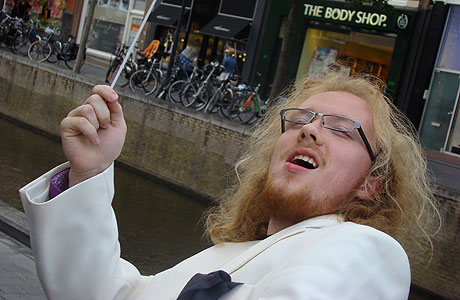 New found confidence! 18 year old Tom Gontier rehearses his best moves...

Not surprisingly it was noticeable how many men remained in the audience to enjoy the event whilst their wives cast an envious glance over the younger, slimmer models…

Vibrant assuredness

Away from the visual spectacle, music from Verdi and Monterverdi to Ennio Morricone and Bert Bacharach was directed with vibrant assuredness by each of the students – the look of fulfilment on each of their faces as they took their bow, spoke volumes of the progress they knew they had made.

Late that night everyone piled into a local bar to talk excitedly about their experiences, their newfound confidence, friendships and ambitions.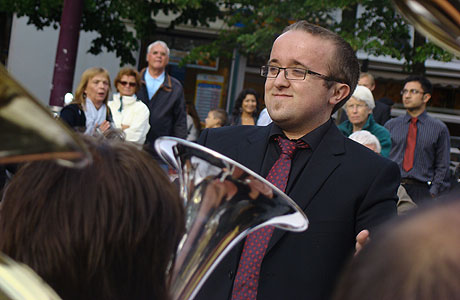 A smile of fulfilment from Scotland's Stuart Black

Andy Warhol

Before long there was only time for a short nap before the dawn sun radiated its first welcoming rays of warmth and the students started heading for home – tired and a little hung over maybe – invigorated and inspired by this innovative course without a doubt.

Next year Allan and Robin are thinking of a theme based on water – in the meantime they are working on a project about the life of Andy Warhol.

That's what innovation is all about…

Iwan Fox