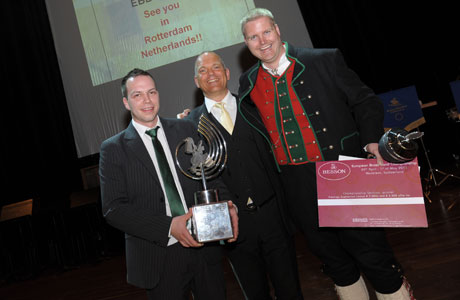 Two half masters - Manger is the current twin discipline champion of Europe
Picture: Ian Clowes

The well-known sporting cliché, 'You can't win a competition half way through, but you can certainly lose it,' can be subtly amended to apply to the twin disciplines of the forthcoming English National.

As AC Milan found out against Liverpool in the European Cup Final a few years back, or Rory McIlroy at the recent Masters - nobody wins anything at the half way point of a contest.

Bear in mind

It's something the bands will certainly bear in mind as they come to grips with the twin disciplines of a first half set work and a second half own choice selection if they are to claim the English National title.

There won't be that many players or conductors in Preston who will have been faced with such a challenge before either – not at this level anyway.

The European Championships were played out in a single day format up to 2002, but ever since the Norwegians opted to spread the contest over two days a year later, the stamina sapping experience has become the stuff of late night pub talk legend.

Pub legends

Tales of bands playing brilliantly with a late morning draw only to see their chances of glory undermined by an early afternoon reprise are too numerous to mention.

Look at the results of those Europeans and rarely do you find a band winning the title when asked to perform two major works in such close proximity.

So what is the secret of success?

How do performers overcome the nerves, the anxieties and the dissipation of the adrenaline rush to concentrate their minds on the job in hand? How can the conductor's make life a little easier for their players?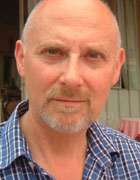 Unique challenges

4BR has spoken to a number of players and conductors who've been through the one-day twin discipline format to find out how to contend with these unique challenges that will appear once again on stage on Saturday.

Unsurprisingly, whilst the various thoughts have been phrased differently, there has been a consistent message: 'Practice, Prepare and Perform'.

Own chocie selection

Howard Snell (right) has graced the European stage on numerous occasions, and gave an insight into the thought process that will have gone into choosing a band's own choice selection.

"The main flexibility available to the band and the conductor taking part in such a contest, is the own choice selection," he said. "Here lies a tricky path between boldness and caution, but the questions should be blindingly obvious. However, they they are not answered sensibly as often as one would think likely

"The three most blindingly obvious points are to shows strengths, hide weaknesses and please the crowd - although the latter is the least important.

"Does it need to be said that in a contest one loses ground with errors, and gains it with superior performance? Yet one has heard clearly mediocre soloists embarrassingly exposed in the own choice.

"Should a piece of music be chosen whose ensemble problems will strip naked this section or that? Perhaps an 'important' player wants to play a certain piece that shows him/her off to advantage, or a late night committee meeting comes up with a pantomime horse choice?"

He believes there is a simple answer. "There is no substitute for realism in this matter, and if the choice is made without a slide-rule being run over the players and the piece, you'll deserve what you don't get. The last resort? Ask a smart woman to do it: They are always more realistic than men."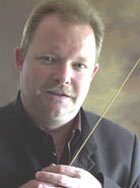 Least of worries

Garry Cutt (right) tackled his first 'single day' contest back in 1993, and he will sit back, relax and wait with interest as to how the bands approach the unique format at Preston.

He recalled: "Thinking back to Norway in 1993, I suppose it is a great deal of work for any band to get two pieces up to such a high standard - but maybe that is the least of their worries.

"I vividly remember the feeling coming off stage, when you and the band have given 110% - and then it suddenly hits you: You have to go on and do it all over again.

"Experience teaches you how to deal with it, but my advice is to clear the mind of how the first piece went. Engage your thoughts on a completely different musical challenge ahead. If you have prepared both pieces sufficiently well, then you will be able to overcome any eventuality the draw may throw at you."

Age old virtue

With the right choices made, the players are faced with the task of performing to the best of their abilities – and despite all their various musical talents, the age old virtue – stamina - is perhaps the most important of all, as Brighouse & Rastrick's former solo baritone player, Leigh Baker recalls.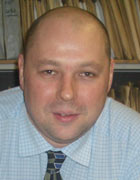 Leigh (right) played with the band at a 'one day' European under the baton of Allan Withington.

"The thing I found hardest was the mental stamina that was involved," he told 4BR.

"Preparing for one contest is intense and learning your parts and rehearsals can take over your life, but doubling the workload ups the ante considerably. You could say the two contest format is fun, but it's a real challenge and an individual's own preparation will be key."

Indivdual preparation

Iwan Williams, YBS's flugel player during their dominant era of European success under David King, also thinks individual preparation holds the secret.

"Bands are used to working on one test piece and give it 110% on stage. Once they get off stage they automatically 'relax'. Having to play two major pieces close together is a completely different experience, so they really need to prepare and plan for the big day."

And for a player who enjoyed his fair share of contesting success on such a demanding format, he believes a few tips he picked up during those years under David King may help.

"Think about the extra time and stamina you will need to prepare the two pieces for the day itself and prepare accordingly. Realise you can't relax after the first performance so pace yourself so your stamina and concentration is still 100% for the second performance.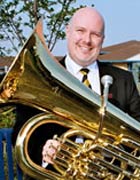 "Prepare for the worst draw, either first then last, or last and first – and don't be tempted to get the views of others on how they think things have gone and who is doing well and who isn't.

"Overall you need to believe in yourselves and keep positive throughout the day."

Wandering minds

The one piece of advice from the well known bass player Phil Green (right) is make sure you keep your mind on the job in hand – something that may have caused his old band Foden's to miss out on winning the Europeans under Nicholas Childs in 2000.

"We let our minds wander to the afternoon, and before we knew it, our performance in the morning had come and gone without us really shining on 'Tallis Variations' (with the exception of Alan Wycherely)," he recalled.

It led to the MD doing a passable impression of a cross between Winston Churchill and Alex Ferguson he remembers. "Nick delivered an amazing speech to us before we went back on stage, but although we then played brilliantly we couldn't make up the lost ground. Only later did the players perhaps realise that we hadn't been concentrating from the word go."


Silly mistakes

For star soprano player Bert van Thienen (right), getting all that personal and team preparation in order is essential to perform at your best.

"You need to start your preparation days before the contest," he said. "Get your chops in order and make sure you are all getting plenty of sleep and rest between hard blows. If everyone is doing the right thing, it minimises the risk of silly things going wrong."

Rory?

So there you have it: There appears to be no definitive guide to guaranteed success, but a few tips and suggestions from those who have experienced what in reality could well be the ultimate test of contesting character.

We wonder if any conductor has asked Rory McIlroy how he turned disaster into brilliant triumph.

Malcolm Wood